Teen bull rider dies on first attempt in North Carolina rodeo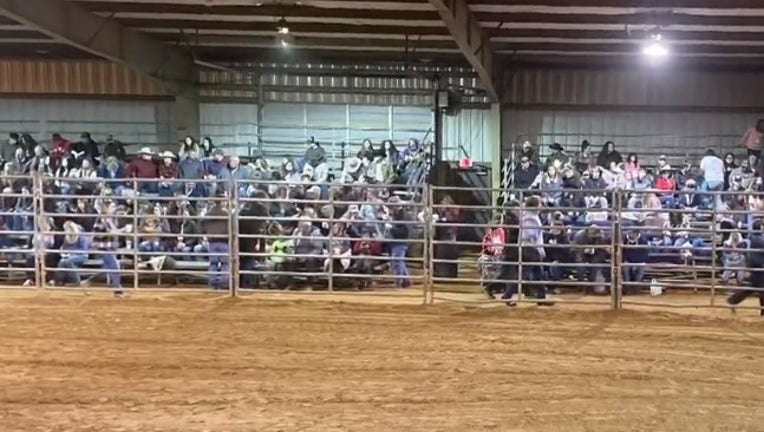 article
STOKES COUNTY, N.C. - It was the first time Denim Bradshaw got to ride a bull as a professional bull rider. Tragically, it would be the 14-year-old's last ride after a devastating accident.
Bradshaw was set to ride his bull at a rodeo in Stokes County, North Carolina, over the weekend. 
According to WFMY, a witness said Bradshaw dropped into the bullpen and got into place to ride. However, once the doors opened, the bull bulked twice, knocking Bradshaw to the floor. The witness said the bull then stomped on Bradshaw's chest, sending him into cardiac arrest. 
First responders were already on the scene to monitor the event and quickly attempted life-saving measures. 
Rafter K Rodeo Company, LLC, later put out a message. 
RELATED: Dog recovering after cemented to Florida sidewalk for days: 'He was left to die'
"Everyone here at Rafter K Rodeo Company, LLC would like to give our sincere condolences to the family and friends of bull rider, Denim Bradshaw," the company posted on its Facebook page. "Our sport is truly a family and we are so thankful for everyone that was there to help."
"This is a tragic event and words cannot describe the pain felt by this loss. We ask everyone to come together and pray for his family for comfort and healing in this difficult time," the post continued. 
A GoFundMe page has been set up to help the family with expenses. 
"Denim adventured into the world of bull riding and fell in love," a GoFundMe message read. "The boots, the cowboy hats, and those big belt buckles— he loved it all."
"None of us could believe that this first ride would cause his death, and we are beyond devastated. Our sweet 14 year old boy lost his life during what was the most exciting moment of his short life, and we are now lost without him," the message continued."
This story was reported from Los Angeles.