Sunday, Sept. 10 is World Suicide Prevention Day
September is Suicide Prevention Month in the United States, with World Suicide Prevention Day happening on Sunday, Sept. 10. 
The day's recognition is a chance to share hope and highlight the ways and resources to preventing suicide deaths, which were at the highest number ever last year in the U.S. according to new government data posted last month. 
The Centers for Disease Control and Prevention, which posted the numbers, has not yet calculated a suicide rate for the year, but available data suggests suicides are more common in the U.S. than at any time since the dawn of World War II.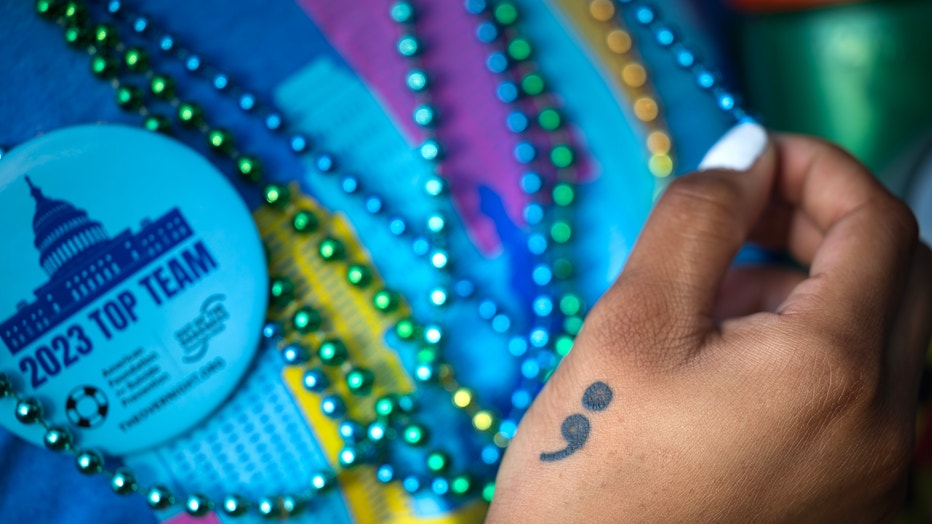 Gwendolyn Carrington, 20, of Waldorf, MD, displays a semicolon tattoo on her hand during the American Foundation for Suicide Prevention Overnight Walk in Washington, D.C., on Saturday, June 3, 2023. The semicolon tattoo has become a symbol for people
Suicide deaths increasing
About 49,500 people took their own lives last year in the U.S., the highest number ever.
"Suicide is a public health issue for us as a country," Stephen Roggenbaum told LiveNOW from FOX. He's the chair of the Florida Suicide Prevention Coalition. 
U.S. suicides steadily rose from the early 2000s until 2018, when the national rate hit its highest level since 1941. That year saw about 48,300 suicide deaths — or 14.2 for every 100,000 Americans.
The rate fell slightly in 2019. It dropped again in 2020, during the first year of the COVID-19 pandemic. Some experts tied that to a phenomenon seen in the early stages of wars and natural disasters, when people pull together and support each other.
But in 2021, suicides rose 4%. Last year, according to the new data, the number jumped by more than 1,000, to 49,449 — about a 3% increase vs. the year before. The provisional data comes from U.S. death certificates and is considered almost complete, but it may change slightly as death information is reviewed in the months ahead.
RELATED: Loneliness poses risks as deadly as smoking, US surgeon general says
Working to prevent suicide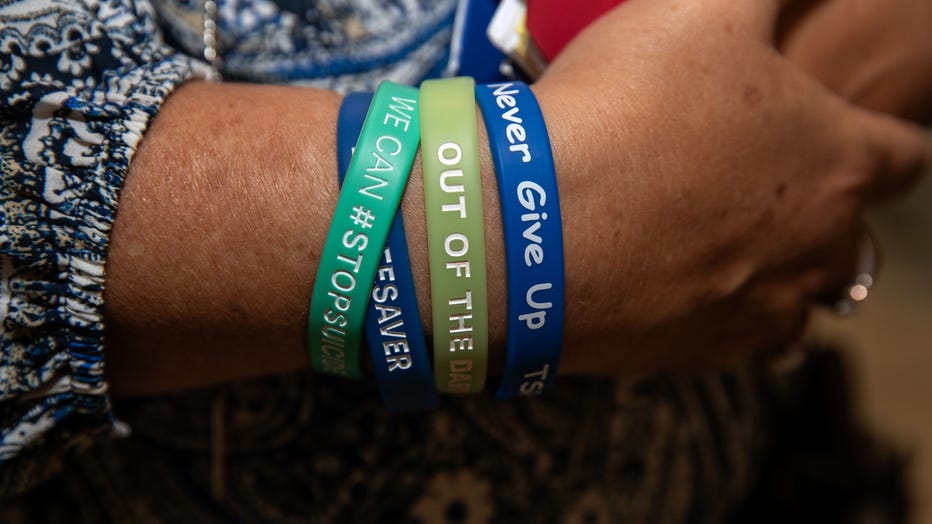 Shannon Geames from Tennessee, wears suicide prevention wristbands. (Photo by Evelyn Hockstein/For The Washington Post via Getty Images)
The hope in all of these statistics is knowing that suicide is preventable. 
As the National Alliance on Mental Illness states, suicide is often the result of an untreated mental health condition. 
"We look at suicide as a multi-factorial issue; usually it's not a single factor. So it's a confluence or combination of factors that unfortunately stress a person's social network, safety network (and) coping skills to the point where they see suicide as the only option," explains Roggenbaum.
This is the first year that the national 988 mental health helpline has been in full swing. The crisis hotline was designed to be as easy to remember and use as 911, but instead of a dispatcher sending police, firefighters or paramedics, 988 will connect callers with trained mental health counselors.
The resource has proved to be needed and utilized for those in crisis, with over 2 million calls, texts and chat messages pouring in within the first six months.
RELATED: Calls, texts and chats pouring into new 988 mental health helpline
Roggenbaum believes that the community plays a vital role as well in preventing suicide deaths by reaching out and keeping a connection with those who may be at risk. 
"We maybe can't "fix" all of Florida or all of the United States, but we can certainly have an influence on our corner of the world," he said.
And if you're unsure how to provide help to a struggling loved one, Roggenbaum reminds that the 988 hotline is a resource for those who want to help as much as it is for those who are in need of help. The calls are free and confidential. 
Roggenbaum also shared three quick tips that he says families or community members can do to help prevent suicide deaths: 
Secure firearms before a loved one is in crisis, and, when a loved one is in crisis, remove firearms completely, the same way you'd temporarily take away an intoxicated person's keys
Cleaning out old or unused medications
Reaching out to family and friends
If you or a loved one is feeling distressed, call or text the 988 Suicide & Crisis Line for free and confidential emotional support 24 hours a day, 7 days a week.
CLICK HERE for the warning signs and risk factors of suicide and CLICK HERE for more on the 988 Lifeline.
This story was reported from Detroit. The Associated Press contributed.