Russia launches 'exceptional' air attack on Kyiv as Europe, China seek to use influence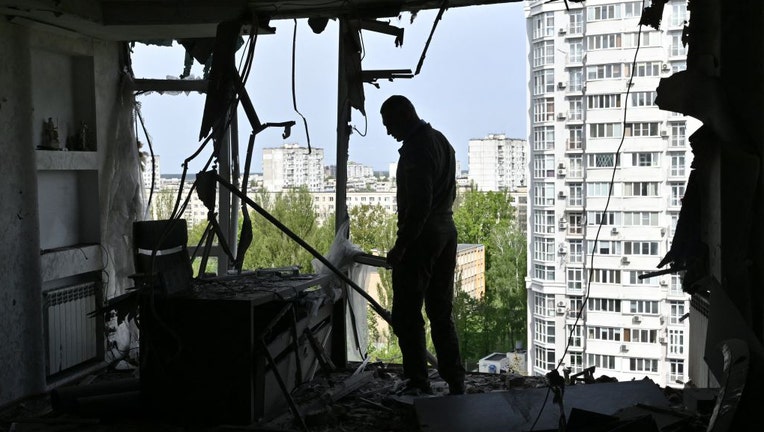 article
Ukrainian air defenses thwarted an intense Russian air attack on Kyiv early Tuesday, shooting down all 18 missiles aimed at the capital with the help of Western-supplied weapons, officials said.
Loud explosions boomed over Kyiv as the nighttime attack combined Russian missiles launched from the air, sea and land in an apparent attempt to overwhelm Ukraine's air defenses. No casualties were reported.
The barrage came as European leaders sought new ways to punish Russia for the war and a Chinese envoy sought traction for Beijing's peace proposal, which so far appears to have made little impression on the warring sides.
RELATED: Ukraine brings back 31 abducted children from Russia amid war
It also came as Ukrainian President Volodymyr Zelenskyy returned home following a whirlwind European tour to greet Ukraine's key wartime allies, which spurred an additional tranche of pledged military aid.
The overnight attack on Kyiv was "exceptional in its density — the maximum number of attacking missiles in the shortest period of time," said Serhii Popko, the head of the Kyiv military administration.
Valentyna Myronets, a 64-year-old Kyiv resident, said she felt "pain, fear, nervousness, restlessness" amid the assaults. "God, we are waiting for victory and when all this is over," she said.
RELATED: China offers peace proposal to end conflict in Russia-Ukraine war
U.K. Ambassador Melinda Simmons tweeted that the barrage was "pretty intense."
"Bangs and shaking walls are not an easy night," she wrote.
It was the eighth time this month that Russian air raids had targeted the capital, a clear escalation after weeks of lull and ahead of a much-anticipated Ukrainian counteroffensive.
Six "Kinzhal" aero-ballistic missiles were launched from MiG-31K aircraft, nine cruise missiles from ships in the Black Sea and three land-based S-400 cruise missiles targeted the capital, air force spokesman Yurii Ihnat said in a statement on Telegram.
RELATED: US says Russia has committed crimes against humanity in Ukraine
After the first onslaught, Russia also launched Iranian-made Shahed attack drones and conducted aerial reconnaissance, Ihnat said.
Debris fell across several districts in the capital, starting fires, but no losses were reported, Kyiv Mayor Vitali Klitschko said.
Sophisticated air defense systems provided by Ukraine's Western allies, including American-made Patriot missiles, have helped spare Kyiv from the kind of destruction witnessed elsewhere in the country as Russian forces press on with their tactic of long-range bombardment.
A metal fragment that landed inside the Kyiv zoo and was seen by Associated Press reporters was labeled Lockheed Martin and Boeing, two of the companies involved in the manufacture of the Patriot missile system.
RELATED: ICC issues arrest warrant for Vladimir Putin over Ukraine war crimes
A Russian defense official said that Tuesday's attack destroyed a Patriot missile battery in Kyiv. Russian Defense Ministry spokesman Igor Konashenkov said the system was destroyed by a "Kinzhal."
He didn't provide evidence, and the statement couldn't be independently verified. Ihnat, the Ukrainian air force spokesman, refused to comment on the claim.
The bolstered air defenses have deterred Russian aircraft from going deep into Ukraine and helped shape the course of the war, military experts say.
Later Tuesday, European leaders are taking part in a rare summit of the 46-nation Council of Europe, the continent's main human rights body.
The two-day meeting in Iceland seeks to set up a way of logging damage in Ukraine caused by the Kremlin's forces so compensation claims can be lodged against Moscow.
Meanwhile, a Chinese envoy is preparing to visit Ukraine and Russia in coming days as Beijing presses the peace plan it released in February.
Li Hui, a former ambassador to Moscow, also will visit Poland, France and Germany, according to the Chinese foreign ministry.
Ukraine has cautiously welcomed China's proposal while saying it would wait to see what specific actions China takes. Chinese leader Xi Jinping's government says it is neutral and wants to play a role as mediator in the war, but it has given Moscow political support, and a breakthrough appears unlikely more than 14 months after Russia's full-scale invasion.
In Russian-occupied southern Ukraine, about 500 kilometers (300 miles) from Kyiv, Russian officials have begun training for the planned evacuation from the Zaporizhzhia Nuclear Power Plant of 3,100 staff and their families, a representative of Energoatom, Ukraine's state nuclear company, said Tuesday.
The plant, Europe's largest, employed around 11,000 staff before the war, some 6,000 of whom remain at the site and in the surrounding town of Enerhodar.
More Russian military units have been arriving at the site and they are continuing to mine its premises, the representative told The Associated Press on condition of anonymity due to security concerns.
Russian troops have barred the remaining workers from communicating with each other or leaving the plant, in order to reduce the risk of information leaking out on Russian positions and military equipment placed inside, Energoatom said in a Telegram post.
In other developments:
— At least seven civilians died and 14 others were wounded in Russian shelling of Ukrainian regions from Monday through Tuesday morning, the country's presidential office said.
— In Ukraine's latest corruption scandal, which saw the head of the Supreme Court detained for alleged bribery on Monday, the chief of Ukraine's National Anti-Corruption Bureau, Semen Kryvonos, said Tuesday the main suspect in the case was mining magnate Kostiantyn Zhevago.
Zhevago was arrested in the French Alps in January on suspicion of embezzling tens of millions of dollars. Kyiv has requested his extradition.
Vasilisa Stepanenko in Kyiv, and Yuras Karmanau in Tallinn, Estonia, contributed to this report.