Puppy found shaved with swastikas, expletives drawn on skin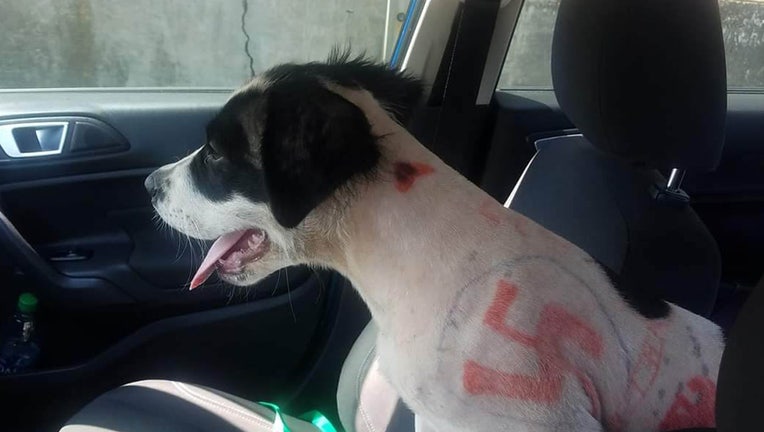 article
SPRINGFIELD, Mo. - A 3-month-old dog rescued by law enforcement in Missouri arrived at a shelter shaved with swastikas and expletives drawn on her.
Rescue One, a nonprofit animal rescue and vet clinic in Springfield, said the swastikas were all over her body, along with a message on her back: "Don't feed this (explicit) dog." Swastikas have become synonymous with hate ever since Adolf Hitler and the Nazis wore them in Germany during World War II.
"She is heading for the tub to scrub-a-dub-dub all of this hate off. Only love here," the rescue said on its Facebook page.
READ MORE: 3 senior dogs find forever home in 'miracle' adoption
Several baths later, the swastikas have faded a lot.
READ MORE: Swastika Mountain in Oregon renamed Mount Halo as tribute to tribal leader
"We have named her Leslie, and she is perfect," rescue workers said.
Leslie has since been placed in a foster home until she's ready for adoption in about a month.
"We have already begun to review adoption applications for her. She loves to play with the other dogs in her foster home and is a very friendly puppy," the rescue said. "We are thankful that law enforcement rescued this dog and that we get to be part of her journey to a great home."