What happens after the death of a president?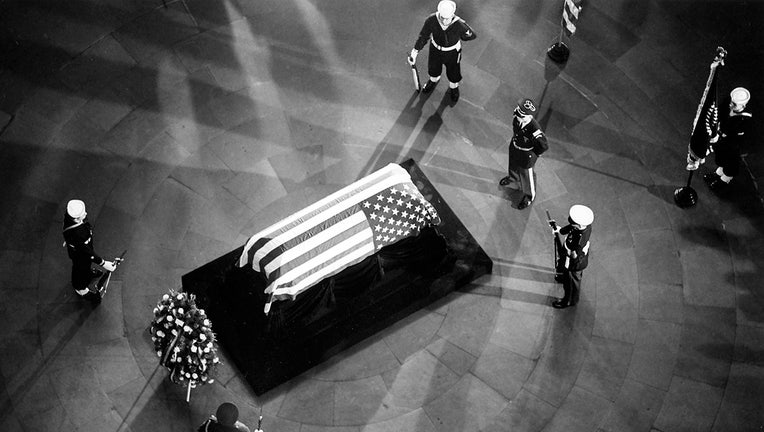 article
A presidential funeral is a tradition filled with stately tradition and fine details. Presidents typically make preparations for their own funerals with the help of their families.
Occasionally, this planning requires several years. Funeral plans are usually kept secret between close family members and the U.S. Army Military District of Washington. The arrangements are not announced until after a president dies.
Nine presidents have had funeral processions down Pennsylvania Avenue in Washington, D.C., including all four presidents to die by assassination: Abraham Lincoln, James Garfield, William McKinley, and John F. Kennedy.
But not all presidential funerals are the same. Each has unique qualities per the president's and family's request. Richard Nixon's family, acting on his wishes, opted out of the procession and other Washington traditions when he died in 1994.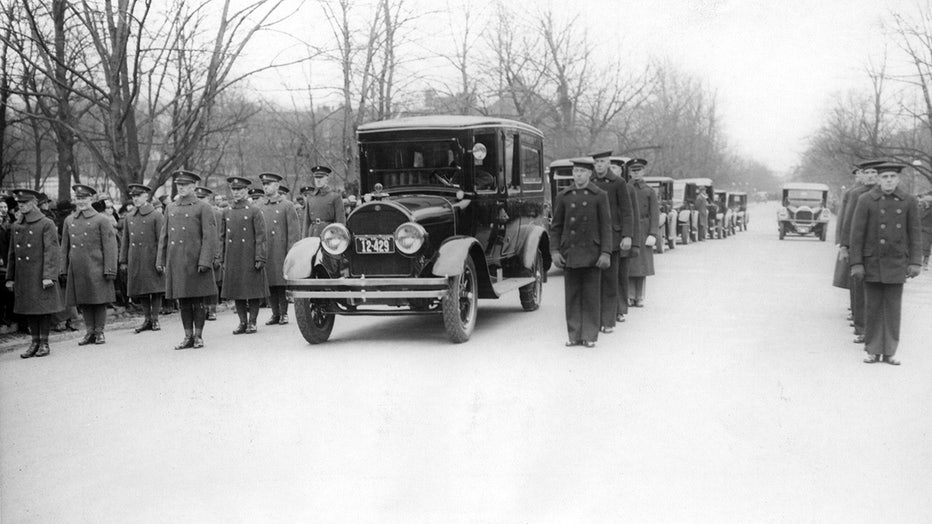 The funeral procession of Woodrow Wilson (1856 - 1924), the 28th President of the United States of America, in Washington D.C on February 06, 1924. (Photo by Keystone/Getty Images)
Presidential funeral arrangement process
The president, former presidents and president-elect are all entitled to a state funeral, but then family decides if they actually get one, or just how involved it will be.
Family provides details of the funeral plans to the Washington Military District, which is in charge of implementing them.
What occurs in Washington, D.C. unfolds according to guidelines that date back to the mid-1800s and have been reshaped over time. They often involve funeral processions down Pennsylvania Avenue, lying in state in the U.S. Capitol Rotunda and a memorial service, usually at the Washington National Cathedral.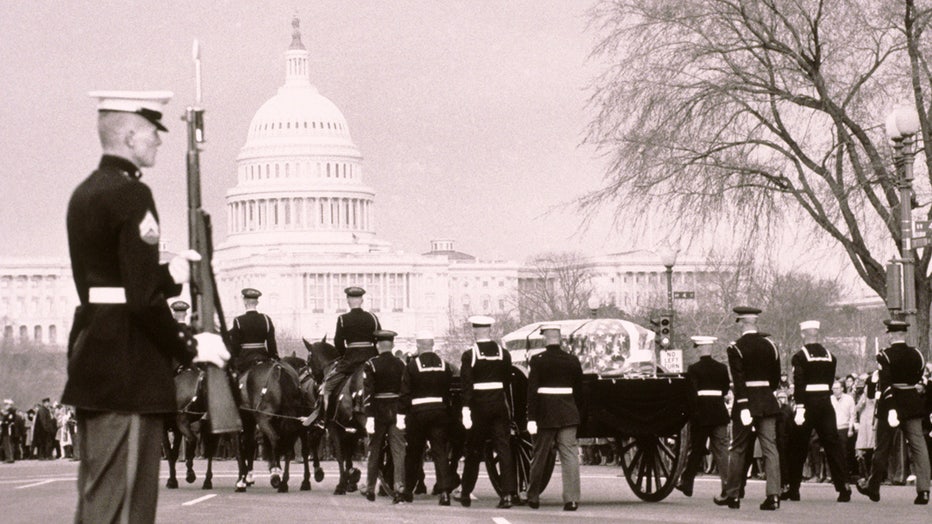 The funeral procession of President Dwight D. Eisenhower as it travels along Constitution Avenue to the Capitol for ceremony and 21-gun salute, March 30, 1969 in Washington, DC. (Photo by David Hume Kennerly/Getty Images)
Protocol dictates that flags will be flown at half-staff for a period of 30 days for a president. At the discretion of the sitting president, there's an executive order issued authorizing the closure of federal offices and buildings on a national day of mourning.
Each president's final resting place is among the details they include in their plans. Most have chosen locations in their home states; only two presidents are buried at Arlington National Cemetery: Kennedy and William Howard Taft.
George H.W. Bush's funeral
The most recent presidential funeral was that of George H.W. Bush in December of 2018. Before he died, he filed a 211-page document detailing funeral instructions for the U.S. Army Military District of Washington to follow.
After his death, his casket was first taken to Washington, D.C., where his body lay in state in the U.S. Capitol Rotunda, providing an opportunity for legislators and other government dignitaries, along with the public, to pay their respects.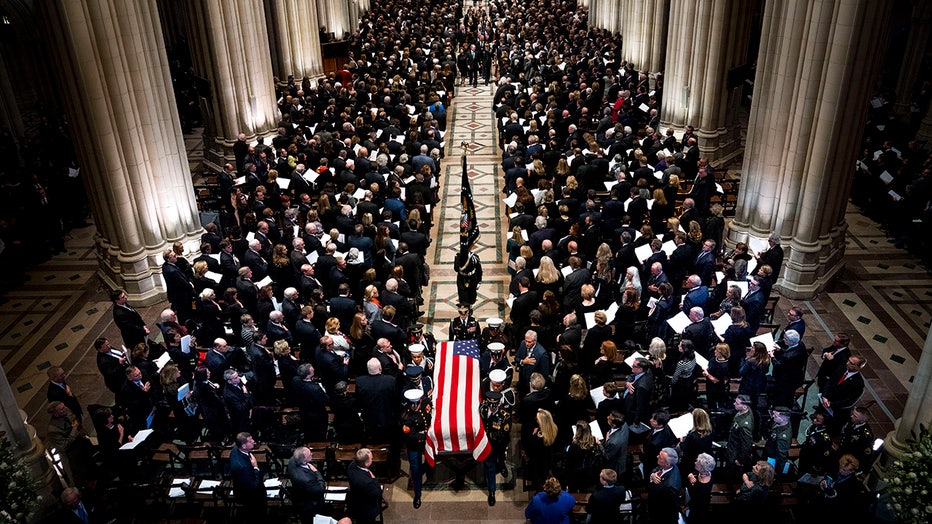 The Honor Guard carries the casket of former U.S. President George H. W. Bush down the center isle following the state funeral at the Washington National Cathedral on December 5, 2018 in Washington, DC. (Photo by Doug Mills - Pool/Getty Images)
According to his request, Bush wanted specific things for his funeral. His days as a pilot during World War II may be why he asked specifically for an aerial flyover of fighter jets by the U.S. Air Force in the 'missing man' formation. 
Bush also provided instructions to forego the presidential fanfare and said he didn't want "Hail to the Chief" to be performed during his final interment at the George H.W. Bush Presidential Library and Museum in College Station, Texas.
John F. Kennedy's funeral
John F. Kennedy's funeral may be one of the more memorable events of the last century for many, both because of the popularity of the Kennedys and because of the sudden and shocking nature of his death.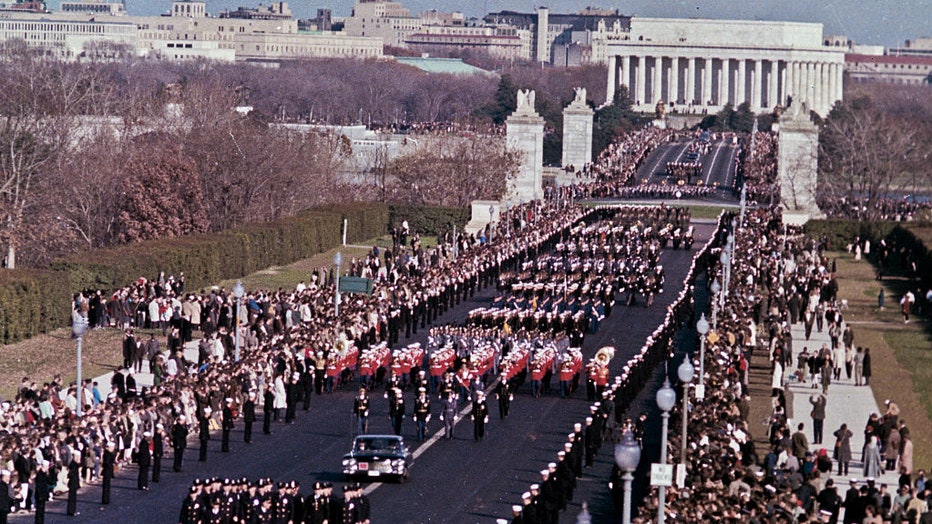 FILE-The Metropolitan Police Department of D.C., the Chairmen of the Joint Chiefs, and the US Marine Corps band march in funeral procession of slain President John F. Kennedy in Washington, D.C. in 1963. (Mark Reinstein/Corbis via Getty Images)
The plans were modeled after those of Abraham Lincoln, at the request of the new widow, Jacqueline, in her first public statement after the assassination. Using information from the Library of Congress about Lincoln's state funeral, the East Room of the White House was quickly transformed into a venue for Kennedy's remains to lie in state, matching the exact description of what it was like nearly a century earlier for Lincoln.
More than 250,000 mourners filed past the slain president's casket in the U.S. Capitol Rotunda. Millions more viewed on what was then the most-watched funeral of an American president.
FOX 26 Houston and the Associated Press contributed to this report. This story was reported from Washington, D.C.