Pope Francis undergoes intestinal surgery, will remain at hospital for several days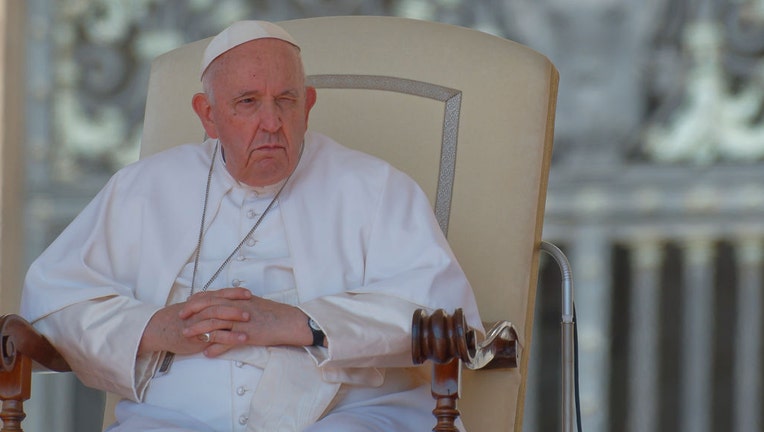 article
ROME - Pope Francis was admitted to the hospital for surgery Wednesday to repair a hernia in his intestine, the latest malady to befall the 86-year-old pontiff who had part of his colon removed two years ago.
Francis was expected to be put under general anesthesia for the open abdominal surgery and remain at Rome's Gemelli hospital for several days, the Vatican said.
While hernia operations are rarely performed on an emergency basis, the procedure appeared somewhat urgent, scheduled just a day after Francis went to the hospital for tests. The pontiff's doctors no doubt also wanted to give him ample time for recovery ahead of a busy travel schedule later this summer.
The pope was suffering from a "painful and worsening" hernia that formed over a previous scar, presumably from his 2021 colon surgery. Experts said the formation of the hernia, called a laparocele, is a known complication from intestinal surgery. But a portion of his intestine has apparently now bulged through the area and become trapped.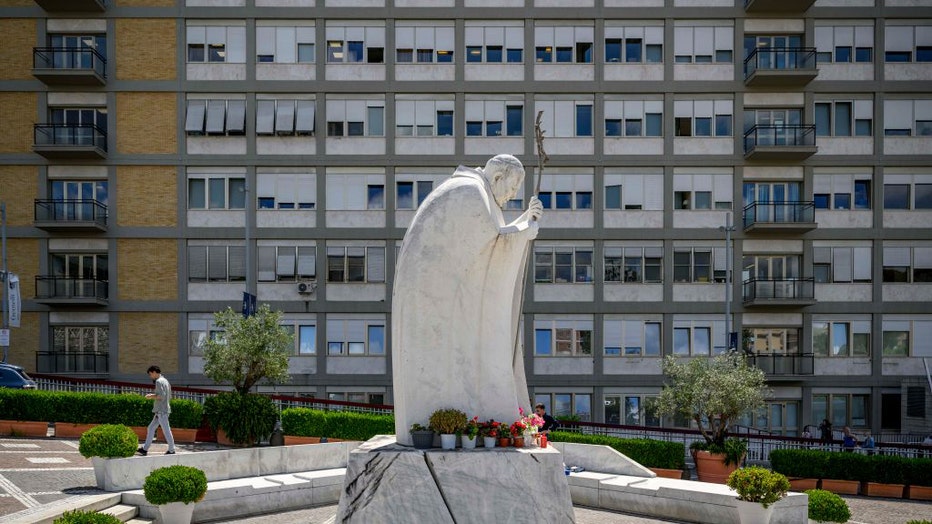 A general view shows the Policlinico A. Gemelli Hospital, where Pope Francis is hospitalized for a surgery, on June 7, 2023 in Rome, Italy. (Photo by Antonio Masiello/Getty Images)
Francis went to the hospital for previously unannounced tests Tuesday, returned to the Vatican and presided over his audience Wednesday morning, but then went straight to Gemelli for the procedure afterward.
"When the intestines are trapped, the blood supply to the bowel is compromised and if you don't take care of it, the bowel will die and you will have gangrenous intestines," said Dr. Walter Longo, chief of colon and rectal surgery at Yale University School of Medicine.
He said Francis should be OK after a few weeks of recovery, but he noted that the aging pope is already frail. "There's the risk of going through surgery, operating on a fragile individual, but if he can get through it, he will be fine," he said.
Francis remains in charge of the Vatican and the 1.3-billion strong Catholic Church, even while unconscious and in the hospital, according to canon law.
In July 2021, Francis spent 10 days at Gemelli to remove 33 centimeters (13 inches) of his large intestine. In an interview with The Associated Press in January, Francis said the diverticulosis, or bulges in his intestinal wall, that had prompted that surgery, had returned.
After that surgery, Francis lamented that he hadn't responded well to the general anesthetic used in the longer-than-expected procedure. That reaction in part explained his refusal to have surgery to repair strained knee ligaments that have forced him to use a wheelchair and walker for over a year.
Dr. Manish Chand, an associate professor of surgery at University College London who specializes in colorectal surgery, said the surgery itself is usually straightforward — but it does require general anesthesia. In the procedure, a surgeon typically frees the trapped intestine and then repairs the hernia with a prosthetic, most likely a piece of mesh.
He said the greatest issue afterward would be pain management and making sure the wound heals properly.
"In the first six weeks after this type of surgery, you're at risk of getting a recurrence again," he said. To avoid that, patients are advised not to do anything strenuous.
The Argentine pope had part of one lung removed when he was a young man. He also suffers from sciatica nerve pain. In late March, Francis spent three days at Gemelli for bronchitis, during which he was treated with intravenous antibiotics. He emerged April 1 saying "Still alive!"
After celebrating his weekly general audience, the pope was driven in his Fiat 500 out of the Vatican shortly after 11 a.m. and arrived at the Gemelli some 20 minutes later, escorted by police.
"The stay at the health facility will last several days to allow for the normal post-operative course and full functional recovery," the Vatican said in a statement. An update was not expected until after the procedure.
The pope had appeared in good form Wednesday morning at his audience in St. Peter's Square, zipping around the square in his popemobile greeting the faithful. He also had two meetings beforehand, the Vatican said.
Francis has had a packed schedule of late, with multiple audiences each day. The Vatican has recently confirmed a travel-filled August, when the Holy See and Italy are usually on vacation, with a four-day visit to Portugal the first week of August and a similarly long trip to Mongolia starting Aug. 31.
In a sign that the trips were very much on, the Vatican on Tuesday released the planned itinerary for Francis' visit to Portugal for World Youth Day events from Aug. 2-6. The itinerary confirms a typically busy schedule that includes all the protocol meetings of an official state visit plus multiple events with young people and a day trip to the Marian shrine at Fatima.
RELATED: Pope Francis gets back to work after battling fever
___
Cheng reported from London.