Pakistan bombing kills at least 44 people and injures nearly 200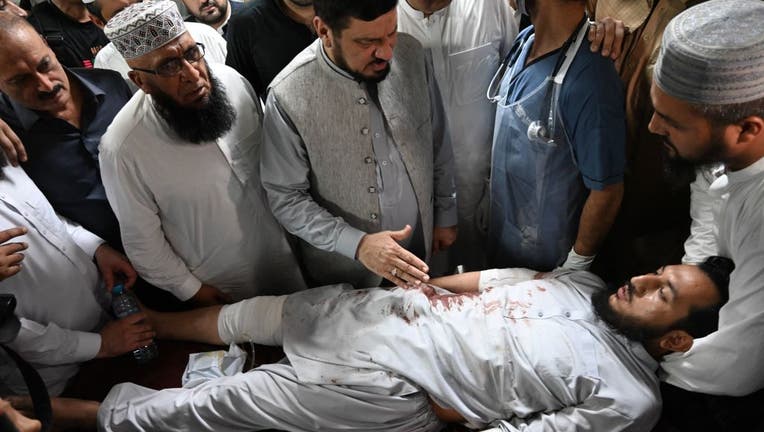 article
KHAR, Pakistan (AP) - A suicide bomber blew himself up at a political rally in a former stronghold of militants in northwest Pakistan bordering Afghanistan on Sunday, killing at least 44 people and wounding nearly 200 in an attack that a senior leader said was meant to weaken Pakistani Islamists.
The Bajur district near the Afghan border was a stronghold of the Pakistani Taliban — a close ally of Afghanistan's Taliban government — before the Pakistani army drove the militants out of the area. Supporters of hardline Pakistani cleric and political party leader Maulana Fazlur Rehman, whose Jamiat Ulema Islam generally supports regional Islamists, were meeting in Bajur in a hall close to a market outside the district capital. Party officials said Rehman was not at the rally but organizers added tents because so many supporters showed up, and party volunteers with batons were helping control the crowd.
Officials were announcing the arrival of Abdul Rasheed, a leader of the Jamiat Ulema Islam party, when the bomb went off in one of Pakistan's bloodiest attacks in recent years.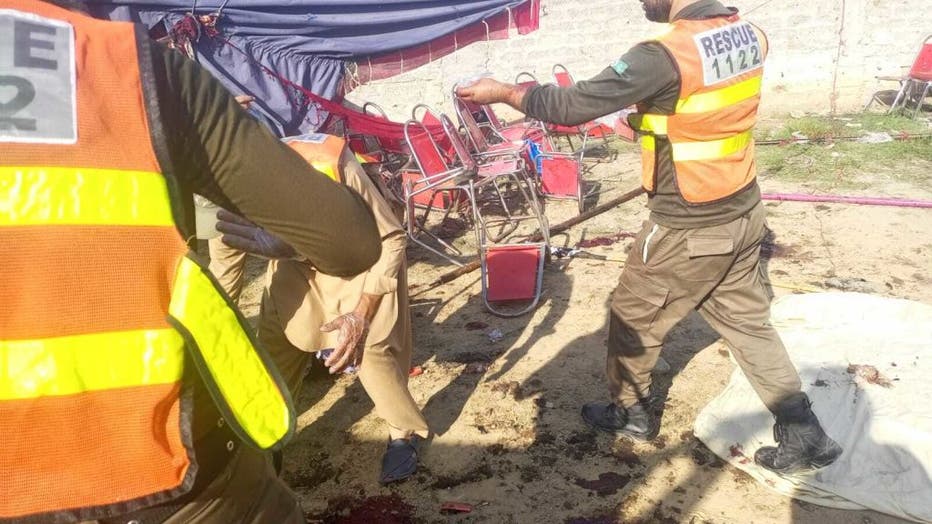 Image depicts graphic content] Rescue team help wounded people at scene after a suicide bombing at a public rally in northwestern Pakistan, Bajaur, Khar on July 30, 2023. In an apparent suicide bombing, at least 40 people were killed and hundreds inj
Provincial police said in a statement that the attack was carried out by a suicide bomber who detonated his explosives vest close to the stage where several senior leaders of the party were sitting. It said initial investigations suggested the Islamic State group — which operates in Afghanistan and is an enemy of the Afghan Taliban — could be behind the attack, and officers were still investigating.
RELATED: Ted Kaczynski, known as the "Unabomber," died of suicide, AP reports
"There was dust and smoke around, and I was under some injured people from where I could hardly stand up, only to see chaos and some scattered limbs," said Adam Khan, 45, who was knocked to the ground by the blast around 4 p.m. and hit by splinters in his leg and both hands.
The Pakistan Taliban, or TTP, said in a statement sent to The Associated Press that the bombing was aimed at setting Islamists against each other. Zabiullah Mujahid, a spokesman for the Afghan Taliban, said on the social media platform X, formerly known as Twitter, that "such crimes cannot be justified in any way."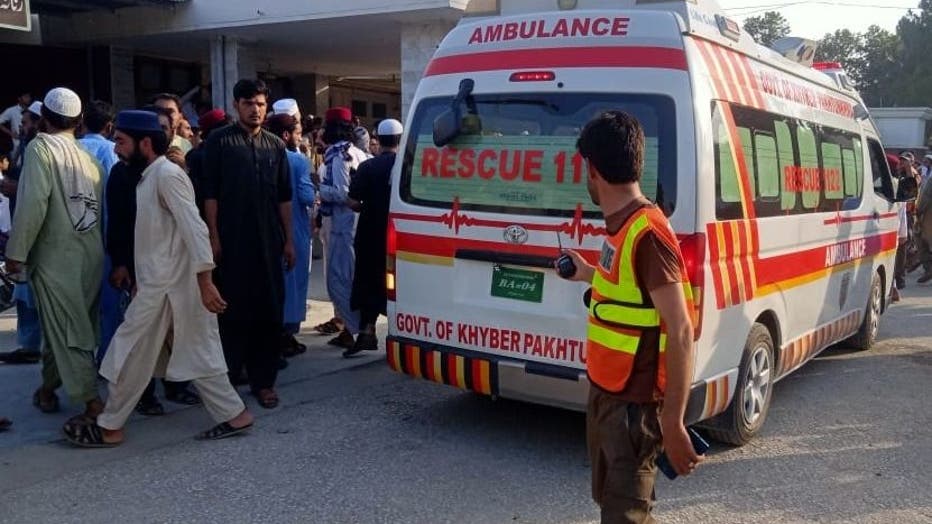 Image depicts graphic content] An ambulance after a suicide bombing at a public rally in northwestern Pakistan, Bajaur, Khar on July 30, 2023. In an apparent suicide bombing, at least 40 people were killed and hundreds injured ahead of a public rally
The Afghan Taliban's seizure of power in Afghanistan in mid-August 2021 emboldened the TTP. They unilaterally ended a cease-fire agreement with the Pakistani government in November, and have stepped up attacks across the country.
The bombing came hours before the arrival of Chinese Vice Premier He Lifeng in Islamabad, where he was to participate in an event to mark a decade of the China-Pakistan Economic Corridor, or CPEC, a sprawling package under which Beijing has invested billions of dollars in Pakistan.
In recent months, China has helped Pakistan avoid a default on sovereign payments. However, some Chinese nationals have also been targeted by militants in northwestern Pakistan and elsewhere.
Feroz Jamal, the provincial information minister, told The Associated Press that so far 44 people had been "martyred" and nearly 200 wounded in the bombing.
The bombing was one of the four worst attacks in the northwest since 2014, when 147 people, mostly schoolchildren, were killed in a Taliban attack on an army-run school in Peshawar. In January, 74 people were killed in a bombing at a mosque in Peshawar. n February, more than 100 people, mostly policemen, died in a bombing at a mosque inside a high-security compound housing Peshawar police headquarters.
RELATED: 10 years after the Boston Marathon bombings: A timeline of events
Prime Minister Shehbaz Sharif and President Arif Alvi condemned the attack and asked officials to provide all possible assistance to the wounded and the bereaved families. Sharif later, in a phone call to Rehman, the head of the JUI, conveyed his condolences to him and assured him that those who orchestrated the attack would be punished.
The U.S. Embassy in Islamabad also condemned the attack. In a post on social media platform X, formerly known as Twitter, it expressed its condolences to the families and loved ones of the victims killed in the attack..
Maulana Ziaullah, the local chief of Rehman's party, was among the dead. JUI leaders Rasheed and former lawmaker Maulana Jamaluddin were also on the stage but escaped unhurt.
Rasheed, the regional chief of the party, said the attack was an attempt to remove JUI from the field before parliamentary elections in November, but he said such tactics would not work. The bombing drew nationwide condemnation, with the ruling and opposition parties extending condolences to the families of those who died in the attack.
RELATED: Man who killed 8 in NYC terrorist attack gets 10 life sentences plus 260 years
Rehman is considered to be a pro-Taliban cleric and his political party is part of the coalition government in Islamabad. Meetings are being organized across the country to mobilize supporters for the upcoming elections.
"Many of our fellows lost their lives and many more wounded in this incident. I will ask the federal and provincial administrations to fully investigate this incident and provide due compensation and medical facilities to the affected ones," Rasheed said.
Mohammad Wali, another attendant at the rally, said he was listening to a speaker address the crowd when the huge explosion temporarily deafened him.
"I was near the water dispenser to fetch a glass of water when the bomb exploded, throwing me to the ground," he said. "We came to the meeting with enthusiasm but ended up at the hospital seeing crying, wounded people and sobbing relatives taking the bodies of their loved ones."
Riaz Khan reported from Peshawar. Associated Press writer Munir Ahmad contributed from Islamabad.