Oklahoma officials announce $2 billion theme park, resort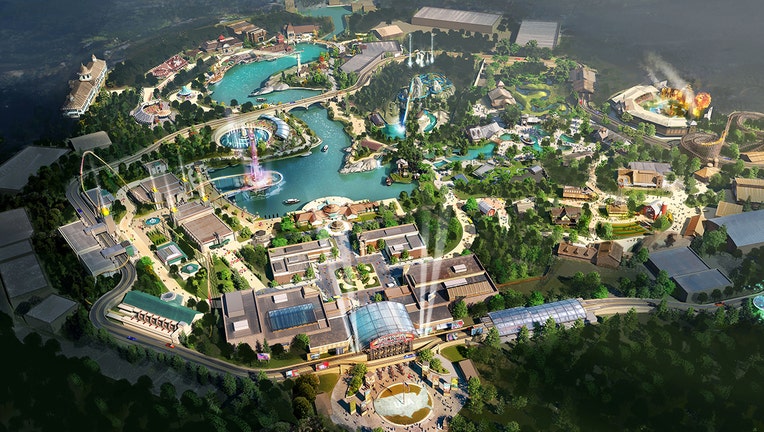 article
VINITA, Okla. - Oklahoma state and local officials have teamed up with American Heartland leadership to announce a new $2 billion entertainment destination development in northeast Oklahoma. 
The "American Heartland Theme Park and Resort," will be a 1,000-acre development and 125-acre theme park located just west of Grand Lake on Route 66. Officials said the park will be comparable to the size of Florida's Magic Kingdom Theme Park and California's Disneyland Park. 
"We are thrilled to make Oklahoma the home of American Heartland Theme Park and Resort," American Heartland CEO Larry Wilhite said. "At the crossroads of the heartland, Oklahoma is an attractive location for a family entertainment destination. The state's business-friendly approach and innovative partnership efforts have helped make this possible. We look forward to bringing unforgettable generational experiences to Oklahoma."
According to officials, the park will feature an Americana-themed environment with rides, live shows, family attractions, waterways and restaurants. The park's design team is made up of at least 20 former Disney Parks builders and Walt Disney Imagineers.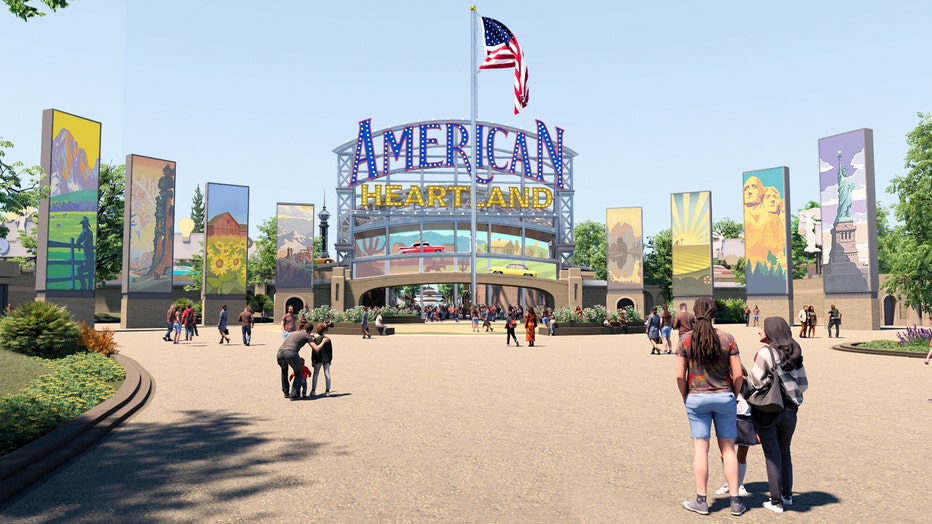 American Heartland Theme Park entrance (Credit: Business Wire)
The theme park will feature a collection of six distinctly American lands to welcome guests on a journey through the best of the American story. Families will find rides and shows as they discover Great Plains, Bayou Bay, Big Timber Falls, Stony Point Harbor, Liberty Village and Electropolis.
"American Heartland will be a place families can come together to create lasting memories, experience joy, laughter, imagination and wonder," American Heartland Founder and Chief Creative Officer Gene Bicknell said. "There is so much to celebrate about our country: its landscapes, its cultures and most importantly, its people. No matter where you're from, you'll feel right at home at American Heartland."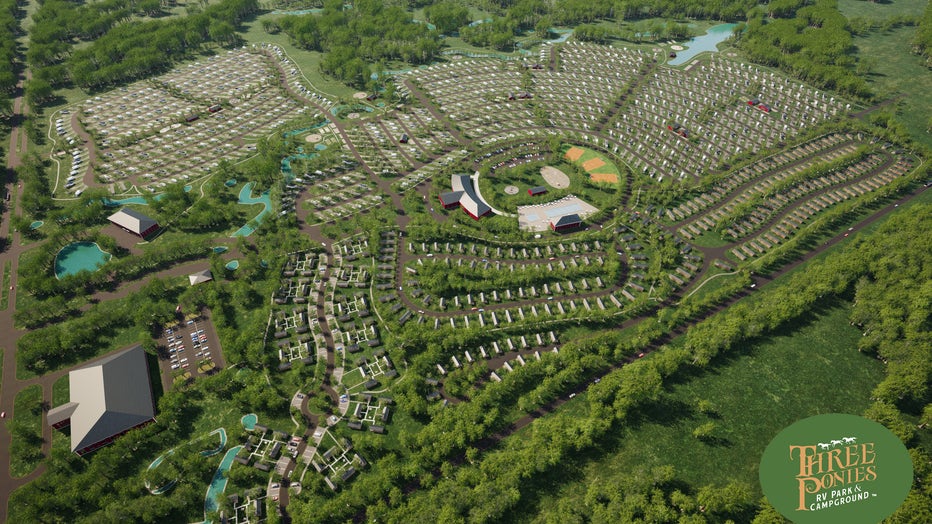 Aerial of Three Ponies RV Park (Credit: Business Wire)
The development will also include a 300-room hotel and indoor water park. The theme park and resort are scheduled to open in 2026.
Officials said the development will be built in phases, starting with a large-scale RV park with cabins, which will open in spring 2025. This will be the largest campground in the central U.S. with 750 RV spaces and 300 cabins. 
Oklahoma State Sen. Micheal Bergstrom said in a statement that the $2 billion investment in the state will create more than 4,000 jobs and introduce a new category of entertainment to the region. He said the long-term economic impact will be "transformative."
RELATED: Tickets to 'Wizard of Oz' theme park in North Carolina now on sale
"Tourism is already one of Oklahoma's top industries and this project will elevate our state even further," Bergstrom said. "Since tourism is a doorway to economic development, American Heartland Theme Park and Resort will draw new businesses not only to the surrounding area but also throughout the region and state."
This story was reported from Los Angeles.