Ohio human trafficking sting nabs 10 men, including teacher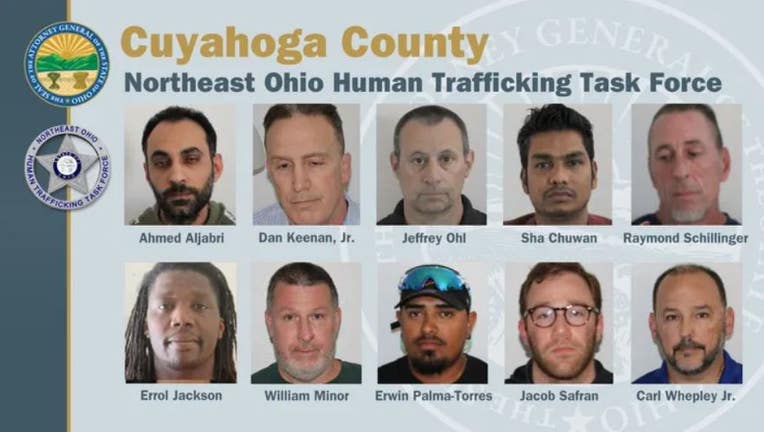 article
Authorities in Ohio have arrested 10 men in a human trafficking sting. 
The men, who range in age from 30 to 55, were arrested Thursday on sex charges in North Olmsted by the members of the Northeast Ohio Human Trafficking Task Force.
On the same day, a Lorain County man who was previously convicted of 31 human trafficking offenses was sentenced to life in prison.
The arrests were part of a one-day operation held in conjunction with the North Olmsted Police Department, Westshore Enforcement Bureau and the Ohio Internet Crimes Against Children Task Force to identify those providing and purchasing commercial sex.
OHIO BODYCAM FOOTAGE CAPTURES SUSPECTS HIDING IN DRYER, UNDER BLANKETS DURING DRUG BUST
One of the men taken into custody, 35-year-old Errol Jackson, of Lorain, is a registered Tier III sex offender, the Ohio attorney general's office said. He was arrested for promoting prostitution and is being held in the Cuyahoga County jail. Additional charges are expected in the case.
Nine additional men were arrested and charged with engaging in prostitution, a first-degree misdemeanor. Those men include Cleveland's Ahmed Aljabri and William Minor, Sha Chuwan from Erie, Pennsylvania, Dan Keenan, Jr. from Westlake, Jeffrey Ohl from La Grange, Erwin Palma-Torres from Garrettsville, Raymond Schillinger from Akron, Carl Whepley Jr. from Perry and Jacob Safran from Royal Oak, Michigan.
A middle school teacher, a nonprofit executive and a man who was living in the country illegally were among those arrested in the sting.
OHIO WOMAN ESCAPES CAPTIVITY AFTER BANDITS DOUSED HER WITH BLEACH, BEAT HER: POLICE
Seven potential human trafficking victims were identified during the operation and were given resources from multiple agencies, including the Canopy Child Advocacy Center, Cleveland Rape Crisis Center and the Harriett Tubman Movement.
While that operation was underway, 36-year-old Steven Gilbert, of Elyria, was convicted of 31 human trafficking offenses. He will be eligible for parole after serving 172½ to 182½ years in prison.
Detectives found that Gilbert ran a human trafficking ring that targeted women who were addicted to narcotics.
The Northeast Ohio Human Trafficking Task Force assisted the Lorain County Sheriff's Office, Elyria Police Department and the Investigative Division of the Lorain County Prosecutor's Office to investigate the case. 
The case was prosecuted by the Lorain County Prosecutor's Office.
"Yesterday was a banner day for the task force," Ohio Attorney General Dave Yost said in a statement on Friday. "Their commitment to wiping out the scourge of human trafficking is making a difference in the lives of the victims and having a big impact on the region."
"Activities like these are not a North Olmsted problem. These activities are an every city problem. You may think it's not happening in your community but you can see by the addresses of the people arrested, they will travel to find what they are looking for at hotels in our communities," the North Olmsted Police Department said on Facebook.