October solar eclipse 'ring of fire' will happen during Albuquerque International Balloon Fiesta
When more than 500 hot air balloons take flight in Albuquerque on Oct. 14, the annular solar eclipse will be underway, offering a spectacular sight for festival attendees.
New Mexico is one of eight states along the path of the maximum eclipse where people can witness the "ring of fire," including at the Albuquerque International Balloon Fiesta, the world's largest gathering of balloons. 
The 51st Albuquerque Balloon Fiesta runs from Oct. 7-15.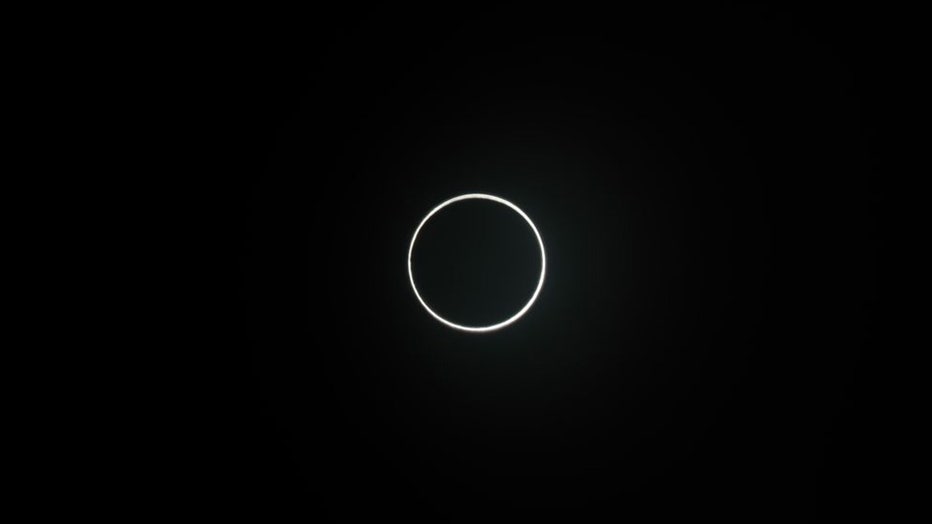 FILE - The annular solar eclipse is seen on June 21, 2020 in Xiamen, Fujian Province of China. (VCG/VCG via Getty Images)
An annular eclipse is not a total eclipse as the Moon doesn't entirely block the sun's light, only 90%, because an annular eclipse happens when the Moon is at its furthest point in orbit from Earth. 
NASA SCIENTIFIC BALLOON LAUNCHES REQUIRE FORECASTING FROM GROUND TO STRATOSPHERE
The balloon festival will be a top spot to view the ring of fire, which will be visible at 10:34 a.m. MDT in New Mexico. Mass ascension at the Balloon Fiesta on Oct. 14 will begin at 9:13 a.m. local time when the eclipse is already underway. A partial eclipse ends at 12:09 p.m. MDT.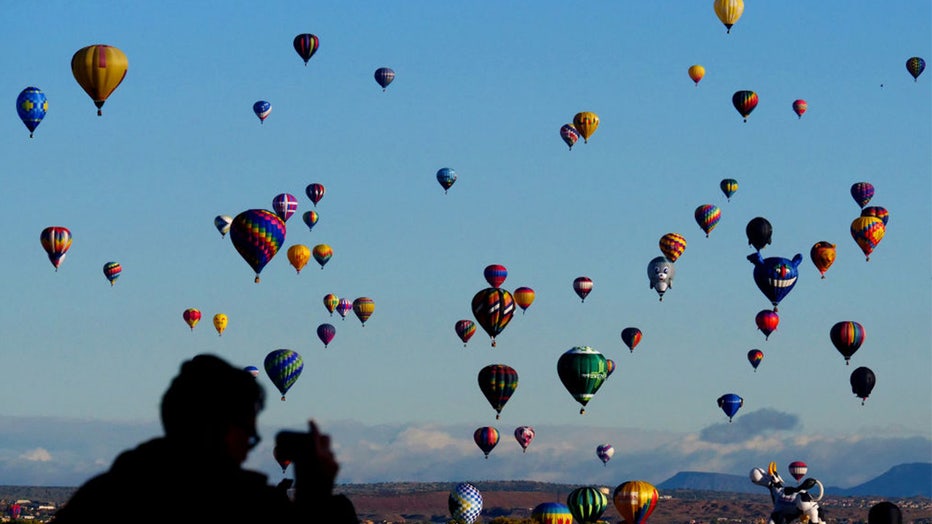 FILE - Spectators watch as balloons lift off from Balloon Fiesta park during the 2018 Albuquerque International Balloon Fiesta on Oct. 8, 2018, in Albuquerque, New Mexico. (Maddie Meyer/Getty Images for Lumix)
According to organizers, balloons will glow on the launch field in the darkness from the eclipse, creating an "eclipse glow" to celebrate the event. 
Albuquerque offers ideal forecast for annular solar eclipse
The forecast is why the Balloon Fiesta happens in Albuquerque in October. According to event organizers, the October climate and a combination of weather patterns called the "Albuquerque Box" make it possible for pilots to take off and land at the same location. 
Based on historical weather data, Albuquerque is an excellent choice to view the eclipse as the city averages .87 inches of rain in October. 
The Fiesta is one of two locations where NASA will host live solar eclipse coverage with expert guests.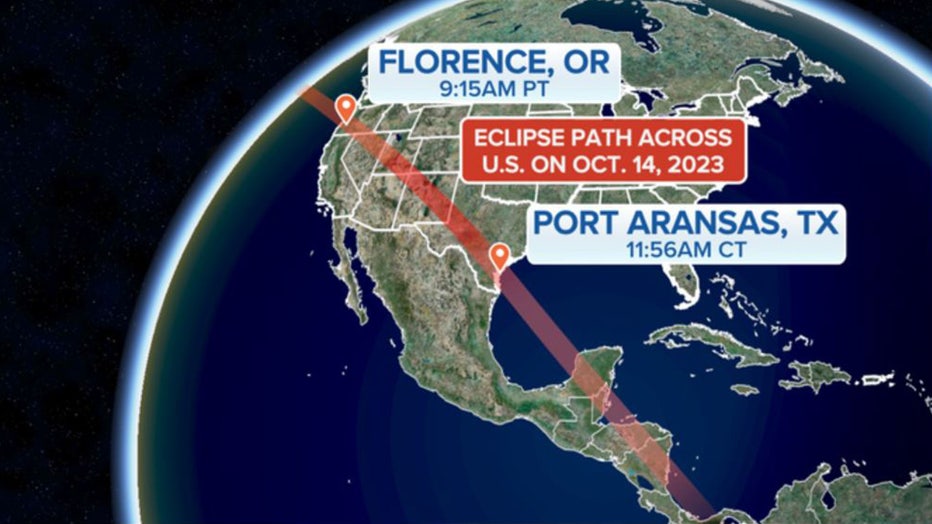 FILE - The path of the annular eclipse on Oct. 14, 2023. (FOX Weather)
NASA scientists and representatives will be at the Balloon Fiesta handing out 80,000 solar eclipse glasses. Unlike a total solar eclipse, eclipse glasses are required the entire time for an annular eclipse. 

WILL WEATHER COOPERATE FOR TOTAL SOLAR ECLIPSE IN APRIL 2024?
The space agency is also hosting live coverage from the Kerrville RiverFest in Kerrville, Texas, along the path of the maximum eclipse. A large swath of Texas will be under the path of an eclipse again in 2024, when a total solar eclipse happens on April 8.