Nevada wild horse roundup to continue despite deaths of 31 wild horses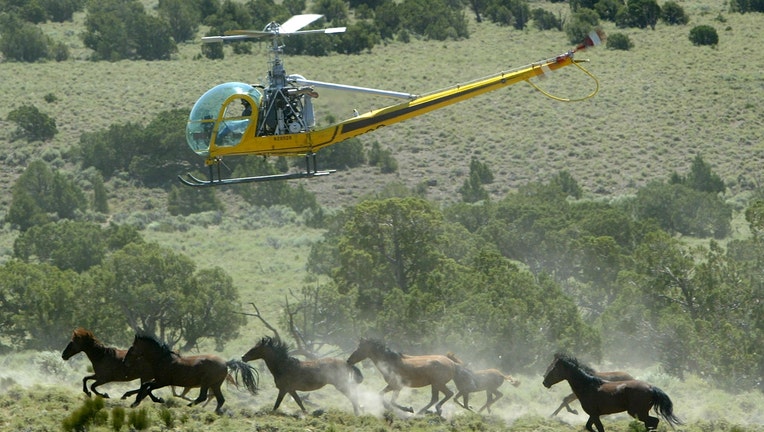 article
Over the objections of wild horse advocates, a judge cleared the way Wednesday night for the U.S. government to continue capturing thousands of mustangs in Nevada despite the deaths of 31 horses during the weekslong roundup.
In a ruling from the bench after a seven-hour hearing in Reno, U.S. District Judge Larry Hicks said he was denying Wild Horse Education's bid for an emergency order to halt the roundup the nonprofit advocacy group argues is inhumane and illegal.
READ MORE: Wild horse dies 'instantaneously' while mating on North Carolina beach, nonprofit says
"The fact is, I don't have evidence that would support the granting of a preliminary injunction or temporary restraining order," Hicks said.
The judge said the deaths of the horses were tragic. But he said that the U.S. Bureau of Land Management appears to be complying with the law and doing everything it can to gather the mustangs as humanely as possible from the range to cull overpopulated herds.
"These tragedies are going to occur when you have gathers, so I cannot find there are inhumane treatments with these incidents," Hicks said.
"The stallions, mares, foals — they are beautiful animals but at they same time they are wild animals. There are going to be some that are lost," he said.
Of little consolation to horse advocates, Hicks said he agreed with their claim that the federal agency illegally denied them access to observe one of the mustang traps because it required passing through private land owned by a man who didn't want the public there.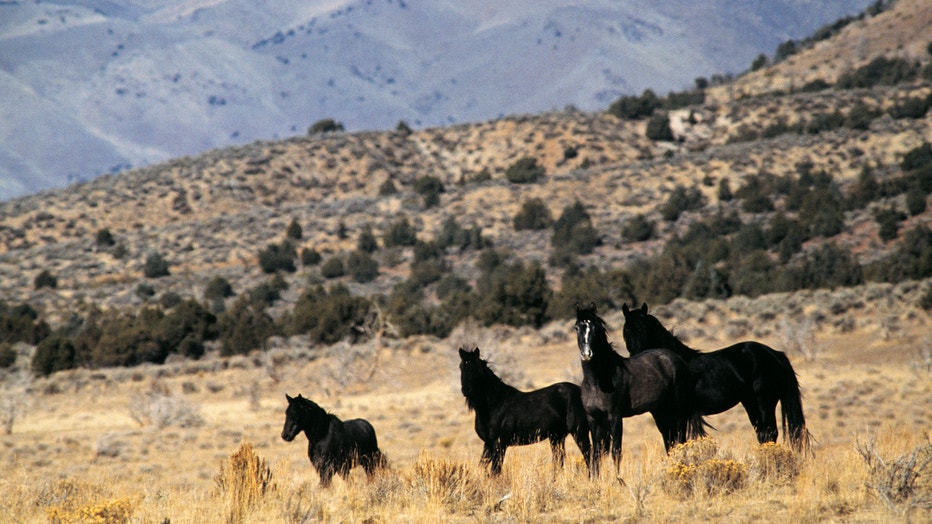 Mustang horse (Equus caballus), Equidae, Nevada, United States of America. (Photo by DeAgostini/Getty Images)
But the judge said bureau officials assured him the roundup in that particular area was complete and a similar situation wouldn't occur again.
"I'm of the view that was a constitutional violation," Hicks said. "But I'm also of the opinion that is moot. ... It's behind us."
Government lawyers representing the Bureau of Land Management said the deaths among 2,500 horses gathered since July 9 were unfortunate but expected. They said the free-roaming animals pose a threat to the ecological health of public rangeland.
Horse advocates argued the deaths were unnecessary, resulting from inhumane tactics being used to expedite removals from public lands where pregnant mares and young foals were being chased in summer heat across rocky high desert into makeshift corrals.
The roundup halfway between Reno and Salt Lake City is scheduled to continue through Aug. 22.
Laura Leigh, founder of the Nevada-based Wild Horse Education, said Wednesday night that she was "extremely disappointed" in the ruling.
"We are discussing with our attorney our options on how to proceed with the underlying complaint to address the lack of enforceable humane standards," she said in an email to The Associated Press.
READ MORE: 11-year-old Outer Banks wild stallion euthanized after severe fighting injury
"Although the Judge said that our Constitutional Rights to view one of the traps was likely violated, he did not see any necessity to restrain BLM from doing it again," Leigh said. "He trusted that BLM's statement that there would be no further trapping on private property with access denial."
Government lawyers said in earlier court filings the horse advocates have been trying to inflame emotions with photos and videos of injured mustangs trying to flee helicopters and wranglers on horseback. One with a broken leg was chased for 35 minutes before it was euthanized.
"Deaths are tragic, but they are a known and anticipated part of wild horse gathers that must be weighed against the harm the same horses face under drought and overpopulation conditions if the gather cannot be completed," Justice Department lawyers wrote.
The agency says the 31 deaths are within the average mortality rate of 1% to 1.2% for wild horse gathers conducted from 2010 to 19.
"Despite plaintiffs' sensational allegations, there is nothing out of the ordinary ... and nothing to suggest the conditions of these gathers have been unusually dangerous to the horses," government lawyers said.
Horse advocates said the mustangs have been made scapegoats for damage most often caused by taxpayer-subsidized cattle grazing the same limited forage on the high-desert range at much higher numbers.
Among other things, they said in a lawsuit filed July 26, the roundup is illegally based on an outdated environmental review that fails to reflect current conditions on the range. They said it also ignores evidence the herds are still in the midst of foaling season when the use of helicopters is largely prohibited.
Democratic U.S. Rep. Dina Titus of Nevada is pushing legislation in Congress to outlaw the use of helicopters altogether.