Mother of the bride forgets to change photo captions in daughter's wedding album, leaving family in hysterics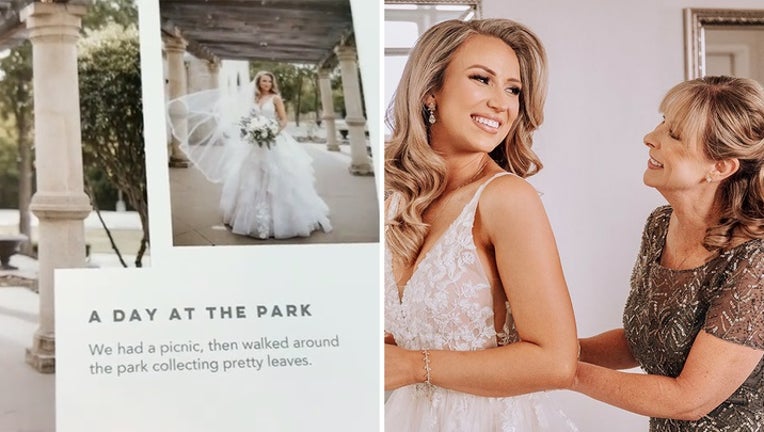 article
The mother of the bride in a recent Texas wedding missed a major step in completing her daughter's wedding album. 
Niki Hunt is a 28-year-old nurse from Houston, Texas, who married her husband Daniel on April 1, 2023.
Hunt told Fox News Digital that after the wedding, her mother, Sherry Noblett, went online to create a wedding album as a gift for the couple.
WEDDING DRAMA ERUPTS AS BRIDE EXPLODES WHEN YOUNG BOY WEARS WHITE, COUPLE NO LONGER SPEAKING
"She had been hyping up the book so much when she ordered it," the bride recalled of her mom's efforts and enthusiasm for the project. 
But when the bride opened the finished album, she began to see her mother had forgotten one key detail: changing the autofilled captions.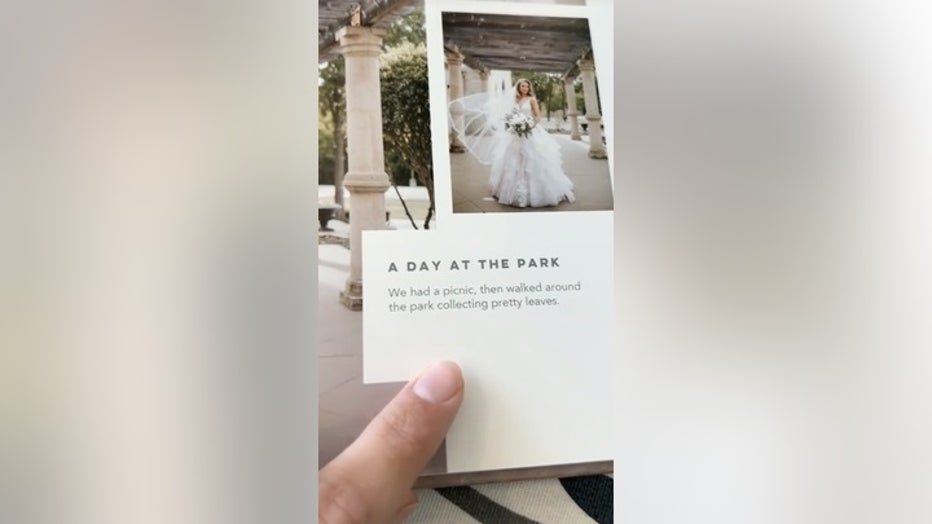 One of the captions that appeared with the bride's portrait said, "A day at the park: We had a picnic, then walked around the park collecting pretty leaves." (Mandi Roach Photography)
Hunt said she started flipping through the book and couldn't stop laughing.
WEDDING DRAMA ERUPTS AS BRIDE'S ANGER AT GUEST WHO WORE WHITE TURNS 'BLUE'
Some of the captions, which she featured in her viral TikTok video, include various seasons, activities and more, such as "a walk in the park" and "spring," for pictures of the groom and his groomsmen. 
Another page shows the bride and a bridesmaid with the caption, "A day at the beach."
Since posting her TikTok in August, Hunt has received over four million views and over 600,000 likes for the video.
WOMAN ON TIKTOK CALLS OUT WEDDING GUESTS WEARING WHITE TO FRIEND'S WEDDING: 'RUDE'
Hunt said her mom was a little embarrassed after hyping up the book and working so hard on it.
Some of the groomsmen's pictures in the book show captions that are about different seasons of the year, such as "summer" and "winter." (Mandi Roach Photography)
"When she told us she had messed up a little after handing it to me at lunch, I thought maybe some of the pictures were cropped a little off or something small like that," she said. 
The bride — when asked if she would be ordering a new book with correct captions — said yes.
But she also said she never plans on getting rid of the original.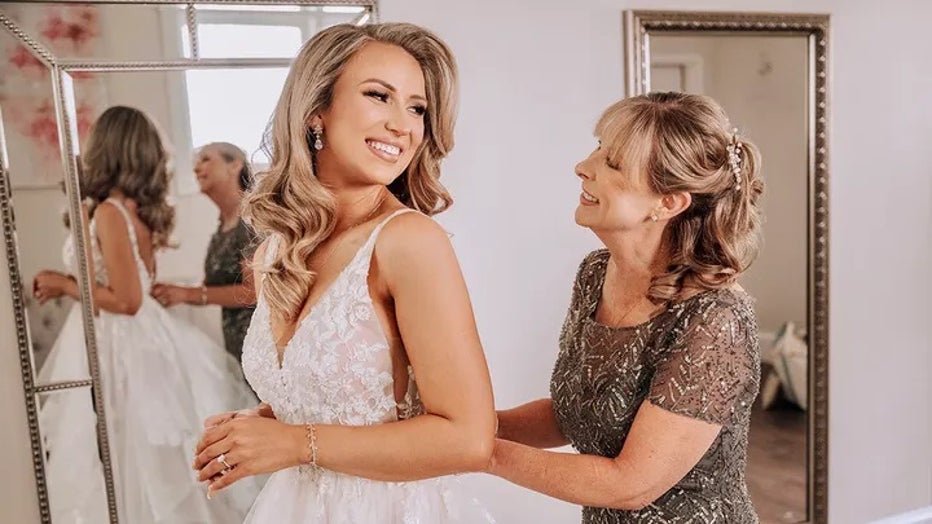 Niki Hunt said her mother (pictured with her here) was excited to show her the book that she worked so hard to put it together. (Mandi Roach Photography)
Hunt said of her mom, "I told her this is our favorite gift — and we will NEVER replace it on the coffee table."
Hunt said her mom has a great sense of humor about the mishap. 
"She is happy that her blunder has brought our family and people all over the world so much laughter," she said. 
Hunt also said the irony of her April 1 wedding date, or April Fools' Day, is not something that goes unnoticed.