Mega Millions jackpot hits $640 million, seventh highest in game's history
The Mega Millions top prize has grown again to an estimated $640 million after there was no winner of the lottery's latest giant jackpot.
The numbers drawn late Friday night were: 10, 24, 48, 51, 66 and gold Mega Ball 15.
The estimated $640 million jackpot in the next drawing would only be distributed to a winner who chooses an annuity paid over 29 years. Nearly all grand prize winners opt to take a cash payout, which for Tuesday night's drawing is an estimated $328 million.
The jackpot is the seventh largest in the game's history, Mega Millions said in a statement.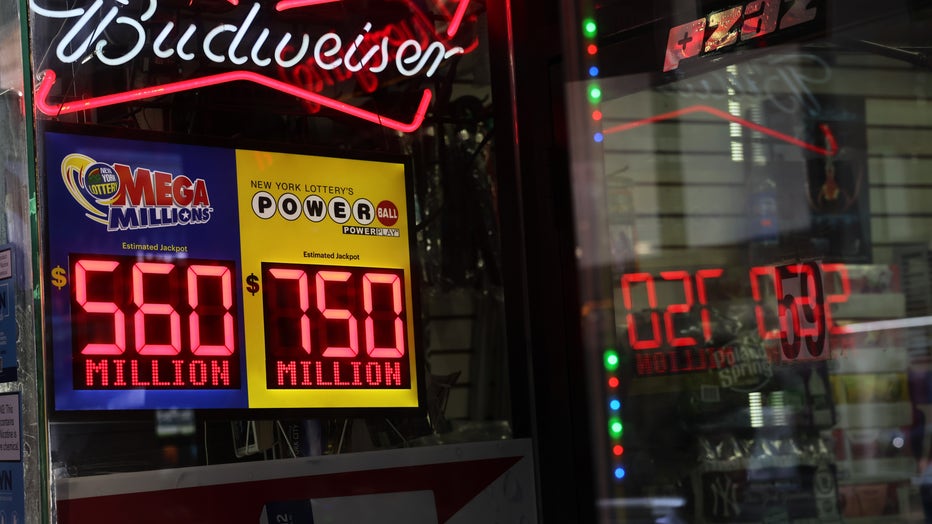 A Powerball and Mega Millions lottery advertisement is displayed at a convenience store on July 12, 2023 in New York City. (Photo by Michael M. Santiago/Getty Images)
Four tickets matched all five white balls to garner the second prize level in the drawing. A ticket sold in South Carolina included an optional multiplier making it worth $2 million. Two tickets in California and one in North Carolina also were second-tier winners, Mega Millions said.
Despite the game's long odds of 1 in 302.6 million, players continue to purchase tickets as the size of the grand prize grows.
The last time a Mega Millions player hit the top prize was April 18.
Mega Millions is played in 45 states as well as in Washington, D.C., and the U.S. Virgin Islands.