Closing arguments underway in 'Doomsday mom' Lori Vallow's murder trial: Live updates
BOISE, Idaho - The Lori Vallow trial is drawing to a close, with closing arguments underway for the so-called "Doomsday mom" accused of killing her two kids. 
The trial is being held four hours away from Fremont County, where the bodies of her kids, JJ Vallow and Tylee Ryan, 7 and 16, were found. The judge on the case decided in order to find a fair and impartial jury, the trial venue should be moved to Boise in Ada County, the largest county in Idaho with about 25% of the state's population living there.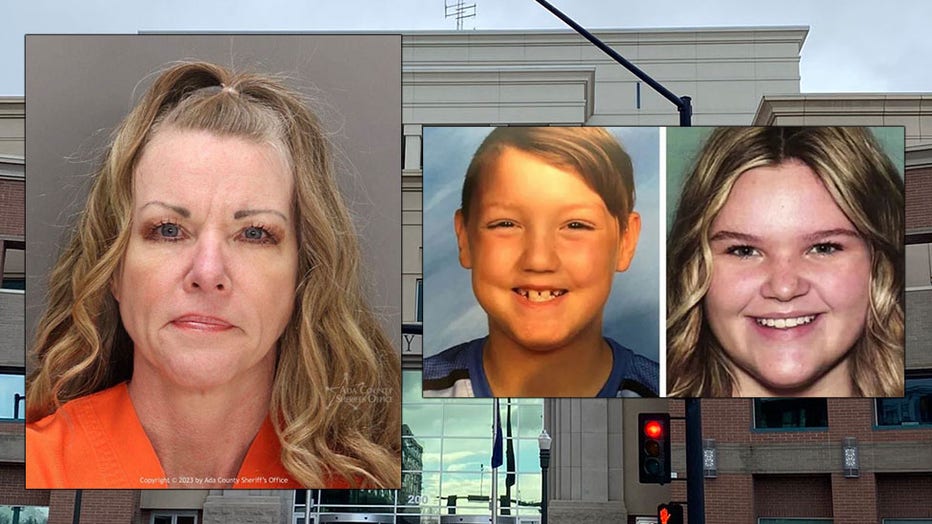 From left: Lori Vallow Daybell, Joshua "JJ" Vallow, Tylee Ryan
This is one of the biggest cases in Idaho history, yet its roots start in Arizona.
A week before the trial, the court summoned nearly 2,000 potential jurors to fill out questionnaires. The pool was narrowed down to 12 jurors, along with a handful of alternates.
The prosecution presented its case, saying Vallow, her husband Chad Daybell, and her late brother Alex Cox hatched a plan to kill Vallow's two kids as well as Chad's previous wife Tammy Daybell. The defense called no witnesses.
A judge decided the couple will have separate trials.
MORE: Judge issues ruling after grandparents of J.J. Vallow file motion to be allowed in court
Investigators say Vallow and Daybell used their religious beliefs to justify these three killings. They allegedly claimed JJ and Tylee became zombies and that a dark spirit possessed Tammy who died suddenly in October 2019.
Authorities discovered JJ and Tylee's bodies in June 2020, located in Daybell's backyard.
This case stems back to Chandler and Gilbert, Arizona with two shootings, one deadly, possible financial motives and doomsday ideas.
We'll have you covered from the courtroom despite cameras being banned.
For all previous and extensive coverage on this case, visit https://fox10phoenix.com/vallow + watch the in-depth special here.
Updates:
May 11
10:42 a.m. - 11:48 a.m.
Prosecution and defense are back. Judge is seated.
We are all now standing, waiting for the jury. Defense is next.
Jury is now seated. It's time for Archibald to present his closing arguments.
Archibald: Looks like I'm going into the lunch hour. Do any of you have phone calls to make?
Archibald: We're small town lawyers. We see each other a lot and we do respect each other. You've seen a lot of PowerPoints over the past month. Sorry I don't have one.
Archibald: I'm just going to talk to you… After some rambling he asks "Who is Lori Vallow? Where did it happen? When did it happen?"
Archibald tells us Lori turns 50 next month as he talks about her background. "She worked hard as a single mother. Got married and divorced again…"
Going through her first four marriages. Charles Vallow, the fourth husband. Archibald says there were 5 kids between them.
Who is Chad Daybell?" Archibald talks about how Lori read his books and how the jury has heard what Chad told her about multiple lives.
Archibald is pointing to Chad Daybell as the one who taught her all these religious ideas. "Quite a remarkable change. People who knew Lori, 'what the heck is going on?'"
Archibald: One year after meeting Chad, four people are dead.
Archibald to jury: Pay attention to burden of proof. I don't have to call a witness. My client doesn't have to testify. You can't hold that against me. You can't hold that against her.
Archibald: It's super bad to sit here for seven weeks and have to go home. For you alternates that get bumped, thanks again for your service. There are 18 total jurors. Six alternates.
Archibald: Six times this trial you've heard my client's voice. Is this case about money, power and sex?
Archibald brings up Charles Vallow co-signing on the purchase of the Jeep for Tylee Ryan. On an exhibit, Charles says he makes 400-500K a year. Archibald asks why someone would want to kill a spouse who made good money.
Archibald says Chad Daybell who writes stupid books and has gone bankrupt. "So Lori wanted to ditch Charles who makes 400-500k a year and go to Chad who made 20-30K a year and she wanted to do that for money? My math doesn't add up."
Archibald asks how many converts Lori had to join 144K she was supposed to lead. He counts zero. He says Chad had about 6 people including Lori & Alex Cox as converts to "the cause." "So this great cause of saving the world, waiting for Jesus to come.. and in 1 year we got 6."
Archibald: Chad still needs 143,994 to join the cause. Arch asks "Was the move from Charles to Chad a trade up or trade down?"
Archibald: Her children are dead. No question about that. But did she kill any of them? "That's where the state concedes."
Archibald is putting the blame on Chad Daybell. John Prior is listening intently. Lori has her back turned to us but her head turns right toward Archibald.
60 witnesses but Archibald says many are city police and county authorities. Now he's talking about Kay Woodcock, the first witness who described the family Lori and Charles had as the "all American family."
Archibald on second witness Brandon Boudreaux referring to his testimony: I loved that family like my own but then the end of the world talk came up. 'Charles died. I got divorced and shot at and things got weird really quick.'
Archibald brings up Det. Hermosillo watching Chad look at his yard nervously before the kids were found.
Archibald: Does she know that Chad and Alex stuffed her kids in Chad's backyard?
Archibald brings up the recording where Lori says the "kids are safe and happy." Archibald says she knows the kids are not with her. "Remember all the GPS data. Lori is not there."
Archibald: we don't have any texts about "today is the day we kill people." He says part of jury's job is to figure out who's doing what. If lack of evidence is something the state has shown, they can't hold it against his client.
"Third creation. Fourth creation. Great warriors… what the heck is Chad talking about?" - Archibald
Archibald tells the jury to listen to the call between Lori and her son Colby Ryan again. "So painful for Colby," as Archibald sounds like he cries.
We have never seen Archibald be emotional. That was very brief.
"Why check JJ into school if you're gonna kill your kid next week?" Archibald says because Lori didn't have a plan.
Now he brings up the rental agreement in Rexburg. The exhibit he's talking about is an application that lists two kids and that Lori lives off social security income. "Why list her kids on the rental application?"
State: Lori had a plan. Defense: Lori didn't have a plan.
Archibald says Lori lied about JJ's whereabouts to protect Chad, her lover and eternal companion.
Most of the jurors are watching Archibald. Some are taking notes. He slowly paces back and forth holding his notes and the microphone.
Lori is leaned back in her chair, watching her attorney. Judge Boyce sits upright, looking at Archibald. Defense brings up Alex Cox being stuck with a 16yo brain because of a bad car accident.
Now onto the duct tape on JJ's body: Archibald says there was a piece of Lori's hair on the tape. "Is that a smoking gun? No it's not." He talks about how other items were found in the bag.
Arch: To say Lori is a killer because of her hair on duct tape is not true. "All of you who are mothers, I would hope your chair is on your kids' blankets, your kids' socks. That doesn't mean she's a killer."
Archibald: Chad is so smooth he convinced coroner not to do autopsy and convinced his kids everything was fine after their mom died.
Noted: State brought its case against Lori. Defense is bringing its case against Chad. Now onto Audrey B, witness who was former friend of Lori. "Well, we learned she was married to Jesus. That is kind of cool." - Archibald
Archibald: Chad knows everything. He refers to the death percentage system. "He's making it up as he goes."
Archibald talks about how Chad refers to George Bush, Stan Lee and Harry Potter in texts. "What's going on in Chad's brain? You and I wouldn't believe it. But some people do.."
"Was it proven who killed Tylee? No, but Alex and Chad were at her gravesite." Archibald: Did they prove that Lori directed it or conspired? Of the 15,000 texts you have in evidence, show me where it says 'from Lori: so when are you killing Tylee?'
Archibald makes same argument for JJ's death. "Why can't people break away from cult figures?"
Archibald: Lori wants to tell you how much she loves Jesus. She wants to tell you how she met him. But is she a leader or follower? She's not leading anyone. She's a follower of Chad. She thinks Chad is a follower of Jesus. But he's not. He's a follower of the storm.
Archibald says Lori sees Chad as Jesus. "Blessings are being handed out like flies."
Jim Archibald is crying.
Archibald: That's the Jesus that Lori believed in until she met Chad Daybell. He says this after quoting phrases like "judge people how you want to be judged." Compassionate quotes and such.
Archibald: If you find her guilty, will that bring the kids back. No. If you find her not guilty, will that bring the kids back? No. You can't be concerned about that. Follow the law and the evidence. Follow the law and lack of evidence. This case is not about multiple lives.
About multiple creations… if we learned anything about a storm, you seek shelter from a storm. "She spent her whole life protecting her children."
That's it for the defense. Lunch break and then the state will give rebuttal.
9:01 a.m. - 10:14 a.m.
CLOSING ARGUMENTS: Madison County Prosecutor Rob Wood takes the podium.
Wood: "Money, power and sex."
Wood says Lori Vallow and Chad Daybell set off events leading to three murders, involving conspiracies for a larger plan.
Wood: Idaho murder number one. Tylee Ryan. She was young and vibrant. She had her whole life ahead of her. Lori Vallow was responsible for her. Instead of protecting her, Lori, Chad Daybell and Alex Cox conspired to murder her.
Wood: Tylee was burned so badly and what was left of her body was dumped in a green bucket in a pet cemetery along with a piece of her skull. But Lori kept collecting her money.
Wood is speaking right to the jury, body language direct. Vallow stares at him as Tylee's picture is on the big screen.
Idaho murder number 2.
JJ Vallow. A photo of him at Colby Ryan's wedding is shown.
Wood: Duct tape was wrapped around and around JJ from his forehead to his neck.
"The evidence shows he struggled and we will never know how long he fought."
Wood: His heart stopped beating and he stopped breathing. A 7-year-old boy with special needs.
Wood: Just like Tylee, JJ was a recipient of social security benefits in the death of his father Charles Vallow. Not only did Lori not report him missing but she lied about his location.
Wood: Just like Tylee, after JJ was murdered - she kept collecting the money.
Idaho murder number 3. Tammy Daybell.
Wood: Tammy, a loving, healthy, active 49yo mother of five. A school librarian murdered in her own home by asphyxia.
Wood: Acting together, Lori, Chad and Alex conspired in her death. 10 days prior a masked gunman tried to shoot and kill Tammy.
Wood says Lori was conveniently out of state when Tammy died.
Wood brings up $430K in life insurance benefits off Tammy's death. He says Lori wasted no time capitalizing.
Wood: Weeks after Tammy died, Lori and Chad were getting married on a beach, free of obstacles that were Tammy, JJ and Tylee.
Wood shows a timeline of events on the screen. It says "Timeline tells the truth"
7/11/19 - Alex Cox shoots and kills Charles Vallow
9/9/19 - Tylee Ryan is killed 
9/22-9/23/19 - JJ is killed
10/19/19 - Tammy is killed
Wood: there's one common thread. Lori Vallow. She is the one who ties things together.
Another slide shows a timeline in the fall of 2019 into summer of 2020. We see the Jeep involved in the shooting at Brandon Boudreaux. At the end, is the day JJ and Tylee were discovered on Daybell's property.
Wood: This is a crime of agreement. Did Lori agree for Tylee to be killed and collect that money?
A slide labeled "Instructions" comes up on screen.
Wood: Who murdered these people and did Lori intend for this to happen?The state has proved each of these overt acts.
The slide has questions for the jury.
Who murdered them? (JJ, Tylee, Tammy)
Did Lori conspire to murder and grand theft?
Did Lori aid and abet the murder?
Did Lori encourage the murders?
Lori looks at Wood as he continues to speak. Jurors are focused on him.
Wood: you will find that the state has met its burden beyond a reasonable doubt.
Reasonable doubt: it's a doubt based on common sense.
Wood says use your reason and common sense.
Wood has a slide titled "Malice"
Malice may be express or implied. He says the jury will find an abundance of malice.
Aiding and abetting: Wood says it's just the same as pulling the trigger.
Wood: You need to find just one overt act beyond a reasonable doubt. They don't need to be illegal. But if it's act done to further the conspiracy then it's an overt act making it apart of the crime.
Wood: No one here has been charged because of their religious beliefs. They're charged for using the beliefs to justify overt acts.
"They couldn't kill the kids in Arizona where they had friends and family."
Wood: They had to go somewhere where nobody knew.
Wood brings up Lori failing to contact SSA once again after deaths of JJ and Tylee and how she continued to collect benefits.
Wood: There were texts between Chad and Lori regarding death percentages for Tammy and JJ. Chad got a burner phone. Alex did too. All steps taken to further the conspiracy.
Wood: Let's talk about the digital evidence. He brings up the email accounts for Lori, Chad and Alex. Internet searches by Alex are shown to the jury.
Wood: He googles Brandon Boudreaux's address. He googled info about his rifle.
Homerjmaximus@gmail -
Searches include "how to help your AR load in the cold"
Wood shows Chad searching for SSW wind direction because he says the next day he will be burning Tylee in his fire pit.
Wood shows Lori's search records.
"Tammy's not dead yet and she's already searching for wedding rings."
On the day Tammy is buried, Lori searched for wedding dresses on 10/22/19.
Chad's text to Tammy on 9/19/19.
Wood: Chad places himself in his own backyard and texts "I felt I should burn all the limb debris." This text told us where to locate Tylee Ryan.
The text says Chad also shot a raccoon and buried it in the pet cemetery. There was no raccoon found.
Wood on digital evidence: One of the overt acts, Alex Cox went to Lori's apartment on 9/9/19 in the middle of the night. Why is that significant? 9/8 was last known sighting of Tylee.
Wood: There was a phone call around 8am on 9/9 between Chad and Alex. Cell phone pings to Daybell home later that morning in multiple hits feet away from where Tylee would be found.
At 11:37AM: Wood says Alex is leaving Chad's home.
"They've done the deed."
Wood brings up Melanie Gibb and David Warwick's testimonies.
Specifically when Lori told Melanie JJ was a zombie, acting different.
On 9/23/19 at 9:01AM, Alex is located at his apartment before a quick phone call with Chad. By 9:45 Alex is on his way to Chad's home with JJ, Wood says.
Last known sighting 9/22/19.
Wood: This was premeditated murder. Lori handed her boy to Alex Cox.
Wood continues to show digital evidence slides regarding Alex's cell phone locations. Lori is looking away from the jury now.
Timeline of 10/9/19, day of murder attempt on Tammy Daybell. Six texts between Chad and Lori.
Then 15 texts between Alex and Chad.
Wood: What ties Alex to Chad? Lori Vallow.
Now the timeline of digital activity on 10/18/19-10/19/19 when Tammy was killed. Several messages between Chad and Alex happen that day.
Wood: Remember where Lori is. She's in Hawaii on purpose, not coincidence.
Wood brings back an exhibit, showing overhead view of Daybell property. He encourages jury to review this exhibit in deliberations.
Wood: Chad sat in his car looking nervous. You heard a phone call between Chad and Lori when he said "they're searching the property."
We see the fire pit again. Wood reminds the jury about how Tylee was found and talks about the chain/charm found.
"You saw satellite footage that se day of the disturbance in the ground."
Law enforcement found charred flesh dismembered.
"They also found pieces of her here in the shed."
We see photos of shovels and a pick ax. Wood reminds jury about the material on the axe looking different than the dirt. Tested for DNA and it was Tylee - in the eye of the pick ax.
Now two shovels on the screen. DNA and blood testing matched to Tylee Ryan, says Wood.
We see a zoomed in photo of grass and rocks close up. Some jurors stare at the screen and some look at Wood.
Photos change to plastic covering on JJ's body.
Wood: Again, Lori Vallow handed JJ off to Alex Cox.
"Tylee, JJ and Tammy can't tell us what happened. But their bodies do." - Wood
Slide talks about physical evidence.
Tylee's body had puncture wounds in pelvis.
We see a photo of JJ wrapped in duct tape, asphyxiated.
We see Tammy's body during autopsy. Wood says they found nothing in her that would have killed her. "She had bruises on her arms."
Tammy was killed by asphyxiation.
"We told you this was about money, power and sex. We talked about religion but this was not about religion. This was about money, power and sex."
Wood: Lori learned a lesson with Charles Vallow. Get the money first.
Slide shows diagram of Tylee Ryan's social security benefits on behalf of her father Joe Ryan who died.
Wood on bank deposit change: She made sure to get the money before she killed Tylee.
On JJ's benefits via Charles' death: Lori was collecting as a caregiver with multiple payments.
"By the way let's talk about grand theft. What do you need to find?"
Wood says after JJ died she had no right to collect money.
Wood: She thought she was getting a million dollars off life insurance.
Wood says money is the motive for murder.
Now power - "let's talk about religion a little bit."
We have heard so much on religion and Wood says it doesn't matter what they believe but how they use the beliefs. Manipulation.
Power: Grooming of Alex Cox
Wood shows a few text exchanges between Lori and her late brother Alex.
"Lori Vallow is telling Alex Cox what to do. In these messages you never see Alex telling her what to do."
Wood: Alex believed everything Lori said. She was conduit of information.
Power: Religion as manipulation
Wood says these people were manipulated by Lori:
Zulema Pastenes 
Melani Boudreaux 
Alex Cox
Melanie Gibb
Now Wood breaks down sex as a motive with the Vallow Daybell affair.
"Lori uses sex to manipulate Chad."
Sex: Obstacles do a future together
Wood brings up texts between Chad and Lori showing that she wanted her kids gone, encouraging murder.
Text on Tylee being helpful: "She's not being her. See if she got switched."
Wood: This isn't fantasy. Those children were found dead.
Wood repeats "this isn't fantasy. They're talking about the deaths of real people."
Several texts have been read on death percentages. One by Lori to Chad asks if JJ "is at zero yet?"
Will be interesting to see how defense responds to all of this when they are up.
Wood on a "removing obstacles" for Lori and Chad.
LV to CD text: I'm so alone without you.
CD: We are surrounded by telestial relatives…
"Please seek a confirmation on this," Chad texted to Lori Vallow when speaking of Tammy in "limbo."
Wood says he's seeking confirmation from Lori to further the plan.
What is Wood trying to bring home?
That Lori Vallow is the lead on the murder plans.
Now we see three photos.
Tammy, Tylee and JJ.
"You have your instructions. Read them carefully. Consider all the evidence. Look at the facts."
Wood: The burden is beyond a reasonable doubt. What does your common sense tell you?
Wood: Look at the timeline. Ladies and gentlemen, go back through the elements and you must convict her.
Brief recess then the defense will go up.
 
6:44 a.m. - 8:40 a.m.
Closing arguments coming up. #LoriVallowTrial
People are lining up to get into the Ada County Courthouse. There's a mix of local and national media along with documentary crews.
The defense for Lori Vallow has arrived.
I am now seated inside courtroom 400. Prosecution is seated. John Thomas with the defense is here. Waiting for Jim Archibald. And of course, waiting for Lori Vallow to be brought in.
Jim Archibald, Lori's defense attorney is now seated looking at his laptop.
Lori Vallow just walked in, wearing a black cardigan top and gray pants. She came in smiling and is now seated next to Archibald.
Lindsey Blake, lead prosecutor just came in. Lori turns toward Archibald and they are chatting.
Vallow is now talking to John Thomas. She seems calm. I'm told special prosecutor Rob Wood will be handling closing arguments.
JJ Vallow's grandparents Kay and Larry Woodcock are getting seated. The bailiff is now going over courtroom conduct.
Bailiff: Today is a very big day. Thousands of man hours come to this moment. Silence your phones so you don't interrupt proceedings.
The prosecution section in the gallery is full of law enforcement, mainly from Rexburg PD and FBI.
Vallow continues to chat with Thomas. We should be getting started shortly.
It's pretty quiet in here while we wait for Judge Boyce. All you can hear are some whispers and @NateNewsNow typing.
Judge Boyce is here. It's time.
On the record.
Boyce: Court will first go through jury instructions with jurors before closings. There is also pending motion filed by defense for acquittal.
Boyce is prepared to rule on that motion for acquittal. Judge says he's taken it under advisement.
Boyce goes over rule 29 and case law examples. It's a lot of legal terminology.
Boyce says there are a lot of counts here. The defense simply requested the motion under 29 for the case to be reviewed to see if there's sufficient evidence.
Boyce: There was substantial evidence throughout this trial.
In regard to the amendment of the first count in the indictment - conspiracy to commit 1st degree murder & grand theft by deception…
Judge says there were witnesses to testify to this count. Evidence of a lease agreement for Vallow, multiple witnesses of her in Rexburg w/ BWC.
Judge Boyce finds there is sufficient evidence on elements for count 1, going onto discuss the alleged conspiracy and overt acts.
Lori watches Boyce speak with full attention.
Boyce refers to other exhibits, evidence and witnesses.
One is social security investigator in connection to Vallow not reporting the death of Tylee Ryan to SSA.
As to count 1, court finds there is sufficient evidence in favor of prosecution to deny motion for acquittal.
Now onto count 2, first degree murder in the death of Tylee Ryan. Again, judge is going over the evidence to determine sufficiency.
Remember, state called 60 different witnesses to testify for this trial. Many with law enforcement from multiple states including Idaho and Arizona.
Count 3, Judge denies motion as well.
That count was for murder conspiracy and grand theft by deception in the death of JJ Vallow.
Count IV - first degree murder in the death of JJ Vallow. Court finds sufficient evidence to move forward to jury.
Count V - murder conspiracy in the death of Tammy Daybell.
Boyce says looking at the evidence, he notes that Det. Bruce Mattingly established dates of 911 calls admitted, date of death by coroner and text messages entered between Vallow & Chad Daybell on Tammy "being gone soon."
Burner phones, life insurance policies maxed out, witnesses to testify to that… and internet searches relating to the rifle recovered in connection to attempted murder of Tammy on 10/9/19.
Judge denies rule 29 motion on this count.
Excuse me, he denies the motion for count 6 as well - 1st degree murder (Tammy Daybell).
Count 7 - grand theft charge.
Judge says there's enough evidence for this matter to move forward. Rule 29 motion denied on all counts.
This case goes to the jury after closing arguments.
Jury will be brought in for final instructions.
Judge says jury instructions have been finalized. Defense has copies. Court will go over the instructions with jury soon. Then closing arguments begin.
Jury is seated. Jurors have their notebook, coffee and water with them.  Here we go.
Judge to jury: Court will read over jury instructions and you can follow along. There are a total of 39 instructions. 1-10 have been read to you. There are a few to go over again.
Judge Boyce: If you have a reasonable doubt about the defendant's guilt you must find defendant not guilty.
That was end of instruction number 4.
Boyce quickly goes over 5 and now onto instruction 11.
Boyce: You've heard all evidence in the case and must follow all the rules given to you.
Lori Vallow looks straight ahead in direction of jury but also has her eyes down.
Jurors are looking down at the instructions, listening to Boyce. He goes over specific exhibits numbers they can review under request.
Jury instruction 21: Murder is the killing of human being with malice or forethought.
Jury instruction 27: a person steals property when wrongfully taking property from owner thereof.
Judge is going over range of dates linked to Lori Vallow, Chad Daybell and/or Alex Cox conspiring to commit murder of the 3 victims. He also goes over Lori changing deposit of Tylee's benefits to her bank account.
The jury will have to answer these questions and decide if Vallow is guilty of committing crimes charges against her, beyond a reasonable doubt.
Premeditation means to consider beforehand whether to kill or not to kill and then decide to kill, Boyce says.
Aiding and abetting means intentionally counseling another to commit the crime. Participation of each defendant in the crime must be proved beyond a reasonable doubt.
Jury instruction 30: in order for defendant to guilty of count 3, conspiracy to commit murder and grand theft of deception, in death of JJ Vallow, jury must determine whether or not Lori and Chad endorsed religious beliefs to justify the murder, she moved from Chandler to Rexburg
With Alex, Tylee Ryan and JJ. On or about 9/23/19, Alex took possession of JJ. On or about 11/26/18, Lori gave false info on JJ's physical location to law enforcement. On it about 9/23/19 Lori failed to contact SSA to inform about JJ's death. Between 9/9/19 and 2/1/20 Lori
Wrongfully collected social security benefits on behalf of JJ. Jury must decide if this has all been proven by state.
Judge is still reading the overt acts for the counts against Lori. There are about a dozen acts in the murder of Tammy Daybell.
From 10/26/18-6/9/20, Lori and Chad endorsed religious beliefs for the purpose of justifying murder of Tammy.
On or about 9/1/19, Lori moved to Rexburg with Alex, Tylee and JJ from AZ .
Texts between Lori & Chad discussed death percentages for Tammy and JJ on 7/30/19.
Chad got a burner phone on 9/18/19.
Alex got a burner phone on 10/9/19.
Texts between Lori & Chad talked about Tammy possessed by a spirit named Viola.
On 9/8/19 Chad signed application with Tammy to increase Life Al insurance to max allowed.
Alex tried to shoot Tammy on 10/9/19.
Alex searched internet multiple times for info on Grendel drop & shooting through Dodge Dakota. Alex went to gun range months before 10/9/19 shooting
These are the overt acts written in the indictment.
Will the jury agree the state has proven all this beyond reasonable doubt?
We are now at jury instruction 35 in which jurors will answer if Lori Vallow is guilty or not guilty of each count against her.
Vallow has black framed glasses on. She's reading over her copy of jury instructions as judge continues.
Instruction 37: exhibits will be the jury room except for the firearm shown to the court earlier in the trial. Safety reasons. Some exhibits are sealed in bags and containers. Jurors cannot open them.
Boyce takes a sip of water after reading 37.
Instruction 38: Presiding officer will be present for jury deliberations. Verdict must be unanimous.
Instruction 39: Rules of law are outlined and in a few minutes counsel will do closing arguments. Jury will head to jury room after.
Judge: Base your decision on what you remember. Conduct is important. You are not partisans or advocates. You are judges.
Judge: consult with one another and consider each other's opinions but do not surrender your honest opinion just to return a unanimous verdict.
CLOSING ARGUMENTS: Rob Wood is set to speak. Brief sidebar first.
Brief recess. Lori Vallow walks out for break with her hands in her pockets.
May 9
1:31 p.m. - 1:32 p.m.
Wow..and the defense rests.
As we reported earlier. Judge confirms with Lori Vallow she won't testify.
11:42 a.m. - 12:36 p.m.
Source: Lori Vallow will not testify.
What does the defense have strategized once prosecution rests? I'm told closing arguments will be crucial..
BREAKING: State rests its case vs Vallow.
7:30 a.m. - 8:15 a.m.
This is the 60th witness in the Lori Vallow trial.
BREAKING: Court will stream the verdict in the Lori Vallow trial via YouTube when the time comes.
Heideman has testified before so we still await witness #60.
Judge Boyce denied requests by Court TV and East Idaho News to stream the verdict via pool cam.
This is a big deal for the case. Cameras in the courtroom have been banned since Sep. 23, 2022. The defense argued that a fair & impartial jury could not be found w/ so much pre-trial publicity. At the verdict phase, a decision will have been made. And the public gets to see it.
May 4
9:50 a.m. - 1:24 p.m.
From the Gilbert PD investigation into attempted murder of Brandon Boudreaux.
"Ian told Rexburg PD and the FBI that Melani said she would go to prison or die before turning against Lori and Chad."
But remember this statement was made in 2019.
In September of 2020, our public records request for BWC footage came back from Kauai PD. Here is the video of the interaction on 1/26/20.
Lori called Charles Vallow "Hiplos" to her inner circle before he was shot and killed.
Court will adjourn early tomorrow, wrapping up week 5 of the Lori Vallow trial.
Yet another Arizona law enforcement connection, taking the stand. Ryan Pillar was the lead detective on the case of attempted murder of Brandon Boudreaux. He is a crucial part of this whole case.
Pillar was the one who called Fremont County dispatch inquiring about Tammy Daybell's death only to learn there was no initial autopsy. He worked with Rexburg PD to locate the Jeep involved in the shooting. Pillar is also the officer who contacted Melanie Gibb.
Lori Vallow's defense has continuously argued that evidence from Arizona law enforcement should not be allowed in.
But reality is Arizona's two cases (Chandler, Gilbert) set the foundation for what happened in Idaho. It's all connected and the jury has heard several witnesses.
6:16 a.m. - 7:55 a.m.
Today is Tammy Daybell's birthday. She would have been 53. Chad Daybell is accused of murdering Tammy who was his wife of nearly 30 years. He has a status conference today at 3:45 MDT regarding his trial. It's day 22 of trial for Lori Vallow, Chad's wife & alleged co-conspirator.
The big question on MP is if Judge Boyce decides she can be a witness or did she clearly violate exclusionary rule by watching Brandon Boudreaux's testimony?
Chad will zoom in from Fremont County. Judge, prosecutors and defense will be in Boise physically. No cameras allowed. Will ask for audio.
Could be discussed during status conference. Attorney wanted it no earlier than October 2023.
Lori wanted the speedy trial by October 2022 initially.
Archibald wants Ian Pawlowski crossed off.
This call took place immediately after Alex Cox died in Gilbert, AZ - following Tammy Daybell's body exhumed by authorities on 12/11/19.
Defense: Let us play the secret recordings instead and take Pawlowski off the stand as a witness.
May 3
7:56 a.m. - 9:28 a.m.
Key testimony here. Lori Vallow's old friend who was listed as someone she was with when Tammy Daybell died on notice of alibi.
Chad Daybell told witness she was married to Jesus in previous life.
Right here. Chilling testimony as Audrey tells the court Lori Vallow threatened to kill her.
Since we've heard from Audrey Barattiero who was also friends with Lori Vallow's niece Melani Pawlowski - could Melani testify next? There have been reported sightings of Brandon Boudreaux's ex wife at the courthouse and she's also named in Lori's alibi.
May 2
9:13 a.m. - 10:42 a.m.
The 50th witness of this trial is now testifying.
Chad Daybell asked friends of his dead wife to put up property for bond to help Lori Vallow post bail…
And Lori's bail amount was initially $5M before being dropped to $1M.
Dropped to $150K with you Mark in July of 2020. But I'm referring to time of arrest.
That specific bail was lowered in Madison County, four months after Lori's arrest but just a month after her kids were found dead in Fremont County where her bond amount was $1M.
Felonies in Fremont. Misdemeanor charges in Madison at the time. And less than a year before the murder charges hit.
May 1
5 p.m.
Nearly 50 witnesses have now testified.
Lori's late brother Alex Cox was the man seen holding JJ in her apartment according to witnesses. Nine months later authorities discovered the seven-year-old and his 16-year-old sister Tylee Ryan buried on the property of Lori's husband Chad Daybell.
The chief medical examiner for Utah took the stand, testifying about Tammy's body being buried and then exhumed in late 2019.
The medical examiner not only confirmed she died of asphyxia, but that there were bruises found on her arms and chest, indicating Tammy was restrained before she died.
Tammy's niece Brooke Unti spoke with FOX 10 about what this ordeal has been like for her family.
"It's different for different members of our family. Some are listening every day, and taking notes. Some have distanced ourselves, so that we can protect our mental health and our hearts and I think every approach is valid with that it's painful," Unti said.
Besides Utah's chief medical examiner, Dr. Erik Christensen, and the senior DNA analyst with Bode Technology, Keeley Coleman, FBI special agent Ricky Wright took the stand – retracing the steps of another alleged co-conspirator, Lori's late brother Alex.
7:55 a.m. - 11:04 a.m.
Partial DNA sample matches to Lori Vallow's DNA according to witness testimony.
Major piece of evidence revealed to start week 5 of trial.
Although JJ did live with Lori and was last seen in her apartment on the night of 9/22/19 with Alex Cox. JJ was taken upstairs.
The day after Tylee Ryan was last seen. Alex Cox's phone pings at the shed where nearly 20 of Chad Daybell's tools would be recovered after her remains were found in the yard. We now know TR's DNA was found on a shovel and pick ax.
On 10/2/19 Alex is suspected of shooting at Brandon Boudreaux in Gilbert. Police say Alex and Chad Daybell used burner phones to communicate immediately after the shooting.
By my count, so far the prosecution has called 47 different witnesses to testify. Only one was brought back a second time from my knowledge (Chuck Kunsaitis). The jury has seen/heard evidence for about 14 total days of testimony.
April 28
7:52 a.m. - 12:19 p.m.
Chad Daybell had his wife's burial site placed four hours away from home.
Charles Vallow did not have a heart attack as Lori Vallow allegedly told her own son. He was shot and killed by her brother Alex Cox. This is sad stuff.
Day 18: Lori Vallow watches Samantha Gwilliam, the sister of Tammy Daybell testify this morning. 
Chad Daybell sent Tammy straight to the funeral home and did not ask for an autopsy. Her body was eventually exhumed on 12/11/19.
Fremont Co. coroner had 20 death responses before Tammy's case.
Charles tried to sound the alarm to Tammy about the alleged affair between Lori and Chad.
Prosecution strategically laid out three witness testimonies showing Tammy did high intensity exercises like burpees and Zumba, no problem. And 10 witnesses testified today, in total.
According to texts we obtained through Chandler PD's case file, Charles warned Lori he would be reaching out to Tammy ahead of time. Question is if Lori then alerted Chad about it. Tammy's sister testified that Tammy did not know about any affair.
April 27
3:27 p.m.
TAMMY'S SISTER TESTIFIES: Here is a sketch of Samantha Gwilliam on the stand this afternoon speaking about her sister Tammy Daybell. Lori Vallow is sketched on the right. Prosecutors say Lori and Chad Daybell conspired in the murder of Tammy.
7:19 a.m. - 11:29 a.m.
Lori Vallow murder trial day 17: Forensic scientist to discuss Tylee Ryan's skeletal remains
Lori Vallow Trial (Day 17): Dr. Angi Christensen, FBI forensic anthropologist returns to the stand for testimony. She did a CT scan on the skeletal remains of Tylee Ryan and will discuss the trauma she found on specific bones.
Graphic: topic of dismemberment regarding Tylee's remains. Sharp trauma yet unclear if there was dismemberment.
Tylee's murder and the aftermath are full of such graphic details, there have been at least 5 witnesses called on to explain the horrific condition of her remains. She was a little more than 2 weeks from her 17th birthday.
Douglas Halepaska testified, the 34th witness called. He is a forensic examiner with the FBI. 
Ryleen Nowlin testified after David Sincerbeaux. Nowlin works for the Idaho State Police forensic dept. She is the 36th witness in the Lori Vallow trial. 
April 26
9 p.m.
Listen to April 26's full courtroom audio here.
7:46 a.m. - 12:10 p.m.
What's next? FBI special agent Steve Daniels returns to the stand, detailing the tragic discoveries of JJ Vallow and Tylee Ryan in the backyard of Chad Daybell. 31 witnesses called by the prosecution so far and we still have yet to hear the causes of death for both siblings.
We now know that both JJ Vallow and Tammy Daybell died by asphyxiation about a month apart. Due to the condition of how Tylee Ryan's remains were found, it's unclear if we will know the cause of her death. Today's testimony by Dr. Warren is very important.
Lori Vallow murder trial: Cause of death for J.J. Vallow, Tylee Ryan revealed
And it makes me wonder again if JJ was dead or alive while he was seen in Alex's arms on the night of 9/22/19. David Warwick told the court he saw Alex bring him up to bed. Chilling…
Warwick didn't mention seeing the red pajamas either.. he described JJ wearing shorts. Horrifying to imagine the possible sequence of events.
Larry and Kay Woodcock not here for this today. They've seen and learned enough. They simply want justice.
Coroner for Ada County says manner of Tylee Ryan's death was a homicide but the cause is unknown. Her remains were severely decomposed and burned badly. Graphic, horrifying details were presented to the jury this morning.
Coroner says unlikely Tylee was burned alive.
Homicides of JJ, Tammy and Tylee with official causes of deaths:
JJ Vallow COD - Asphyxiation
Tammy Daybell COD - Asphyxiation
Tylee Ryan COD - Unspecified
April 25
9:37 a.m. - 10:53 a.m.
This testimony is crucial for laying out the timeline of 9/9/19 and 9/23/19 - the two days following the last verified sightings for both Tylee Ryan and JJ Vallow. It's technical but extremely important for jury to understand.
The defense has tried this tactic, asking about career experience with most of the law enforcement that has testified.
But so far, there's just been so much circumstantial evidence presented.
And here we go. Lori Vallow's sister testifies.
We have been waiting to hear this call, takes place just two weeks after JJ and Tylee were found dead.
Just reading this, you can imagine Summer felt betrayed. Even after Lori was arrested on charges of child abandonment, Summer and her mother came to Lori's defense in the national and local media.
This is the second call we've heard with Lori Vallow in which she says nobody knows the truth but her and the Lord.
This is the 30th witness called by the prosecution. But today, Summer Shiflet's testimony will most definitely be the most compelling.
Stubbs was 26. Got through 3 including him yesterday. Finished 28 this AM. Summer would be 29.
April 24
5 p.m.
Evidence showed us how technical this investigation is as we're learning how many phone numbers and devices Lori Vallow used, according to investigators.
Rexburg Police Det. David Stubbs returned to the stand, telling the jury that 20 electronic search warrants were served in connection to Lori, resulting in a "mass amount of data" and a warrant led to a bill for Vallow's account associated to 18 phones.
When Vallow refused to cooperate with law enforcement and show that her missing kids JJ and Tylee were safe, Rexburg PD tracked her down in Kauai in January 2020. Officers seized ten devices from her rental car.
In June 2020, authorities finally found JJ and Tylee's bodies on the property owned by Vallow's husband Chad Daybell.
Internet search records show Lori shopping for wedding rings just months before Chad's then-wife Tammy died.
Stubbs said just a few days after her death, Lori's account searched for wedding dresses in Kauai, where Lori and Chad married in November 2019.
The husband and wife are accused of conspiring in Tammy's murder.
Other witnesses came from the FBI, detailing Lori, her late brother Alex Cox and Chad going through many burner phones with several numbers.
An FBI agent discussed how cell towers work because we know Alex Cox's device pinged in the Daybell backyard the days following the last sightings of JJ and Tylee, ultimately leading investigators to their remains.
7:36 a.m. - 10:32 a.m.
Stubbs is the 26th witness to testify so far.
Lori Vallow's sister and family members have not been present for her trial until now.
18 phone numbers combined in 15 months for Lori, Chad and Alex.
April 20
7:56 a.m. - 12:02 p.m.
Chandler PD once again. Moffatt was the lead detective on the Charles Vallow murder case initially until he was promoted and Nate Duncan took over in 2020.
Four witnesses out of the gate and barely any cross exam.
Oh really! No trial tomorrow.
April 19
5 p.m.
We spoke to the realtor in 2020, and on April 19, FOX 10 caught up with her about the email she received, which is now evidence in the trial.
"In my mind, I knew that that meant the kids were no longer among the living. You don't say you have no children if you have living children. I was shocked. It was upsetting. I wasn't sure how to proceed. I eventually did two things. One, is that I sent it to our local Kauai County prosecutor and the other thing was, I posted on a Facebook group, "Kauai rant and raves," and that's when somebody recommended that I contact you," said Julie Black, realtor with Kauai Dreams Realty.
Chandler Police detectives and a firefighter also took the stand. They were questioned about the Charles Vallow's shooting.
In July 2019, the narrative in Chandler Police's report is that Charles and Lori's brother Alex got into a fight.
Lori, Alex and even her daughter Tylee claimed that Charles hit Alex in the head with a baseball bat. Alex grabbed his gun and shot Charles twice, claiming self-defense.
But, at the time, Chandler detectives found Lori to be calm, smiling and even laughing after she learned of her husband's death.
A Chandler firefighter also testified, saying there were no signs indicating Alex provided CPR to Charles. He also waited to call 911 about 45 minutes after the shooting as Lori's drove JJ and Tylee to Walgreens, Burger King and dropped JJ off at school.
Lori was indicted in Maricopa County on one count of conspiracy to commit murder in the death of Charles.
The Idaho trial takes priority right now.
Over the past two days of testimony, we've had only a few cross examinations and there have been several witnesses on the stand. Even when there has been cross exam, it's been brief.
It's a pattern to watch for throughout this trial.
7:37 a.m. - 1:42 p.m.
Prosecution said this was a case of "money, power and sex."
This will be a thoroughly detailed testimony for the financial footprint.
In February of 2020, I spoke to realtor Julie Black about the email Chad Daybell sent her.
$400K plus of life insurance paid out to Chad before the Hawaii wedding and during the honeymoon…
Only one cross examination from Archibald so far (Colby Ryan). And no cross exam from the defense since Colby. Wow!
Chandler is brought into the trial once again. A firefighter now testifying in regards to the fatal shooting of Charles Vallow.
Actually, not even surprised. Chandler/Gilbert are key to this whole case. Multiple shootings, one fatal.
Chandler PD says Alex Cox did not provide CPR to Charles Vallow.
And the staff at Life Academy told us in 2020 that Lori Vallow lied about Charles' death, saying he killed himself.
Reminder - Lori has already been indicted in Maricopa County for conspiracy to commit murder in the death of Charles.
April 18
Zulema Pastenes, the widow of Lori's brother, Alex Cox, finished up her testimony on April 18 before Colby Ryan, Vallow's son, took the stand.
We've spoken to Colby Ryan multiple times during the coverage of this case. He's the older half brother of Tylee Ryan and JJ Vallow who was adopted into the family.
Colby stayed in the Valley when his mom and siblings moved to Rexburg, Idaho.
Since then, he's been blindsided by tragedy. From the disappearance of the two siblings, to when authorities discovered the children's remains in eastern Idaho.
Colby testified, and told the prosecution how Lori would not tell him where the family moved to. He said he would text his sister Tylee, but the responses didn't sound like her style of talking.
April 14
5 p.m.
We heard more disturbing testimony from another key witness in the Lori Vallow trial. We're seeing how strong the ties are to Arizona based on the evidence presented.
Zulema Pastenes, the widow of Lori's late brother Alex, took the stand and described more teachings and bizarre beliefs about grading light and dark spirits.
Zulema lives in Gilbert, Arizona and told the court that Lori and Chad shared information with some of their group about living multiple lives and how a body must be destroyed after evil is "cast out" when a group of them would pray together.
Zulema shared that Chad and Lori believed that burning or binding a body would prevent a dark spirit from coming back in. Remember: authorities found JJ Vallow bound in duct tape and plastic, and Tylee Ryan's remains were burned and dismembered.
So far, four out of the eight witnesses this week have ties to Arizona, including a Chandler Police detective who finished his testimony regarding the death of Lori's previous husband Charles.
Detective Nate Duncan showed texts between Charles and Lori as well as Lori, Chad and witness Zulema Pastenes. Messages showed the jury how Lori convinced her circle that Charles had been possessed by multiple dark entities months before he was gunned down by her brother Alex in Chandler.
Justin Lum: How does it feel to see those text messages from Charles to Lori and you know hard he tried?
"I've had conversations with Charles regarding that, and to me, it's almost like they were writing the script. I don't know if that makes sense to you. It was like it was just surreal, it really was," Larry Woodcock, Charles' brother-in-law said.
At one point during the cross-exam, Lori's defense asked Zulema if she believed in the castings she worked on. She said not anymore and when asked why, she said two children died, a mother of five is dead. She considers what she was involved in as evil now.
2:01 p.m. - 2:24 p.m.
Judge reminds jury that they wont be needed on Monday. Everyone will be back for trial on Tuesday the 18th.
Thomas says he has some more cross exam to do. Judge will have us adjourn for the day.
Lori Vallow's public defender Jim Archibald has not cross examined anyone this week. We haven't heard from him in court since opening statements.
ZP explains how you can verbally burn somebody. You don't do it physically, you describe it.
Thomas points out the term "cast out" written in Zulema's journal. She explains it means casting out an evil spirit.
Thomas asks about burning. ZP explains burning a body means a bad spirit won't enter the body in a 2-minute window.
Thomas asks if she believed it. She said no
Zulema says she hasn't seen this diagram since she met with Idaho LE in Chandler. But she can't recall if she drew it during the meeting or before.
It is the diagram drawn by Zulema Pastenes.
Thomas wants to look at exhibit 34.
Zulema says that Chad had information on who she was and her past lives.
Chad allegedly told her she lived on earth four times.
Thomas asks if ZP texted with Chad regularly. Mostly spiritual things, is what they spoke about.
The lunch at Firebird's, Thomas recalls that Lori and Chad didn't want Melanie Gibb to hear what they would say to ZP.
Thomas asks if the blessing she got was a run of the mill blessing.
Zulema says usually it's for strength of health.
This was different.
1:39 p.m. - 2 p.m.
In a brief break that's almost over, Lori has been real smiley and chatty with attorney John Thomas.
Judge warns people in gallery to keep comments to themselves, especially near the jury.
Jury is seated. Thomas will conduct cross exam with Zulema.
Thomas says he noticed how ZP's testimony dramatically seemed different from morning to afternoon. He asked if she spoke with anyone about the case during break. She says her nerves were a lot different and she had lunch.
Thomas asks about Lori's personal meeting with Jesus. Did that intrigue Zulema?
She says she doesn't know if it's intriguing but she found it amazing. She wanted to hear more about it.
Thomas brings up a text Zulema sent to Chad about her own visions. Rachel Smith objects due to lack relevance to Chad and Lori.
Judge overrules and asks Thomas not to get too broad on topic.
Thomas: Do you believe your work on castings had a direct effect on the two children that died and the spouse that died?
ZP: Not my work, but Chad and Lori's work did.
Thomas asks about Zulema's job. She is an employment specialist. She helps people work on resumes and gain employment.
Thomas: So would you say this is a sophisticated job? You're not a gullible person? This requires some sophistication.
ZP: I'm the kind of person to believe the goodness of people and see the positive side…. I have been a lot more cautious since meeting Chad and Lori.
ZP says her views have changed a bit now.
When she first met Chad and Lori, she thought they were kind, loving and law abiding.
Lori is watching Zulema intently. She's been taking notes through the day.
11:47 a.m. - 1:17 p.m.
Back in the courtroom. Still more testimony to come from ZP. But curious to see who we see afterwards if there's time today.
Jury is seated. Back on the record. Rachel Smith will continue direct exam of Zulema Pastenes.
ZP talks about how Lori would finance her way to Rexburg. Lori told her she was getting social security benefits on behalf of Tylee Ryan & the $4K in SS for JJ Vallow as well as some SS benefits on behalf of Charles' death. (Not life insurance)
ZP says Lori didn't have to work.
ZP: Lori said Tylee had to be free.
ZP when she asked Lori what she meant, Lori put her hand to Zulema's face and said "don't ask." This was during a quick visit by Zulema to Rexburg before JJ was last seen.
ZP: She started saying that JJ had been attacked by demons before moving to Rexburg. Tylee had been attacked by a demon named Hilary.
On JJ's service dog Bailey: There were spirits attacking JJ and going into Bailey bc it's easier to attack a dog, ZP recalls Lori saying to her.
When Zulema visited in mid September, she said Lori had hired a nanny to help take care of JJ.
At this time, Tammy Daybell was still alive and Chad was living in Salem with his family.
ZP says that Chad told her to lie for him and say she was speaking at a conference and wanted him there.
ZP says this was so Chad could get out of the house and see Lori. Zulema says she did send the text and create the lie. She spent time at Lori's townhome with Chad who came over. They wanted her to move to Rexburg.
Smith asks why they told her to move.
Zulema says they told her it was her mission to help them build Zion in Rexburg.
Zulema says she told them she wouldn't be able to find a good job in Rexburg if she left Arizona.
ZP: Lori told me don't worry about it. "Melani (Boudreaux) has enough for all of us."
ZP says Melani had received a $100K divorce settlement after splitting up with Brandon Boudreaux.
Testimony: Chad told Zulema in an August 2019 blessing that she would move to Rexburg and get married.
We know Zulema married Alex Cox three months later.
On the Rexburg trip, Zulema says she and Alex went to dinner. She says he was really funny and they spent time watching movies and getting to know each other. She stayed in Rexburg for 2-3 days.
By Halloween 2019, Zulema says she and Alex shared their first kiss at her house in Gilbert. On her next trip to Rexburg on 11/7/19, Alex proposes to her. They become engaged.
Smith asks if she saw JJ. She says no.
What about Tylee? No.
Chad and Lori were in Hawaii.
And as we know, Chad and Lori got married two days prior. Zulema and Alex saw the pictures, sent to them by the newlyweds.
Smith asks ZP if she remembers hearing about Tammy's death.
Zulema got a call from Melanie Gibb about it. She says her reaction was confusion.
"I didn't know what to think."
Smith confirms that Zulema knew that Tammy was shot at on 10/9/19.
She was with Lori in Arizona.
Lori had texted her about coming to Melani Boudreaux's house.
ZP: Lori told me Tammy was possessed by a demon and it was no longer her. She needed my help casting.
ZP claims to not know the name of the spirit that possessed Tammy.
Smith asks if "Viola" sounds familiar.
Yes, ZP confirms.
Jurors have now heard several demon/dark spirit names:
Garrett
Ned
Hiplos
Hilary 
Viola
ZP recalls Lori being on the phone that day, using the words "idiot" and "moron."
ZP says Lori got off the phone and told her, "Idiot can't do anything right by himself."
Who is the so-called idiot?
Prosecutors do believe Alex Cox shot at Tammy on 10/9/19 outside her home. But she didn't get hit at all.
Smith asks Zulema when she married Alex. She says 12/1/19.
I have their marriage certificate. It's dated 11/29/19 and Alex took her last name.
She doesn't remember her wedding day.
Zulema recalls Alex being on the phone with Chad and Lori on 12/11/19. The couple told him about Tammy's body being exhumed.
Zulema says Alex told her "I think I'm being their fall guy."
ZP: Alex said "either I am a man of God or I am not."
Alex died the next day on 12/12/19. Police and medics responded to Zulema's home where Alex was found laying in an upstairs bathroom.
The medical examiner says Cox died of natural causes, a blood clot in his lung.
Smith wants to admit Zulema's journal as evidence.
We are looking at the front page of the journal. Zulema described a diagram of "multiple creations" and "multiple words" that one person can come to. We see a few vertical ovals with small circles inside.
ZP is trying to explain this to the jury.
"If the person dies, there is a 2 minute window in which a demon can inhabit the body. The original spirit goes into limbo."
ZP shows a note that says "Brother of Jesus" - saying Chad believed in one creation he was brother of Jesus and in another the Holy Ghost.
Where is Lori in all this? Smith asks ZP.
She says Chad had chosen her as his wife and so they had been married and exalted in other worlds. She was in the same spiritual standing as he would.
Did Alex believe all that? Absolutely, Zulema says.
More notes on how to cast out evil spirits and making sure the body is destroyed.
Burning the body is one way.
Smith asks about "binding" the body.
Zulema says she believe there was an option like that.
We are seeing two pages. One is the light and dark rating system. The other page is the ratings for Lori's family members.
Tylee was rated as dark. 4.1D
Charles was 3L. Melanie Boudreaux was 3L. Brandon Boudreaux was 3D.
JJ was 4.2L. Alex Cox was 2L.
We are seeing a photo of Zulema and three other women at a conference.. including Gibb and another photo shows Zulema and the ladies with Chad.
Smith asks if the castings were handled the same way each time?
ZP says they were similar but not the same.
ZP says Chad told them all about their gifts. Melanie's gift was being a gatherer. Zulema's gift was working with the elements. Sarena's gift was being a powerful goddess.
Zulema says Alex's gift was being a warrior. She says Chad told him that he was going to train other warriors who were going to move to Rexburg.
ZP: Lori joked about putting pills in Charles' water.
ZP: Lori said JJ was going to live a short life because he would come back as Colby's child. Colby is Lori's oldest son.
Brief sidebar.
Smith only has a bit more questioning to do of Zulema.
9:09 a.m. - 10:58 a.m.
You can't say this is solely an Idaho story. 3 out of 7 witnesses who testified this week have ties to Arizona and we expect to see Zulema Pastenes at some point.
Zulema is the widow of Alex Cox. They got married in Las Vegas on 11/29/19. Alex died on 12/12/19 in Zulema's Gilbert home, the day after Tammy Daybell's body was exhumed.
Court is back in session. Rachel Smith calls on Zulema Pastenes.
Lori is watching Zulema walk in. They have not seen each other since 2019.
Zulema takes the stand and Smith will have direct questioning.
Zulema confirms she lives in Gilbert, AZ and has three children. Smith asks if she knows Lori Vallow. She says yes. When did they meet? They met in November of 2018.
Zulema says she met Lori at Melanie Gibb's house. She was invited to see Lori speak there.
Zulema tells Smith she met Gibb when she met in the ward they lived in near the Church of Jesus Christ of LDS.
About the first meeting: Zulema says that Lori spoke about having visitations with angels and that she visited with Moroni who gave her instructions.
Smith wants to clarify what did this mean to Zulema?
ZP says if someone is getting visitations from such heavenly beings, then this person is very righteous and just spiritually above other people.
Zulema: A witness to Jesus Christ means having a personal, physical conversation with Jesus Christ. She says Lori made this testimony that this happened for her.
Smith asks ZP if she believed her. She says she did and would speak with her again.
A trip to St. George: Smith asks about Zulema setting up a meeting with Lori. ZP says it was an acquaintance that became a friendship.
This trip to St. George was for the PAP conference.
ZP says the conference helps you prepare for disasters and the second coming of Jesus Christ.
Now Smith asks ZP about Lori Vallow meeting Chad Daybell at the conference. How did the conference go for Zulema? She says she listened to speakers and looked at presentations, spoke to Chad a couple times.
On interaction between Lori and Chad: ZP says Lori told her she would stay at Chad's table and help him sell all his book. The group even helped him pack up his table. He had one box of books left.
The group consisted of Zulema, Lori, Melanie and two other ladies.
ZP: Lori was driving and she wanted Zulema and Melanie to search scriptures on who James the Less was.
Who is JTL? Zulema says he was one of Jesus' apostles.
Later, ZP found out that Chad said to LV they were married as JTL & Elena in another life.
As Smith asks a question, Lori looks over at her attorney and says something with a smile.
Smith is having exhibits shown to Zulema. The group of images, Zulema confirms are pictures taken at PAP conferences in St. George and another in Boise.
Two pictures are from St. George and one is from Boise.
They may be published.
We see a photo of five women at the conference. Zulema points out an author sitting down, holding Zulema's hand, Melanie Gibb standing up, and a woman named Michelle…
The next exhibit is a photo of Chad Daybell wearing a white collared shirt, red tie sitting in between four women.
Zulema is standing on the far right, next to Chad Daybell on her left. Melanie Gibb is on the left of Chad, then Lori and another woman on the end.
Onto the Mesa PAP conference where Chad Daybell had another table. Zulema says she went on her own.
"Lori had been ghosting me."
But when Zulema saw Lori at the conference, she says she was invited by LV to her house for a gathering after the conference.
ZP: She told Charles to go somewhere so people could stay at her house for the conference.
Who stayed over? ZP says these four did.
Audrey
Sarena Sharpe
Chad Daybell
An artist who was a the conference
Smith continues to ask questions about the event. Zulema is having trouble recalling some info.
Smith asks Zulema about what a blessing means. At the Mesa PAP conference, Zulema says Chad told her that he would give her a blessing if she went to Lori's home.
Zulema describes going out to the backyard with Lori and Chad to talk. Smith asks about what.
Zulema: I don't remember what we were talking about. She was playing basketball and asked Chad to play basketball with her.
ZP says she felt awkward.
Zulema says she felt like a third wheel and noticed Lori was flirting with Chad.
When Chad gave Zulema a blessing, he told her she was a very special being and special person. ZP recalls that he told her she would do amazing things in the future and he was grateful to know her. Lori was present.
When Smith asks if there was a meeting between Zulema, Melanie, Lori and Chad at the Gibb home.
Chad was a guest on LV and MG's podcast.
Lori seems very interested, listening to the testimony.
When they had lunch, Zulema says Chad told her he wanted to give her some information but Chad and Lori didn't want Melanie to know.
Chad called Zulema later what her prior lives had been. ZP says he told her about his light or dark rating system.
ZP says Chad told her she was Lori's daughter in another life but she had been raped, killed and dismembered by the Mennonites.
Lamanites. ****
Yeah, this a lot.
Zulema was rated a 4.2L according to Lori and Chad.
Lori was a 4.3, ZP says.
ZP tells Smith about the "demon" in Charles that Lori talked about.
During the PAP conference in Utah, ZP recalls Lori telling her about financial difficulties with Charles.
ZP: Lori received $65K on life insurance policy for Joseph Ryan, her third husband and father of Tylee Ryan.
ZP: Lori gave me a sticky note for my "prior lives" and did that for other girls as well.
From what we've heard from Melanie, Zulema and Brandon, people really looked up to Lori, followed her and believed what she was teaching.
Good amount of jurors look to be taking notes, absorbing all of this terminology. Demons, dark spirits, castings…
Two new exhibits about to be entered. Photo of Zulema with Melanie Gibb and Sarena Sharpe. Another photo of the three women standing back to back holding their fingers out like guns.
Smith asks about the castings done at Zulema's home. There was one in March 2019 and she doesn't remember the next one exactly.
Lori allegedly told ZP that even though the group had cast out an evil spirit named Garrett, a new demon with more skill had replaced him. His name was Ned.
The focus of prosecution's questioning into Zulema's testimony is on how this group attempted to cast out evil sprits together, at the request of Lori Vallow.
ZP: Alex believed in all of this more than anyone there.
So after the spirit named Ned was apparently removed according to Lori, ZP says the next dark spirit has been around for hundreds of years. His name was Hiplos.
ZP says the group did several castings on Charles Vallow.
Smith asks about Alex Cox's involvement in casting out Hiplos. ZP says not that she can remember.
ZP says the group did several castings on Charles Vallow.
Smith asks about Alex Cox's involvement in casting out Hiplos. ZP says not that she can remember.
ZP: Lori said Charles moved to Texas because there were doctors there who help keep bodies that are possessed alive.
Zulema asked Lori why she moved to Texas with Charles. She said Lori did this to get her finances straight.
ZP: Lori mentioned the number 7/11 all the time. She had some kind of spiritual connection with the number.
When Charles was killed on 7/11, ZP says Lori basically believed this was set up by God.
On what actually happened that day: ZP says Lori told her she was putting JJ on Charles' car & took his phone. They got into an argument & Alex was there so he got involved. Zulema says Alex was trying to protect his sister & Tylee came into the middle of this fight with a bat.
ZP: Charles had taken the bat from Tylee and hit Alex in the back of the head with it. They wrestled and then Alex got his gun and shot Charles.
Lori is sitting back, swiveling lightly back and forth. She's watching Zulema on the stand.
On Lori moving: ZP says Lori wanted to be in AZ but then Chad Daybell told her she needed to move to Rexburg. She packed up her house and moved.
Why Rexburg?
ZP says Chad told them Rexburg would be a place of refuge when other countries would invade the United States. Rexburg would be a place for soldiers and warriors to defend the area, prepared by the Church for people to come and be safe.
7:08 a.m. - 9 a.m.
Here at the Ada County Courthouse for Day 5 of testimony. It's been a long week w/ a lot of evidence. Will start today's thread here.
Lori Vallow just got seated. She has a black blazer and white pants with black pattern on them. Jim Archibald pours her a cup of water. She's talking to both attorneys.
Expect Duncan to continue testifying. Prosecution wasn't done with direct exam. Court is now in session.
Det. Duncan takes the stand. We are waiting for the jury.
Jury is seated. Brief sidebar. Lori turned around and flashed a big smile in this direction, we assume for attorney John Thomas' wife who is seated in front of us.
Direct exam starts up. Lindsey Blake asks Duncan about cell phone data and iCloud account for Charles Vallow.
Duncan says this took place in January of 2020 when he was aware of JJ and Tylee missing, Tammy Daybell's death and the attempted murder of Brandon Boudreaux.
Duncan: We were working with LE in Idaho to find JJ and Tylee but at the same time trying to find evidence for Charles' case.
Blake wants to admit exhibit 49. This is the PowerPoint presentation Duncan put together.
PowerPoint begins with Charles' cell phone data.
We are looking at a typed letter written to Chad Daybell from Charles Vallow.
But we know Charles didn't write this letter...
Duncan reads the letter. "Charles" says he needs to have a book written about him and wants to pay Chad as a ghostwriter. He even says "we enjoyed having you stay with us in Arizona in November."
The email was listed as kkwalker75@yahoo.com - the IP address came from Katy, TX. Duncan says the phone number for the account linked to Lori Vallow. There's no indication this email address belonged to Charles, says Duncan.
In a text from Charles to Lori, he confronts her about having an affair with Chad. He calls her evil.
Charles told Lori he would send this letter to Tammy Daybell, if she did not respond. He found this letter claiming to be from him on 6/29/19, 12 days before he was killed.
Charles would email Tammy. In the message, he says he has vital and disturbing info regarding her husband and his wife.
Charles sent this message to Tammy's work email and left his phone number. He wrote in a second email with the subject line "your husband and my wife" and in the body "are having an affair. Her name is Lori Vallow…"
Charles continued to say he had definitive proof of the affair. Blake asks Duncan if Tammy read these emails. There's no indication that she read them. It's unknown if they were missed, read and deleted, etc.
Charles also contacted Chad Daybell via email. He said he's not writing a book, "it's preposterous." He also asks if Chad's wife knows if he has videos of Lori dancing. She sent them to Chad in January of 2019.
On 6/30/19, Charles sent a long message to Lori. He seems hurt, heartbroken and wants to get Lori's attention.
"You have destroyed me. I have never been lower in life."
"We have a son to raise. That's all we have in common." - Charles on JJ.
He says he deserves an apology from Lori.
Duncan says Lori and Charles would still talk here and there.
On 7/1/19 - Charles texts Lori that he's going to Idaho to meet Tammy Daybell.
Lori says "she won't see you. She's my friend."
These text messages are all included in the massive police report CPD released in October of 2021.
Duncan details the texts between Charles and Adam Cox, Lori's other brother.
This conversation on 7/11/19 right before Charles was shot by Alex Cox.
Charles told Adam "Al is here." He's referring to Cox being at Lori's home.
Adam would respond with "They are planning something."
Adam said he was supposed to stay the night at Alex's home the previous night. He tells Charles Lori probably blocked that.
Lindsey is showing Duncan a new exhibit. It's pages printed out from the Lori4style iCloud account. There are pictures included, Duncan says.
Thomas wants it to be known on the record that the defense has objected to evidence regarding 404B but it was overruled. They won't object to this exhibit right now. Judge is allowing it to be admitted and published.
We see four different phone numbers under Lori4Style@icloud.com.
The four numbers have area codes or 808, 480, and 512.
Blake asks if Duncan could recover any messages from these numbers between Lori and Alex. He did.
Texts between Lori to Alex. They talk about "Ned" being gone. Lori hoped for it to happen on 3/9/19 or the next day. Alex says he confirmed "Ned is still alive."
Duncan explains how Charles was being referred to as Ned, or his so-called dark spirit was.
A message between Melanie Gibb and Lori Vallow. Gibb says she heard what happened to Chad's wife and "oh my gosh!"
Lori says "hello what?"
This was on 10/19/19.
On 11/22/19, Lori texts Colby saying she texted Ty to "send it" but had not heard back yet.
Lori then tells Colby she hopes he got the Venmo. "Ty said she sent it."
Duncan says Ty is Tylee Ryan.
Through searching the iCloud account, he was able to find a Lollytime@iCloud account. It has two phone numbers listed. 480 and 602 are the area codes.
Duncan confirms this account also belonged to Lori Vallow. He located messages between Lori and Alex Cox.
Texts show that Lori told Alex to stay close to her for the next couple of days as well as Mel. "She can't go to Utah."
She goes on to say thanks for standing by and she will "be like Nephi! I am told! and so will you??"
These texts are sent two days before Charles Vallow's murder.
Texts between Lori & Chad (7/18/19) a week after Charles died.
Lori tells Chad "I just got the letter from the insurance company saying that I am not the beneficiary. It's a spear thru my heart. Who do you think he changed it to Brandon or probably Kay. He left nothing for jj."
Prior to Charles' death Blake confirms with Duncan that Lori had no idea she was not the beneficiary before the shooting.
This contradicts the cross exam between John Thomas and Melanie Gibb yesterday.
More texts between Chad and Lori show that Kay was suspected as the new beneficiary. Chad says it will be interesting if it got changed after he got two bullets in his chest.
He being Charles.
Another text shows Lori telling Chad that she found out from the insurance company that Charles changed beneficiary in March.
On 7/26/19, Chad texted Lori that he figured out who he feels like. "I'm a grownup version of Harry Potter who has to life with the Dudleys in his little space…"
Chad said to Lori he sensed freedom was coming.
On 7/30/19 - Chad texted Lori that Tammy's death percentage had fallen steadily since Hiplos left. "It is encouraging."
Charles was also referred to as Hiplos.
Duncan is now showing a text from Alex to Lori.
"Network name is anti-laman pw is 2many kids.
LV: "Funny!"
This was on 9/3/19, just days before Tylee's last sighting.
Duncan also looked at the phone if Zulema Pastenes, he confirms with Blake.
Major evidence from Chandler case continues to be shown to the jury.
New exhibit being reviewed by Duncan before admittance.
Exhibit 51 to be admitted. Thomas once again reminds that defense has objected yesterday to all of this. It's understood that was overruled.
Texts between Lori and Zulema Pastenes on 5/29/19.
Lori tells Zulema about an entity named Hiplos.
She says "let's put fire energy"towards him, asking if ZP is ready.
An email letter from "Karen" from AVOW writes to "Brother Daybell" about coming to speak to the youth in Houston, TX. This is dated 4/21/19.
"Karen" tells Chad that she and her husband have a casita on their property for him to stay.
Chad responds to Karen Walker and says he can make it.
During this time Lori was living in Houston for a little bit. Duncan has confirmed the kkwalker75 email is connected to Lori Vallow.
Blake has no further questions. Thomas will cross examine.
Thomas decides not to cross since he has stated this evidence should not be admissible. Duncan is excused.
The State just said it intends to call Zulema Pastenes but there's an issue that came up. A possible criminal history. Prosecutors did find a 1990s criminal conviction.
We are in court without the jury as they take a break.
Spencer Rammell says Pastenes has counsel with her. The judgement was set aside in 2015 in regards to this old conviction.
Upon getting this info, the state made counsel aware of the criminal history.
Per Maricopa County court records, Pastenes plead guilty to dangerous drug possession in 1997 and another drug possession charge in 1998.
Rachel Smith will talk about Pastenes' counsel Garrett Smith who will be with her.
RS says Pastenes has asked that Garrett Smith sit in court on her behalf. RS says there should be no issue.
Now we will take our mid-morning break. Back at around 10:15
April 13
1:33 p.m. - 2 p.m.
Lori returns to the courtroom, walking inside smiling. She sits down and picks up her pen.
Court in session. Judge says Defense will get some more time to review exhibit 46, the CAD notes. Prosecution can get more time for direct questioning.
This goes for the PowerPoint as well. Lindsey Blke is fighting for some of some evidence to be shown. Thomas is objecting anything coming from Arizona.
Blake argues that Idaho rule 404B states evidence from other crimes or acts can be admissible for showing motive.
State will move forward and revisit the exhibit tomorrow. Direct exam continues with Det. Duncan.
Blake asks Duncan about a call he made to a mortuary. He was asked by FBI to call Valley of the Sun mortuary in Arizona.
There was a call to the mortuary linked to Chad Daybell, Duncan says.
This happened after the murder of Charles Vallow. Duncan says CPD was aware that JJ and Tylee had not been seen. He was also looking for records in connection to the death of Tammy Daybell and attempted murder of Brandon Boudreaux during January 2020.
Blake wants to admit the evidence of the phone call from Chad Daybell to the mortuary.
11:45 a.m. - 1:16 p.m.
Back in court. Lori Vallow is seated with John Thomas. She has her glasses off for the first time and is speaking to Thomas as he goes over notes.
Melanie Gibb goes back to the stand.
Jury is seated and John Thomas will continue cross examination of Gibb.
Thomas asks Gibb about the shooting of Charles Vallow. He brings the focus to the fight between Charles and Alex Cox.
On Charles' life insurance policy: Thomas asks if there was any monetary incentive for Lori Vallow. Gibb says she doesn't know if there would have been. Thomas says just prior to his death, it was known that Charles changed the beneficiary to Kay Woodcock.
How many times did Police call Melanie? She says about twice and they did leave a message.
Thomas appears to be trying to poke holes in her story.
He confirms with her that she told Gilbert PD a lie about having JJ and then not having him.
Gibb says she is now married to David Warwick, her then-boyfriend in 2019.
Thomas clarifies if Gibb contacted Det. Pillar before the recorded phone call with Chad and Lori. She did.
Throughout testimonies, we now know how instrumental Ryan Pillar of @GilbertPolice was to this investigation.
Portals: Gibb tells Thomas how Lori had a portal in her closet and Chad had one on his bed. That's how they could communicate.
Thomas: Did you have a portal?
Gibb: oh, no.
As Thomas asks Gibb about certain biblical figures, Lori is taking notes and watching Gibb.
Gibb says she asked Alex Cox if she wants to know what happened to him. He said "no, you don't want to know."
Gibb says he told her about the police taking his guns.
Gibb says Alex told her about the honeymoon he was going to take with his new wife Zulema Pastenes. He also talked about a patriarchal blessing he received from Chad.
When Gibb asked Alex the question about JJ, she says Melani Pawlowski was there. Thomas asks if Alex kept skirting the issue.
Gibb says she became concerned.
Thomas is done questioning Gibb. Blake is ready to redirect.
Blake asks Gibb about Tylee Ryan not liking her. She confirms that Gibb has been around other teens. Gibb says if you have been around other teenagers who have been disrespectful, Tylee would fit into that category.
Gibb says she witnessed the 16yo be disrespectful to Tylee.
On the service dog for JJ: Blake asks Gibb if Lori talked about bringing that dog.
Objection - outside the scope. Judge sustains.
But fyi, Lori gave up JJ's service dog before they moved to Idaho. The dog helped JJ a lot especially with sleep.
Blake asks Gibb if she wanted to believe Lori at all. She says yes, and Lori was very convincing.
Blake asks if the term zombie used by Lori was different from the traditional definition. Gibb says yes.
The way Lori allegedly told Gibb about zombies was that a dark spirit could be pushed out of a body, or destroyed. Not in the way of a horror film.
Gibb on a pattern she saw regarding zombies - when someone in Lori's life was against her, they were deemed zombies.
The word zombie is being repeated and the jury is trying to keep up with questioning.
Gibb answers yes to Blakes questions of who Lori deemed zombies.
Charles Vallow
Tylee Ryan
JJ Vallow
Blake is done with Gibb.
Next witness is said to be Det. Duncan. My educated guess is Chandler PD detective who investigated Charles' murder.
Melanie Gibb is released.
Det. Nate Duncan is with the homicide unit of Chandler PD. He took over the Charles Vallow murder case at some point in 2020.
Chandler's case file on the Charles Vallow investigation is about 1,000 pages. We've sorted through it all along with body cam footage, and interviews with Lori, Alex and Tylee.
Lindsey Blake has been all over the direct questioning today as lead prosecutor.
CAD notes are being shown to Duncan.
Expect to be told about the time of 911 call - about 43 minutes after Charles Vallow was shot and killed by Alex Cox.
Alex called 911 while Lori Vallow took JJ and Tylee to Burger King and Walgreens.
Brief sidebar
This is big for family members of Charles Vallow, still seeking justice for his murder. In June of 2021, Lori was indicted on one count of conspiracy to commit 1st degree murder.
For nearly two years, Charles' family pounded the table saying Alex didn't shoot him in self defense. And if Charles did hit Alex with a bat in the back of his head, the injury would be severe.
Charles was a former baseball player and stayed in shape, even at 62.
Just saw Lori stand up as we are in a brief break. She is smiling at John Thomas and even laughing a bit.
Judge us back. Court back in session.
Judge tells the jury that during trial evidence will be shown regarding other acts allegedly committed by the defendant outside of this case.
The jury must be conscious of this information.
Lori Vallow iCloud data coming up.
Det. Duncan explains how a crime scene is handled with all the moving parts in a homicide investigation. He says original lead detective was Nathan Moffat. He was promoted in June of 2020 and Duncan took over the case.
Duncan has done this before. As he answers questions from Blake on the shooting response, he addresses the jury.
Blake asks if he observed Charles Vallow's body. Duncan did.
He describes a large living room with wood flooring but the room is empty.
Charles was laying on his back.
Charles' family is watching and listening. I don't think they expected Chandler PD here today.
On visible injuries: Duncan said he had a gunshot wound in the left quadrant of his abdomen. He had some blood on his left hand but not much more blood visibly present.
Why didn't Duncan see a lot of blood? He says he did not notice any blood spatter or trail.
Alex reported a self defense shooting. He said he shot Charles twice in the chest while Charles was standing.
Blake asks about what else Duncan discovered. Duncan says he saw two .45 caliber shell casings next to Charles' body. Very little blood present.
Duncan reminds the jury police don't touch the body. The medical examiner arrives and does a brief inspection of the body.
Duncan talks about gunshot wound in the back. Blake asks if it was an entry or exit wound. Duncan confirms two shots came through the front first.
Duncan: Alex had said he gave Charles CPR. Based on what I saw…
Objection by defense. Judge says that's premature.
Lindsey asks Duncan if he's been to other scenes where injuries happened and CPR was performed.
Blake: If CPR is performed do you notice more blood?
Duncan: You would notice more blood.
Another objection overruled.
Blake: You indicated Alex said that he shot Charles in self defense? Did you notice any signs of a struggle?
Duncan: Based on the house and sparse furnishing, it was hard to know if a struggle occurred. Charles had some abrasions on the knees.
There was blood in the kitchen sink. Duncan says Alex reported washing his hands.
Duncan says when police cleaned blood off the floor, he noticed an indention or marking under where Charles' shoulder would be.
Where was Charles located when shot a second time?
Duncan says the trajectory shows Charles was laying on the ground when second shot was fired.
Blake asks about the autopsy. Duncan has read the report. Another detective attended the autopsy and it was determined to be a homicide.
Even if the shooting is determined to be done in self defense, Duncan says CPD will label it a homicide.
In January of 2020, Duncan started looking at digital data including the Lori4style iCloud account and another called Lolly Time. He also looked at Charles' phone data.
Duncan: Charles' phone was the catalyst for the argument. Lori had taken the phone from his rental car before the shooting.
CPD would recover the phone from Lori.
Duncan reviewed emails and texts from the phone.
There were specifics that Duncan was looking for. Information came forward that Charles was killed because he was a dark spirit or zombie.
Lindsey Blake wants to admit exhibit 49.
Duncan is reviewing the exhibit.
Exhibit 49 is a PowerPoint presentation. Thomas has questions about this.
Duncan says this PowerPoint was made for the purpose of showing to Maricopa County courts.
Thomas does not want this exhibit admitted.
Judge calls for mid afternoon break.
9:49 a.m. - 10:57 a.m.
Lori is seated. She's talking with Archibald alone. He's nodding and responding to her.
I expect a long testimony from Gibb and thorough cross examination from the defense regarding what she actually saw and heard from Lori Vallow over a lengthy timeline.
Gibb is back on the stand. Direct examination continues.
Blake asks why Gibb recorded that call.
Gibb says she did this in connection to JJ's safety and to see if she could find out more.
Gibb says when police got involved and she knew JJ was not with Kay, she became concerned.
Gibb remembers her boyfriend David waking up from a bad dream during their stay at Lori's.
She then called Lori and Chad for a blessing.
Gibb says she tried opening Lori's door but it was locked.
The next morning Gibb and David Warwick left. They did not see JJ.
Blake wants to go over the call from 12/8/19.
"You're gonna be accountable for the knowledge you do have."
Blake cites this quote from Lori. Gibb says this is about the teachings she learned from her and that she would be accountable to God.
Did Lori indicate that she had seen Jesus?
Gibb: She did. Lori said Jesus appeared to her in the temple.
Blake: If Lori was seeing Jesus, would that lead people to turn to her for advice?
Gibb: No I don't believe so.
On Tammy's death: Gibb says she asked Lori if she knew that she died. Gibb recalls Lori had found out through some other people.
Gibb asked Lori what happened and Lori says a dark entity was in Tammy and "they did what they had to do to get it out of her."
"They" is Chad & Lori
Blake asks Gibb how long Lori believed Tammy was dark or possessed?
Gibb says about two weeks before Tammy died and that Tammy had also become suspicious about an affair between her husband and Lori.
Blake: Do you also recall a trust scale?
Gibb: A little bit. I don't remember trust scale.
Gibb says the term percentage was used at times and that Lori used the terms "scale" and "vibrations."
Blake is directing Melanie Gibb on more specifics regarding this grading system. Gibb refers to Lori Vallow as the source for this knowledge.
"Sometimes she would say she didn't have to eat. Sometimes she would get younger." - Gibb
Gibb says Lori didn't claim to be a visionary but had a dream here or there.
Blake asks if she talked about these dreams like the one about Charles Vallow dying.
Gibb confirms and says Lori indicated she believed it.
Gibb talked to Alex Cox as well. She says he really did believe the people that they were hoping would pass away, were zombies.
Blake asks her to clarify who are the people hoping anyone would pass away. Gibb says Chad and Lori.
She also says Alex believed what they taught.
Cross examination begins. John Thomas takes the podium.
Thomas asks about last interaction with prosecution.
Gibb pauses and tries to remember. She says it could have been the end of last month.
Thomas asks about when the last visit was prior to that. Gibb says a year before the last.
Thomas asks if she recalls a 7 page outline she sent to Rob Wood. Gibb remembers.
Sidebar requested by Lindsey Blake after Thomas wants testimony stricken.
Judge asks for jury to leave so this objection can be argued.
Thomas has said Gibb is forgetful. She has had some challenges recalling dates or timeframes.
Thomas argues that the state received statements from Gibb that she testified to and indicated that she met with prosecution and the prosecution did not turn over oral statements.
Thomas refers to the last zoom meeting Gibb had with Blake.
Blake says there's a different interpretation of certain Idaho law by the defense than it's intended by the rule.
Blake: All of the statements including the 7 page outline by Gibb and police reports have been turned over to the defense.
Judge is reviewing arguments.
Judge has issue with timeliness of the objection.
"You're asking me to tell the jury to disregard everything they heard all day today?"
Thomas says he has made this objection this week and felt it appropriate to make objection during cross exam.
Judge says rule doesn't preclude witness from meeting with prosecution before testimony. He says if you were not given the 7 page outline this would be different.
Judge denies motion to strike testimony. He says objection is unfounded.
Judge tells Thomas going forward, unless there's some written statements that were not provided, he will rule the same way.
Jury is seated again. So far, two phones have been confiscated for audio going off.
Cross exam continues.
Thomas asks Gibb about meeting Chad a year or two before meeting Lori and how she and LV became fast friends in 2018.
From Oct 2018 - Oct 2019, Gibb says she and Lori were very close.
Thomas asks what was it like when Gibb and Vallow met.
Gibb says they would meet at the temple or go get lunch.
Thomas says obviously kids weren't at the temple or lunch. Gibb clarifies that she would go to Lori's house after lunch or temple.
Thomas asks about seeing JJ frustrated. Gibb says she's seen different kids in life have autistic behavior. She noticed he cried often.
Thomas asks about a schedule JJ was on. Gibb says she wasn't around him often to know bedtime routine or schedule.
Thomas asks if she knew about a special school for JJ. Gibb did.
JJ attended LIFE Academy in Gilbert AZ. Also known as Lauren's Institute for Education.
Thomas asks about Lori and Chad for the first time. He's clarifying the month and year.
He asks about when Chad stayed the night at Lori's home in Arizona. Melanie stayed the night and Thomas asks about how many others stayed. Gibb says maybe 6 people.
Thomas on Chad and Lori that night: This wasn't a hookup, right?
Gibb: I can't agree with that.
Thomas asks if Gibb really thinks Chad and Lori had something going on while others were at the home.
We have not see Jim Archibald do any cross exam with a witness. He's spoken at the podium during opening statements. That's it. If I'm incorrect, let me know.
Thomas on Lori's alleged special mission on earth: You indicated that was biblically referenced, and Lori was the head of this 144K? Were you brought into this group?
Gibb: Lori indicated that we were apart of it.
Thomas asks about the "casting out of devils": You did this with Lori, correct?
Gibb: Correct.
Thomas: Did you ever feel like this was the wrong thing to do?
Gibb: It felt unusual but innocent to me.
Thomas asks if innocent means praying for good and for hunger to end, things like that.
Gibb says not that she's aware of.
Thomas: Tell me about this light and dark… did you believe any of that?
Gibb: I did, somewhat but not completely.
The jury watches Thomas closely.
Lori swivels back and forth slowly in her chair, looking at Melanie.
Thomas asks where the castings happened. Gibb says they happened in homes.
Thomas asks what does a casting look like. Gibb says generally people stood up in a circle and Lori would express the castings out by her terminology from either energy work or scriptures.
Thomas asks about energy work. Gibb tells him she has had this done for her. She says some practitioners can communicate with people on the other side of the veil.
Thomas: "Let's talk about zombies."
Thomas: When Lori talked about zombies, did you immediately think they were going to die?
Gibb: It was a bizarre teaching and Lori thought that too. Something we had never heard of.
Thomas asks about indication of Tylee being a zombie since she was 12 or 13. Gibb says Chad told this to Lori and Lori told this to her.
On Brandon Boudreaux: Thomas confirms with Gibb that the group thought Boudreaux was a dark spirit, apart of Hitler's group in a past life.
Thomas asks about Tylee going dark between Feb-June of 2019. Gibb answers correct.
And in September of 2019, Thomas asks about JJ becoming an alleged dark spirit. She confirms.
Thomas asks if she prayed for them. Gibb says no.
Judge calls for lunch recess.
7:25 a.m. - 9:26 a.m.
Day 4 of testimony for Lori Vallow trial: Source tells me key witness Melanie Gibb is in the building.
Lori Vallow is wearing a gray blazer, speaking to Jim Archibald. He nods his head. Lindsey Blake is here today and walked over to the defense to talk.
Lori is looking down at the desk in front of her, most likely notes. Our view is from behind her, 12-15 feet away.
Another source confirms to me that Melanie Gibb is scheduled to testify today, if prosecution gets to her. But she's here.
Lindsey Blake calls on Melanie Gibb to take the stand!
Vallow stares at Gibb taking her oath inside the courtroom. Gibb is wearing a black top and white skirt with black boots. She wears her glasses and is now seated.
Lori turns towards her from her seat. She is fully focused on Gibb.

Gibb confirms to Judge Boyce that she has not observed any of this trial.

Blake: How do you know Lori Vallow? MG: I met her at a church event in September of 2018.
Blake asks about how Gibb knows Chad Daybell and how she introduced him to Lori Vallow.

Blake: Have you met Tylee Ryan? MG: Yes, at Lori's house.
Blake is confirming that Gibb knows Tylee and JJ. She asks Gibb about interactions between Lori and her kids. MG: Lori was very affectionate to JJ. Sometimes as time went on, he seemed a little frustrated and Lori seemed distracted a lot.
As time went on, Gibb says Lori Vallow became busy with other things, more distracted.
How often did Melanie and Lori hang out? Sometimes daily, she says. This activity went on from January 2019 until Lori moved to Idaho in Fall of 2019.
Gibb is describing Vallow's movement from AZ to Hawaii back to AZ, TX and then to AZ. This happened from January-July, Gibb says Vallow moved several times. She stayed in contact with her, inconsistently yet often.
Blake asks about a trip MG and LV took to Utah. The group consisted of about 5-6 women. MG can't recall their names. The destination was St. George, UT for a conference.
This sets the scene for the Preparing a People conference in Oct 2018 when Chad and Lori meet on a weekend.
Blake asks Chad was there for the entirety. She says Friday and Saturday, same as Lori and Melanie.
Melanie observed the two and says they were very friendly, interactive and talked about their ideas and beliefs.
"There was an attraction from the beginning." - MG
Gibb: She (Lori) seemed flattered by him and enticed by him, "flirty like."
Blake: Have you ever read any of Chad's books? MG: I have. Blake: And Lori? MG: She had read some.
Blake asks if Gibb recalls anything about the two of them. Gibb says Chad told Lori he believed they had been married in multiple past lives. John Thomas objects to this statement. Judge overrules, Blake says this is a statement of an alleged co-conspirator.
Blake to Gibb: Did you ever speak to Chad about first time he met Lori? Gibb: Most likely, don't recall much. Blake: But what about speaking with Lori about this? Gibb: She shared with me that he told her that they had been married in another time period.
Gibb says Lori believed this and had already believed in living multiple lives before she ever met Chad Daybell.
Gibb says that Lori Vallow believed she had been married to a prophet named Moroni.
Blake asks about post-conference and if Gibb stayed in touch with Daybell. She did periodically. Gibb stayed in contact with Lori much more and learned that LV and CD talked consistently.
Blake confirms with Gibb that Lori was married at the time to Charles Vallow and that Chad was married to Tammy Daybell, both spouses still alive at the time.
Blake on "multiple probations": When did you first learn that term? Gibb: When I first started hanging out with Lori, it was introduced to me.
But Gibb says Chad knew about this idea a lot more than Lori. I see Lori turn to John Thomas and shake her head. She's taking notes.
Gibb on the alleged beliefs of LV&CD: in this earth you can come back multiple times but it's different for everybody.
But Gibb says Chad knew about this idea a lot more than Lori. I see Lori turn to John Thomas and shake her head. She's taking notes.
Another event in November of 2018 happens in Mesa, for another conference. Lori Vallow hosts a gathering in light of this event.
After the conference, Gibb says Chad stayed at Lori's house overnight while Charles Vallow was out of town.
Blake: Do you remember Lori talking about her relationship with Chad again? Gibb: She said they were married about 5 times in different lives.

Gibb recalls that weekend in AZ, Lori told her that she and Chad and met up in the LDS temple, specifically in a waiting room and that Moroni, and possibly Jesus Christ was there. Gibb says Vallow told her that she and Chad were "sealed"together.
Being "sealed" means you and a partner and together for eternity, according to Gibb who explains to Lindsey Blake.
A special mission on earth: Gibb says Vallow felt she and Chad Daybell were leaders of the 144,000.
The 144,000 is referenced to the Bible, people who would do missionary work during the second coming of Christ.
Blake asks if being the head of the 144,000 is a significant role.
Gibb says yes.
Gibb names some people who were apart of the main group attached to Lori:
Zulema Pastenes
Melani Pawlowski
Alex Cox
Blake clarifies that Lori believed she was the head of 144K after meeting Chad. Yes, Melanie says, and this happened within a few weeks after the two met.
Light and dark spirits: Gibb explains that those who sign contracts with the "savior" are light and those who sign contracts with "Satan" are dark.
On the light and dark scale: Gibb confirms Lori taught her this and that Lori taught it to others. The teachings evolved over time.
What else did Lori allegedly teach?
Gibb says the teachings changed often.
Blake asks if someone could switch from light to dark or dark to light?
Gibb says she believes so.
Blake asks if Brandon Boudreaux was apart of this inner circle.
Gibb says no.
One juror stared briefly at Lori with his eyes wide open before looking back to Gibb. This is a lot for this jury to absorb  I'd assume.
Blake asks Gibb if LV shared anything about someone being possessed.
Gibb recalls being at her house in January of 2019 and says Lori came inside from the backyard, telling Gibb that Chad believed Charles was now a dark spirit.
Blake asks MG about a dream Lori allegedly had:
Gibb says Lori told her she saw Charles and JJ had been in a car accident in this dream and that they would not come home by January 31st 2019.
But Charles did not get into an accident.
Gibb says she talked to Lori about this and asked what happened?
She said Lori told her Satan interfered with "the plan."
Blake clarifies that because Charles was "dark" he needed to pass away.
Gibb confirms.
Blake wants to know about casting spirits out.
Gibb recalls Lori having a prayer, reading scriptures calling the spirit to come out by the spirit of God.
Was Charles the first person Lori called "dark"?
Gibb says yes.
Who was present for this casting?
Gibb says it was Lori and her friends Zulema, Christina, Sarena and Melanie.
"Convince the spirit to leave the body."
Gibb tells Blake how Lori Vallow explained that the original spirit of someone was stuck between this world and the spirit world, either on the other side or moved on.
To give you more insight, Charles Vallow's son is watching from the gallery hearing about his father called a dark spirit. He's sitting feet away from his former stepmom.
Names used for Charles Vallow's dark spirits.
Ned, Garrett and Hiplos.
When one spirit was cast out, the next "dark spirit" came in, per Gibb.
Blake asks if Lori was present for all the castings Melanie Gibb was at.
She says yes.
As for Chad, she recalls him at one casting after Charles was dead.
After Charles was shot and killed, castings began for Brandon Boudreaux says Gibb.
She tells Blake that Boudreaux was part of Hitler's regime in a last life.
If you don't recall who Brandon is, it's the ex husband of Lori's niece. He was shot at in Gilbert but didn't get hit. The suspected shooter was Lori's brother.
Blake asks who else was considered dark?
Charles, Brandon, Adam Cox, Lori's dad, Tylee Ryan, Kay Woodcock.
How about Tammy Daybell?
Gibb says if she was considered dark, it was before she died.
Blake asks if a dark spirit entered Tylee according to Lori.
Gibb says yes, she thinks when Lori was living in Texas in April or May of 2019.
As for JJ, Gibb believes that in September of 2019, she heard from Lori that the boy was possessed.
Blake asks about what Lori told Gibb about Tammy possibly passing away.
Gibb says Lori believed Tammy Daybell would pass away early in life.
Gibb stayed at Lori's house in July of 2019 on the 9th or 10th. This is before Charles Vallow was killed.
On the Charles Vallow fatal shooting:
Gibb recalls how Lori told her about an argument in the house, a heated conversation over Charles' phone and that Tylee got involved holding a bat before Alex Cox shot Charles.
Cox was Lori's brother and considered her protector. We've covered this shooting extensively. He claimed Charles hit him in the head with Tylee's bat before Alex shot him in self defense.
To clarify, Melanie Gibb was not there.
Blake asks where JJ was during the shooting.
Gibb says she thinks he was outside waiting in the car. But she doesn't recall much.
Lori is staring at Gibb. She appears to have her arms crossed or on the table.
Blake: Prior to Charles' death, did Lori and Chad stay in contact?
Gibb says they did and talked multiple times a day. She says Lori had at least two cell phones, maybe three.
"She had one phone just for Chad."
Would Chad and Lori meet up when Charles was alive?
Gibb says they did. She recalls one time when Lori met with Chad at a hotel or went to temples together.
Gibb gives a lot of information but I've heard her use "I don't recall" or "I don't remember"
Gibb says Lori did indicate that she and Chad were intimate.
Blake asks if Lori thought this was okay.
Gibb says Lori believed it was in God's will and that because Lori and Chad were married in a past life, this was okay.
Gibb on JJ: Right before he was killed, Lori indicated that he was difficult to handle. It was hard for her to do that and be with Chad.
"She indicated that she was going to ask Kay if she could watch him from now on." - Gibb
Kay is JJ's biological grandma if you don't know the case.
On Lori moving to Idaho: Gibb says this happened in maybe August 2019.
Who moved?
Lori, Tylee, JJ and Alex.
Gibb stayed in contact with Lori even when she got to Idaho and moved in.
She heard Tylee in the background over the phone. But had never seen Tylee since before the family left Chandler.
Blake is asking about Melanie's visit to Lori in Rexburg. This was in September of 2019. Melanie brought her boyfriend  David Warwick and they stayed at Lori's.
Gibb says she did not see Tylee. She asked about her and says Lori told her Tylee was at BYU Idaho with friends.
Blake asks if Lori made a reference to Tylee.
Gibb says Lori didn't talk about her much and put her stuff in storage.
Melanie saw JJ at the home.
She says Lori told her about JJ had an evil spirit in him.
Blake: did she indicate what she made observations of JJ?
Gibb: Lori said JJ had become more difficult, his speech was more intelligent and that he said "I love Satan."
Gibb says Lori told her JJ would climb up on the fridge and was changing.
Blake asks Gibb about her observations of JJ.
She said he was a typical 7-year-old kid.
Blake asks if she has experience with kids who have autism.
She says somewhat.
One day, Gibb noticed JJ was having a tough time, acting out and Chad took him up to the bedroom.
She says Chad came in and out of Lori's townhome during that visit.
On when Chad took JJ upstairs: Gibb says they eventually came down and she asked Chad why his neck was red. Chad told her JJ scratched his neck.
On the interaction between Lori and Chad: They were affectionate, sang and dance according to Gibb.
She went with them to BYU Idaho campus and saw them kiss when they were in the car.
At this point in time, Tammy Daybell was still alive.
Melanie remembers the last time she saw JJ. It was on 9/22/19 at night and she watched Alex Cox carrying JJ. She did not see him the next day.
Gibb: Lori said it was not the lord's will for Chad or Lori to get a divorce from their spouses. They would be penalized and Chad would lose his exaltation with God.
Gibb says Chad told her not to answer any calls from Rexburg police. She remembers him telling her that police questioned Lori about JJ's whereabouts.
Gibb says Charles sounded nervous and she asked if JJ was with Kay.
She asked this because Lori told her before that JJ was with Kay after dropping him off with her at the airport.
Gibb says she learned this info a few weeks after her visit.
Gibb says Lori told her about the "airport meeting."
Lori allegedly told Kay that she had cancer.
On the police visit: Gibb says Lori told RPD that JJ was with Gibb at the movie theater. Gibb says Lori told her to take pictures of kids running around.
Why didn't Gibb respond to police right away?
She says she didn't know what to do.
Jurors are looking down taking notes, watching Gibb.
Lori is taking notes as well.
Blake asks about when Gibb eventually did speak with law enforcement. She spoke to Det. Ryan Pillar with Gilbert PD.
Gibb told police she no longer had JJ. She felt weird and uncomfortable. She didn't know what to do.
Gibb would contact police again. It was in December of 2019.
Blake: Did you tell LE that JJ was never with you?
Gibb: Oh yeah.
She told them JJ had never been with her.
Blake tells Judge Boyce that she will enter exhibits and this could take another 20 minutes plus.
We are about to hear a phone call between Melanie Gibb & Lori Vallow.
Blake says we can play the full call.
This call has been heard before. It involves Gibb, Vallow and Daybell.
On the call, you hear Gibb says "this is a recorded call."
She says it's December 8th, 2019 and that she is calling Chad Daybell on the recording.
It's been admitted and we are going to hear more.
Lori pours coffee or water for herself.
We hear Lori and Chad on the recording laughing, happy and greeting Melanie.
Recording: Gibb tells Lori she wants to ask about JJ and Kay. She says she's wondering what happened.
Lori says she had to move him elsewhere because of her actions.
We have both Lori and Melanie in the same courtroom listening to their conversation from nearly four years ago.
Recording : Chad and Lori tell Melanie that they want to keep JJ and Melanie protected.
Melanie asks why Lori told police JJ was with her.
Lori says that most of her family is working with Kay against her.
On JJ:
"He is safe, and happy."
"I'm not telling anybody where he is so I can keep him as safe as possible."
On the call, Gibb tells Lori that she talked to Alex about where JJ was.
She says Alex told her she doesn't wanna know and JJ "could not be found."
Recording: How long are you gonna be out? Are you gonna come back?
Lori: I will do whatever the Lord needs me to do.
Recording: Lori says it's ridiculous that authorities are working with Kay in some dark capacity. There's no reason for them to be after her, she says on the call.
She claimed Kay has threatened her lots of times.
Melanie wants to read a scripture to Lori on the phone call.
Lori asks if she can ask her a question and gets into biblical stories and figures.
"What about Moroni have to do in the end?… Did he have to hide?" - Lori to Melanie.
Melanie continues to read the scripture and is trying to teach Lori something, per this call.
The talk intensified and comes passive aggressive.
"I promise you I have done nothing wrong in this case." - Lori Vallow
Lori on Kay: "You already know she's dark."
Melanie to Lori: If you really love me, you wouldn't tell the police that JJ is with me.
She says that doesn't look good for her.
Lori says she loves Melanie and she can have this confirmed by the lord.
Melanie tells her that she thinks Lori has been deceived by Satan.
Melanie says Tammy died, Charles died and this doesn't feel right, while on the call.
Lori: "You know me, you know me Mel."
On the call Lori tells Melanie that she sounds like she's being influenced.
"I have not been deceived." - Lori says to Melanie.
Chad Daybell speaks and says that his sister in law, Tammy's sister is part of a dark team.
Chad says he begged Tammy to go to the doctor. He says his kids were all there in the home when Tammy died.
"All these conspiracy theories are making me sick to my stomach."
Lori tells Melanie that they can feel Dave's influence on her, referring to Gibb's boyfriend.
Lori: I'm sorry for including you in those teachings.
"Honey, you got a lot of natural desires. We all know that." - Gibb to Lori Vallow on the call.
A lot of code language on this phone call, it appears.
Lori tells Melanie she's adversarial but "I love you."
Both Melanie and Lori are looking down right now in the courtroom.
On the call, Lori says Melanie sounds accusatory, pissed off and not concerned.
Melanie says she's troubled.
Lori and Melanie take jabs at each other on the call about being with someone before they are divorced.
"We are both standing there with Jesus Christ." - Lori says before she hangs up on Melanie.
Judge Boyce: This would be a good time to take a break.
Lori has her arms crossed, looks at the gallery as we rise for the jury.
April 12
10:20 a.m.
Here is a statement from the prosecution team. "There has been a death in the family of one of the prosecutor's lead attorneys. The Court and defense have been gracious in allowing the prosecution to adjust to this personal situation."
9:37 a.m. - 9:46 a.m.
Kay is here too
Vallow back in the courtroom, speaking to Archibald. She takes notes from time to time. She flashes a smile to Jim Thomas.
We were supposed to get another witness. But something came up. State asks to end early. Defense has no issue. Court adjourned. We will be back tomorrow and Friday.
Again, no trial on Monday the 17th.
8:40 a.m. - 9:18 a.m.
Fremont County Deputy Sheriff Joe Powell takes the stand. Tawnya Rawlings, a deputy prosecutor with Fremont will direct.
A couple new exhibits are admitted. Rawlings will begin questioning Powell.
Powell has been a lieutenant for six years. He has worked as a detective in the past for four and a half years.
Powell was asked by Gilbert PD to locate a Jeep Wrangler.
Powell says he checked at Chad Daybell's residence and at Lori Vallow's townhome. What happened in AZ that caused concern? Powell says the surrounding deaths and attempted murder.
At the time authorities tried to find the Jeep, Charles Vallow and Tammy Daybell were dead. Both of them were spouses to Lori Vallow and Chad Daybell. And Brandon Boudreaux was shot at.
A new exhibit published. We are looking at a photo of Chad and Lori at Cafe Rio from 11/1/19.
Powell was doing surveillance and says they were eating and talking.
Another photo is published and we see Chad and Lori walking into Hobby Lobby. Powell says they were holding hands.
Rawlings asks if at some point an investigation into Tammy's death began. Powell says yes, because of the suspicious circumstances and her age. She was 49 and in good health.
Powell says he helped with a search warrant at one of the townhomes, the search of the Daybell property and the exhumation of Tammy Daybell.
Powell obtained a search warrant for Tammy's medical records. He found that she didn't go to the doctor much but she did get seen for depression.
Powell obtained a search warrant for prescription records. Rawlings asks if he can verify if someone has prescription for a controlled substance. He can.
Powell: Tammy was prescribed two things. Fluoxetine and Tramadol.
Fluoxetine is an antidepressant. Tramadol is an opioid for pain relief.
Powell is talking about the court order to exhume Tammy's body in Springville, Utah.
Defense objected a few times, saying Powell doesn't have the medical knowledge to talk about this. Overruled.
Exhibit 37A published. We can see Tammy Daybell's grave.
37B shows the backhoe digging up the grave.
We are also shown Tammy's casket out of the ground.
Another photo shows the casket put into a vehicle for transport. Powell says the body was taken to the medical examiner in Utah.
Powell says he identified Tammy using photographs. We see a photo of Tammy in all white.
Lori is whispering to John Thomas.
On 1/3/20, Powell and Fremont County served a search warrant at the Daybell home. The search involved FCSO, Rexburg PD and FBI.
Authorities recovered items from the home, loaded them and took them back to FCSO. A detective named Bruce Mattingly took over the seized items.
Rawlings is done with direct. Thomas will cross examine now.
Lori watches Powell intently, swiveling a bit in her chair.
Thomas asks about surveillance of Lori and Chad: How many times did you watch them? Powell: Just that one day.
Thomas asks from where to where. Powell followed them from Madison County to Fremont County.
Powell says he and Rexburg PD detectives also followed Chad and Lori to Idaho Falls. Thomas: Were you the only one with photos of the surveillance? Powell: No, others took photos that day.
Thomas asks if Powell heard the conversation between Chad and Lori at Cafe Rio. He says no. He sat near them with a table in between the parties. Not a busy day.
Thomas on Tammy's death: Are you aware of where Lori Vallow was when Tammy died on 10/19/19? Powell: No. Thomas: Would it surprise you that she was in Hawaii? Powell: No.
Thomas on Tammy's death: Are you aware of where Lori Vallow was when Tammy died on 10/19/19? Powell: No. Thomas: Would it surprise you that she was in Hawaii? Powell: No.
Brief recess. We watched Lori get unshackled from the floor and walked out of the courtroom.
We've gotten to hear from three witnesses already today, all from law enforcement.
7:24 a.m. - 8:39 a.m.
Lori Vallow just walked into the courtroom. She has a black blazer on. She's now talking to Jim Archibald on the left. I'm sitting on the left side of the courtroom today. Luckily me @NateNewsNow have a power outlet.
Vallow turned and looked back here with a half smile. Now prosecutors and the defense head to chambers. Vallow stays seated.
Today's view gives us a look at what she's actually doing behind the desk and her body language as we hear more testimony. She's writing something down right now.
Larry Woodcock is seated, waiting patiently for court to go into session. It's also his birthday.
As for the prosecution, Lindsey Blake is not here at the moment. It's just Rob Wood and Rachel Smith.
For anyone wondering, we have not seen any direct family members of Lori here this week.
Chad Daybell's lawyer is seated in the front row behind the defense.
The prosecution is asking for some rescheduling. They would like to end earlier today and not have trial on Monday.
Prosecution and defense spoke about this. All parties agree. Judge says schedule will be modified.
Jury is seated. John Thomas back at the podium for cross examination of Det. Hermosillo.
Thomas asks RH when he started digging at JJ's burial site. RH says 9AM-1PM. After that, he went to the morgue. He came back and went to the pet cemetery area on the Daybell property.
Thomas asks RH how long he stayed at the morgue. He says 15 minutes. Thomas confirms this was a check-in to bring JJ's body and then come back. RH says he's correct.
Where in relation the fire pit were some bones and teeth found? RH does not know. Who recovered some of the bones and teeth? RH does not recall.
What time did RH leave Fremont County for Ada County on 6/10/20? He says roughly 3 in the afternoon.
Thomas asks how it works when you drop a body at the coroner's office. RH describes the two sets of remains taken out of the back of the coroner's vehicle and taken into custody by an employee of Ada County.
RH does not recall name of the employee.
Thomas asks about the search of the apartments rented by Vallow, Alex Cox and Melani Pawlowski.
Thomas is asking about specific boards that police found in Daybell's shed at the crime scene and if RH looked for boards during the 11/27/19 search. RH says they weren't looking for boards back then.
Boards, referring to wood panels covering JJ's burial site. There were some in the shed but RH was not the specific detective that tried to see if they matched perfectly.
On JJ's autopsy: did RH take trace evidence? He answers no and does not know if anyone did. Thomas has no further questions.
Rob Wood will redirect now.
RH: At the time police seized and photographed the weapons found at Lori's apartment, they knew there was an attempted murder of Brandon Boudreaux in Gilbert and an attempted murder of Tammy Daybell in October.
Wood: Defense asked you about a conversation that led to getting a warrant. When you made contact with 
Chad and Alex, who did you call? RH: LT. Ron Ball Wood: Then what did you do after the call? RH: We went to LV's apt, Melani Boudreaux's apt and Alex Cox's apt and no answer.
Hermosillo explains they didn't get a warrant that day of 11/26/19 because police did end up speaking to Lori that day.
On Vallow's former best friend Melanie Gibb: RH says Lori told RPD JJ was in Arizona with her watching Frozen 2. Melanie didn't answer the phone and Lori said it was because they were at the movies.
Wood: Defense asked you about a hotline for tips. Tell us about that. RH: An officer or detective would be assigned to a tip after information was collected.
Wood: Were some of those tips from psychics? RH: Yes. Wood confirms with RH that there
 was never a verified photo/image of JJ or Tylee. Some people who left tips did not answer when police followed up. RH says they still followed up on all tips.
The sifter used by law enforcement helped scoop out Tylee's remains near the fire pit, charred bones and burnt flesh. The evidence would be photographed and logged.
Back to the tip line: Wood asked did any of the tips help find JJ and Tylee? RH: No.
RH asked if any evidence suggested Tylee was alive after 9/8/19. He says no.
After the search at Vallow's apartment, Wood asks if the case had become a homicide investigation? RH says no, they were looking for JJ.
Wood has no further questions. But Thomas has a recross.
Thomas: Is there any evidence of an attempted homicide on 10/9/19? RH: We believe there was evidence of an attempted homicide.
Thomas: You never found any bullets or bullet holes on 10/9/19? RH: I never personally investigated that attempted homicide. That was Fremont County Sheriff's.
This 10/9/19 incident is in regards to Tammy Daybell. Prosecutors believe Alex Cox shot at her. Hermosillo's testimony is over.
Next up, Lt. Jared Willmore with Madison County Sheriff's Office.
Prosecutor Spencer Rammell will conduct direct questioning.
Rammell is asking about the Telmate system used for inmates at Madison County jail. Willmore has overseen this system for the last six years.
The Telmate system has a video function, not just an audio option. But if the device is unplugged from charging, the video turns off.
When an inmate has a video visit, the Telmate system records it except for attorney/client meetings.
The other person on the call aside from the inmate is required to provide name and personal information.
Willmore has the ability to review the calls and information but cannot make change/edit anything. There is a day room or pod where an inmate can access the tablets. They can be taken off the charging station but the phones are attached to the wall.
Rammell is confirming that no agencies can make changes to these calls. Willmore says there are time stamps and is asked about calls accessed or received by Vallow. Exhibit 34A and B being shown to Willmore.
Thumb drive of a phone call between Lori and Chad from 6/9/20. Willmore confirms he's reviewed this USB device and call. He's reviewed a number of calls between them.
This exhibit is actually 33. Brief sidebar.
Lori is watching the prosecution and defense talk to Judge Boyce.
Court was discussing admission of digital files. Rammell will continue and ask Willmore about exhibit 34A.
It's a video visit between Lori and her sister Summer Shiflet on 6/24/20.
34A is admitted.
34B is another thumb drive of a video visit between Lori Vallow and her son Colby Ryan on 8/3/20.
Exhibit 34B is admitted.
We have heard the call between Chad and Lori on 6/9/20 when her kids were found dead on the Daybell property, but we have never seen these two video visits made by Colby Ryan and Summer Shiflet.
We are now listening to the call to Chad on 6/9/20.
Lori: "Hi babe." Chad: "Hello." LV: "Are you okay?" CD: "They're searching the property." LV: "The house. Are they seizing stuff again?" CD: "They're searching… (inaudible) the kids." LV: "Okay." Chad says lawyer Mark Means will give Lori a call.
LV: "What do you want me to do? Pray?" CD: "Yeah, pray." They tell each other "I love you."
Rammell is done questioning Willmore. Defense will not cross. New witness up.
April 11 (WARNING: GRAPHIC DETAILS)
5 p.m.
Lori sat in court with her arms crossed, looking away from the projector screen.
Another warning for viewers, what we had to see was extremely graphic.
Photos were shown of JJ Vallow wrapped in duct tape across his arms and his head with a plastic bag that had to be cut off.
Rexburg Police Detective Ray Hermosillo described witnessing the body at the Ada County Coroner's Office in June 2020 shortly after investigators discovered the remains of JJ and his big sister Tylee.
The jury looked at devastating images, some holding back tears as we saw the shallow graves the kids were buried in and what was left of Tylee's remains.
Hermosillo says a team of investigators between Rexburg Police and the FBI took turns digging because it was so hard to smell the charred bones and flesh covered in dirt. The detective also took the jury back through the investigation several months prior in late November 2019 when Rexburg Police served a search warrant at Lori's townhome.
Police found empty closets with hangers and no one inside the apartment.
They recovered weapons in the garage including multiple rifles, a handgun, several rounds of ammunition, a ghillie suit and Alex Cox's passport.
Alex is Lori's dead brother and alleged co-conspirator along with Daybell.
After court adjourned, FOX 10's Justin Lum asked a member of the defense about Lori's lack of reaction to the graphic evidence.
"I think we're all human. I think she's human, as much as that doesn't get put out there. We all kind of express those things different," said Brandon Hobbs, investigator on Lori's defense team.
Police also found duct tape, rope, magazines, and silencers in Lori's garage.
From what we saw, it appeared Alex Cox stayed in this apartment too because his own unit was vacant.
We expect to hear more of the cross-examination with this detective Wednesday morning. So far through, what we've learned, the causes of death for both JJ and Tylee are unknown.
2:30 p.m. - 2:32 p.m.
Arms crossed and looking down as we stand.
We can't even see Lori's face from this angle. She's leaned back behind a monitor.
Judge Boyce ends cross-examination for the day as court will be adjourned. Thomas can continue tomorrow.
Thomas is asking how authorities started digging into the burial site for JJ where there was tall grass and short grass.
Hermosillo says about an inch was taken off.
"Once they started removing the soil slowly, methodically, we began to see a black, round object starting to protrude through the dirt," said Hermosillo.
2:03 p.m. - 2:26 p.m.
Thomas brings up Chad being in his car on day the kids were found. Hermosillo offered him a coat& saw Chad look at the pond area & tree in backyard.
"You weren't looking eye to eye with him right?" Thomas asked.
"No, I was not looking at him eye to eye. He was looking towards a tree," Hermosillo replied.
But something of this magnitude, yes this was a first for Hermosillo.
Thomas questions Hermosillo about his experience as a detective.
"Was this kind of your first time on a scene like this with the FBI and you guys were the worker bees?"
He says he doesn't want to discount RPD and the work.
RH says it's not the first time he's worked with FBI.
Thomas to RH on Tylee's proof of life: Isn't it true that you had hundreds of tips after 9/8/19 that came in?
Hermosillo: We could not verify any additional sightings of Tylee. We followed up on every tip.
Thomas on the ghillie suit: That isn't something that would fit her right?
Hermosillo: I can't answer that.
Hermosillo: Vallow told police JJ was at a movie theater in Arizona with Melanie Gibb watching Frozen 2. That was not true.
Thomas: what was the basis of a warrant?
Hermosillo: The actions of Cox and Daybell. The lies on the night of 11/26/19 about where JJ was.
Thomas is asking questions about finding the Jeep and when Hermosillo found out about JJ
John Thomas now conducting cross with Hermosillo.
As we rose for the jury, Vallow still crossed her arms and looked down, clearly upset about what's transpired today.
12:57 p.m. - 1:37 p.m.
RULING: Lori Vallow's request to waive presence at trial is denied.
Jury will now be brought back in for additional evidence.
She has not stopped crossing her arms this entire time, even while standing up as we all rise for the jury.
Hermosillo is back on the stand. Wood is at the podium for direct examination. We are now on exhibit 30. Hermosillo identifies it as a chart of various names and photos of people.
Lori is sitting back in her chair, looking at Jim Archibald. She is clearly not happy. She's seated closer to Thomas right now who is on her right.
Here are the people shown as key figures: Lori Vallow Charles Vallow Alex Cox Tylee Ryan JJ Vallow Chad Daybell Tammy Daybell Melani Pawlowski.
Now onto 31A and 31B. These exhibits are admitted into evidence.
We are shown a timeline for "pre-investigation." 7/11/19 Charles dies 9/3/19 Lori, Alex, JJ & Tylee move to Rexburg 9/8/19 last proof of life for Tylee 9/22/19 last proof of life for JJ 10/2/19 Brandon Boudreaux is shot at 10/9/19 Tammy is shot at 10/19/19 Tammy dies.
Then we are shown dates of the RPD investigation including: 11/4/19 - Jeep is seized 11/5/19 - Lori and Chad marry 11/26/19 - welfare check for JJ 11/27/19 - search warrant at Lori's 6/9/19 - remains of JJ and Tylee Found This is not the entire breakdown. ***
Two new exhibits 11A-G being admitted.
First photo is of the crime scene when authorities discovered human remains on the Daybell property. There are blue tarps, the fire pit, and a white bucket.
In 11B - Hermosillo recalls noticing the difference in soil. The digging started getting into rotting flesh and charred bone.
11C - Graphic**** It's a picture of flesh and bone on the blue tarp. Hermosillo says it's just a portion of what was recovered. He points to bone fragments and dirt on the remains.
11D - Graphic: Photo of a mass in the dirt. He says we are looking at a melted green bucket. He points to parts of bone and fatty tissue that were not completely burnt. There are partial remains of a human skull. Jurors stare and some take a breath. Next, we see the melted green bucket but from a different angle. We see top of a skull. Lori is looking away from the photos.
There are several photos that are here to look at as Hermosillo describes the body parts. It is dead quiet now. Rob Wood takes a moment and gets back to his questioning.
Hermosillo explains the cutting of the plastic bag that JJ was in. This led to the autopsy. Wood asks what did you observe when they cut the bag. Hermosillo: I saw a little boy in red pajamas. He had a white plastic bag on his head with several layers of duct tape on him.
Graphic: RH describes how JJ was wrapped from head to toe. The white plastic bag was cut and taken off JJ's head. His mouth was duct taped from jawline to jawline.
Larry Woodcock has his head in his hand, leaning over and crying. Hermosillo confirms he recognized who appeared to be JJ Vallow based on photos he had seen.
Hermosillo: JJ had on his pull-up nighttime diaper. There was body decomposition on his pajamas.
Next, Hermosillo discusses Tylee Ryan's remains brought in. Dr. Warren said there was nothing more they could do that day. They left the coroner's office.
New exhibits handed to Hermosillo. He says they are photos from the JJ Vallow autopsy.
12A-E exhibits now admitted.
Graphic: we are now looking at a photo of JJ in his pajamas before autopsy. He is wrapped in duct tape all over his face and arms. People in the gallery are crying.
In 12B, JJ's let's are shown with his ankles bound by duct tape. Lori Vallow will not look up.
This photo is devastating. We see JJ's head without the tape. Larry is sobbing. We see the white plastic bag with pieces of duct tape and body decomposition inside of it.
On the screen is a closeup of JJ's face. You can recognize him. One juror holds back tears. Another seems to have been staring at Lori.
Wood says prosecution has no further questions for Hermosillo. He could be recalled for testimony down the road. Cross exam will begin after a break.
12:30 p.m. - 12:53 p.m.
Prosecutors are back and talking by their table but standing up.
John Thomas opens the door from the back of the courtroom and waves prosecutors over. He and Lindsey exchange words, he laughs and taps her on the arm.
Prosecution and defense are now in the back. We have 4 minutes until recess ends.
Recess should have ended already. We are still waiting on both parties and Lori Vallow.
Now sheriff's deputies are headed back there.
Prosecution and defense return. No Lori.
As the courtroom fills again with staff, we shall see if Lori comes back in.
Archibald checks in on the hallway and comes back. He's going over papers with Thomas.
Meanwhile, both Kay and Larry have been in the courtroom after lunch break.
Lori is back. She's shackled to the floor and now being seated. She has her arms crossed.
It had been nearly an hour since she walked out. Her arms are still crossed.
Back on the record. Judge says legal issues came up off the record. He's been advised of situation that needs to be argued outside presence of the jury.
Defense has a request on behalf of Vallow regarding evidence.
BREAKING: Lori Vallow requests to waive presence and not be here for the rest of the day.
Archibald: "It was an emotional day." He cites mental health issues of Vallow. Now state responds. Idaho rule 43 says defendant needs to be present for trial.
Blake says state of Idaho has the right for defendant to be present.
Blake says case law is clear that the court can override the request. She says if court allows that Vallow can participate in certain portions of evidence, the judge needs to make sure jury knows this was of no fault of the state.
Judge: this issue came up over the lunch hour. Staff has researched the issue.
Judge is prepared to make a ruling after reviewing case law and some exceptions including waiving continued presence - under certain circumstances.
11:47 a.m. - 12:08 p.m.
Back in the courtroom. Lori Vallow is now seated as we wait for Judge Boyce.
Now Vallow's attorneys ask the judge if they can all speak in the hallway including Vallow.
She came in with a black cardigan on top of her shirt she had on. She crossed her arms and appeared serious/sad.So right now Judge Boyce, protection, defense and Lori Vallow are in a hallway speaking. We noticed from the gallery that she looked upset.
Excuse me, the prosecution is here in the courtroom. It's defense and judge with Lori.
Rob Wood is waiting by the podium to continue his direct exam of Hermosillo.
Archibald and Thomas are back. They appear to call over the prosecution. Now they all head to the back chambers.
It's been about ten minutes since Lori left the courtroom…
Rachel Smith with the prosecution comes back in and hands Jim Archibald some exhibits. We have now been told to take a 30 minute recess.
Prosecution and defense leave the courtroom.
10:17 a.m. - 10:41 p.m.
10B-10L submitted. Hermosillo is reviewing the exhibits.
He says these are photos taken at Daybell's property. Wood motions for exhibits to be admitted. Thomas wants to voir dire with Hermosillo.
Thomas has an objection for exhibit 10E. He says he doesn't know what this is. "It's just a photo of grass."
Hermosillo says that this is a location where he described long grass and short grass. He points to the screen and shows us the northeast side of the tree next to pond area.
We are being shown the driveway in front of the Daybell's house. Wood asks Hermosillo to explain what he saw Chad Daybell do in his car. RH shows us the tree where JJ was located.
We can now see the fire pit where Tylee's remains were found. Hermosillo says police discovered bone fragments and teeth.
Another exhibit shows a wide shot of the property backyard. Lori is resting her face on her left hand which is also holding tissue as she has exhibits in front of her.
We get a look at 10E now that shows what Hermosillo describes earlier. The difference in weed growth and where the grass is longer and where it's shorter.
10F shows the top soil gone. Hermosillo says once it's removed you can see the beginning of white rocks protrude through the dirt.
10G shows three large white rocks. Hermosillo points to part of the wood paneling. The roots in the dirt were already cut, he says.
We can now see thin wood paneling. It looks like we are getting closer to more graphic images.
10I shows the paneling now removed. We can see the moist soil and there's black plastic barely peeking through.
10J - you definitely see a bit more of the round black plastic. Hermosillo says it looks like the crown of a head sticking through dirt.
10K - Hermosillo says after seeing the crown of a head, the team cut though the black plastic and saw white plastic they cut though as well. He points to pieces of hair around the area.
10L - the dirt is fully removed off the plastic. Hermosillo shows us the shape of a body in a plastic bag. He says JJ was removed from here. Larry bends over and is becoming emotional. He wipes his eye.
Wood asks if Hermosillo recognizes 10M. He says it's the burial site where JJ was found. He confirms he helped lift his body out of this site. 10M is admitted.
10M - shows the moist soil after the body of JJ was removed.
Lori looks at the ongoing sidebar. A lot of details to absorb within the last 30 minutes.
Judge decides on a lunch break. We will be back on at 12:45.
9:47 a.m. - 10:14 a.m.
Wood: What did you observe when he looked in that direction? RH: I observed the tree and pond area.
Hermosillo observed activity in the pond area. Wood: When did that start? RH: Roughly 9:30AM.
The fire pit and pond area near the tree are focal locations, per Hermosillo. Police and FBI worked together to sift through these areas. Now another exhibit is handed to Hermosillo.
Exhibit 10A. Wood wants it entered. Thomas objects, asking Hermosillo if he's ever seen the aerial view of the property. Hermosillo says he's walked the area and looked up. Thomas again objects, saying RH doesn't have foundation to say "it is what it is."
Wood: He's walked this property multiple times. It's simply to aid the jury in location of what we are discussing.
Objection overruled. Exhibit admitted.
We see a Google earth image of the Daybell property. Wood is confirming pieces of the property that RH has described for example, driveway, house, pond and tree. He confirms.
Hermosillo: Initially we found an area of concern due to longer grass and weeds. It caught our attention.
Excavation would begin this area. Hermosillo watched ERT team remove top layer of soil. Then it began to expose three large white rocks.
Hermosillo noticed a strong odor of a decomposing body, based on his training.
Under the rocks, two pieces of wood paneling that would be removed. Hermosillo saw a difference in soil and it looked moist.
The team brushed away the soil. Wood: Were you watching FBI do this? RH: Yes, I was watching the FBI.Hermosillo: After removing the soil, we saw a black, round object protruding through dirt. It wasn't very deep. It appeared to be texture of a plastic bag.
As Hermosillo describes the digging of the "burial site", he saw what looked like a body wrapped in plastic. Jurors are taking notes. One of the jurors has his chin in his hands, intently listening.
Hermosillo says Steve Daniels slit through the plastic and they saw brown human hair. At that point, he says police were told Daybell was leaving his daughter's house, speeding. His daughter lived across the street.
Police caught up to Daybell and he was arrested. Eventually, RH returned to the burial site. The body was photographed and removed. Authorities put the body in a black evidence bag.JJ's grandfather Larry is looking down, listening. A victim's advocate has her arm around him. Lori is watching Hermosillo.
After the body was taken to the morgue, Hermosillo returned to the property for the ongoing investigation.
Hermosillo uses a laser pointer to show us the tree where the body was found.
Hermosillo points to an area known as the pet cemetery to the Daybell. He shows us where a black dog statue was located.
He says when he returned, ERT was already excavating this part of the yard. Then Hermosillo walked to the pet cemetery area. The team noticed items of interest and realized they had to dig methodically, around this moist section of dirt.
GRAPHIC: Investigators were on their hands and knees digging. Hermosillo says they found burnt flesh and charred bones. They took turns digging because the smell was so bad, rotating every couple of minutes.
Eventually, RH says they recovered bits and pieces of who they assume was Tylee Ryan. They found pieces of bone and charred flesh. "Globs of flesh that were falling apart."
Hermosillo: This "glob" appeared to be in a melted, green bucket. The flesh and bone was stuffed into the bucket. The team kept digging around it. They switched with each other and got down to the bottom of the mass to ultimately lift it onto the tarp.
At the bottom of it, authorities found a partial human skull that broke apart. They had to pick up the pieces and put all of it into a body bag.
By nightfall, authorities took a break. Big lights were kept on the crime scene to keep it illuminated.
When police and FBI got back to it, they found teeth at the bottom of the grave too. After both sets of remains were recovered, police would take JJ and Tylee's remains to the Ada County Coroner's office for autopsies on 6/10/20.
9:18 a.m. - 9:45 a.m.
Back on the record. Jurors will return and Rob Wood will continue direct examination of Hermosillo.
State presents exhibits 9A-9D. Hermosillo says these are photos of the Jeep Wrangler seized on 11/4/19.
9A: Shown on screen is a side view passenger side of the Jeep. 9B: The rear view of the jeep with Texas plates.
9C: Inside of the Jeep taken from the driver doorway. You see black interior of the car. 9D: Photos from inside but passenger side.
State wants Hermosillo to review exhibits 29A, 13 and 14.
Before these are admitted, Wood asks for a sidebar.
29A is admitted into evidence. Wood asks RH if he has reviewed the iCloud account lori4style@icloud.com. RH has and believes it belonged to Lori Vallow.
Exhibits 13 and 14 are photographs of JJ and Tylee at Yellowstone. Also a picture of JJ in red pajamas on the couch.
The Yellowstone photo has circulated all across the internet since 2020. The FBI released it in hopes to get tips from the public, months before the kids were found dead.
Hermosillo now talks about that tragic day. June 9, 2020.
Hermosillo: Chad asked if he could contact his lawyer who was @MeansLaw at the time.
Hermosillo: Chad sat down near the front door and looked at the search warrant. He asked if he or his kids needed to leave. Police said they did not have to leave. His kids decided to go and Chad went outside and got into his car to make a phone call.
Wood asks what happens next. FBI arrives and investigators mark different areas in the backyard.
Hermosillo on Chad Daybell: He was in his driveway sitting in the car while on the phone, intently looking over his right shoulder behind him.
8:45 a.m. - 8:58 a.m.
Wood asks Hermosillo what was the next step in the investigation. RH: We contacted FBI and wanted to get a hold of Lori and Chad, trying to locate the kids.
RPD also contacted Colby Ryan, Lori's oldest son. Colby said he had not spoken to his sister Tylee Ryan in a while. Chad and Lori's phones were shut off.
At no point during this timeframe, did Lori call RPD to report her kids missing. On 12/11/19, RPD contacted @MissingKids to report Tylee and JJ as missing and endangered children.
A little more than a week after this, the public would learn about JJ Vallow and Tylee Ryan.
The press release on the kids came out on 12/20/19. It was a Friday. I remember one of our producers gave us a brief summary on what we knew, saying this would be a national story. That weekend we aired our first report.
Wood brings up when Lori Vallow was ordered to produce her children to RPD. Hermosillo recalls she did not.
RPD had started a hotline for tips. They also used cell phone data to find Lori and Chad's location in Kauai.
On 1/25/20, Lori was served with the order. Kauai police would also serve a search warrant that weekend, searching Vallow and Daybell's condo. No kids were found and it looked like only adults lived there.
Wood: Did you see anything that implied minor children lived there? RH: No.
Wood: What does proof of life mean? RH: Any document that indicates someone is still alive. Wood: Pursuant to your investigation, what was last day for proof of life for Tylee Ryan? RH: 9/8/19. Photo taken of Tylee at Yellowstone National Park.
Wood asks the same about JJ. Hermosillo says 9/22/19 when JJ was seen in a photo sitting on a couch in Vallow's apartment.
8:44 a.m.
We see a photo of books written by Chad Daybell and a picture of a cell phone located in the garage.
We see more of the same documents that I recognize from our past reports, having to do with ratings of light and dark spirits.
8:42 a.m.
8K: Rope and duct tape 8L: Alex Cox's passport that was still active. 8M: Documents found in Lori's luggage inside garage, that were emailed from Chad Daybell.
8:41 a.m.
8J: A Halloween mask that looked like a face.
8:40 a.m.
8I: a handgun was also found in the garage.
8F: Silencers and suppressors taken for evidence.
8:39 a.m.
8E: Black rifle and another rifle laid out on a table after being recovered and taken to RPD.
8:38 a.m.
8D: Rifle that was discovered in the garage. The end/barrel of the rifle is threaded for a silence or a suppressor, per Hermosillo.
8C: Several rounds of ammunition in a tub or container.
8:37 a.m.
8B: Trash bags had a lot of clothes that investigations took out to take photos
8A-Q now admitted into evidence. In 8A, on screen we see black tubs in the back of the photo. Hermosillo also described a ghillie suit that's in the garage.
8:33 a.m.
A new series of exhibits under review with Hermosillo. Photos of items in the apartment garage. Thomas will take a moment to question some of these items.
8:30 a.m.
Another exhibit shows the rental agreement for the storage unit. Hermosillo lists the contact number for the agreement and the name was Lori Ryan.
8:29 a.m.
7J: Another room with Alex Cox. Hermosillo says there were some tidex suits.
8:28 a.m.
In another bedroom shown, some of Alex Cox's belongings were found in a closet.
8:27 a.m.
7H: Master bedroom closet. Empty with only clothes hangers. Hermosillo: "This is what caught our attention." He says normally, when people go on trips they don't take everything and some clothes would remain.

8:26 a.m.
7F: Doorway to master bedroom. You see a bed with a white mattress.
8:25 a.m.
7D: green and black back, appears to be preparedness bag. Hermosillo says a 72-hour kit with water and food.
Just below w the stairwell is a little door to a crawl space.
8:24 a.m.
7C: View from the kitchen island looking at the front door.
8:23 a.m.
7B: Hermosillo says this is the front room of 175, standing at the front door entrance. You see carpet and couches and a dining area in the back.
7A: Shown on screen is front door of apt 175. We see the entire apartment.
8:22 a.m.
Judge overrules objection to admitting 7K. All exhibits 7A-K are admitted.
8:21 a.m.
Before admittance, defense has questions. They ask about date of search warrants being obtained and what Hermosillo was looking for. Hermosillo says the date and that he was looking for JJ. Thomas: Do you believe a crime was committed and that's why you busted down the door?

8:20 a.m.
These are photos of the outside and inside of apartment 175, Lori's townhome.
8:19 a.m.
7A-7K are the titles of each exhibit. Hermosillo reviews them.
An exhibit of evidence is being reviewed by the defense before being admitted by prosecution.
8:18 a.m.
Wood asks what Hermosillo found in there. He says belongings like bikes, winter clothes, photos, and family photos sewn onto a blanket.

8:17 a.m.
In Lori's apartment, police found a rental agreement for a storage unit. Time to get another search warrant.
8:16 a.m.
Next, RPD searched 174, Melani's apartment. No JJ, no other individuals were inside. 107 was completely empty.
8:15 a.m.
Wood: Anything of interest that you find in apartment 
Hermosillo: There were several guns in the garage and several army type knives. Several empty magazines for different weapons.
8:14 a.m.
First, RPD went into 175. There were couches, dishes in the sink, food in the pantry. It appeared like people lived there but Hermosillo says there were no clothes in the closets. Just empty hangers. And no people in any of the apartments.
8:13 a.m.
The next day on 11/27/19, RPD obtained search warrants for three townhome apartments. Lori Vallow, Alex Cox and Melani Boudreaux.
8:12 a.m.
Back on the record. Hermosillo tells Wood he checked in with Det. Pillar in Gilbert to let him know JJ had not been located.
Meanwhile, GPD was looking for Lori's best friend Melanie Gibb.
8:07 a.m.
Sidebar with counsel. Judge is talking mainly to Wood and Thomas.
8:06 a.m.
Hermosillo says he's basing testimony on what he saw on BWC. John Thomas says this is hearsay.
8:05 a.m.
Detectives would finally be able to reach Lori Vallow and get her to open the door to her home. There is body cam footage we know of.
Wood: Based on the conversation with police about BWC video, what did you learn? Defense objects, claiming it's hearsay
8:02 a.m.
Hermosillo called Lt. Ron Ball after the talk with Chad. He said something was off with the situation. Ball showed up with Det. Dave Stubbs & they knocked on #175 again (Lori's home) but no answer. They tried #174 where Melani Boudreaux lived but no luck. Melanie is Lori's niece.
Wood asks Hermosillo if they got a warrant that day. They did not. But police knew something was wrong regarding the whereabouts of JJ.
8:01 a.m.
Lori and Chad had gotten married in Kauai on 11/5/19, less than 3 weeks after Tammy Daybell died.
8 a.m.
"We knew Chad and Lori had married two weeks prior to my contact with him." - Hermosillo
7:59 a.m.
Hermosillo saw Chad Daybell driving off in his car and he went and stopped him. He asked him about the last time he saw JJ and how he knew Lori. Chad said he hardly knew her and met her a couple of times.
7:58 a.m.
Hermosillo makes it clear both Cox and Daybell seemed to act weird. They told him Lori Vallow was in apartment 107. Daybell claimed to not have her phone number, as did Cox. Hermosillo: "I assumed he was lying because I knew they were close."
Hermosillo and detective Hope tried #107 but had no luck. They did other door knocks and requested more police to come to the area.
7:47 a.m. - 7:57 a.m.
The jury is seated. Here we go.
The State calls Ray Hermosillo as its next witness.
Madison County prosecutor Rob Wood will conduct questioning.
Hermosillo is a detective with Rexburg PD. He has 22 years in law enforcement.
Hermosillo has been a detective for four years. Before that he was on patrol and a patrol supervisor. He's been in law enforcement with RPD solely.
Hermosillo was tipped off to a Jeep that was involved in a Gilbert attempted homicide. He had a conversation with Gilbert PD. RPD was asked to find the Jeep and recover it. RPD was also asked to do intermittent surveillance.
Wood asks if Hermosillo was aware of JJ Vallow or Tylee Ryan. He says no. At the time, he wasn't looking for children and had never seen the kids with Lori Vallow.
On 11/4/19, RPD seized the Jeep. On 11/18/19, is when Hermosillo says they were made aware of concern for JJ through Kay Woodcock. That's when police learned of the two siblings.
On 11/25/19, a welfare check was discussed. The request came from Gilbert detective Ryan Pillar. The next day is when RPD conducts the check at Lori's townhome.
Hermosillo says that day he sees Alex Cox and Chad Daybell unloading a pickup truck. Wood asks if he spoke to Alex. Yes, Hermosillo tells the guys he is there for a welfare check and asks about JJ.
Both Daybell and Cox looked at each other with a blank look. Hermosillo asks again where JJ was. Cox said JJ was with grandma Kay. Hermosillo told him that's unlikely since Kay called for this welfare check.
7:43 a.m.
The same family members of the victims are here as well for the most part. Annie Cushing has a laptop today. Yesterday, she took notes all day for opening statements and testimonies.
7:41 a.m.
Chad Daybell's attorney John Prior is also in the courtroom. He's seated in the front row not too far behind the defense table.
7:31 a.m.
Lori's brother Alex told the police that JJ was with his grandma Kay. But we know Kay called for the welfare check. Daybell acted like he didn't really know Lori and said he didn't have her number.
7:23 a.m.
Lori Vallow is wearing a light pink shirt. She is also using a hairband. She just got seated and is talking, smiling with Jim Archibald.
Everyone is getting seated. Detective Ray Hermosillo is expected to testify this morning. He was a key part of the Rexburg investigation when JJ and Tylee were missing.
What can we expect from Hermosillo? He and another detective conducted the initial welfare check at Lori Vallow's townhome in Rexburg on 11/26/19. But it was Alex Cox and Chad Daybell who were at the home, not Lori at the time.
6:56 a.m.
MORE: Lori Vallow murder trial day 7: Idaho detective to take the stand
April 10
9 p.m.
The prosecution came out strong with opening statements, telling the jury that Lori Vallow wanted to start a new life, without her kids and was in a love affair, motivated by money, power and sex.
"She's a little bit nervous but that's to be expected. I don't think she's ever testified in court, but I think she's doing a good job, she's sticking with the facts, she's not changing anything. She's telling the truth," Larry Woodcock, JJ Vallow's grandfather, said.
He's confident in his wife Kay's testimony.
Kay explained to the court why she wanted her brother Charles and Lori Vallow to adopt the boy with autism, calling Lori the "mom every mom wanted to be." After Lori's late brother Alex Cox shot and killed Charles in Chandler in July 2019, Kay lost contact.
"The last contact that we've ever had with him was on August the 10th of 19, that was a 35-second FaceTime and he again, was not holding the iPad or the device. He just said 'Hi maw maw, hi paw paw' and then he looked up as if whoever was holding the device, and then he goes 'gotta go maw maw gotta go paw paw bye,'" Kay recalled.
Earlier, the prosecution provided the jury a roadmap for the case that will be presented in trial.
Prosecutors say Lori and Chad Daybell thought the victims became possessed by dark spirits.
"She believes in life after death and she believes she will see her deceased family including her children again," Jim Archibald, Lori's defense attorney, said.
Her defense described Lori as a good mom and wife who is deeply religious.
FOX 10's Justin Lum caught up with Lori's defense after court adjourned.
Justin: She seems to lean to you a lot or look over to you a lot as you go over notes. Have you guys built some trust or rapport obviously over the last several months?
Archibald: I hope so. I hope she trusts me.
The next witness to take the stand is a detective with Rexburg Police. We've seen this investigator testify in the preliminary hearing for Chad Daybell's case nearly three years ago.
It's important to note Daybell's attorney was in the courtroom all day. He declined to speak with us.
5 p.m.
Lori Vallow and her defense sat on the left side of the courtroom facing the judge at a 90-degree angle.
FOX 10's Justin Lum was in the second row right behind the sketch artist, with a clear view of Lori. She wore a white blouse under a black blazer. She wore her glasses and lipstick.
She faced a former relative – her ex-sister in law.
In opening statements, Fremont County Prosecuting Attorney Lindsey Blake provided a roadmap to the 18 jurors. Blake said that Lori was motivated by "money, power and sex" and would remove any obstacle in her way to get what she wanted, and she wanted was Chad Daybell.
We learned several new developments in the opening statements. Prosecutors say Tylee's DNA was recovered from a pickaxe in Daybell's shed, and the prosecution confirms that Tammy Daybell died of asphyxiation by the hands of someone else.
It was then the defense's turn. They claim Lori has alibis during the murders.
She was in her apartment when the kids were allegedly killed in the apartment of her late brother Alex. According to the defense, Lori was in Hawaii with her niece and friend when Tammy died.
The first witness to testify was Kay Woodcock, the biological grandmother of JJ Vallow. She described Lori as a "doting mother" but she lost touch with Vallow after her brother Charles was shot and killed by Alex.
She told Chandler Police her concern.
"Our first question to the detective was, we are so worried about JJ and also did he see what happened to his dad," Woodcock said in court.
The second witness was Brandon Boudreaux, the ex-husband of Lori's niece Melani Pawlowski. He says his then-wife became extremely religious and wanted to be like Lori.
He told the court about being shot at in Gilbert in October 2019 by a suspect police believe was Alex.
"And I remember distinctly inside of these groups there were these emails being sent with a group of them and so I went back to look at these emails Charles had sent me from there and most of them came from Chad Daybell and since I didn't know who he was, I started Googling his name," he said in court.
2:45 p.m.
Caught up with Vallow's defense attorney Jim Archibald. I told him I noticed she leans towards him a lot throughout the process. He said, "I hope she trusts me."
2:04 p.m. - 2:14 p.m.
As Vallow stands with her attorney, she looks over at us. I catch a look. We will be back here tomorrow at 8:30AM.
Recess.
Judge Boyce reminds jury to not look up the case at all and not to talk about it with anyone.
Detective Hermosillo with Rexburg PD will be the next witness. Judge says we can wait on that. Court will adjourn for the day in a moment.
Thomas is done with cross. Boudreaux is now done with testimony. He is released from subpoena.
Thomas asked Boudreaux to confirm if law enforcement only asked him to identify JJ. Boudreaux said he was family too and that Larry was asked too but it's an overwhelming task.
Thomas clarifies with Boudreaux that he saw the silencer but not a flash. Boudreaux confirms. But he knows the shot came from the jeep and nowhere else.
Thomas moves onto the Jeep Wrangler involved in the shooting. He asks how far away Boudreaux was from the car. Boudreaux says the distance was about 20-30 feet.
2:02 p.m.
Boudreaux: Melani said God told her that he was a homosexual.
Thomas: did this have to do with video posted on Facebook of you dancing around at the Pink Pony club?
2:01 p.m.
Thomas: You and your then-wife Melani had issues back in 2018?
BB: I would say in 2018 we weren't looking at divorce.
2 p.m.
Thomas wants to clarify these google searches done by Boudreaux after the shooting. Boudreaux searched Chad Daybell's name to research him.
1:59 p.m.
Smith is done. Thomas will conduct cross examination of Boudreaux.
1:58 p.m.
Brandon is crying as he answers these questions.
1:57 p.m.
On 6/11/20, Brandon drove from Utah to Rexburg. Law enforcement asked him to identify JJ. He had to look at photos of JJ provided by RPD and FBI.
We are looking at what appears to be a selfie of Tylee on instagram. Brandon is asked about when he found out about the kids being found.
1:05 p.m. - 1:54 p.m.
This evidence is photo of Tylee from her instagram. Thomas questions Brandon about not physically being there when Tylee took the photo.
The document is now admitted. Brandon is looking at Tylee's birth certificate. State is admitting exhibit 6 now.
Smith wants to admit exhibit 5, the birth certificate of Tylee Ryan.
Brandon saw Tammy Daybell's obituary in the following weeks after he was shot at. He notified police about her death. Brandon also found out that no one had seen Tylee or JJ in a while.
Brandon knew the VIN because he was an insurance agent back then and Charles had him get car insurance for the Vallow vehicles.
Brandon: Tylee had a jeep that Charles bought her. He said it was grayish-green and knew the VIN number because Charles gave it to him before.
He stopped somewhere and saw the Jeep leaving the neighborhood. Moments later, Brandon came back to his home and spoke to police when they arrived.
As Brandon drove forward, he says the window came up, saw a gun with what looked like a silencer and the top of his driver side window was hit by a bullet. He stepped on the gas, still going straight and called 911.
Brandon says as he made a left and headed to his home, he saw a jeep parked by his driveway. He noticed that the Jeep was parked closely, nearly touching the van in front of it. There was no rear tire and the rear window was hanging open.
After the gym, Brandon drove home and he had only lived here for a few days.
Brandon: He had just dropped off his kids at Melani's home early that morning and then went to the gym.
Jury is back. Now Smith asks about the morning of the Gilbert shooting.
Judge has said this evidence would not be prohibited. He overrules the objection but sufficient evidence is needed in regards to the conspiracy.
Smith says the Gilbert shooting at Boudreaux made police aware and law enforcement began to look into the disappearance of JJ and Tylee. Prosecutors are basically saying crimes in Arizona sparked the tragedies in Idaho.
Smith: the death of Brandon Boudreaux would financially benefit Melani Pawlowski and that funding would help aid the group including Vallow/Daybell.
Break is over. Court in session. Objection has been raised by defense earlier. Judge will hear it now. Jury is still outside the courtroom.
Now Vallow is sitting alone with her back turned to the gallery. There is security standing by her.
Jurors are on a mid afternoon break. Vallow is standing up talking to Jim Archibald.
FYI, Gilbert PD submitted a charge to @marcoattorney, recommending that Lori Vallow be charged with attempted murder conspiracy in the Boudreaux shooting. MCAO will not disclose if there will be prosecution since the submittal in November 2021.
Now we are on the attempted murder of 10/2/19 in Gilbert. But quick sidebar first.
Brandon went to a counseling session and talked to Charles about what he was going through. He is holding back tears, recalling his apology to Charles for not being there. He says Melani didn't want him speaking to Charles.
This happened around June 25th 2019, and then Brandon reached out to Charles the next day.
Brandon: Melani accused me of being gay.
12:55 p.m.
Brandon was not aware at the time who else went. Now he says he knows Melanie Gibb would go. Defense objects, calling this hearsay. Judge agrees and this specific info is stricken.
Brandon: Going to the temple regularly is good but Melani was going everyday and that was unusual. It became extreme when Melani focused on the end of the world.
Brandon says he and Melani disagreed about having to buy $10K worth of food for storage.
Brandon talks about Charles bringing JJ to his house to play. At this time Lori was MIA.
Now Brandon is discussing a confrontation by his ex wife, accusing him of hacking Lori's computer. He said he had no idea about the topic.
12:43 p.m.
Brandon describes how much time his family spent with Lori's side of the family (The Cox family). Brandon has also now identified Vallow at the defense table.
Brandon is choking up, emotional as he describes one of his sons being close to JJ.
Brandon: JJ loved hanging out with my kids. As he got older, he loved traveling and had suitcases. Lori smiles at her attorney.
Now Smith asks Brandon about his connection with Tylee Ryan. There was a religious one. When Tylee was baptized at 8 years old, Brandon baptized her in the Church of Jesus Christ of Latter Day Saints.
Brandon on his ex-wife Melani: She had an affinity for Lori. She looked at her less like an aunt but more of a mom figure. She wanted to be like her.
Brandon got along well with Charles. They had a passion for business and sales. They loved their families.
Smith: Did you and the Vallows share that faith and activities at church? BB: Yes, definitely.
Brandon says when he first married Melani, she didn't go to church a lot. He encouraged or pushed them to go. But the fall of 2018, she started to get passionate about going to church and different ideas. She started going to "firesides."
What is a fireside? A special event around the beliefs of LDS members, per Brandon. He says Melani would go to this event but it wasn't put on by the church.
Brandon says Lori was at these firesides but Charles did not go. He says it was clear he wasn't welcome to the firesides.
12:42 p.m.
12:39 p.m.
Boudreaux is the ex husband of Lori's niece Melani Pawlowski. Rachel Smith is at the podium for prosecution.
Boudreaux is wearing a white collared shirt and a lavender colored tie. Smith asks about his prior marriage to Melani Cope/Boudreaux/Pawlowski.
They were married for a little over ten years since 2008.
12:30 p.m.
Kay is explaining why she and Larry made the choice to have Charles and Lori raise JJ. He had autism and she felt that Lori and Charles had a better situation for him.
The jury is very attentive watching the cross examination.
Charles and Lori were apart for 58 days. Kay was in Houston to help with JJ.
Thomas asks about the experience of getting the printer/scanner Kay took from Charles to get working. She says it was divine intervention that it worked.
Kay is done with her testimony.
NOW: Brandon Boudreaux taking the stand.
12:15 p.m.
Lori is looking at Kay on the stand while she now talks about relaying her concerns to police after Charles' death.
Wood is asking Kay about a scanner she got from Charles and was trying to get it working in November of 2019. She realized that if you had gmail, she noticed it was Charles' email. Kay was able to sign in with his password. Remember, he was dead.
She noticed an email from Amazon for a delivery to 565 Pioneer Road in Rexburg, ID. She called Brandon Boudreaux and then law enforcement.
Kay got into the Amazon account and saw browsing history for a women's bathing suit, men's clothing and malachite rings. The date for the searches was 10/2/19.
Kay says this caught her eye because she knew Tammy Daybell had died on 10/19/19. She believed Lori was looking for wedding rings on this Amazon account registered to Charles.
Wood is done with questioning. Now John Thomas will cross examine Woodcock.
12:00 p.m.
Court in session. Brief sidebar. Jury is seated. Kay Woodcock is waiting on the stand to continue testifying.
The document from the exhibit list is Canaan Trahan's Louisiana birth certificate. Kay reads the DOB 5/25/12. The evidence is now admitted as exhibit 1.
We can now see the decree of adoption on the projector screen. This document was signed 6/25/14. The adoptive parents listed were Charles and Lori Vallow.
Kay has been presented a photo of JJ and is starting to cry. She says she took this photo.
Kay says this picture was taken in Larry's pickup truck in Lake Charles. The defense is asking who else was in the photo. Kay says Larry was probably with them and it's one of her favorite pictures.
We can now see the photo of JJ I'm a light green t-shirt smiling at the camera. She has a seatbelt on and he has his hands clasped.
11:47 a.m.
Update: I've got a reservation for the main courtroom tomorrow. 
11:00 a.m.
Kay and Larry had Canaan from May 2012-February 2013. Kay says she and Larry were going to keep custody but Charles and Lori approached her with the idea of raising Canaan (JJ).
Wood asks Kay why she allowed that to happen. She says Charles and Lori wanted a child together. Kay says they had a different lifestyle. They were busy and family oriented. "She seemed to be the kind of mom that every mom wants to be."
When the Vallows adopted Canaan, they moved to Chandler, AZ. His name was changed to Joshua Jaxon Vallow, nicknamed "JJ."
One condition of the adoption was that Kay and Larry kept access to JJ and had the role of grandparents.
Kay says they saw JJ every chance they could, maybe every three months on a visit to Arizona.
Wood asks about the Vallow family moving to Hawaii. Kay talks about keeping contact with JJ and the family. They still flew out every six months or so.
FaceTime was a huge tool for communication. Kay says JJ called all the time. She also says the relationship between Kay, Larry, Charles and Lori was close. "Lori… she was just a doll."
When the Vallows moved back to Chandler, Kay says they all maintained contact and visits. Wood asks if she ever saw Tylee around. She did sometimes but mentions she was with her friends or at her own grandparents' home.
Wood asks about how Lori was as a mother. Kay calls her a doting mom, very engaged. Lori had a photo album with photos of Kay and Larry. Meanwhile, Lori looks on at Kay, listening to this testimony.
Defense tried an objection, claiming hearsay regarding Kay coming to Arizona to help Charles with JJ when Lori was gone. Objection overruled.
Kay says she never saw Lori during this time from Feb-March 2019. Kay would help Charles take care of JJ, back and forth from Louisiana.
Trips from Louisiana to Arizona stopped because Charles moved JJ to Houston after this timeframe.
Kay could be in Houston with JJ when Charles was on the road for work.
Kay stayed there in Houston with JJ for a few days at a time. Charles was a financial planner who sold annuities, per Kay. She did have to help him with his business in February of 2019.
Kay: Charles was distraught being separated from Lori and he needed help.
In April of 2019, Lori returned and moved to Houston to reunite with Charles and JJ.
In June of 2019, Kay says Charles secured a home for the family in Chandler.
But Charles did not live there. He would get a hotel in the Phoenix metro area when he was in Arizona.
Wood: Did Charles intend to divorce Lori? Kay: Yes.
Charles would ultimately change his mind. Now Wood is asking about his life insurance policy. He asks Kay if they spoke about this. Kay says Charles came to her in February of 2019, telling her he wanted to make Kay the beneficiary.
Charles asked Kay to use the money to help raise JJ if anything happened to him and to give half of the funds to his two sons.
Wood asks after Charles' death if Kay received benefits. She says yes, within a week after Charles died (7/11/19).
Wood: Did Lori contact you about the life insurance after Charles died? Kay says Lori did through a text from her cell phone.
Wood asks if the witness can look at the documents showing record of this message. Judge says yes. Kay had printed text messages.
Photo: Charles and JJ.
Kay had contact with JJ on July 20, 2019 via FaceTime. This was a little more than a week after Charles was shot and killed.
Kay noticed something different. Someone was holding the device for JJ and someone obviously taller than him, she says. The call lasted 30-45 seconds.
Kay: JJ was in a foul mood. He just didn't want to talk. He was having a little meltdown and seemed overly tired.
Kay's last contact with JJ was on 8/10/19. She kept trying to reach Lori but could not get a response.
Kay wanted to have JJ be at Charles' memorial service in Lake Charles, Louisiana. Initially, Kay says Lori agreed and so Kay bought plane tickets.
But JJ would not end up going to the funeral. Kay could not reach Lori.
Wood asks the judge if the bailiff can bring a document in evidence to the witness. It's on the exhibit list and being reviewed by the defense.
Judge is reviewing the doc now. Defense wants to object. Judge is now asking for a lunch recess.
Jury is excused. John Thomas on the defense is asking Kay about the papers she printed out and brought with her.
Thomas asks how often Kay has talked to the prosecution team. She began speaking to prosecutors in January 2020.
The defense says prosecution is required to provide summation of all the times they spoke to a witness. Wood says only when it's a statement. Judge overrules objection.
Kay had said the papers showing texts, were printed by prosecution and given to her.
Lunch break. Back on at 12:45.
10:22 a.m.
During the break, Larry Woodcock told me he saw Lori Vallow look at him about eight times this morning.
Lori Vallow and Jim Archibald are talking as we wait on Judge Boyce.
Vallow grabbed some tissue just now. She's actually wearing a white blouse underneath the blazer, not beige.
Judge says some jurors have complained about the sound of typing on laptops. If you're typing too loud, you could get the boot.
Brief sidebar is over and jurors are being brought in.
First witness up: Kay Woodcock
Lori Vallow stares at Kay as she takes her oath.
Prosecutor Rob Wood will be inquiring.
Wood asks Kay where she lives. She says Louisiana. Wood asks if she has children. She has two. Wood asks if any of them have ever had a child they could not care for. She says yes, her son.
Dennis Todd Trahan is Kay's son who is the biological father of JJ.
Kay says Todd and his girlfriend Mandy Leger had issues and could not take of JJ who was born as Canaan Todd Trahan. The baby was born at 30 weeks and had drugs in his system.
Kay says when the state took custody of Canaan when he was born, Kay was deemed his caregiver until his parents could try and raise him. But they would not regain custody.
Wood asks Kay about Charles and Lori Vallow.
Wood asks if Kay can point to the defendant. She does.
10:00 a.m.
Jim Archibald takes the podium now.
Archibald introduces himself to the jury. Lori watches him from her seat.
Archibald: I've been assigned to 27 murder cases in my career. They're difficult.
Archibald: Less than one percent of these cases make it to trial. We generally do a good job on resolving our disputes.
Archibald will now tell the perspective of the defense. He starts with background on Lori. She was born in California and has lived in Texas, Hawaii, Arizona and Idaho. "She believes in life after death and that she will see her deceased family again."
Archibald: People are attracted to her pretty smile and vivacious personality. People want to be around her.
Archibald says Lori was such a good mother that her sister in law Kay Woodcock wanted her to adopt JJ Vallow, her biological grandson.
Archibald says evidence will show Lori was a dutiful wife to Charles Vallow and a kind, loving mother to her children.
Archibald: Lori had an interest in religion and the end of times. When she met Chad Daybell, her beliefs began to change.
Archibald: "So what happened? Who was involved? Where did it happen? Why did it happen?"
Forgot to mention the last image shown by prosecution was the hands of Lori and Chad on their wedding day in Hawaii. This image displayed after some of the graphic images we saw.
Archibald: State has the burden of proving the defendant guilty. The state must prove the crime beyond a reasonable doubt.
Archibald now brings up Lori's alibis. He says she was in her apartment when JJ Vallow and Tylee Ryan died in the apartment of her late brother Alex Cox.
Archibald says Lori was with Melanie Gibb, David Warwick and Chad Daybell.
When Tammy Daybell died, Archibald notes Lori was in Hawaii with her niece and friend.
Archibald: Cases can be solved with evidence or lack of evidence. When there's lack of evidence, the law calls it "not guilty."
We are in a brief recess.
We are told that the first witness is about to take the stand after this recess ends.
9:20 a.m.
When Lori and Alex moved to Rexburg, he set a wifi password as "too many kids." Lori responded "funny."
Blake: On 10/9/19, Tammy came home from work, parked her car and came face to face with a masked gunman. She heard a couple of pops and the suspect ran off.
Blake says Lori made a statement afterwards. "He can't do anything right."
We will also hear about a trip Lori took to Missouri with her niece Melani and a friend Audrey.
Blake says Lori led castings focused on Tammy. The alleged belief was that Tammy was possessed by an evil spirit named Viola.
Blake: You won't hear about the kids JJ and Tylee regarding these trips bc they weren't with her.
"Tylee's phone was with her but Tylee wasn't." Blake says Lori used her phone to send her son Colby money.
We will hear from neighbors of Chad's who will tell the jury how Chad and Lori could not keep their hands off each other following Tammy's death.
Lori had begun to look for malachite wedding rings long before their wedding in Hawaii, per Blake. Lori started looking in May of 2019 when both Charles and Tammy were alive.
Blake: Chad looked for rental property in Hawaii and noted there were no minor children with them.
Blake now discusses the welfare check in late November of 2019. Law enforcement made contact with Alex and Chad. Later that day they spoke to Lori who was not forthcoming.
Blake says Lori told police JJ was with friend in Arizona, Melanie Gibb. But she had told Gibb that JJ was now with Kay Woodcock, his grandma. Problem is Kay called for welfare check. Kay stares at Lori.
Melanie was asked by Lori to snap a photo of kids and send to law enforcement. Eventually, she told the truth and said JJ was never with her.
Blake brings up the call on 12/8/19 when Gibb called Lori and Chad, confronting them about why they asked her to lie to police. Lori said JJ was happy.
"If someone's dark and castings don't work, the body has to be destroyed." - Blake
Blake: Tammy died at the hands of another and the cause of death was asphyxiation.
Blake tells us about the locations of phones belonging to Alex and Chad. Alex was located by the Daybell home earlier in the day when Tammy was shot at.
Alex's phone was located on Daybell property close to where Tylee's remains were found after last known sighting.
Lori just looked over at the gallery where family members are.
Blake: Keep in mind when we talk about the term conspiracy, it's two or more persons, a meeting of the minds, planning a crime.
The defendant does not have to be the one who physically committed the overt act.
Warning: graphic details. We are shown a photo of JJ's body in red clothing and his arms are duct taped.
Did not see a photo of Tylee. Blake says she did not have her hands when her body was found.
9:01 a.m.
Blake describes Tamara Daybell, a 49yo mother and grandmother. Married to Chad Daybell and "Lori wanted him all to herself."
Blake talks about last known sighting of Tylee. We are now seeing the shallow grave in Daybell's backyard.
Tylee's DNA was recovered from a pick axe in a shed on the Daybell property.
Last known sighting of JJ was with Alex Cox. Blake says jury will hear from witness who saw him asleep in Cox's arms.
A photo of the plastic bag with duct tape is shown.
That's how JJ was found on the Daybell property.
Now Blake speaks on Tammy's death. On the morning of 10/19/19, Tammy was dead. When law enforcement showed up, Chad moved her body per Blake.
We are now shown an autopsy photo of Tammy. We see her face with glasses on.
"They were dancing on a sunny beach in Hawaii as Tylee and JJ were in shallow graves." - Blake on quick marriage of Chad and Lori
We will also hear how Lori changed the bank account for Tylee's money to come into her own account.
Blake: She continued to collect those benefits to fund her lifestyle.
LB: This case actually starts in October of 2018 when Lori Vallow met Chad Daybell for the first time. They met at a Preparing a People conference and she was a fan of his books.
During this first meeting, the defendant and Chad realized they shared beliefs and thought they had been married in a past life, meant to be together, says Blake.
Lori and Chad designated themselves as biblical figures named "James and Elena."
"Defendant will move any obstacle in her way to get what she wants and she wanted Chad Daybell." Blake continues to talk about the alleged beliefs & how CD/LV rated people light/dark spirits. These teachings evolved into how someone could be so dark that they become a zombie.
Blake discusses Alex Cox. "Alex would do anything for Lori." He quit his job and followed Lori to Rexburg. "If Chad and Lori ask it, Alex did it."
Blake: Lori told others that Tylee had become dark. She did nothing when Tylee went missing. Similar with JJ Vallow.
Lori is staring at Blake. She's listening to this and going over notes.
8:45 a.m.
Vallow has not moved her head from this direction (left). The names of Chad Daybell and Alex Cox are read as co-conspirators with Vallow in the death of Tammy Daybell.
Charge of grand theft is read. Lori accused of collecting social security benefits on behalf of JJ and Tylee after their deaths.
The plea entered is not guilty.
Time for opening statements. Lindsey Blake is up.
"Money, power and sex. That's what this case is about. The defendant used money, power and sex for the promise of those things to get what she wanted." - Blake
"Tylee had money. Lori wanted it. Tylee is gone." - LB
Blake now described young JJ. He took time and effort to care for, she says.
"JJ had also lost his father. He became that much more harder to care for."
8:37 a.m.
Who's here? Larry and Kay Woodcock (JJ's grandparents) Annie Cushing (Tylee's aunt) Gerry Vallow (Charles Vallow's brother) Brandon Boudreaux (ex of Lori's niece) Cole & Zach Vallow (Charles' sons) Cheryl Wheeler (ex wife of Charles)
We are hearing the full indictment of charges against Lori Vallow. She is looking down.
Lori looks to her left at Archibald's shoulder as the charge of 1st degree murder is read. 
This charge is in connection to her daughter Tylee Ryan.
The murder conspiracy charge in the death of JJ Vallow and grand theft by deception charge is read. Larry puts his arm around Kay.
8:33 a.m.
A handful of jurors are taking notes with a pencil and notepad.
Annie Cushing, Tylee's aunt sits to the right of Larry Woodcock.
Judge: Your role is to consider testimony of each witness and to determine how much you believe.
Jurors are asked to leave their notes in the jury room when they leave court for the day.
8:25 a.m.
Vallow has her hair covering the left edge of her face. She consistently looks to Archibald's side or at the judge.
8:19 a.m.
Judge Boyce reads off the charges against Vallow. She's looking down at the desk. Larry stares at her.
Seated at the prosecution table, is Rob Wood (Madison County), Lindsey Blake (Fremont County) and Rachel Smith. I expect Blake to give opening statements as the alleged crimes happened there.
The jurors are now being sworn in.
The oldest man on the jury is likely in his 60s. The youngest is probably late 20s, early 30s.
Court is providing preliminary instructions now that jurors are sworn in. After that, there will be opening statements.
8:14 a.m.
18 jurors are now seated. Again there are 10 men and 8 women. The jury consists of various ages.
Most of the men are white and middle aged. One juror is a young woman who appears to be in her 20s.
They are all seated in two rows with monitors at each space.
One juror appears to be in her 70s. The judge is giving instructions. Roll call was just taken.
8:10 a.m.
We are now on the record. State of Idaho vs Lori Norene Vallow.
The jury is about to be brought in.
Lori continues to whisper to Archibald. They are going over notes.
8:07 a.m.
Lori is chatting with Archibald. Families of the victims are in the second row with a good look at her.
Judge Boyce is here and court is about to go in session.
The prosecution wants to approach briefly.
Kay and Larry Woodcock are watching Lori who is now seated alone during this sidebar.
8:03 a.m.
We are now seated in the courtroom. Lori Vallow is seated next to John Thomas. She's wearing a black top and her glasses. Her hair is curled and she has her lipstick on.
Black blazer, beige blouse. Now Jim Archibald is seated next to her on the other side. We are about 30-40 feet away.
7:27 a.m.
Families of the victims are now being seated. Kay and Larry Woodcock are here with other relatives. The family of Charles Vallow including his sons are here as well. I also spotted @AnnieCushing, the aunt of Tylee Ryan.
7:03 a.m.
Lieutenant Ron Ball of Rexburg PD arrives.
6:54 a.m.
The defense for Lori Vallow is now in the building.
6:05 a.m.
OPENING STATEMENTS: Good morning from the Ada Co. Courthouse. I'll be in the main courtroom live tweeting on the Lori Vallow trial. Opening statements will provide a road map of the case prosecutors will present against the so-called "Doomsday Mom" accused or murdering her kids.
April 7
9:22 a.m.
We are told that if we are in the main courtroom, we will see the same video screens that the jury will see. That means we could see some graphic evidence.
9:17 a.m. 
Ten men, eight women are on this jury.
The main 12 jurors have not been specifically chosen yet. But we have 18 total (6 alternates).
We will not receive a witness list.
9:11 a.m. 
Judge says alternates also count as jurors. They're crucial for this lengthy trial. And stay off social media.
Judge: Wear your seatbelt, put off skydiving and chainsaw juggling for now. Get here safe. (Joke)
9:05 a.m.
A jury is now seated for the Lori Vallow Trial.
1128, 536, 876, 140, 1020, 1199, 346, 929, 1147, 631, 1219, 174, 745, 1628, 906, 1013, 894, 756, 1167, 415, 1039, 755, 338 & 666 are excused.
The 18 will be sworn in Monday. Judge is going over instructions.
9:02 a.m.
Protection and defense are now talking to the judge. Vallow is still at the desk. We hope to find out the final 18 soon.
24 jurors have now been excused. The court has 18.
8:41 a.m.
Vallow is going over notes with Jim Archibald and John Thomas. Each party will strike jurors they don't want on the jury.
8:24 a.m.
John Prior, Chad Daybell's attorney is back in the overflow room today.
8:08 a.m.
We are told by the trial court administrator that the main courtroom for Monday's opening statements was filled in 2 minutes.
There are about 60 seats inside the main courtroom.
Court is about to start. Lori is back wearing black, sitting in between her lawyers. We have a zoom shot right in front of her about 15-20 feet away from the camera.
7:56 a.m.
Day 5 of the Lori Vallow trial. This morning we should find out which 12 jurors sit on the juror as well as the six alternates. Both prosecution and defense will use peremptory challenges to narrow down the pool of 42.
There are also three backups to the 42, for clarification. We don't expect this to take all day. Opening statements are set for Monday for those who don't know.
April 6
4:13 p.m.
Magic number of 42 has been reached. But more potential jurors are wanted by the court.
12:50 p.m.
We have two camera angles instead of three. Prosecution and defense. You can see the judge behind them in each shot.
Three jurors are no shows and will be admonished.
24 potential jurors on this panel! Wow!
12:44 p.m.
Different view of the courtroom today. Vallow and her defense are sitting at a desk in front of the judge to his right and their backs are facing him.
Prosecution desk is on the right of the screen to judge's left.
Lori is wearing a light blue blouse and a black blazer on top.
12:30 p.m.
Waiting for jury selection to start up this afternoon. There will be a larger panel than we are used to and the goal is to get as many potential jurors as possible who can be fair and impartial.
Again, there are 39 in the pool. Three more would get us to 42. The striking phase would happen tomorrow morning and opening statements are set for Monday at 8:30 a.m.
April 5
9 p.m.
Opening statements are expected start at 8:30 a.m. Monday morning in Idaho. But first, the court must finish seating a jury.
On the third day of jury selections, the pool for potential jurors grew by nine – now at 39. Only a few more are needed before 42 are boiled down to the final 18.
Meantime, people with interest in this case have been sitting in on the process due to a courtroom camera ban, including residents, podcasters and even an author who knows a lot about Vallow.
About 20 members of the press watched jury selection continue in Ada County, but nearly as many members of the public watched as well.
"And that's important for both sides and for all the citizens of Idaho, really, is to make sure that this trial is fair and impartial," Jaime Thompson said.
Thompson has lived in Boise for more than a decade. She's followed the Vallow case since the COVID-19 pandemic began, and knows she would not be a qualified juror.
"Whether she's guilty or not doesn't change the fact that she seemed to care about everything else but her children," she said.
Investigators say Vallow and Chad Daybell were in the midst of an affair when the deaths occurred.
"How these two people with these similar bizarre ideas could meet? And what would be the circumstances that would allow those roads to cross?" said Leah Sottile, author of When The Moon Turns to Blood.
Sottile wrote the book about the Vallow Daybell case. Her book dives into the dynamic of religious extremism.
Vallow and Daybell met at a conference in 2018 for "preppers."
Police say they made it a mission to rid the world of zombies and prepare for the second coming of Christ, identifying the three victims, JJ, Tylee and Tammy Daybell, as dark spirits.
"She didn't write anything specifically, but she was a huge fan of his work and I think that he recognized in her that she was like the perfect acolyte," Sottile said. "Lori is this former beauty queen and this cheerleader, and she's got this sort of like, disarming good looks and I think that even she may have recognized at a certain point what a powerful mask that is."
7:28 p.m.
Still - three jurors are needed tomorrow afternoon to complete the pool. Once the 42 are narrowed down to 12 jurors and six alternates, witnesses also need time to travel to Boise.
7:18 p.m.
We've learned opening statements for the trial will begin Monday.
5 p.m.
After three days of jury selection, the court is close to the number of potential jurors it wants.
There are 39 potential jurors and three more are needed by the court.
Lori Vallow returned to the courtroom wearing all black and filled her notepad as she sat in between her lawyers.
At one point, the sketch artist in the overflow room said she noticed Vallow dab her eye when there was talk of children's autopsy photos.
This is a very thorough process as the court has been drilling potential jurors with specific questions on circumstantial evidence, religious beliefs and graphic evidence.
We heard from more potential jurors who saw the headlines on Vallow vacationing in Hawaii while her kids were missing, or they've heard about JJ Vallow and Tylee Ryan being found dead.
Through nine panels, we've seen what it's like to weed people out, and we've seen more new faces from the public sitting in on the jury selection.
A Boise woman who has been following this case from the start came to witness the trial firsthand as cameras aren't allowed in the courtroom.
"Assuming she's innocent even, there's just been a lack of emotion and as a mother, that is just really hard to comprehend, that something of this magnitude, that she's so devoid of that," Jaime Thompson said.
We're still waiting on the judge to decide if JJ Vallow's grandparents can be in the courtroom for trial. They arrived in Boise on April 4 waiting anxiously for the judge's decision.
3:51 p.m.
This last group was already short by two no shows and gave zero jurors.
3:49 p.m.
Both will be excused and we end the day with 39 total jurors so far.
3:48 p.m.
After a quick break, both remaining jurors are back. Judge says defense raised more challenges.
3:44 p.m.
She's been excused. Two more jurors and the court won't reach 42 today.
Judge: There have been some opinions formed by potential juror.
3:43 p.m.
Archibald wants this juror excused.
3:35 p.m.
"It seems so strange that she never knew where her children were," wrote the juror on her questionnaire.
3:33 p.m.
This next potential juror is a woman who knows about the case and has seen some coverage. She does not like true crime.
3:31 p.m.
Judge rules that he be excused. Down to three potential jurors.
3:29 p.m.
Archibald wants juror removed. State objects. Judge says he has concern because the juror watches news a lot.
3:28 p.m.
He knows Vallow and Chad Daybell have been charged. She knows of Vallow's late brother but not his name Alex Cox.
3:27 p.m.
Archibald asks what he recalls about bodies being found. He answers that they were found in a backyard.
3:26 p.m.
The man he says he told his wife about the arrest of Lori Vallow, the charges and what the public has seen.
3:25 p.m.
This juror who is being interviewed watches the news daily. He told his wife he may become a potential juror. Archibald asked if he spoke with his wife about what the case could be.
3:22 p.m.
Four jurors left. Time for individual voir dire. If two more are excused, we need another panel for selection.
3:19 p.m.
She understands that just because someone is arrested, there must be proof of guilt beyond a reasonable doubt.
3:18 p.m.
Her husband is a patrol officer. She's been married to him for 29 years. Jim Archibald says there's concern about law enforcement judging his client.
3:07 p.m.
Next juror has a relative in law enforcement but doesn't talk to him about work.
3:05 p.m.
Judge has excused this juror.
3:03 p.m.
The State moves cause for hardship.
This juror takes several classes at 5PM 4x a week. He's being asked if he can handle this workload. He does not believe this case will conflict with his finals.
2:57 p.m.
Rachel Smith is questioning a juror who used to be friends with Doug Hart, a former special agent with the FBI who will be called as a witness.
2:41 p.m.
One juror is excused for hardship. We have a small group left, needing three.
2:27 p.m.
Chuckles from the court including Lori. The juror is excused.
She's told him how many jurors have been selected on Monday. He has asked his wife to stop.
2:26 p.m.
This juror just called out his wife for being a crime junkie and he "can't get away from her."
2:24 p.m.
A total of six jurors are excused out of this final group so far.
2:21 p.m.
Another juror excused due to bias.
2:19 p.m.
Already two jurors are excused so it appears there are 11 left to choose from.
2:18 p.m.
Boyce says a couple of jurors are no shows. And then there are some with hardship requests.
2:14 p.m.
Court is back in session. Time for the third and final group of the day.
1:36 p.m.
One more juror to speak to in this group. Will the court hit 40?
Looks like we won't have individual voir dire for the last one. She's been dismissed because of bias. We stay at 39 entering group 3.
Coming into today, the percentage of jurors passed was about 35%. One more panel left today and we have 15 potential jurors to go. Three are needed.
1:32 p.m.
Right now, a man is being questioned by Lori's lawyer John Thomas. Once again we hear from a potential juror who says it didn't look good that she was in Hawaii when her kids were missing. It's implied he formed an opinion.
Lori stays focused. Either taking notes or watching the potential juror.
Defense wants juror removed for bias. State says he can be fair and impartial. Judge says there's concern from his questionnaire, indicating he's forgotten about the case but also reminded with evidence about it. Juror is now excused.
1:15 p.m.
One juror is at an age that she can be excused. But she says she's happy to serve. John Thomas is being very friendly to this group.
Another four jurors pass and we have 39.
This just happened before individual voir dire. Two potential jurors will be questioned separately.
1:01 p.m.
Lori Vallow's attorney John Thomas is telling a potential juror who gets nauseous at the sight of blood that there are going to be some gruesome things shown. "Maybe this isn't the right trial for you."
The juror says, "Yeah… the last one I did had no blood."
Judge Boyce says there can be accommodations like taking a break if it's needed.
Boyce asks her if she can remain level headed in the situation. She says she can but it will be uncomfortable.
This juror is now excused for hardship. Six jurors left and the court won't hit 42 with this group.
12:59 p.m.
Group voir dire is still going. Rachel Smith is asking potential jurors about how they would assess different religious beliefs. Lori is taking notes.
11:30 a.m.
There are 7 potential jurors left.
11:29 a.m.
Court finds based on this woman's situation, there is hardship if she had to sit on the jury. She is excused.
11:26 a.m.
Next juror being questioned is a single mom who works. She says this will be doable but difficult for 8 weeks.
11:25 a.m.
He will be excused. Down to 8 potential jurors.
11:23 a.m.
This juror is talking about his job situation. He thinks he will be compensation if he is on the jury. He does have some travel lined up for his son's track meet next Wednesday through Sunday.
11:14 a.m.
Me and @NateNewsNow are improving at math this week. There are 9 jurors left in this group. Getting 7 of them would get the court to 42. Losing more than 2 would mean we will have to see third group.
11:07 a.m.
Two more for the same reason. There are 9 jurors left in this group.
11:06 a.m.
Four jurors have been excused, some for pre-trial media exposure.
11 a.m.
Court back in session for the second group.
10:24 a.m.
35 jurors now. 7 more needed to hit 42.
10:21 a.m.
This guy has heard coworkers talk about the discovery of JJ and Tylee's remains. He does not recall them making opinions.
10:19 a.m.
Here we go. Last potential juror of the group. He says he has not seen any TV specials on Vallow. Rachel Smith now at the podium. She asked what he knows about the murder charges. He has only seen headlines.
10:16 a.m.
Defense challenged for bias. State objects. Judge overruled challenge and juror passes, making total 34.
10:15 a.m.
Thomas is asking what was said about the series. Juror says it's hard to recall specifics. He doesn't remember anyone bashing Lori Vallow.
10:14 a.m.
Juror being questioned by Rob Wood doesn't seem to know much about the case. He knew about the Netflix doc through friends who had seen it. They spoke to him about it.
10:11 a.m.
Two more potential jurors in this group. We may have 35 by the end of this panel.
10:07 a.m.
Juror passes and we now have 33.
10:07 a.m.
He has not seen the Netflix special or the trailer. Defense asks if he has seen case on social media. Big nope.
10:06 a.m.
This juror has seen pictures of J.J. and Tylee either on the nightly news or online. He has not seen anything on the case via YouTube.
9:58 a.m.
That's 32 now!
9:58 a.m.
Judge Boyce: It is concerning that there was exposure to case publicity. Considering follow-up questions, I don't find this rises to level of a challenge. 
9:56 a.m.
Attorney John Thomas would like this juror removed. Judge is asking what potential juror exactly saw from Hawaii. He saw Lori walking and being questioned.
9:53 a.m.
The juror being questioned now by the defense knows the name Chad Daybell. On Lori Vallow, he wrote in his questionnaire - "I would say that her involvement is suspicious." He has seen some news locally on JJ and Tylee missing and Vallow/Daybell in Hawaii.
9:45 a.m.
"I do think she knew what happened because she went to Hawaii." - juror 695. Wood wants her removed for implied bias. She's out.
9:44 a.m.
"If your child was missing, why would you go to Hawaii?" Asks the juror. On the questionnaire she had formed an opinion, saying she suspected Vallow had involvement in the deaths of J.J. and Tylee.
9:41 a.m.
First juror for individual questioning has heard news of the murder charges against Vallow. She does not watch cable TV. She has Netflix and does listen to the radio. She does read the local paper.
9:38 a.m.
Time for individual voir dire. I believe six jurors are remaining in this group. Could we get 37 this AM?
9:37 a.m.
One juror has officially passed, and we now have 31.
9:21 a.m.
EMT who has some contact with Ada County coroner staff does not recognize anyone from the witness list. Smith goes on to ask if he's ever had to testify in court for any case. He says no.
9:19 a.m.
Prosecutor Rachel Smith is questioning a man who is a military veteran and served in Iraq. He's been in combat and Smith asked if there's anything in his experience that would affect him sitting on a jury. He says no, "I would do my duty. "
9:10 a.m.
This juror will be excused for cause.
9:10 a.m.
This woman is a mother of 5. She already sounds like she is getting emotional thinking of autopsy photos of kids. Lori is watching with a serious look.
9:08 a.m.
Wood brings up seeing autopsy photos of children and asks juror 1161 about that possibility, seeing "emotionally charged" pictures. She says this would be incredibly difficult as a mother.
9:02 a.m.
Prosecutor Rob Wood is conducting group voir dire and talking about "brutal honesty" with the potential jurors. Lori looks focused, watching Wood speak.
8:51 a.m.
Defense attorney is questioning a juror who is a dentist. He says this won't be a hardship as he will just work three days a week and sitting on a jury can be done.
8:49 a.m.
Judge Boyce says there may be some sequestration for deliberation but now during the length of the trial.
8:36 a.m.
Current update, 7 excused and one did not show. Half of the group is now cut.
8:34 a.m.
Two jurors are excused for bias based on questionnaires.
8:32 a.m.
Off the bat, three jurors have been excused for undue hardship.
8:28 a.m.
Her hair is curled and she's got her glasses on. She continues to whisper to Archibald. The judge is now in court.
8:26 a.m.
Today, Lori Vallow is wearing a black top and coat or blazer. She is talking to Jim Archibald and smiling. She had her notepad ready and a cup of coffee, it appears.
8:08 a.m.
In our overflow room, there's about 30 people that include press and general public. The room has a capacity of 255.
7:58 a.m.
Once 42 jurors are in the pool, the court brings them back. Both prosecution & defense get 12 strikes each to bring the number down to 18 (12 jurors/6 alternates).
7:55 a.m.
Day 3 of the Vallow trial is set to begin. So far 30 jurors have made it out of six panels through two days. Today three more groups are scheduled for voir dire. 12 more potential jurors are needed to hit 42.
7:42 a.m.
After two days, 30 potential jurors remain. An Idaho judge wants 42 total. More on day 3 of the trial here.
April 4
8:57 p.m.
The Woodcocks (JJ Vallow's grandparents) are in Boise and anxiously waiting for a ruling on whether they can sit in on the trial.
4:31 p.m.
So far through 2 days, we have 30 jurors. There are 12 more to go to reach 42 for the court to be satisfied. Then the final 18 will be chosen.
4:30 p.m.
Wow. To end the panel, juror 666 makes it out and we are done for today.
4:28 p.m.
No Netflix doc, Dateline, 20/20, 48 hours, he says. He doesn't do a lot of social media besides Snapchat.
4:27 p.m.
This juror does not like true crime at all. He stays away from the genre.
4:26 p.m.
He makes it through and we are at 29. Last juror is up.
4:17 p.m.
As juror mentions that he knows about Chad Daybell's former spouse Tammy Daybell, Lori Vallow watches him. The juror's wife watches Dateline but hasn't seen anything specific on this case.
4:15 p.m.
Second to last juror knew that trial was coming up, regarding murder charges and kids through a third party.
4:13 p.m.
After a sidebar, juror passed and we have 28 total.
4:08 p.m.
Next juror is up. We have 3 left for questioning. She has no knowledge of the Vallow Daybell case. Defense has questions but not the judge or prosecution.
4:04 p.m. - 4:06 p.m.
She says she doesn't watch local news because it's too negative. She's retired and doesn't want that in her life. But somehow she's heard Lori's name.
She watches Netflix but didn't notice 'Sins of Our Mother'.
The juror passes and we have 27.
4:03 p.m.
Judge says next juror has sparse info on her questionnaire. She's heard the name Lori Vallow. Judge and state don't have questions. Defense is on asking her what else she knows.
3:57 p.m. - 4:01 p.m.
Next juror for individuals is a woman who knows a bit more about the story as far as the players - Lori, Chad, JJ, Tylee and Tammy. On her questionnaire she says she couldn't imagine not knowing where her kids are.
When she filled this out, she says she formed an opinion about Vallow's guilt. Vallow sits in her chair swiveling a bit.
Defense challenges the juror and wants her removed. State objects and wants to follow up with questions. Judge is concerned about the details the juror knows.
This juror is excused. 4 more to go.
3:52 p.m.
This juror passed. We have 26.
3:49 p.m.
Yes, she says she's able to be a fair and impartial juror and block out what she's seen in the media.
3:47 p.m.
This woman has seen Lori's face in magazines and knew she married Chad Daybell. She doesn't remember when this all started.
3:45 p.m.
It's now individual voir dire for pre-trial publicity. We will start to learn how many of the remaining six pass.
3:39 p.m.
State is done with voir dire. Defense is up and we haven't seen much of John Thomas. He's now up at the podium.
3:25 p.m.
On religious beliefs: one juror studied different religions and would not let his knowledge influence him sitting on a jury. His juror ID is 666.
3:20 p.m.
Right now state is conducting voir dire with small group of remaining jurors. Going over graphic evidence they expect to present and juror reaction.
2:47 p.m.
About six jurors have already been dismissed due to reasons for bias or hardship.
2:40 p.m.
15 jurors summoned for this group but three are missing, we hear from the main courtroom. This is the third and final group for the day.
2:08 p.m.
Judge Boyce gives them further instructions. There's 25 jurors now and we have one final group for the day.
2:07 p.m.
This guy just passed. In total that's 3 moving forward out of this group. That would make the current total 25.
2:05 p.m.
This juror says Lori Vallow's name rang a bell but doesn't know anything more. He doesn't know about the charges and hasn't seen the news on her. "My news feed is nerd stuff."
2:01 p.m.
Another juror dismissed, leaving two more for individual questioning.
1:58 p.m.
Only a few more jurors are left in this group.
1:56 p.m.
Another juror is out for seeing a bit more on the case. I believe that's double digits excused in this group.
1:50 p.m.
Next juror has seen articles about kids missing and their remains being found on a property. She does not routinely watch or read news, but has seen these headlines. State wants to move on from juror 211 bc she's been exposed various times to the story.
1:43 p.m.
Archibald challenged juror for implied bias. Prosecutors object and judge overruled the challenge. This juror passes.
1:39 p.m.
Lori looks down at her notes as Archibald asks juror about his vacation in Hawaii and the headlines on Vallow.
1:38 p.m.
He tells the state he doesn't know much about the case and believes in the judicial process.
1:38 p.m.
One juror is being asked about vacationing in Princeville, Kauai where Lori Vallow was first arrested in 2020. He knew about the disappearance of J.J. Vallow and Tylee Ryan, but that's about it.
1:31 p.m.
It's now time for individual voir dire regarding pre-trial publicity.
1:26 p.m.
He said she has mentioned the case but not much. Prosecutors are speaking to each other.
1:25 p.m.
One juror is a roommate to a morning news producer at @KTVB. So yeah.
1:17 p.m.
While I was out of the courthouse, we spoke to Dave Leroy, former Lt. Governor, Attorney General and Ada County Prosecuting Attorney in Idaho. He expects jury selection to finish smoothly and believes opening statements could happen as soon as Wednesday or Thursday. 
1:14 p.m.
Right now prosecutor Rachel Smith is questioning jurors. There are a handful left in this group. A little more than half have been dismissed.
11:35 a.m.
Math is bad. 22 so far.
11:33 a.m.
Confirmed 5 moving forward which makes a total of 21 jurors after four panels. Two more groups in court today. Halfway mark to 42.
11:18 a.m.
She passed. We could be at 20 plus for jurors.
11:17 a.m.
She's confident she can give Vallow a "fair shake."
11:17 a.m.
Next juror watched some news on the case about Lori Vallow being accused. She can't remember which local outlet. She likes to look at the news sometimes. Archibald asked if she knew about the case she was summoned for. She did not until now.
11:12 a.m.
Juror 819 passes.
11:11 a.m.
Next juror has seen headlines through local news regarding the case. He feels he can be a fair and impartial juror. His goal is to watch weather. His wife watches local news regularly. Archibald asks if he's comfortable sitting on the jury despite what he's heard about Vallow.
11:05 a.m.
State does not object and she is excused for implied bias.
11:05 a.m.
Archibald believes she's been exposed and wants to challenge her for implied bias.
11:04 a.m.
Next juror is being questioned about media coverage and remembers the name "Alex Cox." She knows Cox is not alive based on the news. Cox is Lori's brother who died in December 2019 and is an alleged co-conspirator in the triple murder case.
10:58 a.m.
No objections from the state or defense. Number 646 returns to the jury room for further instructions. We could have about 20 jurors so far that have passed.
10:58 a.m.
As Archibald asks this juror if he's watched Dateline, 20/20, Netflix, or any other specials on the case, he answers no and Lori looks down.
10:54 a.m.
Another juror (646) is requesting hardship. He's seen some news headlines on the case, but that's mainly it.
10:42 a.m.
Next individual voir dire. This woman has not heard much on the case and had thought the trial already happened some time ago. She doesn't watch the news but did hear about a "brother" in the case.
10:38 a.m.
It appears the defense and prosecution have no challenges for juror 536. She is asked to get further instructions and looks like she is moving on.
10:37 a.m.
She has a friend who is a huge "true crime junkie" and knows she has been called for jury duty. They do not know what for. As she chuckles about her friend, Lori looks at Jim Archibald who is questioning the juror.
10:35 a.m.
This juror is not a true crime fan. She has tried to avoid it.
10:34 a.m.
This juror has a good situation. She can sit on the jury and be paid her salary by her employer still.
10:32 a.m.
Next juror has seen headlines on the charges against Vallow. She also knew about J.J. and Tylee missing around the time their mom was in Hawaii.
10:29 a.m.
Based on potential for bias, juror is excused. That's 8 gone today.
10:28 a.m.
Both the defense and state would like this juror removed.
10:27 a.m.
This woman is also an author who writes fiction. She affirms she can separate fiction from truth. The lines between those do not get blurred.
10:26 a.m.
Archibald is questioning this juror who watches a lot of YouTube and has seen mean comments on Lori Vallow. All that aside, could she sit in the jury with a clean slate? She says she can separate rumors from facts.
10:23 a.m.
She knew about when Vallow was extradited from Hawaii to Idaho but doesn't even remember the news source on the internet in which she learned about the bodies being found.
10:21 a.m.
This juror is asked about what she has seen in the case pre-trial. She's watched the news when the bodies of J.J. and Tylee were found. She did not watch any documentaries or specials on the case.
9:55 a.m.
Archibald questioned a juror, and he essentially responded he could sit on a jury, and serve as needed, but he doesn't really want to. He has a job like many others. Archibald tried to get him out with a hardship request. Judge overruled. Not excused.
9:42 a.m.
Smith is now questioning another juror who had family members who were victims of crime. Smith asks if the situations regarding J.J. Vallow and Tylee Ryan will impact her as a juror. The juror says she won't want to hear the evidence but won't be impacted because of personal experience.
9:39 a.m.
Attorney John Thomas turns to Vallow and says something afterward.
9:39 a.m.
Prosecutor Rachel Smith just asked a juror about Chad Daybell and if she is familiar with his work. She said no.
9:14 a.m.
This juror will be excused. That's 7.
9:12 a.m.
One juror was in a bad accident as a child and is still traumatized so when he sees graphic images - it affects him.
9:10 a.m.
Blake moving onto topic of graphic evidence, asking if looking at autopsy photos or something upsetting - would that challenge ability to sit on the jury?
9:09 a.m.
Blake asking jurors why they don't believe the media and what's on the internet? One juror answered "all news agencies want clicks."
9:03 a.m.
Now Lindsey Blake takes the podium to conduct voir dire for the state.
8:54 a.m.
It appears the remaining jurors (9) know about the case.
8:54 a.m.
Six jurors excused. And now we move onto knowledge of the case by jurors. Judge asking now.
8:50 a.m.
And she's been excused. 5 total.
8:50 a.m.
At this rate, the panel could be cut in half by the end of the hour. This one has a part time job as a nurse and has a hardship request.
8:48 a.m.
Another one. That's four jurors excused this morning.
8:44 a.m.
Another juror is excused, this one based on financial hardship if she sat on jury.
8:41 a.m.
This juror is excused. That's 2 due to hardship.
8:40 a.m.
One juror is responsible for a special needs child. He explains his situation to the judge.
8:38 a.m.
One juror excused for hardship.
8:35 a.m.
Jurors who have raised their hands about potential hardships while sitting on a jury will be questioned by Boyce.
8:26 a.m.
This panel has another 14-15 jurors present based on the roll call we heard. Judge is breaking down the murder charges against Vallow.
8:18 a.m.
Vallow has a lot to say to Archibald as we wait for jury selection. It's hard to make out her expressions. She's wearing a black blazer, white blouse and her glasses.
8:15 a.m.
We have a closer camera angle on Lori Vallow today via zoom. She has a yellow note pad and is talking to attorney Jim Archibald.
8:00 a.m.
Court is now in session. Lori Vallow is back for Day 2.
7:50 a.m.
Back inside the overflow courtroom as jury selection continues. Three more groups will go today and so far 17 jurors have come out of day 1. The goal is to have 42 but unlikely that happens today.
MORE: Lori Vallow murder trial day 2: Jury selection continues
April 3
5:53 p.m.
17 jurors passed out of the first 3 panels. More groups to go Tuesday, April 4.
The trial kicks off Monday with jury selection. FOX 10's Justin Lum is in Idaho for the trial, and he will be live tweeting the event at https://twitter.com/jlumfox10
3:20 p.m.
An unemployed juror will be excused with undue hardship. That's 3 in a row.
3:18 p.m.
Another juror out due to financial hardship.
3:16 p.m.
One juror excused. There's about 13 left.
3:14 p.m.
I believe there's 14 jurors present on this panel. 3 are citing hardship and judge will question them on their situations.
3:02 p.m.
Each panel consists of about 15 jurors. So 17/30ish so far are in the finals.
2:53 p.m.
It's official. Third group of jurors will be questioned for the end of the day. Group 4 will start tomorrow.
2:52 p.m.
Back on the record.
2:44 p.m.
So far 17 total jurors have made it out of the last two panels.
2:43 p.m.
We are told another panel of jurors will be brought in for questioning. The court wants to reach 42 jurors before narrowing it down to the final 18.
2:30 p.m.
After today, the court will release transcripts of the pre-trial publicity discussions if requested but not the personal details of jurors.
2:29 p.m.
We're being told by the Ada County administrative judge why individual voir dire is blacked out on the strea.m.. Some jurors are sharing intimate, very personal details and some jurors are speaking about any pre-trial publicity they've witnessed on the case.
2:24 p.m.
So far today, 11 jurors have been dismissed from the pool.
2:15 p.m.
Looks like this panel of jurors is wrapping up. Judge is giving instructions on what's next.
2:10 p.m.
Court is back on the record. Vallow has been chatting back and forth with her lawyer Jim Archibald. Individual voir dire is complete.
1:11 p.m.
Remaining jurors to be questioned individually now.
1:10 p.m.
Archibald asking multiple jurors about presumption of evidence. He's asking them if they would vote not guilty right now. They respond that they don't have any evidence.
1:04 p.m.
Archibald questioned one juror who works at the Ada County Courthouse. He has not seen anyone working on the case and would not have problems being fair and impartial.
1:00 p.m.
Archibald is now at the podium questioning jurors about potential hardships if they say on the jury.
12:50 p.m.
Back to the circumstantial evidence stolen cookies analogy by Smith.
12:46 p.m.
So far, Lindsey Blake as conducted voir dire. Rachel Smith has been asking specific jurors questions for the last 10 minutes or so. She's bringing up the theme of conspiracy to one of them now.
12:21 p.m.
Now onto people who have sat on juries in the past. Some who did it in Ada County while some did it in California or Oregon.
12:16 p.m.
So far, 5 more jurors excused making it 10 total. Judge moving onto subject matter, nature of charges, asking if this would make difficult for jurors to decide on a fair verdict. No answers.
12:09 p.m.
We are mainly hearing issues of financial hardship, medical issues a.m.ong fa.m.ily from jurors who have been called on for questioning.
11:56 a.m.
Right now Judge Boyce is explaining the voir dire process to this panel. We will see similar questions by prosecution and defense this afternoon and with the next group until 18 jurors are decided on.
11:38 a.m.
Jury selection is about to get back underway.
10:56 a.m.
Short lunch recess and the next panel will be brought in.
10:54 a.m.
Panel of jurors are done for today but will be on standby with jury commissioner.
10:51 a.m.
Court is back in session after individual voir dire was conducted. The discussion we did not get to see was about pre-trial publicity. Jurors 102 and 323 are excused based on challenges raised. That makes 5 total jurors excused today.
10:08 a.m.
The rest of the jurors will be excused and wait in another room.
10:07 a.m.
Meanwhile, Lori has been watching intently. Archibald is done with questions. Now it's onto individual voir dire. There are three that the court wants to speak to.
10:03 a.m.
Judge says she can be excused due to undue hardship.
10:02 a.m.
Juror 365 is in the Navy reserves and will be going off to her annual training next week. Wood asks if she can reschedule. She says she could but her qualifying years toward retirement could be reduced.
10:00 a.m.
Archibald goes on to ask other jurors about their workplace situations and potential financial hardships. He's moving along pretty quick.
9:56 a.m.
Archibald now questions a stay at home mom. He asks if she would struggle with any hardship if she was sitting on a jury. She volunteers at a school and her husband is a pilot. She says she can manage. Archibald says it's your call.
9:54 a.m.
Archibald questions a juror who works as a laundry technician at the Ada County jail. She clarifies what she does for a living. She works with inmates who fulfill needs of the jail.
Archibald: Would the fact that you work in the jail cause my client concern that you could judge her fairly? She says no.
9:51 a.m.
Voir dire for Smith wraps up. It's now on Jim Archibald and the defense.
9:44 a.m.
CSI fan aka juror 323 has no issue with not knowing exactly how a victim died. Smith is pretty much done with her voir dire.
9:42 a.m.
Smith asked if jurors watch CSI? There's one juror who has watched multiple seasons. Smith says some people who follow those shows get excited over some types of evidence. Would anything about this exposure cause her to evaluate state evidence in a different light?
9:39 a.m.
Smith didn't see anyone else on the questionnaires that knew anyone on the witness list. She asks the one juror about her experience with those witnesses that may give her insight into the case. She was an administrative assistant.
9:37 a.m.
One juror has heard na.m.es of some of the witnesses. They worked at the Idaho State crime lab. This juror says she spoke with them every day, one individual who trained her on the job while she was there.
Smith: If those individuals testify, could you assess their credibility or be inclined to give them a leg up? She says she would assess them like anyone else.
9:36 a.m.
Voir dire continues with Smith. She explains circumstantial evidence to jurors, using a cookie jar analogy. If a child appeared with cookie crumbs on their mouth despite not being seen taking cookies out of the jar, would you as a parent hold them accountable?
9:20 a.m.
Smith wants to know if anyone has issues convicting someone with mainly circumstantial evidence. Now a quick break for a juror. Strea.m.ing is paused.
9:18 a.m.
She answered no. There were no hands if jurors who would be impacted by someone testifying who had different beliefs.
9:17 a.m.
Smith to juror 278: If someone's religious beliefs were different than your own would it affect you at all?
9:16 a.m.
Juror 338 wants to confirm Smith is referring to conspiracy. She is.
Smith compares the situation to the driver of a getaway car involved in a crime. 
9:15 a.m.
Smith: If you were presented evidence that a person can be guilty of participating in a crime they planned, can you consider convicting them even if they didn't do every single part or do the final act?
9:13 a.m.
And they're back on the record. Smith will continue with voir dire.
9:12 a.m.
Judge Boyce cuts off Smith and wants a brief sidebar.
9:08 a.m.
Smith: Judge is going to tell jurors what prosecutors must prove beyond reasonable doubt. We have to supply and prove to you that defendant is guilty of each of the crimes.
9:04 a.m.
Prosecutor Rachel Smith takes the podium now to ask her questions.
9:03 a.m.
Wood to one juror: Even if you had to see these things, could you commit and remain fair and impartial? He answers yes.
9:00 a.m.
Wood: This is a case that deals with murders. Two of the alleged victims are underage. The autopsy photos will not be easy to look at. Does anyone here have problems seeing something like that? Juror 51 has 2 elementary age children & thinks there could be difficulty w/ evidence.
8:59 a.m.
Wood: I'm asking that what you've seen before, set it aside and rely on the information in this courtroom. Does anyone have difficulty doing that?
One juror says she has not heard anything about this case.
8:56 a.m.
Wood: Does anybody here feel like what they see on the internet is true?
8:54 a.m.
Wood to jurors: Today, you're the pilot and we need you to land this plane.
8:53 a.m.
Rob Wood: Tell us exactly what you're thinking. Reason why is the defendant has a right to fair and impartial trial as do the people. Brutal honest is necessary.
8:51 a.m.
Boyce just finished his voir dire after a handful of other questions. Now the state can begin with the prosecution's voir dire.
Prosecutor Rob Wood will not ask his questions to the pool.
8:49 a.m.
No juror responded to the question of having any sort of bias in this case.
8:48 a.m.
Boyce just asked if anyone here has formed some sort of opinion that Vallow is guilty or not guilty in this case. No response.
8:46 a.m.
There was no response from any jurors about having any type of relationships with all the lawyers involved between prosecution and defense.
8:34 a.m.
Judge Boyce now asking about jurors' knowledge of the case and any potential association to Vallow.
8:41 a.m.
So far two jurors excused due to issues with time commitment.
8:35 a.m.
One juror has presented good cause to be excused for undue hardship.
8:31 a.m.
Boyce says trial commitment of 8 weeks. At least one juror raises their hand about making such a time commitment.
8:30 a.m.
Meanwhile a sketch artist is in the overflow room with a view of the main courtroom via Zoom. This may be the first ever court zoom sketch in history.
8:27 a.m.
Potential jurors are now entering the voir dire phase. Boyce explains the process and questioning in order to find a fair and impartial jury.
8:23 a.m.
Vallow charges: 1st degree murder (2), murder conspiracy (3) & grand theft (2). She had not pleaded not guilty.
8:21 a.m.
Judge Boyce is breaking down the case, who is representing the state (Rob Wood, Lindsey Blake & Rachel Smith). Vallow Daybell is represented by Jim Archibald and John Thomas. Boyce is now detailing the charges against Vallow.
8:19 a.m.
The goal is to find 12 jurors and six alternates. Roll call is underway.
8:17 a.m.
From my view, Vallow is wearing black, her hair is curled and she has glasses on. Boyce notes that the jury selection courtroom is closed to the public.
Boyce reminds us that we can't record anything from the strea.m..
8:15 a.m.
Strea.m.ing has started. Vallow is sitting with her defense Jim Archibald and John Thomas. Judge Boyce is now speaking.
8:04 a.m.
A bit of a delay. Still waiting on jury selection to begin.
7:41 a.m.
Chad Daybell's attorney John Prior just sat down in the overflow room. Daybell will have his own trial now that his case is severed from Lori Vallow's.
7:35 a.m.
Lori Vallow is here in the courthouse for jury selection. Despite media ca.m.eras banned, we expect to see a courtroom ca.m.era angle on her and the defense.
7:24 a.m.
Will this take a week? Quick briefing from Ada County court admin who says "I hope not."
7:23 a.m.
Per Idaho law, we are only going to hear audio of potential jurors. There will be ca.m.era angles looking at the judge, defense and prosecution. The feed will go dark if there is individual voir dire.
6:58 a.m.
Inside the courthouse now in Ada County as dozens of potential jurors are checking in. Nearly 2,000 were summoned last week to get questionnaires for the Lori Vallow trial.
April 2 (eve of trial)
We're waiting for a ruling on whether the grandparents of JJ Vallow, Kay and Larry Woodcock, can be in the courtroom aside from witness testimony. The judge wanted to clarify if they should be considered statutory victims in this case.
They have a lawyer who motioned on Friday, March 31 for them to be allowed in.