Lisa Marie Presley to be buried at Graceland next to her beloved son, Benjamin Keough
Lisa Marie Presley, the only child of the legendary Elvis Presley and Priscilla Presley, will be buried at Graceland, the famed home of her father. 
The singer-songwriter's final resting place will be next to her beloved son, Benjamin Keough, who died in 2020, her daughter Riley Keough's rep confirmed to Fox News Digital. Elvis and other members of the Presley family are also buried at Graceland.
Lisa Marie was taken to a Los Angeles hospital Thursday after sheriff's deputies responded to a "not breathing call," authorities confirmed to Fox News Digital.
REMEMBERING LISA MARIE PRESLEY: ELVIS AND PRISCILLA'S ONLY CHILD, SURVIVED BY MOTHER, 3 DAUGHTERS
"Priscilla Presley and the Presley family are shocked and devastated by the tragic death of their beloved Lisa Marie," Priscilla's representative said in a statement to Fox News Digital. "They are profoundly grateful for the support, love and prayers of everyone, and ask for privacy during this very difficult time."
Ben Keough and Lisa Marie Presley attend the World Premiere of Harry Potter And The Deathly Hallows: Part 1 at Odeon Leicester Square on November 11, 2010 in London, England. (Photo by Dave M. Benett/Getty Images)
Although Lisa Marie did not live in Memphis, where she was born, she often made trips to honor her late father at celebrations. She was most recently in Memphis January 8, the Sunday before her death, to commemorate what would've been her the King of Rock n' Roll's 88th birthday.
Elvis lived at Graceland from June 26, 1957, until his death on Aug. 16, 1977.
In 1981, Priscilla and two executors decided to convert the famous 23-room home and nearly 14 acres of land into a museum.
Their goal was to maintain the estate along with the legacy of Elvis.
LISA MARIE PRESLEY, ELVIS AND PRISCILLA'S ONLY CHILD, DEAD AT 54
Graceland is now in a trust that will go to the benefit of Lisa Marie's children, according to The Associated Press. 
Presley is survived by her mother Priscilla, 33-year-old daughter Riley and 14-year-old twins Harper and Finley Lockwood.
Lisa Marie's late son, Benjamin's sudden death in 2020 was ultimately ruled a suicide by gunshot, leaving his family to mourn the sudden and unexpected loss.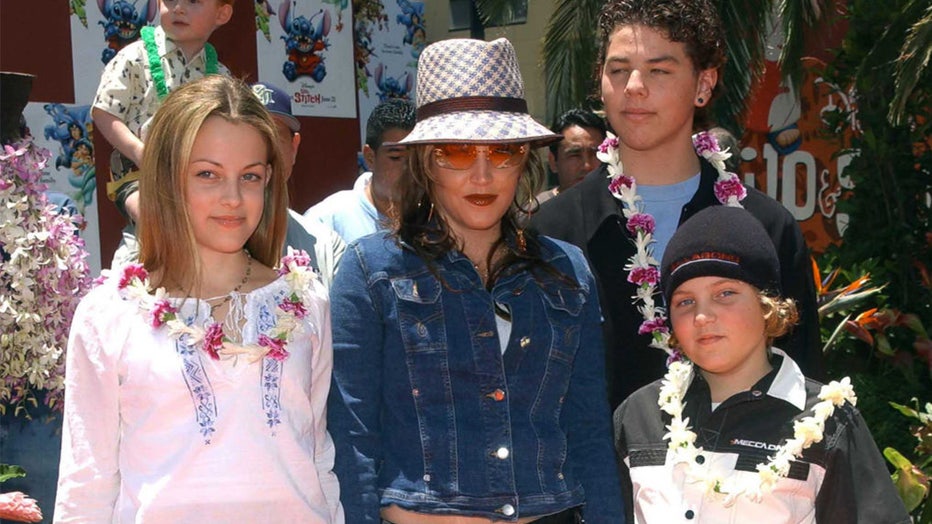 FILE - Lisa Marie Presley and her children Benjamin Keough (R), Riley Keough (L), and her half-brother Navarone Garibaldi (back) attend the premiere of "Lilo and Stitch" at the El Capitan theatre in Hollywood on June 16, 2002.  (CHRIS DELMAS/AFP via Getty Images)
LISA MARIE PRESLEY'S LIFE IN PICTURES
Fans gathered from near and far at Graceland in Memphis to honor the passing of Lisa Marie, as they placed flowers near the mansion and wrote kind notes for her on a graffiti wall, with one saying she is now with her father Elvis.
"I've always been an Elvis fan since I was a little kid. I think I wept the day he died," one fan remarked.
"Lisa Marie, she's been famous since the day she was born…heard the tragic news last night…we decided to stop and pay tribute to Lisa… She's my age… When people your own age die, it's a sobering thought, so that's why we're here…to pay a little tribute to Lisa Marie and her dad."