Las Vegas police officer going on trial over $165k stolen in 3 casino heists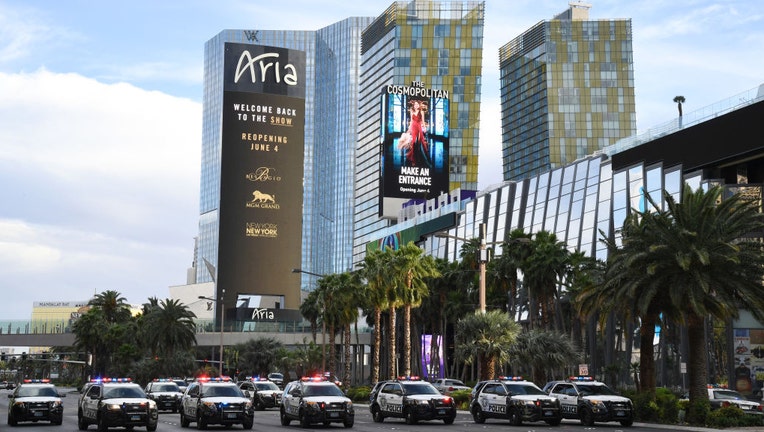 article
LAS VEGAS - A trial for a Las Vegas police officer accused of stealing nearly $165,000 in a series of casino heists is set to begin Monday with prosecutors painting him as a gambling addict who grew increasingly desperate under a crush of debt.
Prosecutors claim Caleb Rogers, 35, carried out three robberies over a span of four months while armed with a weapon issued by the police department.
Rogers' attorney, Richard Pocker, said the government's evidence allegedly tying Rogers to two of the robberies is weak. He accused the FBI and Las Vegas Metropolitan Police Department detectives of pressuring two people, including Rogers' brother, into identifying him as the suspect in the robberies to close out the cases.
Rogers made off with more than $85,000 in the first two robberies between November 2021 and January 2022 at casinos off the Las Vegas Strip while his police colleagues spent months trying to catch the thief, investigators and prosecutors said.
Rogers nearly bagged an additional $79,000 in a third robbery at the Rio All-Suite Hotel & Casino in February 2022, but security guards detained him outside following a brief struggle, authorities said.
The robber's approach was essentially the same in all three crimes, authorities said. He wore a face mask, dark clothing and black latex gloves. After cashiers handed over the money, he placed the cash inside a bag underneath his jacket. Then the suspect with the "unique gait" ran back to his vehicle, limping "because of a problem with his leg," according to a criminal complaint.
Mehmet Erdem, a professor at the University of Nevada, Las Vegas, whose expertise includes hotel and casino operations, said casino heists are hard to successfully pull off.
"The chances you get caught and are identified is very high," he said, because of a combination of robust casino security teams with uniformed guards and plainclothes officers and advancements in security technology including facial recognition software and high-definition cameras.
Rogers was a seven-year police veteran employed by the Las Vegas metro police as an active-duty patrol officer at the time of the robberies. He remains employed but is on unpaid leave "without police powers" pending the outcome of the criminal case, a department spokesperson said.
Those testifying will include casino cashiers, security guards and Josiah Rogers, who identified his brother on video captured by casino security cameras during the first two robberies, prosecutors said last week, noting that Josiah Rogers will be granted immunity from legal action.
Caleb Rogers, who was denied bail and has been in custody on four charges since his arrest, used his brother's car in one of the robberies and instructed him to get rid of it shortly thereafter, according to court documents.
In the third alleged robbery, Rogers parked an unregistered minivan outside the casino and entered just before 7 a.m., while employees at the casino's sportsbook prepared to open. He wore body armor underneath his clothing and was armed with a department-issued revolver with a yellow sticker covering its serial number, according to a criminal complaint.
He climbed over the counter, shoved one of two cashiers who was loading cash into registers from a plastic bag containing $119,000 and yelled that he had a gun. As he shoveled money into a bag hidden inside his jacket, loose bills floated onto the casino floor, according to the complaint.
A group of security guards caught up to the suspect just after he made it past the casino's exit. He drew his weapon and asked the guards if they were "willing to be shot over this" before one of them grabbed the gun, the complaint said.
When police officers arrived, Rogers allegedly announced his department personnel number, which authorities said is "a way police officers commonly identify themselves to one another."
A detective later asked Rogers if anything could have been done to prevent the robberies, the complaint said.
"Nothing," Rogers said.