'King Otis' fans rejoice: Famed brown bear returns to Alaska live cam
One of Alaska's most famous brown bears had his fans worried this year, but the celebrity King Otis has returned to Katmai National Park, albeit fashionably late.
Otis, or Bear 480, is one of the most popular bears to watch on Explore.org's live bear cam, which shows real-time footage of Katmai's brown bears hunting for salmon in the Brooks River from June - September.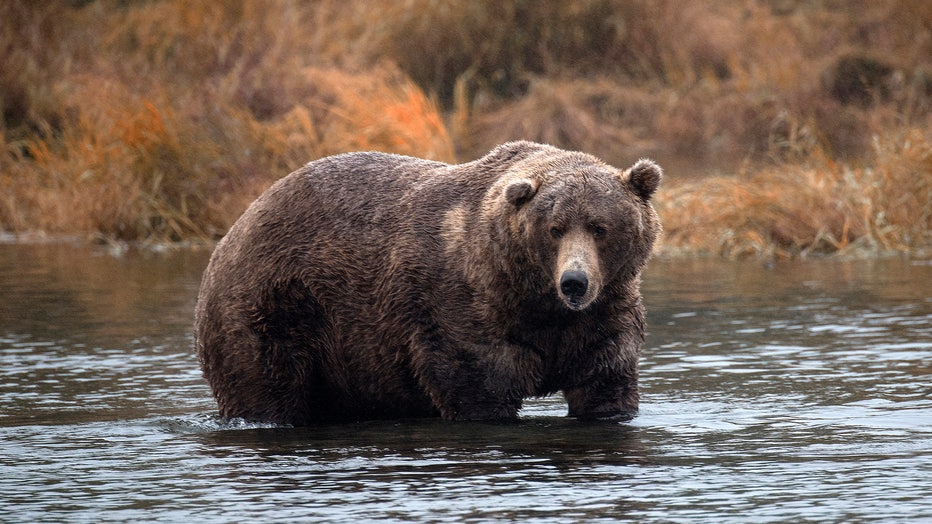 Brown bears fishing for salmon at Brooks Falls on September 16, 2018 in Katmai National Park, Alaska. (Photo by Ronald C. Modra/Getty Images)
The park is home to about 2,200 brown bears – more than the human population on the Alaska Peninsula, according to the National Park Service.
At nearly 30 years old, Otis has become a legend of the annual salmon hunt. But his fans around the globe grew concerned as they watched the cams in June and didn't see their beloved chunky bear.
That changed this week. On Wednesday, July 26, Explore.org shared on Twitter that Otis had returned.
"At his preferred fishing spots, Otis waits for salmon to come to him," Explore.org explains. "He once ate 42 salmon in a sitting by using this strategy. Despite the difficulties and rigors of old age, Otis uses his adaptability, skill, and patience to find success."
Park officials said there's a reason for Otis's tardiness this year: the salmon were late, too.
"What we've been seeing in Alaska is that the salmon run has been trending later into July, which means for bears like Otis waiting longer to eat that salmon,"  Candice Rusch, a spokesperson with Explore.org, told The Washington Post.
Otis is perhaps best known for his multiple championship titles for Fat Bear Week – the annual October March-madness style bracket that lets the public decide which bear they think is the fattest and most ready for winter hibernation.
Otis is a four-time winner of the competition, which takes place in October. Details of this year's Fat Bear Week have not yet been announced.