Kate Middleton plays the piano in surprise appearance at Eurovision Song Contest: 'Enjoy the show'
Kate Middleton made a surprise cameo at the Eurovision Song Contest final on Saturday night. 
The 41-year-old Princess of Wales gave a pre-recorded piano performance in the international song competition's opening segment, which she filmed earlier this month at the Crimson Drawing Room of Windsor Castle. Middleton played an instrumental version of the Ukrainian group Kalush Orchestra's song "Stefania," which won the contest last year.
The official account for the Middleton and her husband Prince William, 40, later shared a clip of the princess's performance on Twitter.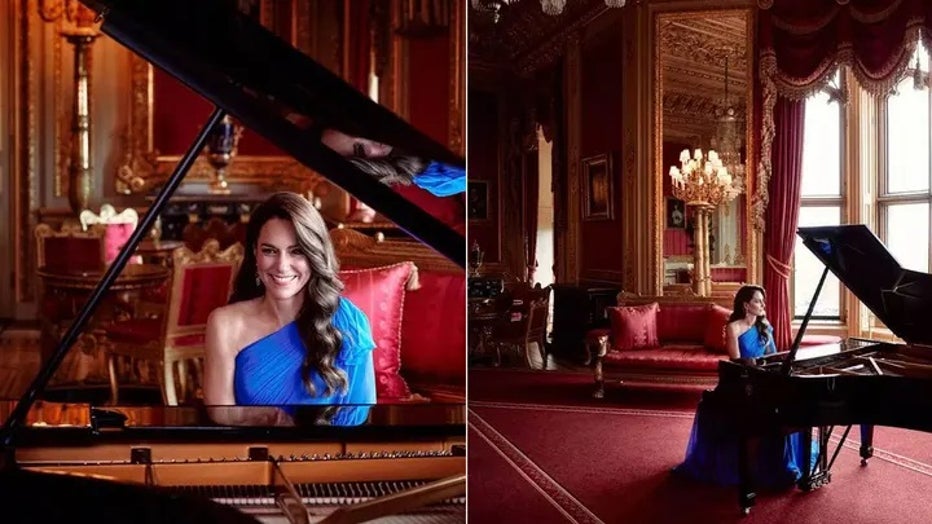 Kate Middleton gave a surprise piano performance in a video to open the Eurovision Song Contest final. ( Alex Bramall/Kensington Palace via Getty Images)
"A #Eurovision surprise," the royals wrote alongside the video, adding an emoji of piano keys.
CORONATION FASHION: KATE MIDDLETON HONORS PRINCESS DIANA, TWINS WITH PRINCESS CHARLOTTE
They continued, "A pleasure to join Kalush Orchestra in a special performance of last year's winning @eurovision entry."
"Enjoy the show, Liverpool."
The Duchess of Cambridge wore a bright blue one-shouldered chiffon Jenny Packham dress and a pair of earrings that formerly belonged to the late Queen Elizabeth II. The color of Middleton's gown was a nod to the Ukrainian blue and yellow flag. 
The clip opened with an overhead shot of Windsor Castle before the camera zoomed into window of the Red Drawing room and cut to Middleton sitting at a black grand piano and beaming before she began to play the piece, which was arranged by music directors Joe Price and Kojo Samuel.
Eurovision's opening montage featured cuts to Middleton as well as a number of artists performing their own versions of "Stephania" alongside Kalush Orchestra. The performers included Andrew Lloyd Webber, Ms, Banks, Joss Stone, Ballet Black, Bolt Strings, and 2022 runner-up Sam Ryder.
The song contest usually takes place in the home country of the previous year's winner but the 2023 final was held in Liverpool, U.K. due to Ukraine's ongoing war with Russia. 
Middleton learned to play piano from the age of around 10 or 11 until 13, according to her former instructor Peter Nicholls. In Apri 2012, he told the Evening Standard that she was "absolutely lovely, a really delightful person to teach the piano."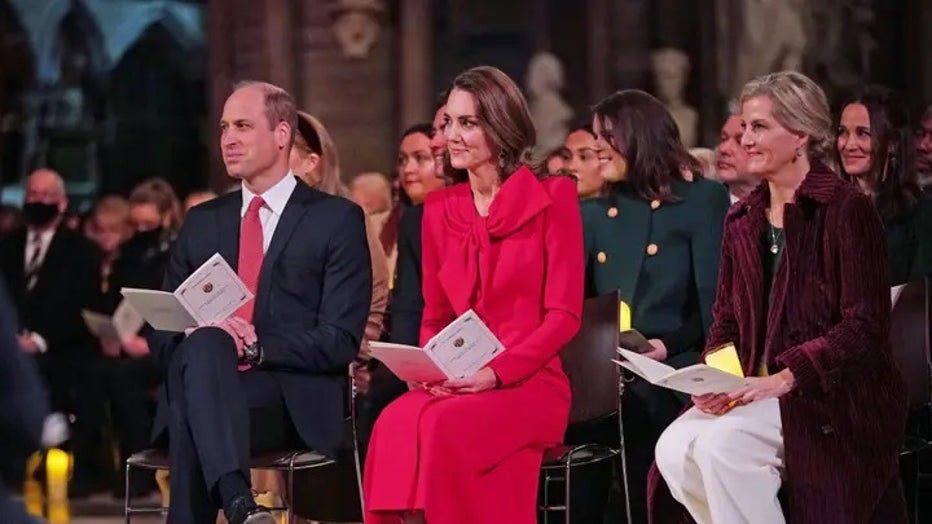 Middleton first showed off her musical ability at the Christmas concert that she hosted at Westminster Abbey. She was joined by Prince William and Sophie, Countess of Wessex. ( YUI MOK/POOL/AFP via Getty Images)
In December 2021, the princess showed off her musical ability in her first public performance during the Christmas carol concert that she hosted at Westminster Abbey. She accompanied singer Tom Walker on the piano as he performed his song "For Those Who Can't Be Here."
At the time, a source told People magazine that Middleton proposed the idea herself. The insider added that she took "great comfort" in playing the piano while quarantining during the COVID-19 pandemic.
"Music was very important to the Duchess during the lockdowns," the source said. "She also recognizes the powerful way in which music brings people together — especially during difficult times. For these reasons, she was keen to be part of Tom's performance in this way."
Walker raved over Middleton's performance, telling People that she "absolutely smashed it."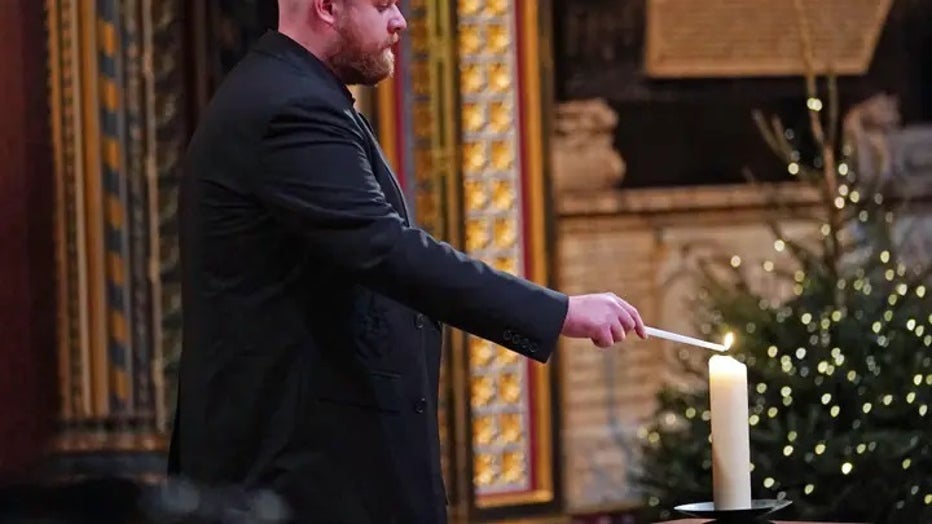 Middeton accompanied singer Tom Walker on the piano as he performed his song "For Those Who Can't Be Here." ( YUI MOK/POOL/AFP via Getty Images)
"It's not easy to just jump behind a piano with a bunch of musicians you've never played with before and record live takes to camera, but she completely nailed it," Walker said.
He continued, "She's such a lovely, kind and warm-hearted person and she took the time to thank everyone personally for the opportunity to play together."
"It was a crazy pinch-yourself kind of day for me, to be in such a beautiful venue playing alongside the Duchess with my band and a string quartet. I certainly won't forget that in a hurry!"
Middleton wasn't the only member of the royal family to make a surprise appearance at Eurovision. King Charles and Queen Camilla also played a role in the 2023 Eurovision Song Contest. Two weeks ago, the couple officially opened the stage at the M&S Bank Arena in Liverpool and also made cameos in the film "Welcome to Liverpool" which was screened ahead of the semi-fnals.