Israel agrees to 4-hour daily pauses in Gaza fighting to allow civilians to flee, White House says
WASHINGTON - The White House said Israel has agreed to put in place four-hour daily humanitarian pauses in its assault on Hamas in northern Gaza starting on Thursday, as the Biden administration said it has secured a second pathway for civilians to flee fighting.
President Joe Biden had asked Israeli Prime Minister Benjamin Netanyahu to institute the daily pauses during a Monday call.
U.S. National Security Council spokesman John Kirby said that the first humanitarian pause would be announced Thursday and that the Israelis had committed to announcing each four-hour window at least three hours in advance.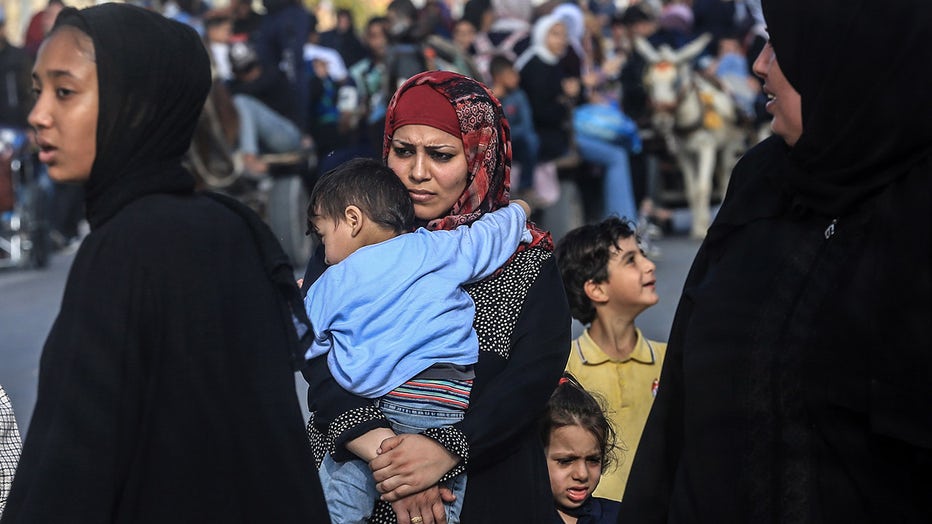 Palestinians fleeing Gaza City and other parts of the northern Gaza Strip through Salah al-Din Street arrive in the Bureij Palestinian refugee camp in the central Gaza Strip on Nov. 8, 2023. (Photo by Mohammed Talatene/picture alliance via Getty Imag
Biden also told reporters that he had asked the Israelis for a "pause longer than three days" during negotiations over the release of some hostages held by Hamas, though he ruled out the chances of a general cease-fire.
U.S. Secretary of State Antony Blinken had warned Israel last week that it risked destroying an eventual possibility for peace unless it acted swiftly to improve humanitarian conditions in Gaza for Palestinian civilians as it intensifies its war against Hamas.
PREVIOUS: Israel-Hamas fight heats up in Gaza City, accelerating exodus of Palestinians to the south
In a blunt call for Israel to pause military operations in the territory to allow for the immediate and increased delivery of assistance, Blinken said the situation would drive Palestinians toward further radicalism and effectively end prospects for any eventual resumption of peace talks to end the conflict.
French President Emmanuel Macron has opened a Gaza aid conference on Thursday with an appeal for Israel to protect civilians, saying that "all lives have equal worth" and that fighting terrorism "can never be carried out without rules."