Human Rights Campaign declares state of emergency warning for LGBTQ+ people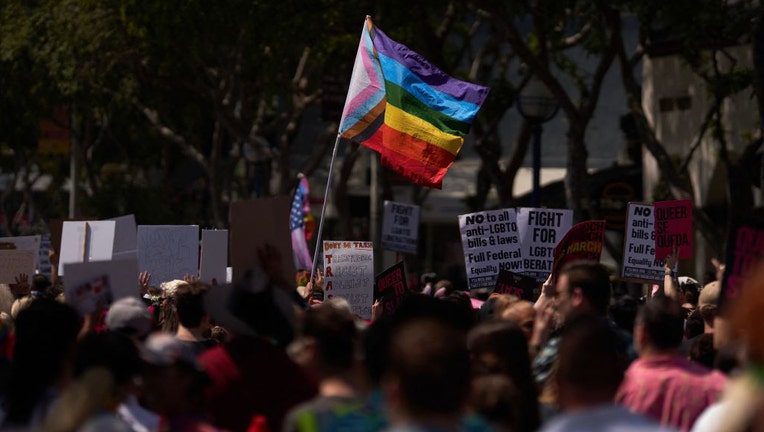 article
The Human Rights Campaign declared a state of emergency for LGBTQ+ people in the U.S. on Tuesday and released a guidebook summarizing laws it deems discriminatory in each state, along with "know your rights" information and resources to help people relocate to states with stronger LGBTQ+ protections.
Sounding the alarm about the current political environment, the nation's largest organization devoted to the rights of lesbian, gay, bisexual, transgender and queer Americans said advisories warning against travel to dangerous places aren't enough to help people already living in so-called hostile states.
RELATED: 3 out of 4 Americans support LGBTQ ad campaigns, GLAAD survey finds
Just a few days into Pride Month, the campaign said it's taking action in response to an "unprecedented and dangerous" spike in discriminatory legislation sweeping state houses this year, with more than 525 anti-LGBTQ+ bills introduced and more than 70 signed into law so far in 2023 — more than double last year's number. 
In a report released Tuesday called "LGBTQ+ Americans Under Attack," it says the new laws are a result of coordinated Republican efforts, supported by "well-funded extremist groups."
A recent Associated Press analysis found that many bills seeking to ban or restrict gender-affirming health care for transgender youth, who have been the primary targets of state legislation this year, sprang not from grassroots or constituent demand, but from the pens of a few powerful conservative interest groups.
RELATED: Target pulls some LGBTQ+ merchandise from stores ahead of June Pride month after threats to workers
The HRC guidebook, meanwhile, provides information about filing complaints for civil rights violations and points to resources for financing moves and finding employment, particularly in the 17 states with a trifecta of Democratic leadership in both legislative chambers and the governor's office. It also offers tips on how to engage in local advocacy and how to navigate tough conversations about LGBTQ+ policies with friends and family.
The guide aims to help millions of vulnerable people, "whether they're planning summer travel through regions that are becoming increasingly hostile to LGBTQ+ people, or whether they already live in a state where legislative assaults and political extremism are continuing to put a target on our backs," said HRC president Kelley Robinson.
RELATED: LGBTQ+ Pride month begins with protests, parades, parties
The emergency declaration is the first in the 40-year history of the HRC, which encompasses a foundation focusing on research, advocacy and education, national and state lobbying campaigns and a political action committee that supports and opposes candidates for office. 
It comes as Republican-dominated legislatures around the country have passed bills restricting various aspects of transgender existence, from pronoun usage and bathroom access to medical care and more.
RELATED: Tennessee bill limiting drag shows heads to governor
Among the latest, one of a series of bills nearing final passage in Louisiana would broadly ban K-12 public school employees in Louisiana from discussing sexual orientation or gender identity in the classroom. The legislation is similar to the Florida law critics call "Don't Say Gay."