'The Blind Side' producers divulge how much money Michael Oher, Tuohy family actually made from the film
The producers of "The Blind Side" are addressing the "many mischaracterizations and uninformed opinions" surrounding the award-winning film, clarifying how much money the Tuohy family and Michael Oher actually earned.
Over the past month, the validity of the 2009 flick starring Sandra Bullock has been questioned given the ongoing public feud between the Tuohy's and Oher, who has accused the family in a recent filing of never actually adopting him and forcing him into a conservatorship for their own monetary benefit.
Alcon Entertainment co-founders and co-CEOs Broderick Johnson and Andrew Kosove defended the project, and also revealed the monetary sum the four members of the Tuohy family: father Sean, mother Leigh-Anne, daughter Collins and son SJ, along with Oher made.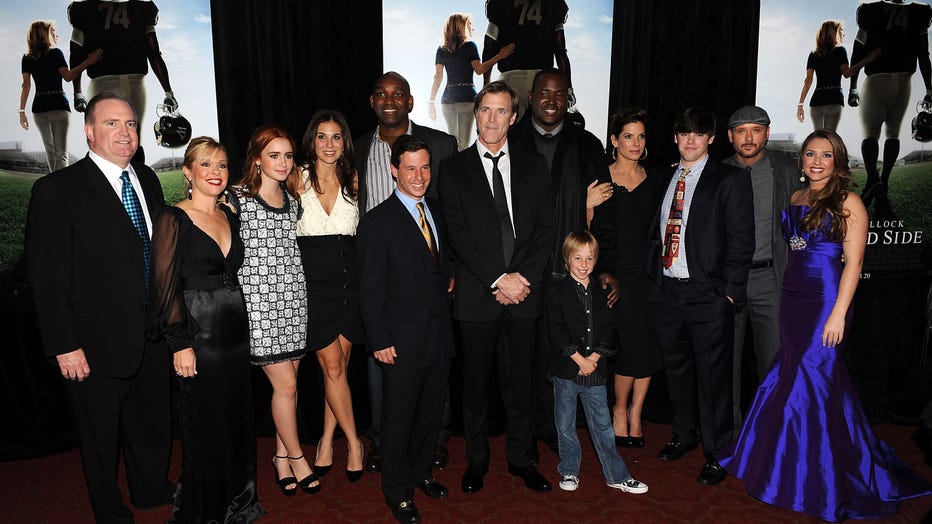 (L-R) Sean Tuohy, Leigh Anne Tuohy, actress Lily Collins, executive producer Molly Smith, producer Broderick Johnson, producer Andrew Kosove, director John Lee Hancock, actor Quinton Aaron, actor Jae Head, actress Sandra Bullock, Sean Tuohy Jr., acto
'BLIND SIDE' ACTOR DEFENDS SANDRA BULLOCK AMID CALLS FOR HER TO LOSE OSCAR: 'STAY HOME, SIT DOWN, GET A JOB'
Both producers of the movie, Johnson and Kosove explained in a statement obtained by People Magazine that the family, including Oher, made roughly $767,000 in total payments.
The deal "was consistent with the marketplace at that time for the rights of relatively unknown individuals," the statement detailed. "Therefore, it did not include significant payouts in the event of the film's success."
"As a result, the notion that the Tuohys were paid millions of dollars by Alcon to the detriment of Michael Oher is false."
In Oher's filing, the former NFL player says he only learned of his adoption status in 2023, and felt tricked into a conservatorship by the Tuohy's after his 18th birthday.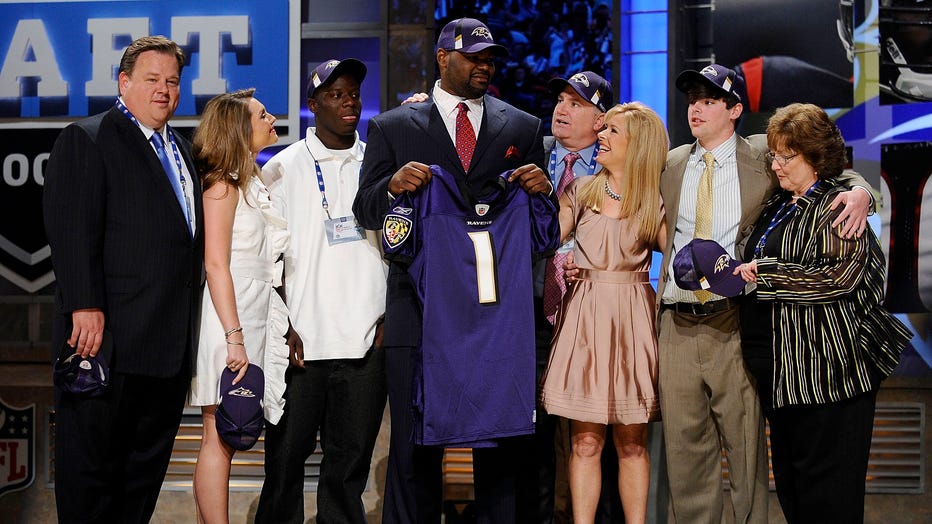 Baltimore Ravens #23 draft pick Michael Oher poses for a photograph with his family at Radio City Music Hall for the 2009 NFL Draft on April 25, 2009 in New York City. (Photo by Jeff Zelevansky/Getty Images)
In a statement obtained by Fox News Digital, Tuohy family attorney Marty Singer denied the allegations leveled against the family in Oher's petition to end his conservatorship, calling them "hurtful and absurd."
Author Michael Lewis sold his rights to his 2006 book based on Oher,  "The Blind Side: Evolution of a Game," and the film was later made.
"The Blind Side" grossed over $330 million dollars at the box office and has accrued more since its release.