Hollywood actors strike, joining writers in 1st industry-stopping walkout since 1960
LOS ANGELES - Leaders of a Hollywood's actors union voted Thursday to join screenwriters in the first joint strike in more than six decades, shutting down production across the entertainment industry after talks for a new contract with the studios and streaming services broke down.
Duncan Crabtree-Ireland, executive director of the Screen Actors Guild-American Federation of Radio and Television Artists, said at a news conference that the union leadership voted for the work stoppage hours after their contract expired and talks broke off with the Alliance of Motion Picture and Television Producers representing employers including Disney, Netflix, Amazon and others.
"A strike is an instrument of last resort," he said. Union leaders said at a news conference that they voted unanimously for a strike to begin at midnight. Outside Netflix's Hollywood offices, picketing screenwriters chanted "Pay Your Actors!" immediately after the strike was announced.
It's the first strike for actors from film and television shows since 1980. And it's the first time two major Hollywood unions have been on strike at the same time since 1960, when Ronald Reagan was the actors' guild president.
RELATED: Hollywood writers' strike begins, halting tv and film production
With a stoppage looming, the premiere of Christopher Nolan's film "Oppenheimer" in London was moved up an hour so that the cast could walk the red carpet before the SAG board's announcement.
The looming strike also cast a shadow over the upcoming 75th Emmy Awards, whose nominations were announced a day earlier.
Disney chief Bob Iger warned Thursday that an actors strike would have a "very damaging effect on the whole industry."
"This is the worst time in the world to add to that disruption," Iger said in an appearance on CNBC. "There's a level of expectation that (SAG-AFTRA and the WGA) have that is just not realistic."
An extension of the contract, and negotiations, for nearly two weeks only heightened the hostility between the two groups.
Before the talks began June 7, the 65,000 actors who cast ballots voted overwhelmingly union leaders to send them into a strike, as the Writers Guild of America did when their deal expired more than two months ago.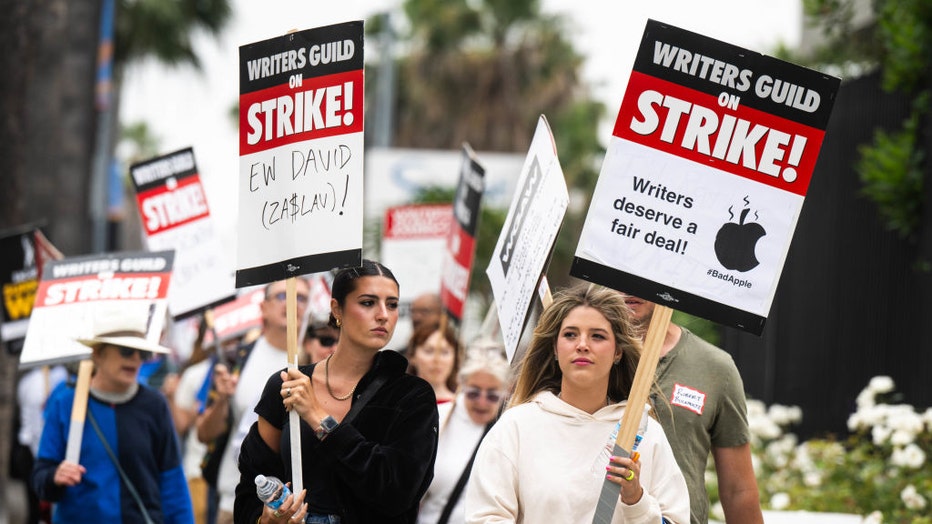 Writers and their supporters walk the picket line at Netflix in Hollywood on Wednesday, June 14, 2023 during the seventh week of the Writers Guild of America strike. (Sarah Reingewirtz/MediaNews Group/Los Angeles Daily News via Getty Images)
RELATED: 2023 Emmy nominations: 'Succession' leads the pack and HBO dominates
When the initial deadline approached in late June, more than 1,000 members of the union, including Meryl Streep, Jennifer Lawrence and Bob Odenkirk, added their names to a letter signaling to leaders their willingness to strike.
The stakes in the negotiations included both base and residual pay, which actors say has been undercut by inflation and the streaming ecosystem, benefits, and the threat of unregulated use of artificial intelligence.
The AMPTP said it was disappointed in the breakdown.
"This is the Union's choice, not ours. In doing so, it has dismissed our offer of historic pay and residual increases, substantially higher caps on pension and health contributions, audition protections, shortened series option periods, a groundbreaking AI proposal that protects actors' digital likenesses, and more," the group said in a statement.
It added that instead of continuing to negotiate, "SAG-AFTRA has put us on a course that will deepen the financial hardship for thousands who depend on the industry for their livelihoods."
SAG-AFTRA represents more than 160,000 screen actors, broadcast journalists, announcers, hosts and stunt performers. The walkout affects only the union's 65,000 actors from television and film productions, who voted overwhelmingly to authorize their leaders to call a strike before talks began on June 7.
The 11,500 members of the Writers Guild of America have been on strike since their own talks collapsed and their contract expired on May 2. The stoppage has showed no signs of a solution, with no negotiations even planned.
That strike brought the immediate shutdown of late-night talk shows and "Saturday Night Live," and several scripted shows, including "Stranger Things" on Netflix," "Hacks" on Max, and "Family Guy" on Fox, have either had their writers' rooms or their production paused. Many more are sure to follow them now that performers have been pulled too.