Abbott requests board to look into potential pardon for Daniel Perry
AUSTIN, Texas - Texas Gov. Greg Abbott is weighing in on the recent conviction for Army Sgt. Daniel Perry.
Abbott says he has requested the Board of Pardons and Paroles to look into Perry's April 7 conviction and determine if he should be granted a pardon.
Perry was found guilty of murder in the July 2020 death of Black Lives Matter protestor Garrett Foster after nearly 16 hours of jury deliberation. Perry was also found not guilty of aggravated assault with a deadly weapon.
The state claimed Perry intentionally drove into the crowd of protesters the night of July 25, 2020, and killed Foster, while his defense team claimed what Perry did that night was self-defense.
On Saturday, April 8, one day after the guilty verdict was handed down, Gov. Abbott tweeted that he was "working as swiftly as Texas law allows regarding the pardon of Sgt. Perry."
Abbott attached a full statement to the tweet, which reads:
"Texas has one of the strongest 'Stand Your Ground' laws of self-defense that cannot be nullified by a jury or a progressive District Attorney.
"Unlike the President or some other states, the Texas Constitution limits the Governor's pardon authority to only act on a recommendation by the Board of Pardons and Paroles. Texas law DOES allow the Governor to request the Board of Pardons and Paroles to determine if a person should be granted a pardon. I have made that request and instructed the Board to expedite its review.
"I look forward to approving the Board's pardon recommendation as soon as it hits my desk.
"Additionally, I have already prioritized reining in rogue District Attorneys, and the Texas Legislature is working on laws to achieve that goal."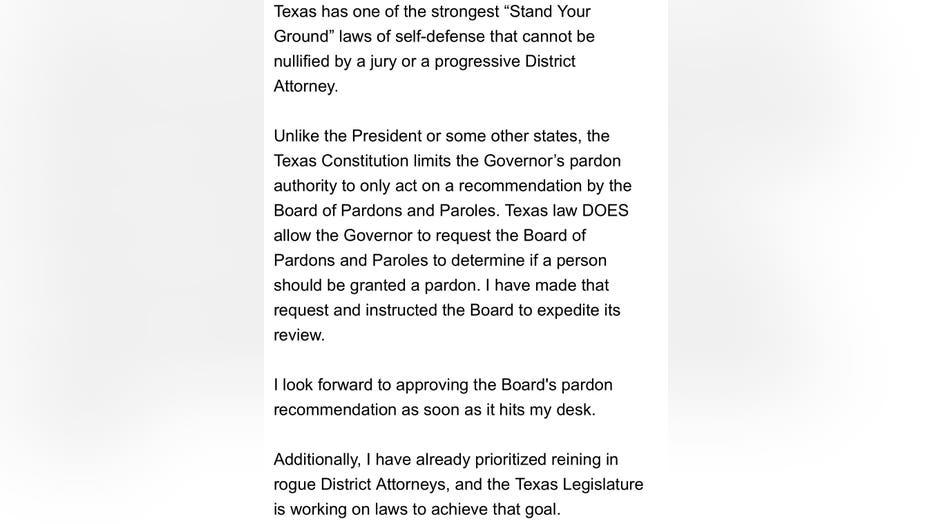 Greg Abbott's statement on a potential pardon for Sgt. Daniel Perry
Travis County DA Jose José Garza responded Sunday to Abbott's statement about pardoning Perry, calling it "deeply troubling".
The full statement reads: 
"In a state that believes in upholding the importance of the rule of law, the Governor's statement that he will intervene in the legal proceedings surrounding the death of Garrett Foster is deeply troubling.
"In this case, a jury of twelve listened to testimony for nearly two weeks, upending their lives to painstakingly evaluate the evidence and arguments presented by both the State and the Defense. After hearing from civilian eyewitnesses and expert witnesses, and deliberating for over fifteen hours, they reached the unanimous decision that Daniel Perry did not kill Garrett Foster in self-defense and was guilty of murder beyond a reasonable doubt. I thank them for their service and want them to know that their service and the service of every juror matters. In our legal system, [it is] a jury that gets to decide whether a defendant is guilty or innocent - not the Governor.
"Make no mistake, without intervention from the Governor, the defendant's conviction would be reviewed by both state and federal courts who will examine the record to ensure that no legal errors were made at this level and that the evidence supported the conviction. Our constitution has built in protections to ensure that no defendant is convicted when the law or evidence does not support it, and this is a central tenant of our legal system.
"I want to thank the Foster family. I want them to know that the Travis County District Attorney's office will continue to fight for a justice system that treats everyone equally, including Garrett Foster.
"I know how long they have waited for justice for Garrett and their family. I can imagine that justice must feel so elusive for them and right now, and for that, I am more sorry than words can express.
"The proceedings in the case of the State of Texas v. Perry are not yet concluded. Tomorrow morning, Criminal District Judge Clifford Brown will set a date for the sentencing hearing. At that the sentencing hearing, the Judge will be able to consider and evaluate additional evidence before sentencing Mr. Perry for the crime he committed.
"As this process continues, the Travis County District Attorney's office will continue to fight to uphold the rule of law and to hold accountable people who commit acts of gun violence in our community."
MORE COVERAGE ON THE DANIEL PERRY TRIAL
In the thread, another Twitter user asked Abbott if the law required waiting for all appeals to be exhausted before a pardon could be requested or granted, to which the governor replied no.
Abbott also expressed strong support for HB 2640, which was proposed in 2017 and would require prosecutors to share evidence with grand juries that might help a suspect's case, according to the Texas Tribune. Its companion, SB 1424, passed the Senate, but did not move beyond the House Committee on Criminal Jurisprudence.
The Texas Senate also recently passed SB 20, which would prohibit prosecutors from adopting or enforcing a policy "under which the prosecuting attorney refuses to prosecute a class or type of criminal offense," Such a policy would qualify as "official misconduct"; if a jury finds a prosecutor guilty of misconduct, a district judge can order them removed from office, according to the Texas Tribune. It's now in the hands of the Texas House.