Fisherman lands 283-pound 'river monster' to beat 72-year-old angling world record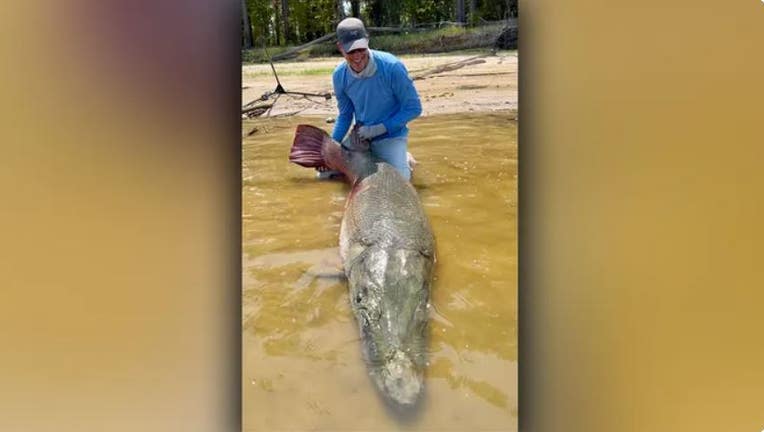 article
JASPER, Texas - Art Weston is at it again in Deep East Texas with another fish tale for the ages.
The Kentucky angler just snagged another gigantic alligator gar on a journey with his fishing guide, Captain Kirk Kirkland, aboard his boat rightfully named the "Garship Enterprise."
In April, Weston gained recognition for achieving another notch to his belt of 40 world records. He caught a 251-pound alligator gar while fishing near Houston. While the 80-pound line class record is being reviewed, he has already surpassed that and caught the all-tackle record on Sept. 2.
KENTUCKY MAN REELS IN LIKELY WORLD-RECORD ALLIGATOR GAR FROM TEXAS RIVER
As a record hunter, Weston is a member of the International Game Fish Association as an angler to accomplish global notoriety. This particular trip aimed to break line class records by catching the largest fish with a specific pulling force limit.
"I have a few of those line-class records already, and on this September 2023 trip, I had a plan to go after the 12-pound line-class record first, given I felt it was the most obtainable," he said. "The record to beat was just under 130 pounds."
While conversing, Kirkland shared with Weston a good spot in Texas's Sam Rayburn Lake for light fishing lines. The spot had a sandy bottom and minimal snags, but Kirkland also mentioned that there might not be many fish in the area. Despite this, Weston was keen on breaking some records and agreed to take the risk.
During the first day of their week-long trip, the pair arrived at their destination and anchored their boat. They didn't have to wait long before one of the reels began to spin rapidly. The incredible 169-pound alligator gar was the first of two enormous fish they caught before the king of the waters appeared to claim its title.
Race against time
It took 2 hours and 45 minutes to reel in the 283-pound fish on 6-pound test line and complete the IGFA record requirements. However, it was a challenging process.
"I was dreading it at this point, as I have fought other fish past the two-hour mark and have had the line just randomly break, and I just was not getting enough pressure on it," he said.
Weston was prepared to lose the catch.
"I don't like to admit it, but I wear a small fighting belt for exactly these situations, as it makes it a lot easier to relax your arm muscles if you can put the butt of the rod in the belt," he said.
The fish kept moving without stopping, but Weston couldn't apply too much pressure on it due to the light line.  The fisherman never got a clear view of the fish due to it making a few runs and rolls, but he knew it was a large one.
TEXAS TROPHY: MAN HOOKS 300-POUND ALLIGATOR GAR OUTSIDE HOUSTON
Art Weston just snagged a gigantic alligator gar on a journey where no man has gone before while it swam in a Texas lake. (Art Weston)
Weston said after 2 hours and 20 minutes he eventually saw the leader's tip, which was almost 6 feet long, just under the surface. He followed the fish for more than 10 minutes. He couldn't bring it any closer, but he did lift the leader out of the water by 4 inches and kept up with the fish for another 10 minutes.
"I said, 'Kirk, she is coming up!' " Weston exclaimed as he was now ready to land her when she surfaced.  "I remember yelling, 'Oh my God! That's a monster!' and this is after landing a 251-pound gar this last April. I had never seen a gar that big before."
According to Weston, landing big alligator gar involves the task of securing a rope around them. This may require multiple attempts since these fish tend to resist staying at the surface for too long as they need to breathe air and swim back down.
Kirkland was able to get a rope on the fish on the first attempt. But, unfortunately, the fish was not done, and dove immediately, giving him severe rope burns.
"He yelled out, and was clearly in pain, but still got her secured at the side of the boat, taking over 10 minutes and multiple ropes," Weston said.
'SHE THINKS WE'RE JUST FISHING': VIRAL VIDEO OF FATHER-DAUGHTER FLORIDA FISHING TRIP REMINDS US TO PAUSE
Upon reaching shore to weigh the catch, the tripod holding the scale almost gave out due to one of its legs bowing from the weight of the fish being lifted above ground level.
"I was ready to snap a picture of the weight once the tail was off the ground, and I said 'Holy [expletive], it's 283 pounds," Weston yelled.
It was a massive 48 inches around and a full 100 inches long - a true 8-foot 4-inch monster, Weston said. This catch will break not only the 6-pound line-class record but also the all-tackle record of 279 pounds set in 1951, which stood for over 70 years.
Weston emphasized the importance of quickly returning the massive fish to the water to allow it to recover. 
The ropes that had been attached to the creature were skillfully removed by the two who also took care to thoroughly clean the fish before proceeding to take a few additional photographs. They then released it back in the water to continue to thrive and await its next adventure.