Fentanyl, meth-laced pills resembling heart-shaped candy, seized in New England drug bust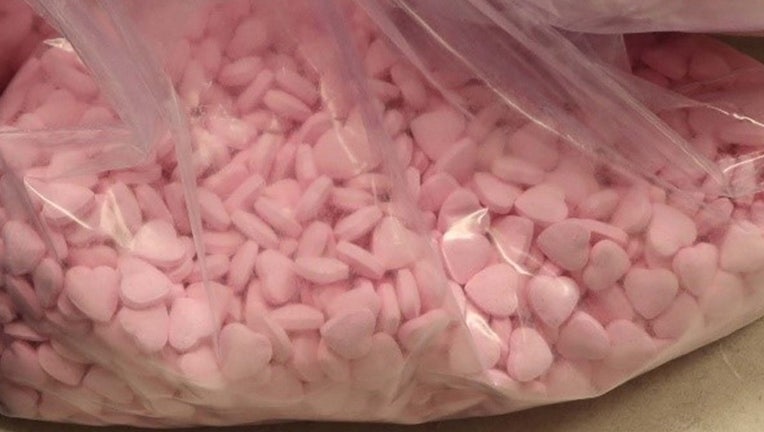 article
About $8 million worth of narcotics were seized and three men were arrested after what is believed to be one of the largest single-location drug busts in New England, the Department of Justice said in a news release on Monday. 
An estimated 10 million doses of controlled substances were seized which included 8 million doses of fentanyl and methamphetamine-laced pills and powder, officials said. 
Some of the pills were even shaped like heart candy and dyed pink. 
"The only thing more depraved than trafficking deadly fentanyl is trafficking deadly fentanyl designed to look like candy to appeal to teenagers," said Attorney General Merrick B. Garland. "The Justice Department is focused on attacking every link in the global fentanyl trafficking chain, and we will not stop until those responsible for the fentanyl poisoning epidemic are brought to justice. We also continue to urge families to have open and honest conversations about the urgent threat posed by this epidemic, and the fact that just one pill can kill." 
Emilio Garcia, 25, Sebastien Bejin, 33, and Deiby Felix, 40, all from Lynn, Massachusetts, were arrested and charged with multiple counts which included possession and conspiracy to distribute controlled substances.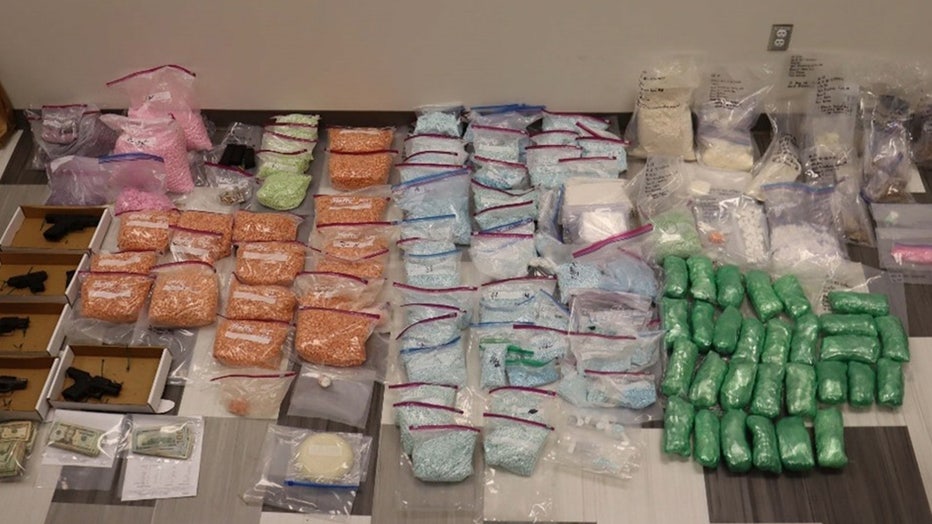 Controlled substances seized from New England drug bust.  (Department of Justice)
After an investigation was launched into an overdose death in Salem, Massachusetts, in July 2023, investigators were able to find a drug trafficking organization (DTO) on the North Shore of Massachusetts which was allegedly being led by Garcia, Bejin and Felix, the DOJ said. 
All three men were surveilled over a span of three months and a search warrant was executed on Nov. 1 at four different locations. The searches resulted in the seizure of several hundred pounds of narcotics.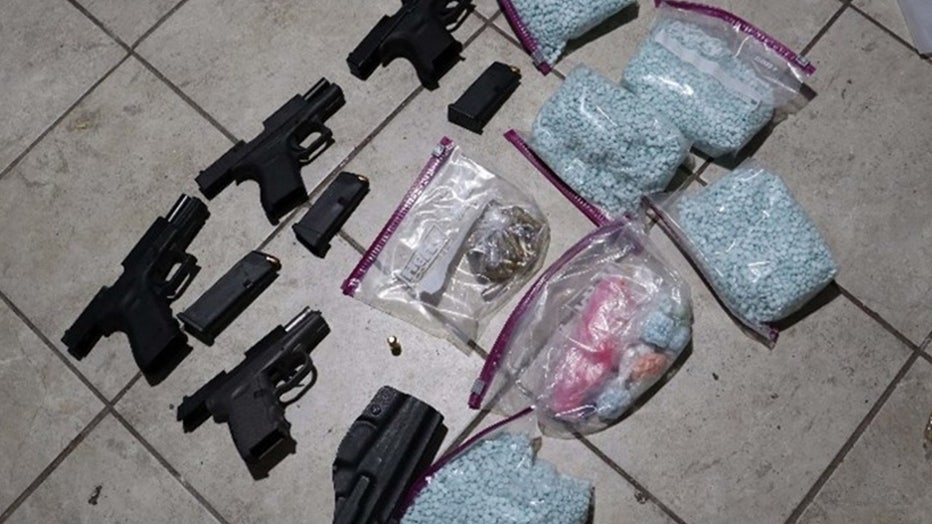 Items seized in drug bust.  (Department of Justice)
"This seizure by the FBI's North Shore Gang Task Force saved lives in communities throughout Massachusetts," said FBI Dir. Christopher Wray. "Not only was this seizure one of the largest in the history of Massachusetts, but some of the pills were created to look like candy, potentially presenting an enormous risk to children. The FBI will continue to relentlessly pursue those involved in narcotics trafficking to keep drugs off our streets, and out of the hands of children." 
"The doses of controlled substances seized in this case exceed the number of residents in Massachusetts," said Acting U.S. Attorney Joshua S. Levy for the District of Massachusetts. "The fact that we now are seeing fentanyl-laced pills pressed to resemble candy only underscores the urgency of this fentanyl crisis." 
All three defendants are expected in court on Nov. 13. 
If convicted, the defendants could face up to 20 years in prison. 
This story was reported from Los Angeles.