FedEx delivery driver kills rattlesnake on rural Nebraska porch
A Nebraska woman is "nominating" a FedEx driver to be employee of the year after he killed a rattlesnake that was on the front porch. 
The driver was making a delivery earlier this month to a home in Sumner, Nebraska, a rural area about 30 miles northwest of Kearney. 
The homeowners' Ring camera caught the reptile slithering along the steps, just minutes before the delivery driver showed up. 
He can be seen setting down the package and marking it as delivered on his equipment, before saying a startled, 'Oh!' and 'You stay over there!'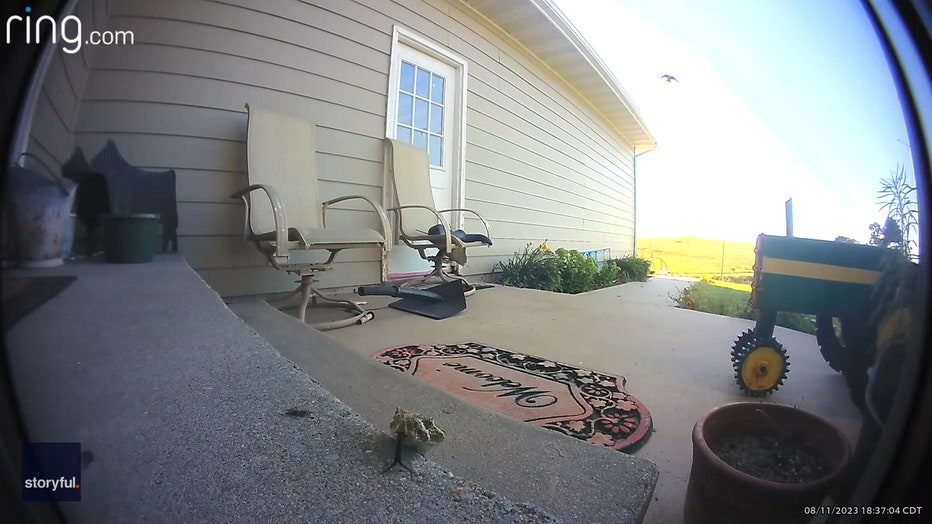 Image: Christie Lynn Jones via Storyful
The driver is seen a few moments later walking back up to the porch carrying some garden tools. 
Christie Jones shared what happened on Facebook, thanking the driver for his proactivity and saying he should be FedEx's employee of the year. 
"He went around to the front to the garage and got a shovel and rake. We weren't home, but my daughter had just left out this front door 23 minutes before it slithered up my step," Jones wrote in a comment. 
She shared a text from the delivery man, who shared the news with her that he took care of the snake. 
"I hope you didn't have a pet rattle snake at your front door because I killed him. Matt with FedEx," the text said. Then, "Sorry about the blood." 
RELATED: Hissing snake pulled from Arizona toilet in 'once-in-a-million' flush
Jones said she was very thankful because she's "incredibly fearful" of any kind of snake. She mentioned on Facebook this was the third time a rattlesnake at her house has been killed over the course of 17 years.   
She said it was a Prairie Rattlesnake, which are common in Nebraska. 
The National Park Service says Prairie Rattlesnakes can grow up to five feet long. 
Even though the snake was killed in this case, NPS says the best way to avoid the animal's venomous bite is to give it space and try not to handle them. 
"Bites are more likely to happen if you provoke or attempt to catch a rattlesnake," NPS said. 
This story was reported from Detroit.