'Farmer Wants a Wife' couple Hunter and Meghan: 'We're better now than we've ever been'
LOS ANGELES - The first season of FOX's new hit dating show "Farmer Wants a Wife" came to a close Wednesday night, as the four bachelor farmers Hunter Grayson, Ryan Black, Allen Foster and Landon Heaton made decisions on which women they wanted to continue relationships with.
Hunter, from Watkinsville, Georgia chose Meghan Baker from Midland, Texas, which came as no surprise to avid fans of the show. The couple established a strong connection right from the start of the season.
In an interview with FOX Television Stations Thursday, Hunter and Meghan said they were "relieved" that the news about their relationship was finally out in the open. 
"We hung out quite a bit right after the show was done filming because nobody knew who we were," Hunter told FOX. "But once it got kicked off, we truly had to, like, start dating under a rock. Especially growing a new relationship, that's tough."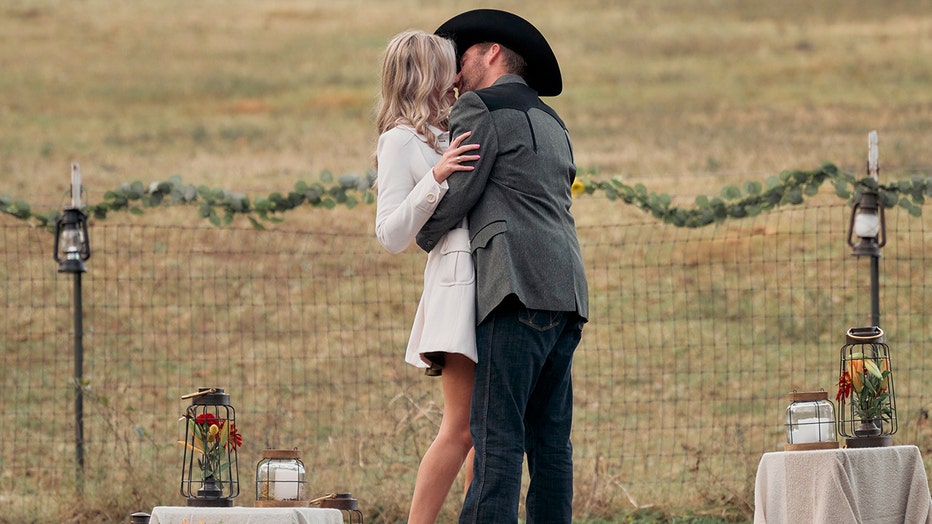 Meghan and Hunter in the "Farmer Wants a Wife" finale on FOX. (Credit: FOX)
Earlier in the season, Meghan made an unexpected and emotional departure from the dating show, following the loss of her grandfather, but ultimately returned for love.
"When I told him [Hunter about my grandfather], he dropped absolutely everything. He didn't care about building or production or anything like that. He just wanted to make sure I got to the airport safely. And that spoke volumes to me, and it showed me that he was going to be there for me during the difficult times," she shared. 
Hunter revealed that being able to adapt and overcome the challenges and struggles throughout the season had a large effect on him and his growth as a person.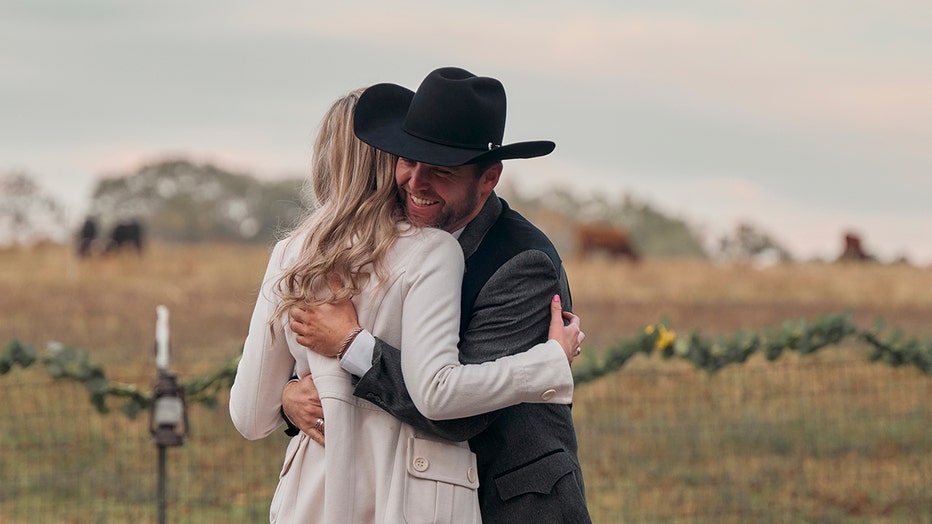 Hunter and Meghan find love on FOX's dating series "Farmer Wants a Wife." (Credit: FOX)
"I think that was one of the biggest things that I needed to grow as a man, and I'm so grateful for this opportunity and everything that it's brought along – and this little lady right here," he said, pointing to Meghan. 
Since the show aired, Meghan packed her bags and moved to Tennessee to her family's farm – which is only a five-hour drive from Hunter's farm in Georgia. 
RELATED: 'Farmer Wants a Wife': Jennifer Nettles says FOX series is about 'authentic connection'
I did move home, so I could be closer to Hunter. So, we're taking things day by day, because we haven't been able to be out in public and date and go on a car ride without worrying if people see us together, so now we're taking it day by day, Meghan said.
Hunter added, "It's more natural now, and that's what this needs. It was a good introduction to one another, but now we are getting to navigate the natural waters of a legitimate relationship." 
FOX asked the couple about their future plans and what is next.
"A date," Hunter laughed, adding, "I know we both want to get married at some point down and we both want kids. And, you know, if that's with each other, then that'll be great. We're just we're taking our relationship at a more natural pace. Now, we're not forced into a six-week filming timeframe. We want this to be for us, not for the world to dictate how we go about our relationship. And I can say, without a shadow of a doubt, that we're better now than we've ever been." 
This station is owned by FOX Corporation.