Family captures 'stunning' video of synchronized whale breach off Cape Cod
PROVINCETOWN, Mass. - In a rare and breathtaking display of natural wonder, a family vacationing off the coast of Cape Cod captured an extraordinary video of a synchronized whale breach.  
Robert Addie captured the moment on video when the marine mammals jumped out of the water near their fishing boat near Provincetown, Massachusetts on July 24.
Addie told FOX Television Stations that he's not a stranger to whales and has seen thousands of them in his lifetime fishing in Massachusetts and Alaska. But this time, he was "stunned." 
"A triple synchronized ariel ballet of humpbacks? I don't know anyone that's seen it…just stunning," he shared. "Just an amazing moment that I imagine I'll never see again but will remember for a lifetime."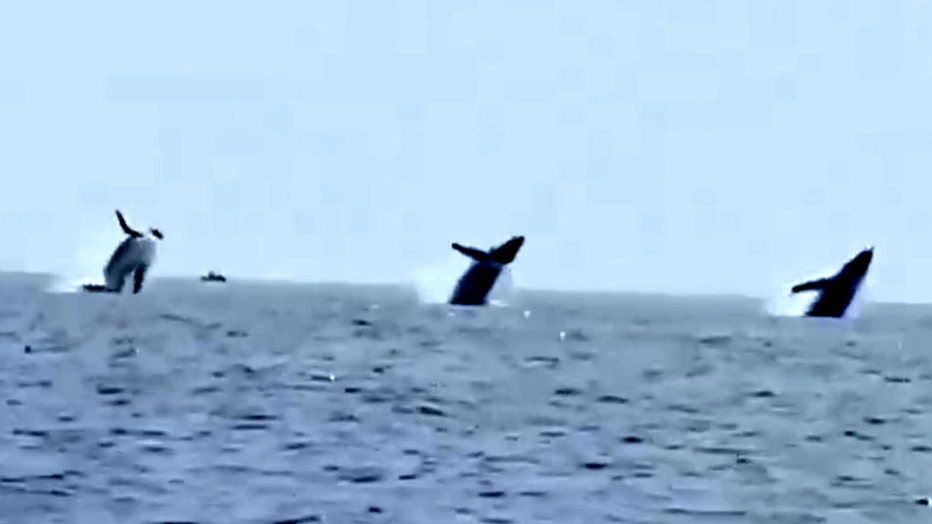 The marine mammals jump out of the water near a family's fishing boat near Provincetown, Massachusetts on July 24. (Credit: Robert Addie)
Addie, who recently returned from a humanitarian aid trip in Ukraine, told FOX that it was great to experience this moment with his family. He said the video was somewhat symbolic for him, as it was the first time in 10 years that he was with all three of his daughters on his birthday.
"A three-synchronized aerial display by the humpback whales was just icing on the cake of a wonderful time," he added.
Philip Hamilton, senior scientist at the New England Aquarium, confirmed to Boston 25 News that the whales were humpbacks. He told the news outlet it's not uncommon for simultaneous breaching, though three in unison is a "bit rarer." 
Hamilton also told Boston 25 that the whales weren't breaching for food, but instead to possibly aid digestion, remove parasites, communicate acoustically or just have fun.
RELATED: Lonely tunes: Fewer humpback whales wail as population grows, study finds
This story was reported from Los Angeles.