Exotic fish with human-like teeth reeled in by 11-year-old Oklahoma boy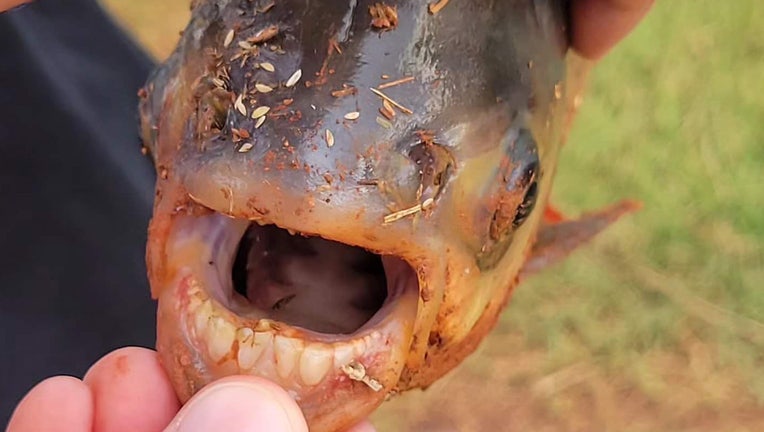 article
An 11-year-old Oklahoma boy reeled in an unusual catch while fishing at a neighborhood pond last Friday. 
Charlie Clinton managed to catch an exotic pacu fish, which is a South American fish closely related to the piranha, according to the Oklahoma Department of Wildlife Conservation (ODWC). 
Photos shared by Charlie's mom, Janna, on Facebook on July 14 showcased the fish's unique human-like chompers and while it looks similar to its cousin, the piranha, pacu are vegetarians, according to the Audubon Nature Institute.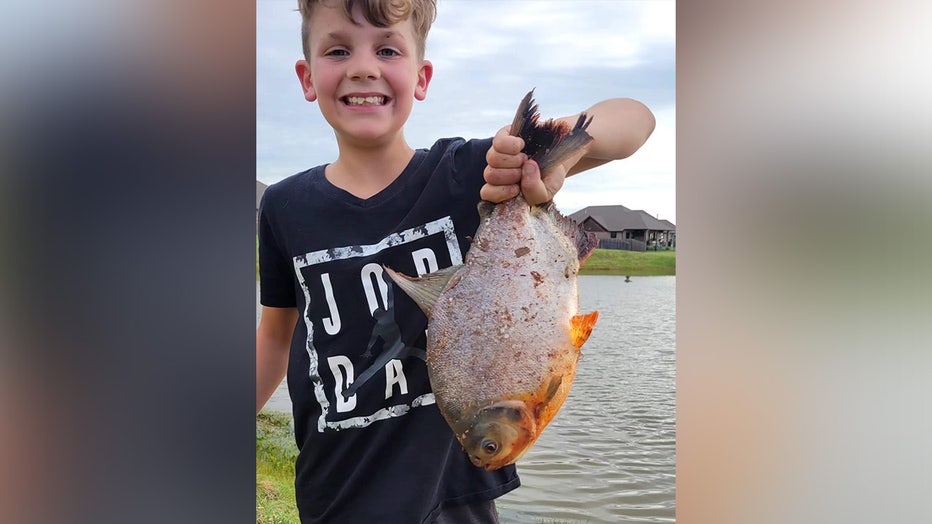 Charlie Clinton, 11, posing with his catch. (Janna Clinton)
"He said it put up a heck of a fight," Janna told NPR, adding that her son managed to reel in the fish on his own. "He was the only one down there fishing and he did a great job." 
Pacu live in freshwater habitats and are known to eat plant matter and on occasion, insects. They have powerful jaws and are actually eaten all around the world. The ODWC noted that pacu are an invasive species that have been caught in a few fisheries across the state. 
Wildlife officials said that pacu can reach sizes of up to 3 ½ feet and can weigh up to 88 pounds, which may have led to some individuals who originally bought these fish as pets and resorted to dumping them once they got too big. 
"These fish are generally harmless to humans, but the practice of dumping unwanted pets in waterways can be incredibly harmful to native wildlife," ODWC said in a Facebook post. 
Officials encourage anglers that if they catch pacu in the future, the fish should be removed from the water source and to contact their local game warden. 
This story was reported from Los Angeles.