Security to tighten ahead of potential indictments in Trump election probe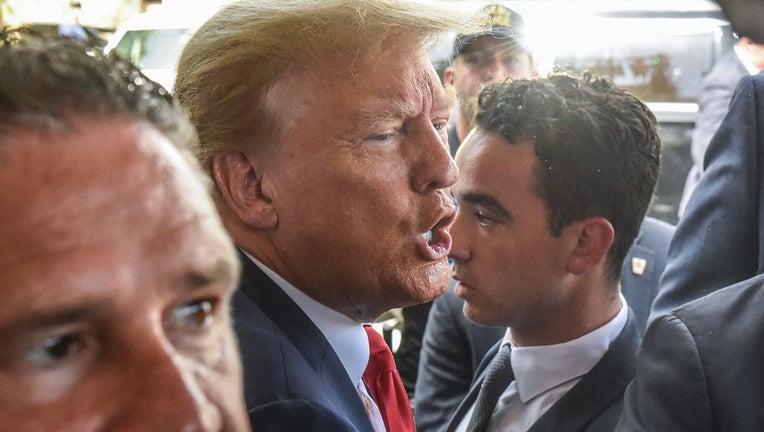 article
ATLANTA - The Fulton County Sheriff's Office says it is preparing for security as the Trump election probe into whether former President Donald Trump and his allies criminally meddled in the 2020 election in Georgia could result in indictments as early as July.
In a release on Tuesday, the sheriff's office says it is coordinating with local, state, and federal agencies so the Fulton County courthouse is equipped and prepared ahead of indictments.
The sheriff's office says that coordination includes traveling to New York and Miami to "gather intel on security operations at court proceedings for former President Donald Trump."
WILL TRUMP FACE CHARGES IN GEORGIA? LEGAL EXPERTS WEIGH IN
In April, Fulton County District Attorney Fani Willis hand-delivered a letter to Fulton County Sheriff Pat Labat stating "the need for vigilance will increase" regarding court security starting this summer. The DA acknowledges several high-profile cases are currently ongoing, but warns the sheriff she will be announcing charging decisions stemming from the findings of a special grand jury between July 11 and Sept. 1. The DA urges "heightened security" during that time.
"Open-source intelligence has indicated the announcement of decisions in this case may provoke a significant public reaction," the letter reads in part. "We have seen in recent years that some may go outside of public expressions of opinion that are protected by the First Amendment to engage in acts of violence that will endanger the safety of our community. As leaders, it is incumbent upon us to prepare."
TRUMP CALLS FEDERAL PROSECUTOR 'DERANGED,' SLAMS FULTON DA IN FIRST SPEECH SINCE INDICTMENT
KEMP TAKES JAB AT TRUMP OVER KIM JUNG UN PRAISE
Willis opened the Georgia investigation in early 2021, shortly after a recording of a phone call between Trump and a top state official was made public. During that Jan. 2, 2021, phone call, Trump suggested that Georgia Secretary of State Brad Raffensperger could "find" the votes needed to reverse his narrow loss in the state.
The special grand jury, which was seated in May 2022, heard from about 75 witnesses and considered other evidence before wrapping up its work in December. It did not have the authority to issue indictments, but produced a report with recommendations for Willis. Fulton County Superior Court Judge Robert McBurney ordered most of that report remains under seal.
AT LEAST 8 FAKE ELECTORS ACCEPT IMMUNITY DEALS IN GEORGIA TRUMP ELECTION PROBE
DA Willis argued that indictments were imminent, at the time.
Donald Trump became the first former president to face a judge on federal charges as he pleaded not guilty in a Miami courtroom Tuesday to dozens of felony counts accusing him of hoarding classified documents and refusing government demands to give them back.
The history-making court date, centered on charges that Trump mishandled government secrets that as commander-in-chief he was entrusted to protect, kickstarts a legal process that could unfold at the height of the 2024 presidential campaign and carry profound consequences not only for his political future but also for his own personal liberty.
TRUMP PLEADS NOT GUILTY TO FEDERAL CHARGES THAT HE ILLEGALLY KEPT CLASSIFIED DOCUMENTS
Until last week, no former president had ever been charged by the Justice Department, let alone accused of mishandling top-secret information. The indictment unsealed last week charged Trump with 37 felony counts -- many under the Espionage Act -- that accuse him of illegally storing classified documents in his bedroom, bathroom, shower and other locations at Mar-a-Lago and trying to hide them from the Justice Department as investigators demanded them back. The charges carry a yearslong prison sentence in the event of a conviction.
The court appearance unfolded against the backdrop of potential protests, with some high-profile backers using barbed rhetoric to voice support. Trump himself encouraged supporters to join a planned protest Tuesday at the courthouse. Though city officials said they prepared for possible unrest around the courthouse, there were little signs of significant disruption.
TRUMP MAKES VIDEO APPEARANCE IN NEW YORK CRIMINAL CASE
In May, Trump was spared a personal appearance at the courthouse, avoiding the mammoth security and logistical challenges that accompanied his arraignment last month. Instead, the Republican was connected by video conference, with his face beamed onto courtroom TV monitors.
Trump pleaded not guilty to 34 felony counts of falsifying business records at his family company, the Trump Organization. Trump faces counts of falsifying business records related to payments his company made to his former lawyer, Michael Cohen. Prosecutors say those payments were intended to reimburse and compensate Cohen for orchestrating hush money payments during the 2016 campaign to bury allegations of extramarital sexual encounters. Trump denies having had extramarital flings and says the prosecution is politically motivated.
The Associated Press contributed to this report.