Children's books ensure Sept. 11th is never forgotten
NEW YORK - As a nation, we vowed to never forget what took place on the morning of September 11, 2001, a day Americans came together with unimaginable grief. 
There are so many stories tied to that day and Kristie Kiernan Bouryal, the author of the Discovering Heroes series, is among them. 
"Every moment of the day, it's etched in my mind. It will forever be etched in my mind," she said.
Bouryal has a personal connection to Sept. 11. Her father is Lieutenant John Kiernan, who was a firefighter for more than 23 years. He worked with the FDNY's elite rescue company before he was forced to retire only weeks prior to the attacks.
"I remember when the second plane hit, how I called my father, and he said, 'I have to get there.' And he hung up the phone," Bouryal recalled.
Lieutenant Kiernan was among the first responders at the scene and was part of the historic rescue of the last trapped survivors, Port Authority officers Will Jimeno and John McLoughlin.
As a family, they had lived and experienced one of the worst days in our history, but Kristie also saw that her own nieces and nephews were not learning about the events that changed many lives. That, coupled with the inspiration of her own father's story, would lead her to write a series of children's books. 
The first book My Buddy's a Hero and I Didn't Even Know It was written in 2018. The books are written for elementary school students. 
"They're intended to give kids a foundational understanding of 9/11 and they are told, through the words of loving grandparents to their grandchildren, they're explaining 9/11 to their grandchildren," explained Kristie.
However, Kristie also felt that the books could serve a larger purpose.  She met with the CEO of the Tunnel to Towers Foundation.
RELATED: Foundation pays off mortgages on the homes of 21 fallen first responder families in honor of 9/11
Her Discovering Heroes series of books are now part of the Tunnel to Towers 9/11 Institute which launched in 2022. The educational components also include the Sept. 11 curriculum, the Never Forget mobile exhibit, the Russell F. Siller memorial scholarships, and a speaker's bureau to arrange for first responders and survivors of Sept. 11 to share their stories.
The Sept. 11 curriculum is based on first-person accounts – including ones shared by her own father. It is also scripted, making it suitable for teachers to use in their classrooms, even for those teachers who were still too young to remember the events of Sept. 11.
RELATED: NYC marks 21st anniversary of September 11 terror attacks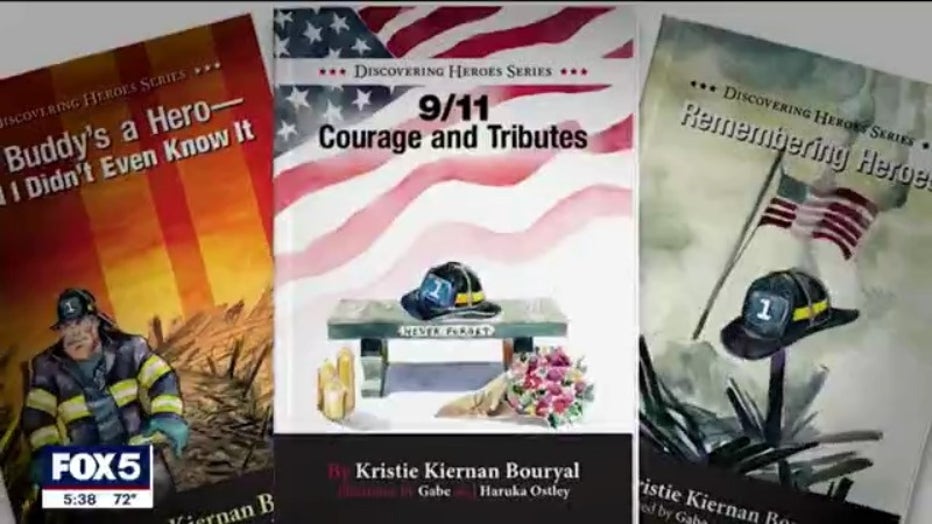 While students are currently learning about historical subjects such as Pearl Harbor and World War II in classrooms across the country, a lesson about Sept. 11 is not mandated or required in many schools nationwide, in fact, only two states – Arizona and Tennessee have such a mandate. 
"I was beyond upset. How do you live through a day like Sept. 11 and then realize that kids aren't learning about it? how could that even be?" said Kristie.
Now, two months after launching the curriculum, 47 states and Puerto Rico downloaded it from the foundation's website.  One of the teachers using it is 11th-grade history teacher Thomas Carbonaro from Staten Island. 
"I try and open up and start with a conversation about what they already know to access their prior knowledge, and that was one of the things that struck me the most is when I started teaching, those conversations were long and elaborate. And as I went through my years, you see more and more blank stares at you when you're asking what they know about 9/11 already. It hit me a couple of years back that these new students that I'm starting to get the last, I guess, four or five years, they didn't live it through 9/11. They weren't even born when it happened."
Kristie hopes her family's mission to never forget lives on for generations to come.