Georgia football player made young fan smile hours before dying in car crash
ATHENS, Ga. - A viral tweet showed Georgia Bulldogs football player Devin Willock taking time to make a young fan smile by letting him wear his championship ring.
The photos were posted on Twitter hours before police identified Willock as one of the victims of a deadly Athens car crash. 
In a tweet from @samkramer76, Willock poses for a photo with the poster's grandson. The boy was grinning and wearing a championship ring in one of the photos.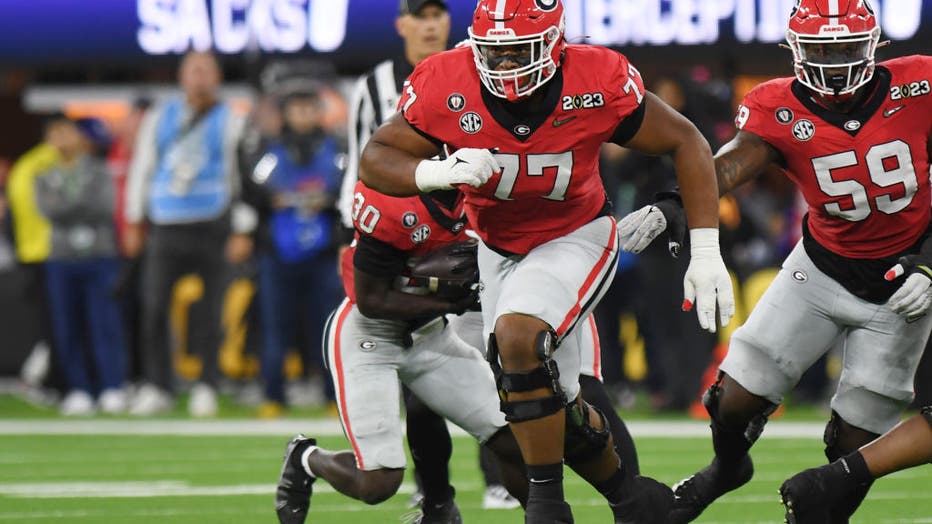 INGLEWOOD, CA - JANUARY 09: Georgia Bulldogs Offensive Linemen Devin Willock (77) run blocks during the CFP National Championship game between the TCU Horned Frogs and the Georgia Bulldogs on January 09, 2023, at SoFi Stadium in Inglewood, CA. (Photo
Devin Willock retweeted the photos, captioned with three heart emojis. 
It's the last tweet in the New Jersey native's timeline. 
Sam Kramer reacted to the news of Willock's death on Sunday morning.
Officials said 24-year-old Chandler LeCroy, a member of the Georgia football recruiting staff, died after an ambulance took her to a nearby hospital. University of Georgia Athletics confirmed that two other members of the football program were injured, and are in stable condition.
"The entire Georgia family is devastated by the tragic loss of football student-athlete Devin Willock and football staff member Chandler LeCroy. Two other members of the football program were injured in the accident. They are both in stable condition, and we will continue to monitor their status with medical personnel.
"Devin and Chandler were two special people who meant so much to the University of Georgia, our football program and our athletic department. We ask that everyone keep their families in your prayers during this very difficult time.
"The UGA Athletic Association will work with our medical team as well as our mental health and performance personnel to make sure we are providing the best support possible for our staff and student-athletes who are processing this grief. We can provide no further comment at this time but ask that everyone continue to keep those involved in your prayers."
The football team celebrated its National Championship victory on Saturday with a parade and ceremony inside Sanford Stadium.
Willock was a redshirt sophomore offensive lineman from New Milford, N.J. He played in every regular season game, the Southeastern Conference Championship and both College Football Playoff games for the Bulldogs.