New COVID-19 variant 'Eris' spreads across US, other countries
COVID-19 hospital admissions have crept upward in the United States since early July amid another new variant that has been linked to a spike in hospitalizations. 
Earlier this month, the World Health Organization (WHO) outlined its latest subvariant of the omicron virus – EG.5, which was unofficially nicknamed by social media users and media outlets as Eris after the Greek goddess of strife and discord. 
According to the agency, Eris has "shown an increasing trend in prevalence" from 6.2% in week 24 to 11.6% by week 28. 
In the U.S., Eris has already become the most prevalent variant in the two-week period ending on August 5, with 17.3% of the total COVID-19 cases, according to the Centers for Disease Control and Prevention (CDC). 
Eris becomes most prevalent variant in U.S.
Elsewhere, cases of the subvariant have been reported in countries including Britain, India and Thailand.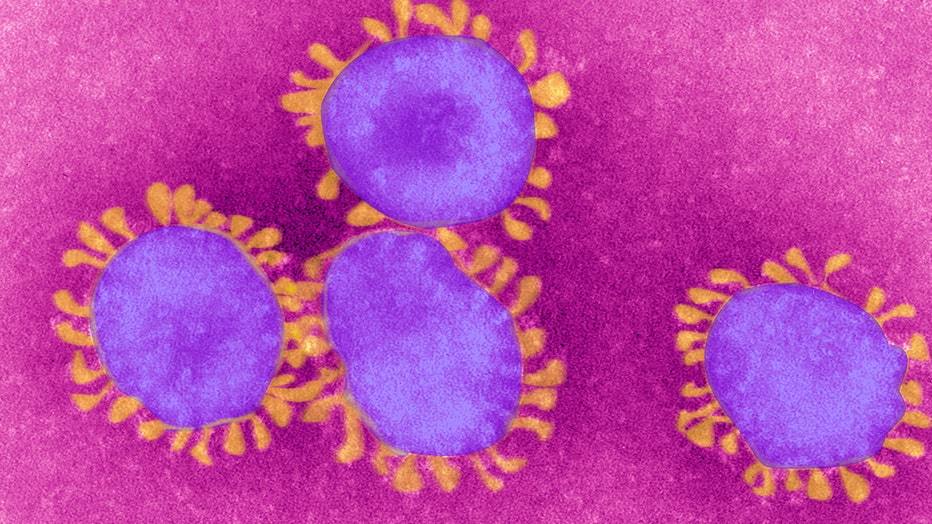 The Coronavirus owes its name to the crown-like projections visible under a microscope that encircle the capsid. Visible Under Microscope, That Encircle The Capsid. (Credit: BSIP/UIG Via Getty Images)
Virologist and researcher Stuart Turville, an associate professor at Sydney's University of New South Wales, told the Washington Post that Eris is only incrementally different from other subvariants and "a little bit more slippery" and "competitive" than its counterparts. 
But health experts aren't necessarily sounding the alarm. 
RELATED: EG.5 variant drives new wave of COVID-19 infections: CDC's insight
"There are a couple that we're watching, but we're not seeing anything like delta or omicron," Cristin Young, an epidemiologist at Biobot Analytics, told the Associated Press, referencing variants that fueled previous surges.
Currently, seven variants under monitoring (VUMs) and their descendent lineages are: BA.2.75, CH.1.1, XBB, XBB.1.9.1, XBB.1.9.2, XBB.2.3 and EG.5.
COVID-19 hospitalizations, cases still lower than previous surges
While an increase in new hospitalizations might be concerning, it's still far lower than previous surges.
For the week ending on July 29, COVID-19 hospital admissions were at 9,056, which is an increase of about 12% from the previous week.
But it's substantially less than past peaks, like the 44,000 weekly hospital admissions in early January or the 150,000 admissions during the omicron surge of January 2022.
"It is ticking up a little bit, but it's not something that we need to raise any alarm bells over," Dr. David Dowdy, an infectious disease epidemiologist at Johns Hopkins Bloomberg School of Public Health, told AP.
RELATED: COVID-19 hospitalizations in New York on the rise again
Higher levels of COVID-19 in wastewater concentrations are being found in the Northeast and South, said Cristin Young, an epidemiologist at Biobot Analytics, the CDC's wastewater surveillance contractor.
"It's important to remember right now the concentrations are still fairly low," Young as
id, adding it's about 2.5 times lower than last summer.
And mutations in the virus don't necessarily make it more dangerous.
"Just because we have a new subvariant doesn't mean that we are destined to have an increase in bad outcomes," Dowdy continued. 
COVID-19 remains 'major threat'
Globally, over one million new COVID-19 cases and over 3,100 deaths were reported in the last 28 days (July 3 – July 30). As of July 30, over 768 million confirmed cases and nearly 7 million deaths have been reported globally. 
Although the public health emergency of international concern for COVID-19 was declared over in May, WHO said that COVID-19 remains a major threat.
The symptoms for the Eris subvariant remain similar to the coronavirus and can range from mild to serious symptoms. 
This may include a cough, fever or chills, shortness of breath, fatigue, muscle or body aches, new loss of taste or smell, and headaches.
This story was reported from Los Angeles. The Associated Press contributed.