Lawyers argue whether Constitution's 'insurrection' clause blocks Donald Trump from 2024 ballot
DENVER - Colorado lawyers seeking to disqualify former President Donald Trump from running for the White House again argued on Monday that his role in the January 2021 assault on the U.S. Capitol runs afoul of the Constitution's insurrection clause, opening a hearing that could break new ground in constitutional law.
Attorney Eric Olson recounted Trump's violent rhetoric preceding the Jan. 6 attack and his encouraging a crowd that came within "40 feet" of the vice president when it stormed the Capitol. He said Trump "summoned and organized the mob."
"We are here because Trump claims, after all that, that he has the right to be president again," Olson said. "But our Constitution, the shared charter of our nation, says he cannot do so."
Trump's legal team and presidential campaign assailed the lawsuit as little more than an attempt by Democrats to derail his attempt to reclaim his old job. Trump is so far dominating the Republican presidential primary.
RELATED: Can Donald Trump still run for president despite indictment?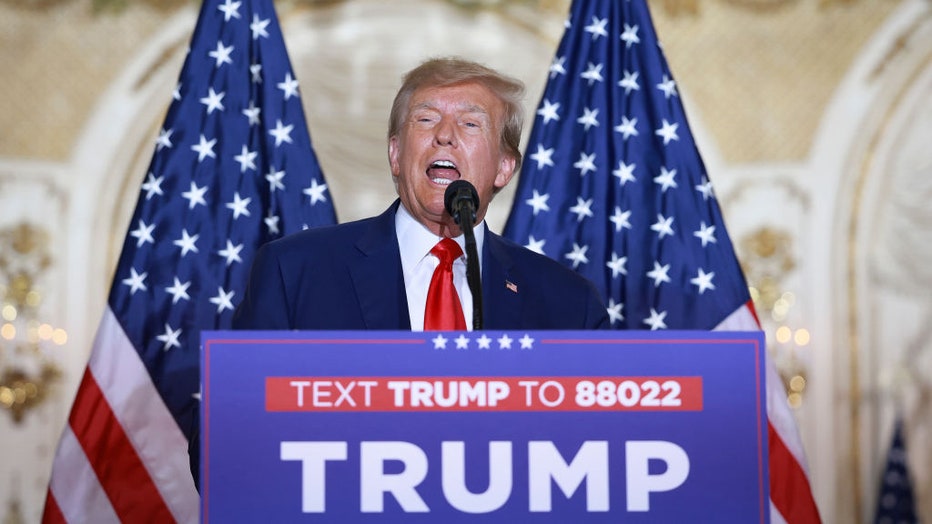 Former President Donald Trump speaks during an event at the Mar-a-Lago Club April 4, 2023 in West Palm Beach, Florida. (Photo by Joe Raedle/Getty Images)
Before the hearing on the lawsuit began, Trump's lawyers filed a motion to have the judge recuse herself because she had donated in the past to a liberal group in the state. She said no. The campaign also noted the current lawsuit was filed by a liberal nonprofit in a state that voted for Democrat Joe Biden in 2020.
"They send money to these dark money groups — they go to a Democratic jurisdiction and a Democratic judge," Trump spokesman Jason Miller said.
Monday's hearing in Colorado state court is in the first of two lawsuits that could end up reaching the U.S. Supreme Court. On Thursday, the Minnesota Supreme Court hears oral arguments in a similar case.
Ultimately, either the Colorado or Minnesota case is expected to land at the U.S. Supreme Court, which has never ruled on the Civil War-era provision. Section Three of the 14th Amendment prohibits those who swore an oath to uphold the Constitution and then "engaged in insurrection" against it from holding higher office.
RELATED: Will Arizona be the next state to indict former president Donald Trump?
The Colorado testimony began with details about the Jan. 6 assault that was intended to stop Congress from certifying Biden's election win. Witnesses included some who were there.
Officer Daniel Hodges of Washington's Metropolitan Police Department recalled being beaten and having someone try to gouge out his eye as he defended the Capitol from the rioters. Footage from the body camera he was wearing that day was shown in court.
"I was afraid for my life and my colleagues," Hodges said. "I was afraid for the people in the U.S. Capitol building — congressmen, the vice president and what these people would do to them and how it would affect our democracy."
Democratic Rep. Eric Swalwell testified that members of the House watched the attack on their phones with mounting alarm as they grabbed gas masks and contemplated how to defend themselves. He said they all followed Trump's messages on Twitter carefully.
"We connected the president's tweets to our own safety in the chamber and also the integrity of the proceedings," said Swalwell, who was manager of the House's impeachment of Trump for the attack and also filed a federal lawsuit against him for inciting the riot.
Former Capitol Police Officer Winston Pingeon testified about several hours of what he called "hand-to-hand combat" with Trump supporters storming the Capitol. The plaintiffs' lawyers played several videos capturing the day's violence, as well as a montage of Trump tweets and statements falsely blaming election fraud for his 2020 loss, culminating in his heated speech to the crowd on Jan. 6.
RELATED: Judge threatens to hold Donald Trump in contempt after deleted post is found on campaign website
The case will pivot on whether the Jan. 6 attack meets the meaning of "insurrection" in the 14th Amendment. It will also hinge on whether Trump's action meets the definition of "engaging" and whether the rarely used provision was meant to apply to the presidency.
Trump's lawyers contend the former president was simply exercising his free speech rights to warn about election results he did not believe were legitimate. They noted cases where the congressional authors of Section Three declined to use it more than a century ago against people who only rhetorically backed the confederacy.
His lawyers said none of the issues are simple in a provision of the Constitution that hasn't been used in 150 years. In court filings, they said the insurrection clause was never meant to apply to the office of president, which is not mentioned in the text, unlike "Senator or Representative in Congress" and "elector of President and Vice President."
"This is a legal Hail Mary by the Democrats," said Mike Davis, an attorney who appeared with representatives of the Trump campaign outside court before the trial began. "This case is going to fail."
An attorney representing Trump, Scott Gessler, called the lawsuit "anti-democratic" and noted that at least one other presidential candidate — socialist labor organizer Eugene Debs — ran from prison without people trying to disqualify him.
RELATED: Donald Trump returns to civil fraud trial, with fixer-turned-foe Michael Cohen set to testify
A former Colorado secretary of state, Gessler said there is an informal principle in election law known as "the rule of democracy," which essentially means to "err on the side of letting people vote" whenever there is an ambiguity.
At the start of Monday's hearing — held in a large downtown Denver courtroom filled with attorneys, journalists and several armed sheriff's deputies — the judge rejected the motion by Trump's attorneys that asked her to step aside because she once contributed money to a liberal group.
Trump's campaign said it had filed a motion for the judge, Sarah B. Wallace, to recuse herself because she had made a $100 donation in October 2022 to the Colorado Turnout Project, a group whose website says it was formed to "prevent violent insurrections" such as the Jan. 6 attack.
She was appointed to the bench in August of that year by Gov. Jared Polis, a Democrat. Wallace denied the motion, saying she didn't recall the donation, made before she formally took the bench, until the motion was filed and has no preconceptions about the legal issues in the case.
"I will not allow this legal proceeding to turn into a circus," she said.