Climbing stairs may lower heart disease risk, study finds
NEW ORLEANS - New research finds that regularly climbing the stairs may be an easy way to improve a person's heart health. 
Researchers at Tulane University analyzed data from nearly 459,000 adults over a 12.5-year period. The team categorized individuals based on how often they climbed the stairs and monitored for any development of heart disease.
"Climbing stairs is a convenient way of vigorous exercise, while studies on its potential benefits on human health are relatively scarce," Lu Qi, one of the study's researchers, told FOX Television Stations.
The study, published in the journal Atherosclerosis, found that those who climbed more than five flights of stairs daily (about 50 steps) had a 20% lower risk of atherosclerotic cardiovascular disease (ASCVD) than non-climbers.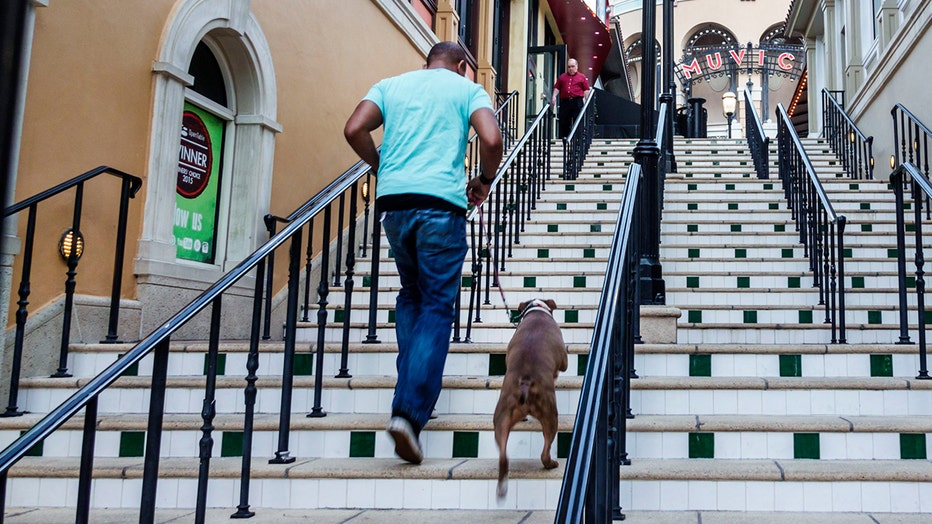 Man with a dog climbs stairs to a theater in West Palm Beach. (Credit: Jeffrey Greenberg/Universal Images Group via Getty Images)
"It is not surprising, because previous evidence has consistently shown the beneficial effects of exercise on cardiovascular health," Qi continued, adding, "Spending a short time on climbing stairs may benefit your heart."
According to Heart.org, ASCVD is a condition that can cause plaque buildup in arterial walls, leading to heart diseases and strokes – than non-climbers.
RELATED: New heart transplant method could expand donor hearts by 30%
The researchers noted that participants who initially climbed stairs but then stopped had a higher risk of ASCVD compared with those who never climbed stairs, suggesting that consistency may be key to lowering a person's risk.
This story was reported from Los Angeles.