Cases of human metapneumovirus spiked this spring, CDC says – what is it?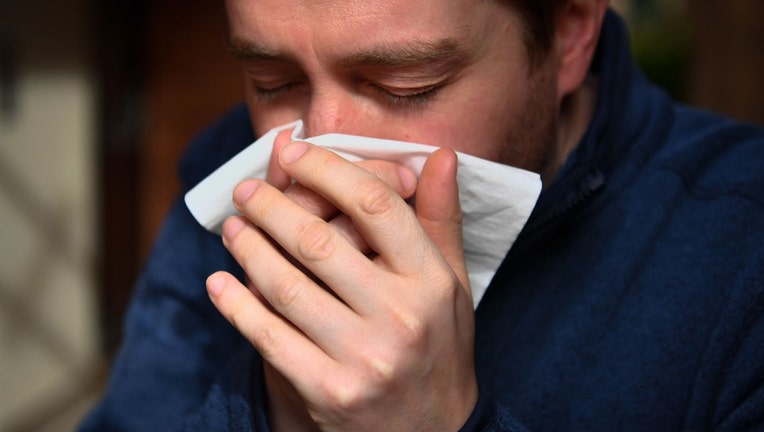 article
A lesser-known virus that causes a respiratory infection with symptoms like cough, fever, congestion, and shortness of breath, spiked this spring and filled hospitals, officials said. 
Human metapneumovirus, or HMPV, can cause respiratory disease in people of all ages, but particularly among young children, older adults, and people with weakened immune systems, according to the U.S. Centers for Disease Control and Prevention. 
Cases of HMPV, which is in the same family as the more well-known RSV, spiked in the spring, data from the CDC shows. Nationally, the most cases were detected throughout the month of March.
Infectious diseases, including acute respiratory infections, are among the leading causes of death in children under 5 globally. 
A study published in 2020 estimated that among kids younger than 5, there were an estimated 14.2 million HMPV infections in 2018, 643,000 hospitalizations, and more than 16,000 deaths.
Dr. John Williams, a pediatric infectious disease specialist and virologist who has studied HMPV for more than 20 years, wrote in a piece last month that the uptick in HMPV cases followed the higher-than-normal case rates of RSV and influenza in the fall of 2022 and winter of 2023.
But Williams said he finds many people in health care remain unfamiliar with HMPV.
What is human metapneumovirus (HMPV)?
HMPV was first discovered by Dutch scientists in 2001 and has become "one of the most significant and common human viral infections," researchers have said.
It is a seasonal disease that usually occurs in the winter and early spring, similar to RSV and the flu. It's spread by close contact with an infected individual who coughs or sneezes, or by touching objects that have the virus on them, experts say.
Most people have mild cases of HMPV, but some may have complications such as bronchitis and pneumonia.
Most children who get infected with HMPV are age 5 or younger, according to the American Lung Association. A small number of children – between 5% and 16% – who are infected will develop a lower respiratory tract infection, like pneumonia.
How is HMPV diagnosed and treated?
Unlike RSV, there is currently no specific vaccine to prevent HMPV. There is also no antiviral therapy to treat it, the CDC says.
Most people can manage their cold-like symptoms by staying hydrated, taking pain relievers or decongestants to reduce sinus pressure. 
A majority with mild HMPV symptoms don't need to see a doctor as the illness should go away on its own, according to the American Lung Association. However, if symptoms worsen and individuals develop shortness of breath, severe cough or wheezing, they should seek out a medical provider.
HMPV infection can be confirmed by testing, the CDC states – which notes on its website that this may not be routine for many healthcare providers. 
"Since HMPV is a recently recognized respiratory virus, healthcare professionals may not routinely consider or test for HMPV," the CDC states on its website. "However, healthcare professionals should consider HMPV testing during winter and spring, especially when HMPV is commonly circulating."
RELATED: US study finds 1 in 10 people get long COVID after omicron infection
This story was reported from Cincinnati.