California Hells Angels have tortured, killed and cremated ex-members, federal case reveals
America's most notorious outlaw motorcycle club has rules, according to federal prosecutors — and breaking them can get even veteran members in serious trouble with leadership.
Severe repercussions unveiled in a recent federal racketeering case in California ranged from forced face tattooing to being shot in the back of the head.
The details have emerged in separate trials involving 11 suspects and three sister club chapters — two in California in Sonoma County and Fresno, and the Salem/Boston area of Massachusetts.
In one case, a former Sonoma chapter president took revenge on the man who slept with his wife by beating him with a bat, tattooing his forehead and sexually assaulting the victim's wife while he was being held captive for more than four hours in November 2016, according to court documents. He suffered facial fractures and permanent damage to his eyesight.
OUTCAST MOTORCYCLE GANG SHOOTING: GEORGIA PROSECUTORS CHARGE 16 BIKERS IN VIOLENT TURF WAR
In another, a 54-year-old Fresno member with no prior criminal record commandeered a local funeral home to secretly cremate the remains of a member who had been assassinated for picking a fight with a Salem club member.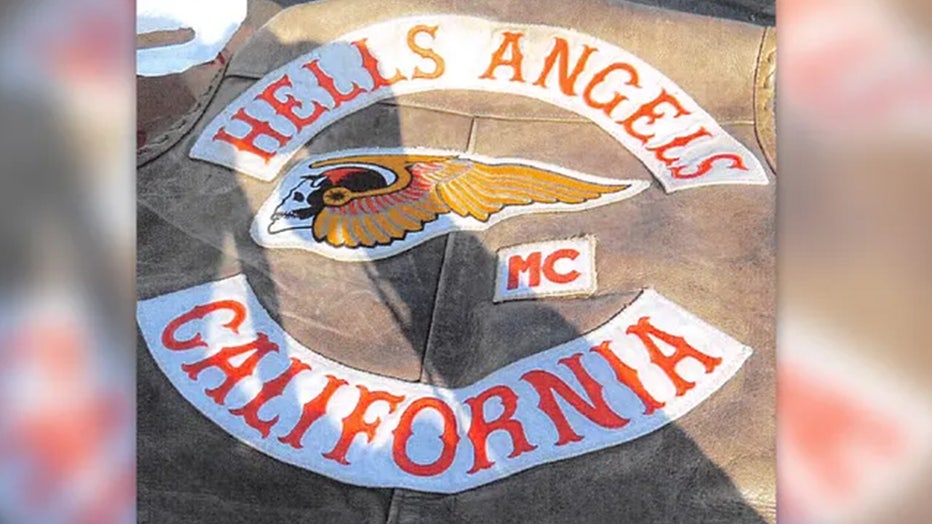 This image of a Hells Angels MC vest from California was included in court filings in the federal racketeering case. (DOJ)
"The Hells Angels murdered one of their own," U.S. Attorney Ismail Ramsey said in a statement about blacklisted member Joel Silva.
Club members did it to hide evidence after a chapter president from Northern California and two others killed Silva in 2014, according to federal prosecutors.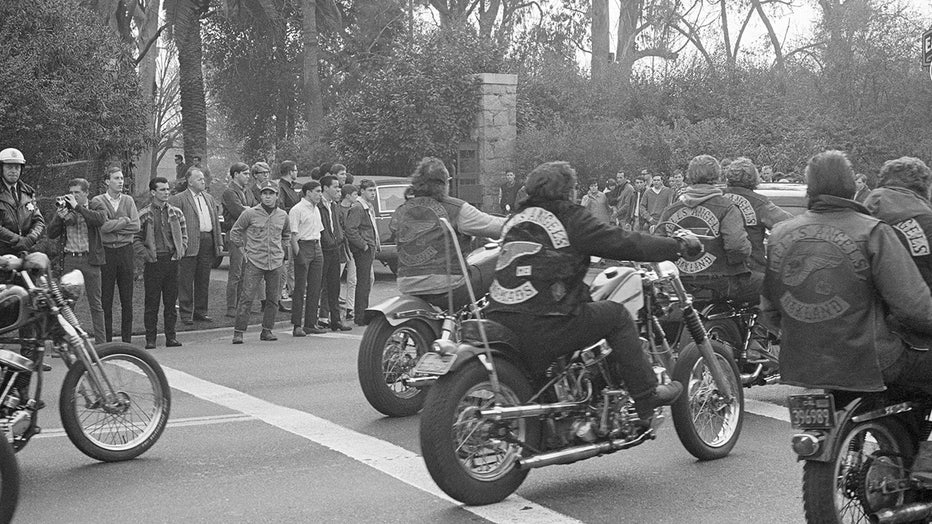 File: This photo shows Hell's Angels motorcyclists rounding a corner on their motorcycles. (Credit: Getty Images)
Five of the defendants have already been sentenced in connection with the case, according to the Justice Department. The other five are awaiting their fate, including the three members convicted of murdering the incinerated man: Fresno Hells Angels president Brian Wendt, Hells Angels Sonoma County Chapter (HASC) president Jonathan "Jon Jon" Nelson and former HASC president Russell Ott. They face mandatory sentences of life in prison.
OKLAHOMA CITY SHOOTOUT: BIKER GANG SURROUNDED BAR, GUNNED DOWN RIVALS IN ATTACK FROM BEHIND, COURT DOCS
Wendt, Nelson and Ott were convicted last year for Silva's murder. Christopher "Rainman" Ranieri, the president of the club's Salem chapter, was convicted in May for his role masterminding the plot.
Silva got into a spat with a Massachusetts member at an event in New Hampshire shortly before his murder. He had also been accused of "badmouthing" Nelson.
HELLS ANGELS FUNERAL FOR SONNY BARGER EXPECTED TO DRAW THOUSANDS AS SHERIFF WARNS OF POSSIBLE VIOLENCE
So when Ranieri called his California counterparts to a meeting, "they agreed that Silva had to be killed" as a result, according to the Justice Department.
In court documents, prosecutors said they lured Silva to the Fresno clubhouse on July 15, 2014.
Then Wendt shot him in the back of the head.
HELLS ANGELS AMBUSHED RIVAL BIKER GANG VAGOS ON FREEWAY NEAR LAS VEGAS, POLICE SAY
Then Merl Hefferman, a member of the Fresno clubhouse who had primarily been known for hosting annual charity events for needy children, arranged for Silva to be cremated at a funeral home downtown. In court filings after his conviction, prosecutors alleged Hefferman may have played a role in additional secret cremations — a move his defense team protested because he had only been charged with obstructing evidence in connection with Silva's death. 
After the execution, according to prosecutors, Ranieri flew to Fresno for a party celebrating the murder.
RELATED: Rare 1908 Harley-Davidson becomes most expensive motorcycle ever sold at auction
"For eight years, the victim's family grieved without a body to mourn or certainty about what had happened to their loved one," FBI Special Agent in Charge Robert Tripp said in a statement. 
Raymond Foakes, a former HASC chapter president, was also convicted in the racketeering case of torturing an ex-member who'd slept with his common-law wife.
Foakes beat him with a bat, tattooed him across the forehead and sexually assaulted the victim's wife while he was being held captive. Foakes has not yet been sentenced.
The five members who have already been sentenced are Hefferman, who will serve four years; Jeremy Greer, who will serve seven; Russell Lyles, 63 months; Damien Cesena, 52 months; and David Diaz, 30 months.