Bryan Kohberger trial: Battle over cameras in court as Americans consume televised trials at record rates
Idaho student murders suspect Bryan Kohberger is due in court today as a Latah County judge will consider whether to allow cameras in the courtroom during future proceedings.
"I'm not impressed with the views of either side wanting to shut down the camera coverage," said Royal Oakes, a longtime media lawyer and general counsel to the Radio & Television News Association of Southern California.
The defense, he said, is arguing against the media presence, claiming it could promote juror bias and that pictures of the defendant violate a "directive" from Judge John Judge during a June 27 hearing. He warned lawyers for a media group to be ready to defend the place of cameras in court.
"The solution is to bar the offenders and punish them by in contempt of court," Oakes told Fox News Digital. "The solution is not to stop a valuable function of transparency."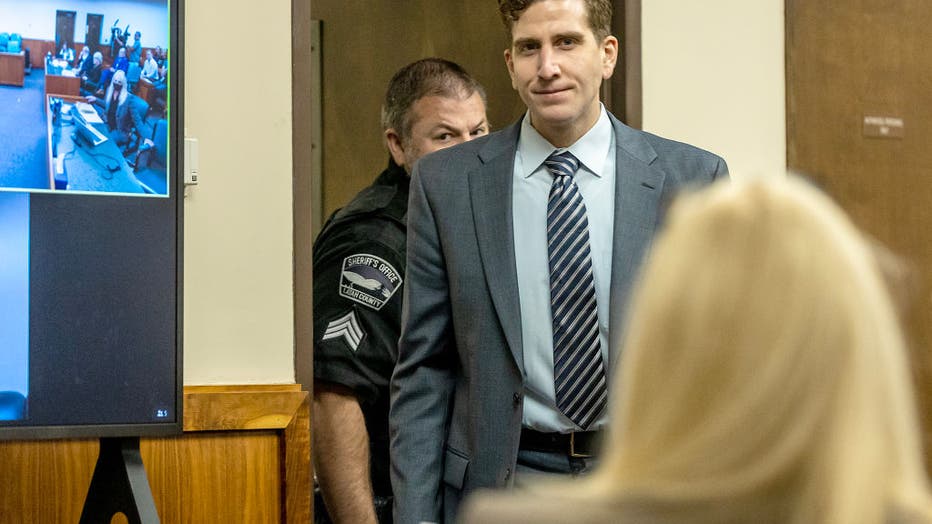 MOSCOW, IDAHO - AUGUST 18: Bryan Kohberger enters the courtroom for a hearing on August 18, 2023 in Moscow, Idaho. Kohberger is accused of killing four University of Idaho students in November 2022. (Photo by August Frank-Pool/Getty Images)
And the jury selection process is already designed to weed out bias, he said.
Prosecutors have also argued that allowing cameras in the courtroom could discourage witnesses or infringe on Kohberger's Sixth Amendment right to a fair trial, all claims Oakes rejects.
"I think it would be a shame if the judge went along with the views of the parties, simply because they're the ones in the courtroom," Oakes said. "For the judge to do that really would be spitting in the eye of the general public. The public pays for the courtroom. They vote for the lawmakers who create the rules that apply in the courtroom. The public is entitled to see its legal system at work."
The issue is up to the judge, however, and over the years, it has come up repeatedly in high-profile trials that have been on camera, with mixed results.
Here are some other high-profile trials that have captivated the American public while broadcast from court and the verdicts:
O.J. Simpson
Orenthal James "O.J." Simpson was accused of the brutal double murder of ex-wife Nicole Brown Simpson and her friend Ronald Goldman in Los Angeles in 1994.
After an infamous low-speed car chase in Simpson's white Ford Bronco was broadcast around the country, his trial wound up televised, too. 
Oakes successfully convinced the judge to allow live coverage of the trial, which generated 24-hour coverage for almost a year.
Jurors, after being sequestered for more than eight months, found Simpson not guilty after less than four hours of deliberation.
About 95 million people tuned in to the Bronco chase and 150 million, roughly half the U.S. population at the time, watched the trial, according to Forbes.
Ted Bundy
Ratings data was not readily available for Ted Bundy's 1979 Florida murder trial, but it was one of the first to be televised nationally in the United States.
Those who tuned in got an early dose of reality TV. During the penalty phase, he legally married his ex-girlfriend Carole Anne Boone in the courtroom, according to Rolling Stone.
Bundy, whose crimes against members of the Chi Omega sorority at Florida State University have been compared to the allegations against Kohberger at the University of Idaho, killed dozens of women before he was executed in the electric chair in Florida.
Jurors deliberated for less than seven hours in 1979 before finding him guilty in the FSU case, according to The Associated Press. He exhausted his appeals a decade later and was put to death.
Casey Anthony
Casey Anthony was acquitted of murder and other charges in 2011 in the death of her 2-year-old daughter, Caylee, following a highly publicized trial that lasted over a month. Jurors, however, found her guilty of a lesser charge of lying to law enforcement.
Her defense team told jurors the toddler had accidentally drowned in the family's pool. But the little girl's remains were found five months after she was last seen alive in the woods near Anthony's home.
Prosecutors had argued Anthony suffocated her child. But investigators never established a cause of death.
HLN attracted 4.6 million viewers for Anthony's verdict, according to The Hollywood Reporter, and Deadline reported that the premiere of a documentary on the case set ratings records for Investigation Discovery in 2017.
Alex Murdaugh
Alex Murdaugh, a 55-year-old South Carolina lawyer from a wealthy and influential family, was convicted of the brutal June 2021 shooting deaths of his wife and son, Maggie and Paul, near the dog kennels on a family estate. 
In March, he was sentenced to two consecutive life terms in prison.
Murdaugh's lawyers filed an appeal last week, alleging jury tampering on behalf of the court clerk. 
Murdaugh's trial racked up 4.8 million viewing hours for Court TV with a 600% spike in viewership as jurors delivered the verdict, NextTV reported. It was the network's second-most viewed trial after the Johnny Depp and Amber Heard civil case.
"They're all different because they all have such other outside influences," said David Gelman, a New Jersey defense attorney. "O.J. Simpson, there was a racial component to that; Casey Anthony, that one was just a total circus, if you will; the other ones, where you have Alex Murdaugh and Ted Bundy, the evidence was just so overwhelming, I think the jury saw that."
Gelman, who said he has tried cases as both a prosecutor and defense lawyer with cameras in court, said he believes the public has a right to have cameras in court, and he suggested they can benefit both sides. But it's ultimately up to the judge.
But he also said it's becoming increasingly difficult to sequester jurors during trial.
"Even if it's on TV or off TV, the juries are supposed to be sequestered," he said. "I don't know how judges are going to be able to instruct juries much longer by saying don't look at the news, don't talk to anybody, because it's almost impossible for an individual, if they're on their cellphone, not to get some type of information from the trial from an outside source."
A hearing on the motion to remove cameras in Kohberger's case is scheduled for 2 p.m. PT.