Betting on the Super Bowl? Arizona makes history for being the first host with legalized sports gambling
PHOENIX - As Chiefs and Eagles fans land in Arizona for Super Bowl LVII, you can bet wagers are being placed all week, but there's vast amount of ways to do that, if you're feeling lucky.
This is the first ever Super Bowl in a state with legalized sports betting. Sports gambling has been live in Arizona since September 2021.
Arizona's Department of Gaming says $7.2 billion have been waged in our state and this week is going to bring in a huge boost from out of state visitors.
"It's really transformed just how we look at sports and how we bet on football and how we watch football," says Dalton Kates, NFL betting analyst for Stealing Lines.
Sports gambling is thriving in the Grand Canyon state with nearly 20 official sportsbooks, places to place live bets, in Arizona.
Kates says this will be a wild week for fans placing their bets, if they dare to take a chance on hundreds of player props.
"What is the first pass gonna be for the Chiefs or the Eagles? Is it gonna be a pass or is it gonna be a run? Are they gonna have touchback on the first play? Is Jason Kelce and Travis Kelce both gonna score a touchdown in the game?" Kates remarks on the bets that could be made.
FanDuel currently has 200 to 1 odds for the Kelce brothers to score. There really is a plethora of props ranging from a quarterback catching a touchdown to points scored within the first minute of play.
As for the favorite and the underdog, Kates says, "Some sportsbooks opened up with the Chiefs as a 2.5 point favorite so that was early on and then people as people bet, they started betting the Eagles and now that line is eagles minus 1.5."
"The Super Bowl is definitely an exciting factor here in the state. Definitely gonna bring in a lot of out of state visitors and I'd like to think sports betting is just another attraction for them," Max Hartgraves with the Arizona Department of Gaming said.
He says the latest numbers from November 2022 show two consecutive months of more than $600 million dollars wagered on sports. He expects continued growth with the Super Bowl through March Madness.
Of course, there's a reminder to be responsible.
"Set wager limits, and it's important to know how much you're going to spend and not go over that," Hartgraves cautioned.
Last year, $31.4 million Americans planned to bet a combined $7.6 billion dollars on Super Bowl 56, the Rams and Bengals match up, according to the American Gaming Association.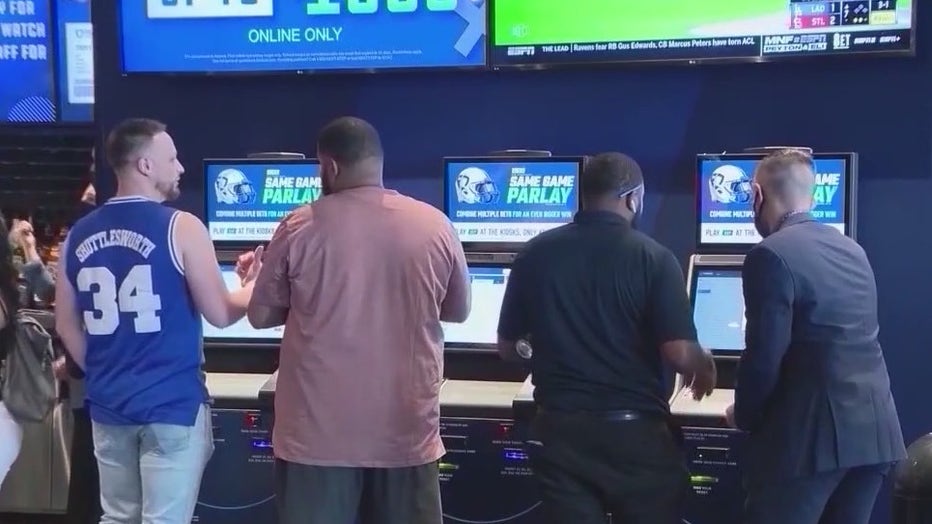 More reports: