Viral Missouri bald eagle that incubated rock now cares for eaglet: 'The bonding we're looking for'
A Missouri bald eagle globally recognized for his steadfast love for incubating a rock is now officially a papa.
The 31-year-old eagle was so protective of his rock last month that his caretakers at the World Bird Sanctuary in Valley Park, Missouri, thought he might make a good foster dad to an orphaned eaglet.
"Although it might make you feel sad that Murphy has built a nest and is nurturing a rock as an egg, it's just his hormonal response to spring," the sanctuary posted on Facebook on March 26. "Murphy does not need a real egg to feel accomplished. He's quite content with his rock, and VERY protective of it."
The sanctuary said within days after they shared Murphy's story, it was being talked about all over the world. Yet while everyone loved Murphy's story, they also felt bad for him. 
THIS BALD EAGLE IS ACTUALLY INCUBATING A ROCK: 'WE HAVE YET TO SEE A ROCK HATCH'
It was later decided that the sanctuary would give Murphy a chance at fostering a rescued eaglet, dubbed nestling 23-126. It arrived at the sanctuary after an eagle nest containing two chicks near Ste. Genevieve was blown down by very high winds. 
One chick died in the fall, but the other was found and rescued by faithful nest watcher who brought it to World Bird Sanctuary's Wildlife Hospital.
'The chick's best chance'
In videos shared by the eaglet's caretakers, you can see it being fed by staff dressed in a full camouflage suit, and holding an eagle stuffy – to prevent imprinting on humans.
It was then decided that they would give Murphy a chance at fostering the eaglet. 
"Murphy's dad instincts were already in high gear, but at 31 years old, he had never raised a chick before," the sanctuary said. "It's definitely a gamble, but also the chick's best chance."
After Murphy's introduction to the eaglet, they spent time during the day bonding, and the eaglet was brought indoors at night. A week later, Murphy was "modeling eagle behavior perfectly, and becoming a wonderful, gentle papa."
WATCH: EAGLE ON MINNESOTA DNR'S EAGLECAM COVERED IN SNOW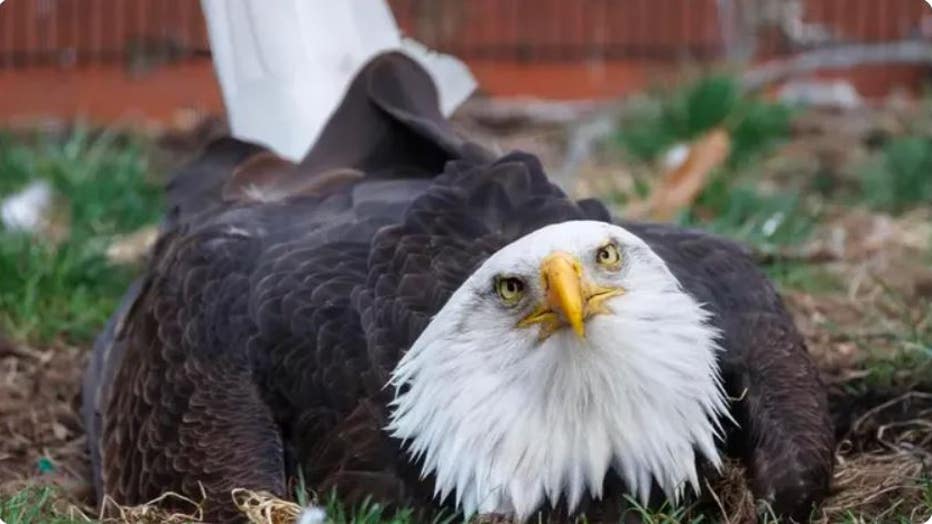 Heres Murphy the eagle. (Dawn Griffard/World Bird Sanctuary)
Another clip shows Murphy waiting for the baby to eat. When the baby doesn't eat right away, he takes a bit of food, and then the baby begins to eat. 
"This is the kind of bonding we're looking for," the sanctuary said.
From this point on, the sanctuary said they will be as hands off as possible to allow maximum bonding between Murphy and 23-126 and as natural of an upbringing as can be managed in a rehabilitation setting.
Murphy has a permanent wing injury that means he will remain at the sanctuary, but eaglet 23-126 may one day be released.
Why haven't they named the eaglet yet?
Sanctuary officials said they will not be officially naming the eaglet due to their regular rules. 
"The rehab superstition is that named patients are cursed and either end up dying or being non-releasable," the sanctuary said.
You can help feed Murphy and his baby. All the funds made on the World Bird Sanctuary fundraiser will supply food that will go right into the eaglet's beak, and the one feeding it.
"We have many weeks ahead of us and that beak will want more and more,"  the sanctuary said.