Astrud Gilberto, singer of 'The Girl from Ipanema,' dies at 83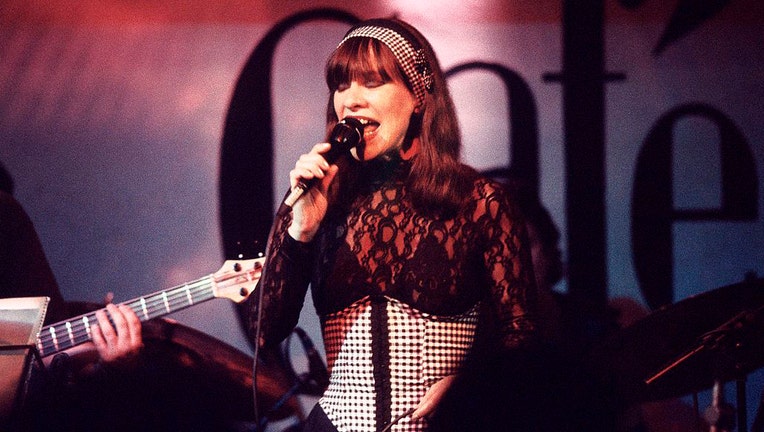 article
NEW YORK - Astrud Gilberto, the Brazilian singer, songwriter and entertainer whose off-hand, English-language cameo on "The Girl from Ipanema" made her a worldwide voice of bossa nova, has died at age 83.
Musician Paul Ricci, a family friend, confirmed that she died Monday. He did not provide additional details.
Born in Salvador, Bahia and raised in Rio de Janeiro, Gilberto became an overnight, unexpected superstar in 1964, thanks to knowing just enough English to be recruited by the makers of "Getz/Gilberto," the classic bossa nova album featuring saxophonist Stan Getz and her then-husband, singer-songwriter-guitarist Joao Gilberto.
"The Girl from Ipanema," the wistful ballad written by Antonio Carlos Jobim and Vinicius de Moraes, was already a hit in South America. 
But "Getz/Gilberto" producer Creed Taylor and others thought they could expand the record's appeal by including both Portuguese and English language vocals. In a 2002 interview with friends posted on her web site www.astrudgilberto.com, Astrud Gilberto remembered her husband saying he had a surprise for her at the recording studio.
"I begged him to tell me what it was, but he adamantly refused, and would just say: 'Wait and see ...' Later on, while rehearsing with Stan, as they were in the midst of going over the song 'The Girl from Ipanema,' Joao casually asked me to join in, and sing a chorus in English, after he had just sung the first chorus in Portuguese. So, I did just that," she explained.
"When we were finished performing the song, Joao turned to Stan, and said something like: "Tomorrow Astrud sing on record… What do you think?" Stan was very receptive, in fact very enthusiastic; he said it was a great idea. The rest, of course, as one would say, 'is history.'"
Astrud Gilberto sings "The Girl from Ipanema" in a light, affectless style that influenced Sade and Suzanne Vega among others, as if she had already moved on to other matters. But her words, translated from the Portuguese by Norman Gimbel, would be remembered like few others from the era.
Tall and tan and young and lovely
The girl from Ipanema goes walking
And when she passes
Each one she passes goes, "Ah"
"Getz/Gilberto" sold more than 2 million copies and "The Girl from Ipanema," released as a single with Astrud Gilberto the only vocalist, became an all-time standard, often ranked just behind "Yesterday" as the most covered song in modern times. 
"The Girl from Ipanema" won a Grammy in 1965 for record of the year and Gilberto received nominations for best new artist and best vocal performance. The poised, dark-haired singer was so closely associated with "The Girl from Ipanema" that some assumed she was the inspiration; de Moraes had written the lyrics about a Brazilian teenager, Heloísa Eneida Menezes Paes Pinto.
Over the next few years, Gilberto toured with Getz among others and released eight albums (with songs in English and Portuguese), among them "The Astrud Gilberto Album," "Beach Samba" and "The Shadow of Your Smile." 
But after 1969, she made just seven more albums and by 2002 had essentially retired from the business and stopped giving interviews, dedicating her latter years to animal rights activism and a career in the visual arts. 
She would allege that she received no money for "The Girl from Ipanema" and that Taylor and Getz (who would refer to her as "just a housewife") took undue credit for "discovering" her. She also felt estranged from her native country, alleging she was treated dismissively by the press, and rarely performed there after she became a star.
"Isn't there an ancient proverb to the effect that 'No one is a prophet in his own land'"? she said in 2002. "I have no qualms with Brazilians, and I enjoy myself very much when I go to Brazil. Of course, I go there as an incognito visitor, and not as a performer."
Astrud Weinert was the youngest of three sisters, born into a family both musical and at ease with foreign languages: Her mother was a singer and violinist, her father a linguistics professor. By her teens, she was among a circle of musical friends and had met Joao Gilberto, a rising star in Rio's emerging bossa nova scene.
"After I got together with Joao, the clan grew larger, to include 'older' folks such as Tom Jobim, Vinicius de Morais, Bene Nunes, Luis Bonfa and Joao Donato, and of course, their respective 'other halves," she recalled. "Joao Gilberto and I used to sing duets, or he would accompany me on guitar. Friends would always request that I sing at these gatherings, as well as at our own home when they would come to visit us."
She was married twice and had two sons, Joao Marcelo Gilberto and Gregory Lasorsa, both of whom would work with her. Well after her commercial peak, she remained a popular live act, her singing becoming warmer and jazzier as she sang both covers and original material. 
She also had some notable moments as a recording artist, whether backed by trumpeter Chet Baker on "Fly Me to the Moon" or crooning with George Michael on the bossa nova standard "Desafinado." In 2008, she received a Latin Grammy for lifetime achievement.
"I have been labeled by an occasional frustrated journalist as 'a recluse.' The dictionary clearly defines recluse as 'a person who withdraws from the world to live in seclusion and often in solitude.' Why should anybody assume that just because an artist chooses not to give interviews, he/she is a recluse?" she said in 2002.
"I firmly believe that any artist who becomes famous through their work — be it music, motion pictures or any other — does not have any moral obligation to satisfy the curiosity of journalists, fans or any members of the public about their private lives, or anything else that does not have any direct reflection on their work. My work, whether perceived as good, bad, or indifferent, speaks for itself."