Army secretary says soldier who crossed into North Korea 'may not have been thinking clearly'
The U.S. Army soldier who crossed into North Korea earlier this week "may not have been thinking clearly," Army Secretary Christine Wormuth said. 
Wormuth was speaking at the Aspen Security Forum when she was asked about Pvt. Travis King, who was headed back to the United States after being released from a South Korean prison for assault when he joined a tour group heading to the heavily guarded Demilitarized Zone, known as the DMZ, that separates the two Koreas, which are still technically at war after signing an armistice in 1953. 
King was with the tour group when he abruptly crossed into the North, which is considered one of the world's most repressive nations.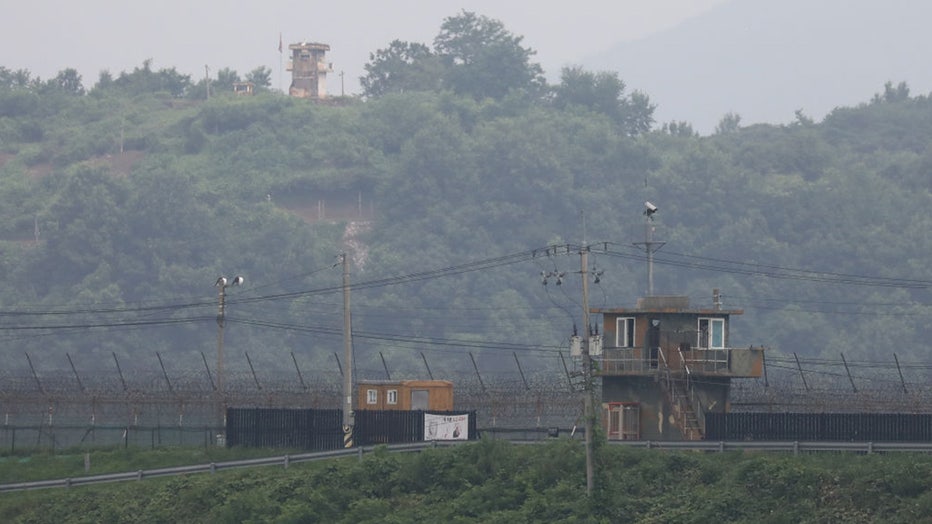 FILE - A North Korean guard post (top) is seen from South Korea near the demilitarized zone (DMZ) on July 19, 2023, in Paju, South Korea. (Chung Sung-Jun/Getty Images)
"He is a young soldier, he was facing consequences. I imagine he had a lot of negative feelings," Wormuth told NBC News Correspondent Courtney Kube. "He may not have been thinking clearly, frankly, but we just don't know."
US SOLDIER SPRINTED INTO NORTH KOREA, EYEWITNESS THOUGHT IT WAS A TIKTOK 'STUNT' 
King was headed to Fort Bliss in El Paso, Texas to face disciplinary charges from the Army when he failed to board his flight and joined the tour group instead. Wormuth said Washington has tried to make contact with Pyongyang through multiple channels but has not heard back. 
NORTH KOREA REMAINS UTTERLY SILET ON MISSING SOLDIER SUSPECTED OF CROSSING DMZ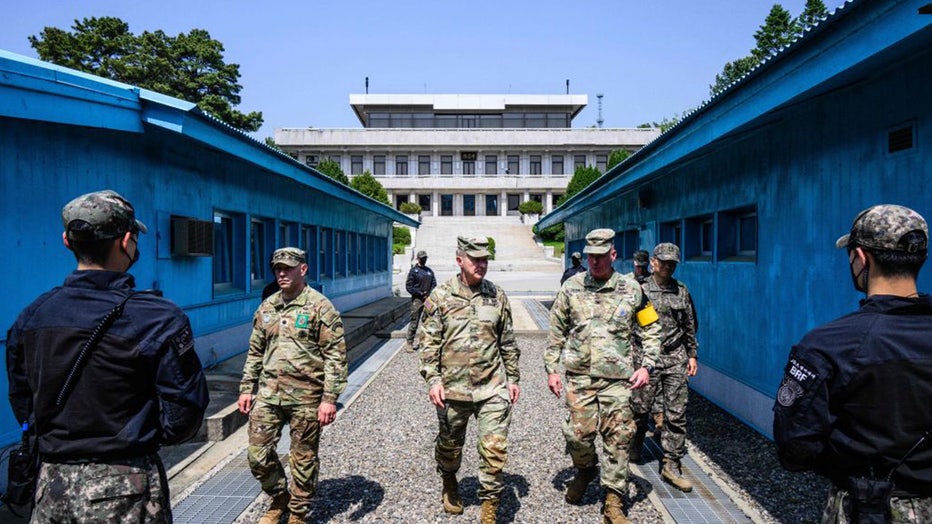 FILE - In this photo taken on May 9, 2023, US Army Chief of Staff General James McConville (front C) walks away from the military demarcation line separating North (back) and South Korea, with a view of a view of North Korea's Panmon Hall (back top), (ANTHONY WALLACE/AFP via Getty Images)
Wormuth said she was concerned about King's safety and well-being due to North Korea's history of mistreating American citizens, even those who have willingly defected to the communist regime. 
"What we want to do is get that soldier back into our custody. I worry about him, frankly," she said. "It makes me very, very concerned that Pvt. King is in the hands of the North Korean authorities. I worry about how they may treat him."
She noted the case of college student Otto Warmbier who was released by the North in 2017 while he was in critical condition. 
He died in a hospital six days after his return to the United States. Warmbier was detained after taking a propaganda poster from the hotel he was staying in and was accused of subversion.