Anita Baker removes Babyface from tour following Twitter feud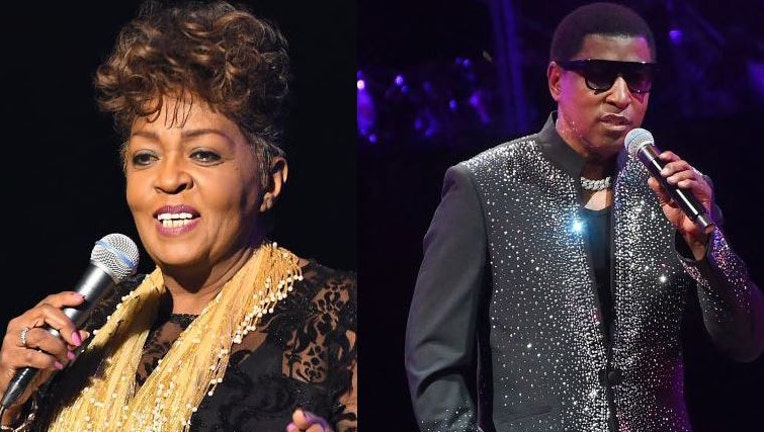 article
A social media spat put a dent in plans for two musical legends to perform together on tour. 
Singer Anita Baker removed singer/songwriter Babyface from her tour after she got into it with some of his fans online.
"After Silently, Enduring Cyberbullying/Verbal Abuse & Threats of Violence from the Fan Base, of Our Special Guest/Support Act. In the Interest of Personal Safety. I will continue, The Songstress Tour, alone. Appropriate refunds will be made. Blessings," Baker tweeted. 
The Grammy-winning songwriter responded writing "I am saddened by the news that Anita Baker has decided to remove me from "The Songstress Tour." It's unfortunate and disheartening to see how things have played out via social media. While I was looking forward to the rest of the dates, I have nothing but love & respect for Anita and I wish her the best for the remainder of her tour."
RELATED: Trio of anthems from Chris Stapleton, Babyface, Sheryl Lee Ralph kicks off Super Bowl LVII
The conflict began when Babyface was going to be a surprise guest at Baker's May 10 concert, but he tweeted an apology to concert attendees, CNN reported.
"I am truly sorry to my fans who have been waiting for us to hit the stage this evening at @PruCenter. I was asked not to perform in order to give Ms. Baker her space and time to perform her show in its entirety," Babyface wrote. "My band and I are extremely saddened we didn't get to perform for y'all tonight."
Babyface fans were upset with Baker and started coming for her online in what the singer claimed was cyberbullying, which came after Babyface was removed from a performance in New Jersey due to time constraints, the Indianapolis Star reported. 
Baker reached out on social media for Babyface to get involved to settle things down.
"Kenny's Crazies are online Bullies. @Babyface Please call off, your fans. I have been Only Kind and Supportive, of You, as the Special Guest/Support, on My Tour," Baker tweeted Monday.
Baker's tour, which began in February, concludes on Dec. 23 in Oakland, California.
This story was reported from Washington, D.C.