American Airlines ends free checked luggage for many international travelers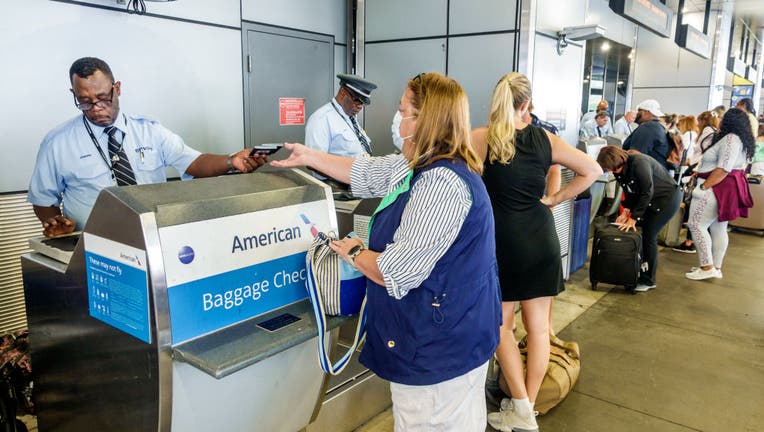 article
If there's one sigh of relief for international fliers is that they don't have to pay for their first checked luggage, until now. 
American Airlines is now doing away with the complimentary service and will start charging for basic economy passengers.
The airline changed its baggage policy which took effect on June 7. 
Under the new policy, basic economy passengers will have to pay $75 for their first checked luggage for many international destinations. The second bag will cost $100. 
RELATED: Fisherman finds vehicle overturned in river with family of 4 dead inside
Some other destinations in Central and South Americas, plus Haiti, will require basic economy passengers to pay $45 for the first checked luggage. 
Two of American's biggest competitors, United and Delta, have not implemented a policy and still allow international passengers with one free checked luggage. 
For many years, customers could check one or two bags on almost any airline without paying a fee. That began to change during a travel slump caused by the financial crisis of 2008. Now, most U.S. airlines other than Southwest charge even for a single bag, although fees are usually waived for customers who buy high-fare tickets or carry the airline's credit card.
In 2021, it was reported American Airlines generated $2 billion from checked-bag fees over the previous two years, followed by Delta Air Lines and United Airlines, each around $1.5 billion. Because of their smaller size, discount airlines including Spirit and Frontier reap less money but get a higher percentage of revenue from the fees.
RELATED: Delta unveils 'first-of-its-kind' airplane seat for travelers in wheelchairs
Despite the financial strain to passengers, airlines are expected to make a profit this year. 
American Airlines and Southwest Airlines said that they expect to be solidly profitable in the second quarter. They joined Delta Air Lines and United Airlines in giving an upbeat outlook for the April-through-June period, which includes the start of peak season for carriers.
"We see a strong demand environment this summer, and we're highly confident that will continue," American CEO Robert Isom said on a call with analysts.
Airlines are getting a tailwind from leisure travelers, who are still eager to leave home after a long pandemic lockdown. Their gaze is shifting this summer from domestic destinations to overseas.
RELATED: 11-year-old girl on Turkish Airlines flight dies after falling ill, company says
Southwest lost $159 million in the first quarter, which it blamed on fallout from a December meltdown that continued to hurt bookings early into this year. The airline said that it made money in March, however, as revenue picked up, giving it momentum heading into summer.
Airlines do face headwinds, however. Costs for labor and jet fuel are up, and airlines can't get all the planes they want because of production problems at Boeing that will delay deliveries of new 737 Max jets.
The Associated Press contributed to this story. This story was reported from Los Angeles.