Nursing is still the most trusted profession, Gallup poll finds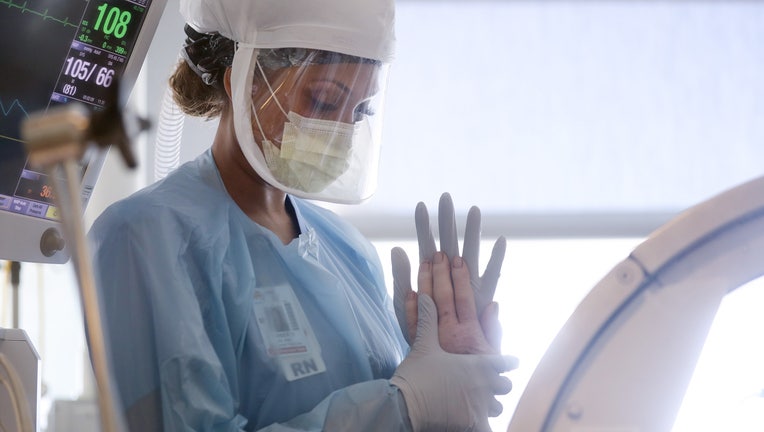 article
Nurses are once again the most trusted professionals in the U.S.
According to Gallup's annual poll rating the ethics of various professions, 79% of U.S. adults believe nurses rank "very high" or "high" in honesty and ethical standards — far more than the other 17 professions included in the poll.  Nurses have held the No. 1 spot for more than two decades.
But pollsters said this year, nurses rated 10 percentage points lower than they did at their high in 2020, when they were on the front lines of the COVID-19 pandemic. Doctors and pharmacists rank second and third on the list, with 62% and 58% of Americans rating them as trustworthy. Like nurses, ratings for doctors and pharmacists went down in 2021 and 2022, and all three professions are below their pre-pandemic ratings.
Gallup first administered the honesty and ethics of professions poll in 1976, and it's been done annually since 1990. A few of the professions are on the list every year, while others are more sporadic.
READ MORE: Number of Americans who believe in God drops to historic low: Poll
"Nurses have been atop the list every year except one since they were added to the annual ratings in 1999," pollsters said. "That was in 2001, when firefighters earned a record-high 90% rating in their only appearance on the list in the wake of the 9/11 terrorist attacks."
The 5 most trusted professions in the US
According to Gallup, here are the five most trusted professions in the U.S.: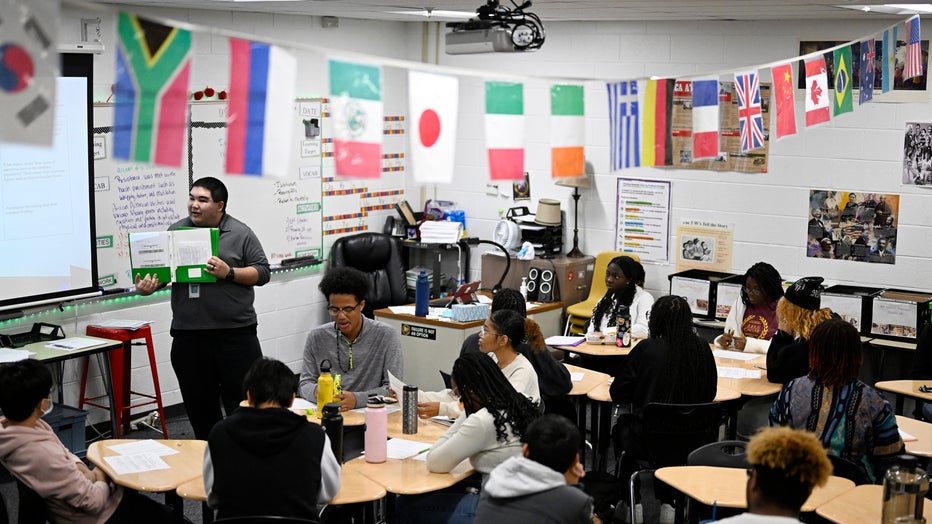 Teacher Nathan Umetsu talks about a group activity during AP African-American Studies at Overland High School on November 1, 2022 in Aurora, Colorado. (Photo by RJ Sangosti/MediaNews Group/The Denver Post via Getty Images)
Nurses
Medical doctors
Pharmacists
High school teachers
Police officers
Aside from nurses, doctors and pharmacists, high school teachers are the only other professionals in America that had a favorability above 50%, with 53% of Americans rating them as highly trusted and ethical.  
About half of Americans surveyed believe police officers are highly trustworthy and ethical.
The 5 least trusted professions in the US
Here are the five least trusted professions in the U.S., according to Gallup:
Telemarketers
Members of Congress
Car salespeople
Business executives
Advertising practitioners
The poll found 42% of Americans believe journalists have "very low" or "low" ethical standards; only 35% rate them as average and 23% as high.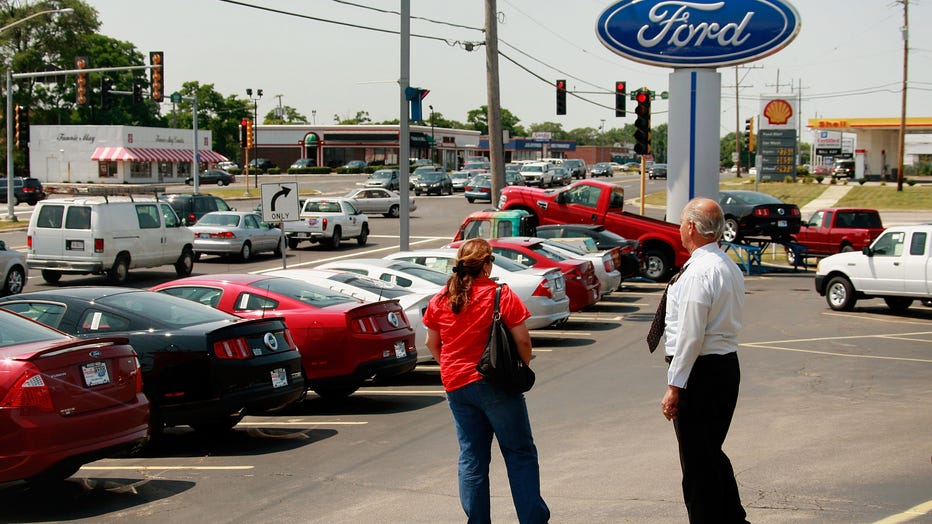 A salesman helps out a customer at a Ford dealership August 3, 2009 in Downers Grove, Illinois. (Photo by Scott Olson/Getty Images)
At the bottom of the rankings, less than 10% of people surveyed rate telemarketers and members of Congress as highly ethical and trustworthy.
The full rankings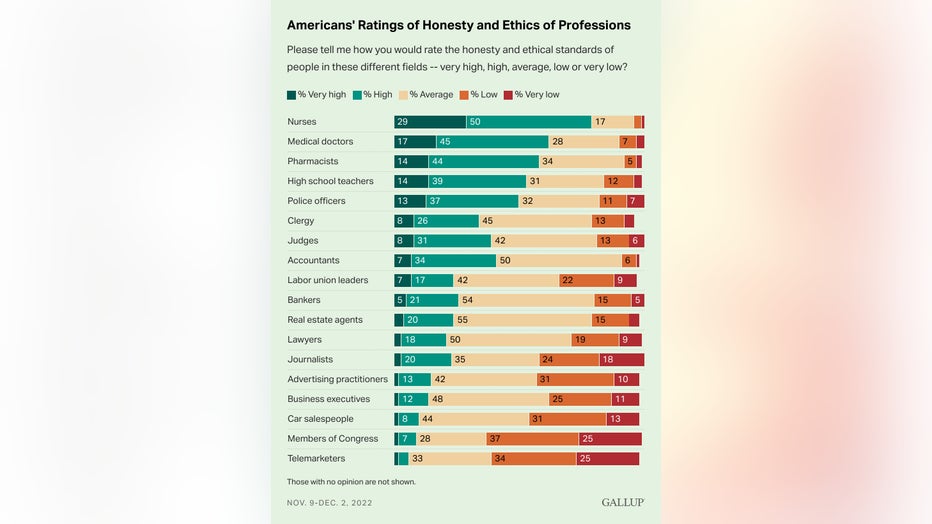 Although the majority of professions aren't highly rated as trustworthy, most are rated as "average" instead of subpar.
For real estate agents and bankers, a little more than half of Americans viewed them as "average," with lawyers, accountants, business executives, clergy, judges and labor union leaders falling in the 42%-50% "average" favorability range.
How political affiliations affect rankings
Democrats and Republicans generally both view nurses, medical doctors and pharmacists as highly trustworthy, and neither think very highly of telemarketers, members of Congress, business execs, car salespeople, advertising practitioners, lawyers, realtors and bankers.
But since the start of the COVID-19 pandemic, Democrats have favored nurses, doctors and pharmacists more than Republicans have. In 2019, partisan ratings for those professions were essentially identical.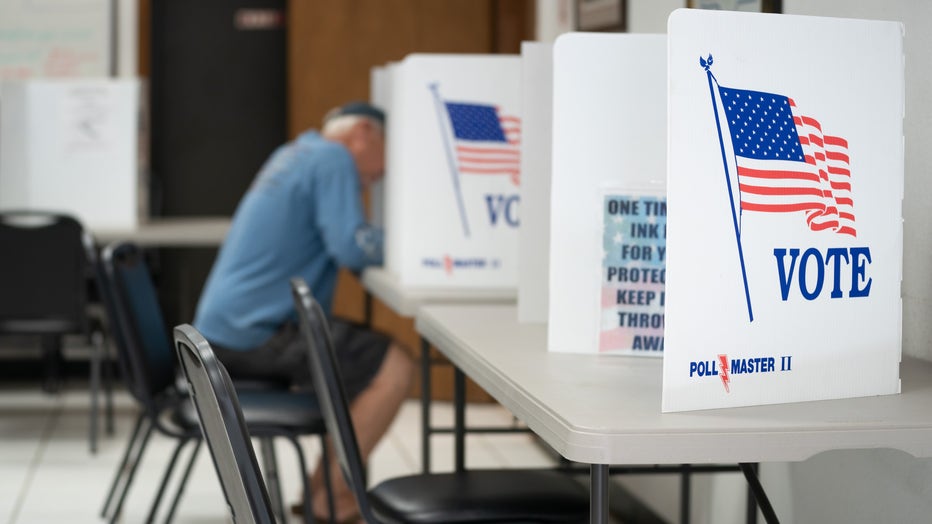 A man fills out a ballot at a voting booth on May 17, 2022 in Mt. Gilead, North Carolina. (Photo by Sean Rayford/Getty Images)
But their views diverge significantly when it comes to other professions. Democrats are about twice as likely as Republicans to think of high school teachers as highly ethical, and they're far more likely than Republicans to favor labor union leaders and journalists.
Republicans, meanwhile, favor police officers more than Democrats do, and they are slightly more likely than Democrats to view clergy members as highly trustworthy.