$1.04 billion Powerball jackpot tempts players to brave long odds
DES MOINES, Iowa - An estimated $1.04 billion Powerball jackpot will be up for grabs Monday night, tempting players to spend a couple dollars on a longshot chance at instant riches.
The prize is the world's ninth-largest lottery prize behind earlier drawings of Powerball and Mega Millions, the other nearly nationwide lottery game. The jackpot is the fourth-largest in the history of Powerball.
The prize has grown so massive because there have been 32 consecutive drawings since someone matched all five white balls and the Powerball to win the jackpot, dating back to July 19.
That losing streak reflects the stunningly long odds of winning the jackpot, at 1 in 292.2 million.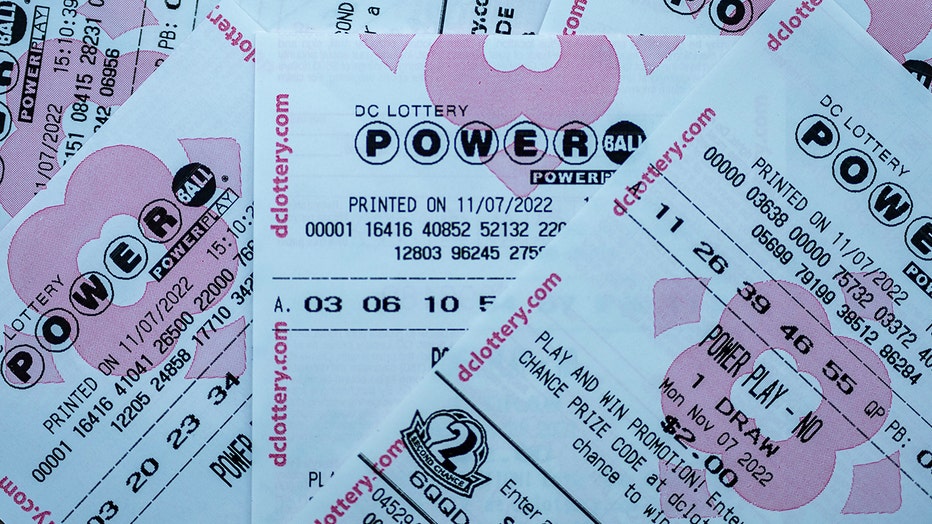 In this photo illustration, tickets for Powerball lottery are seen on November 07, 2022 in Washington, DC. (Credit: Tasos Katopodis/Getty Images)
The $1.04 billion jackpot is for a sole winner who chooses to receive the winnings through an annuity, paid annually over 30 years. Winners nearly always pick the cash option, which for Monday night's drawing would be an estimated $478.2 million.
RELATED: Powerball jackpot reaches $1 billion mark after no grand prize winner in Saturday's drawing
A Powerball ticket costs $2 in most states and players can pick their own numbers or have a computer make the selection.
Powerball is played in 45 states as well as Washington, D.C., Puerto Rico and the U.S. Virgin Islands.